Best SMS Marketing Software Platforms for Businesses
Short Message Service, or SMS for short, is readily available to all mobile devices and has become more or less ubiquitous in the modern digital age. Over the years, SMS marketing emerged as an affordable and efficient way of connecting with customers.
After all, around 3.8 billion people all around the world use smartphones today. Not all of them are active on social media or check emails regularly, but they do receive text messages.
This article will introduce you to the best SMS marketing software platforms for businesses that are available across all devices.
Before that, let's understand what you stand to gain from SMS marketing.
What are the advantages of SMS marketing?
If you've been under the impression that SMS marketing is outdated, then you're inadvertently losing out on a large customer base, revenue, and rewarding connections.
By using quality SMS marketing software, you can send out thousands of text messages (mass texts or bulk SMS) to subscribers or customers to promote your campaigns. Using marketing automation techniques, you can keep them updated about your latest products, coupons, or offers.
Also, research has shown that SMS marketing is statistically beneficial for businesses as well.
The open rate for text messages has been observed to be a whopping 98%, while the click-through rate for SMS ads is 19%. After receiving a promotional text, 50% of US consumers have gone on to make a purchase.
Most importantly, SMS messages have a 209% higher response rate than email, calls, and other common marketing channels.
Thus, you can see that SMS promotional campaigns will help you to increase your revenue and enhance your open and conversion rates going forward. However, the process can be pretty complicated at times. That's where SMS marketing platforms come in; they play a crucial role in structuring a successful business and producing satisfactory results.
Let us now look at my picks for the ten best SMS marketing software for businesses.
Best SMS Marketing Software for Businesses
In this section, I have reviewed and listed 10 of the best SMS marketing software for businesses available.
TextMagic
TextMagic is one of the best SMS marketing software for businesses that allows users to send and receive text messages in bulk around the globe. It is also notable for managing text online (scheduling texts, managing contacts by categorizing them into lists and groups, and so on). With its help, you can convert emails into text messages and integrate SMS API with your business.
TextMagic is known for providing handy reports and analyses on text status, reply rates, delivery, and costs. It also allows you to attach images, Word files, or PDF files to your text if required. As of now, it offers a free trial version and charges merely $0.04 per SMS or MMS for sending messages in bulk and using available features.
* affiliate link
SlickText
SlickText is one of the most popular bulk SMS marketing software among users today. It allows you to send out mass texts to your customers to let them join the marketing list, cast their votes, win prizes, or participate in surveys. It comes with several useful features such as email capture, autoresponders, and email scheduling. Moreover, it supports integrations with Zapier, Facebook, and most popular email clients.
I highly recommend SlickText for its handy SMS scheduling feature and affordable pricing plans. It offers a 14-day free trial for 50 text messages, after which you must upgrade your plan as per your requirements.
JookSMS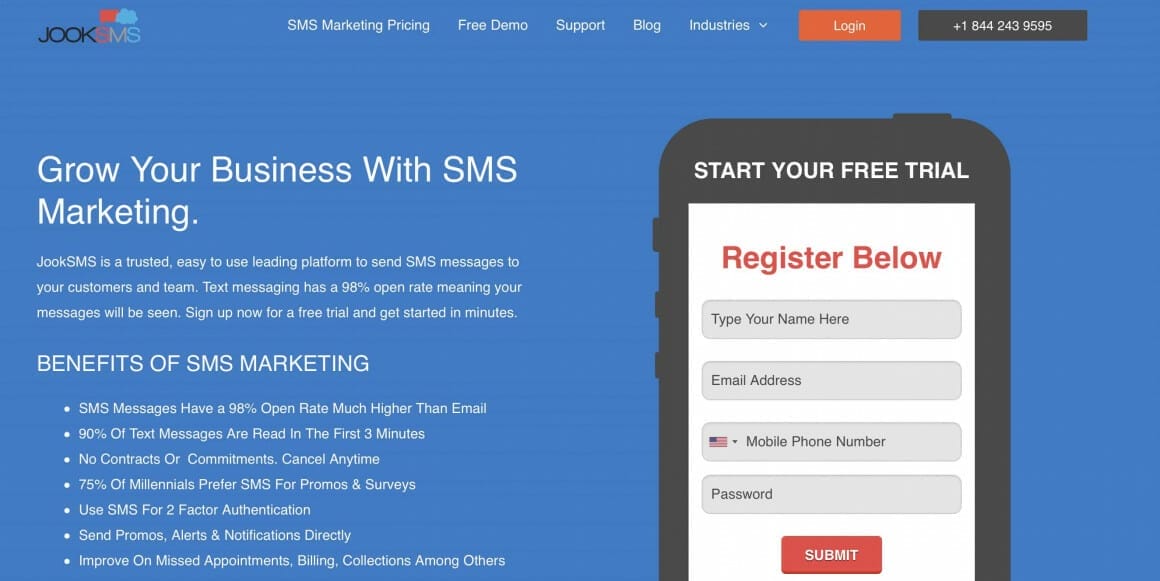 JookSMS is another leading bulk SMS marketing application for businesses in the market. It is a great choice for improving customer retention and getting new ones with mass text messaging. It also offers a free trial version and demo version for you to try out before making a purchase. It comes with a simple and user-friendly app for its functioning, complete with excellent customer service and no hidden charges.
Using JookSMS, you can customize message templates to make them more appealing. Also, it allows you to schedule and send out automatic updates by creating Drip campaigns. Its pricing ranges from $25 per month (1033 SMS) for the Basic plan to $100 per month (4666 SMS) for the Platinum plan.
Omnisend
Omnisend is a popular eCommerce and SMS marketing software that helps users boost sales via SMS, automation, and email marketing. It comes with several useful features such as marketing automation, popups, and forms, web push notifications, customer intelligence, reports, and more. You can build email campaigns with the help of drag-and-drop content editors, email templates, and excellent discount codes.
Moreover, Omnisend allows automation of workflow and helps users build customized messages and auto-generate them for customers. It also helps you maintain customer data by providing retention analytics, segmentation, customer lifecycle stages, reports, and more.
Omnisend provides an excellent free plan, a standard plan ($16 per month), and a pro plan ($99 per month). It offers a free trial with every plan as well.
SimpleTexting
SimpleTexting is an economically priced SMS marketing tool. It is a great choice for segmenting customers and link tracking in particular. It allows users to send out mass text in an exceptionally efficient manner by providing other useful features and services alongside. These include scheduled texts, SMS keywords, autoresponders, 2-way messaging, MMS marketing, link tracking, API, and more.
You can use SimpleTexting to collect and maintain your customers' data, such as their phone numbers and email addresses. It can segment customers based on common traits and send out messages to each segment accordingly. It also provides helpful reports such as graphs, charts, and grids about the customers' growth and response. It is presently priced between $25 to $625 per month.
Textedly
If you're planning to send out longer text messages (containing over 160 characters), then Textedly is a good option for you. It is an efficient SMS marketing software that comes with a wide range of useful features. These include two-way SMS, auto-replying text, scheduling text, mass group texting, email capturing, uploading the list of subscribers, inbuilt link sharing, drip campaigns, Instagram texting, securing information and data, automatic replies, and much more.
Textedly is especially well-known for its affordable plans where you needn't subscribe to the bigger plan unnecessarily. Rather, you can choose a minimum-value plan as per your requirements.
EngageBay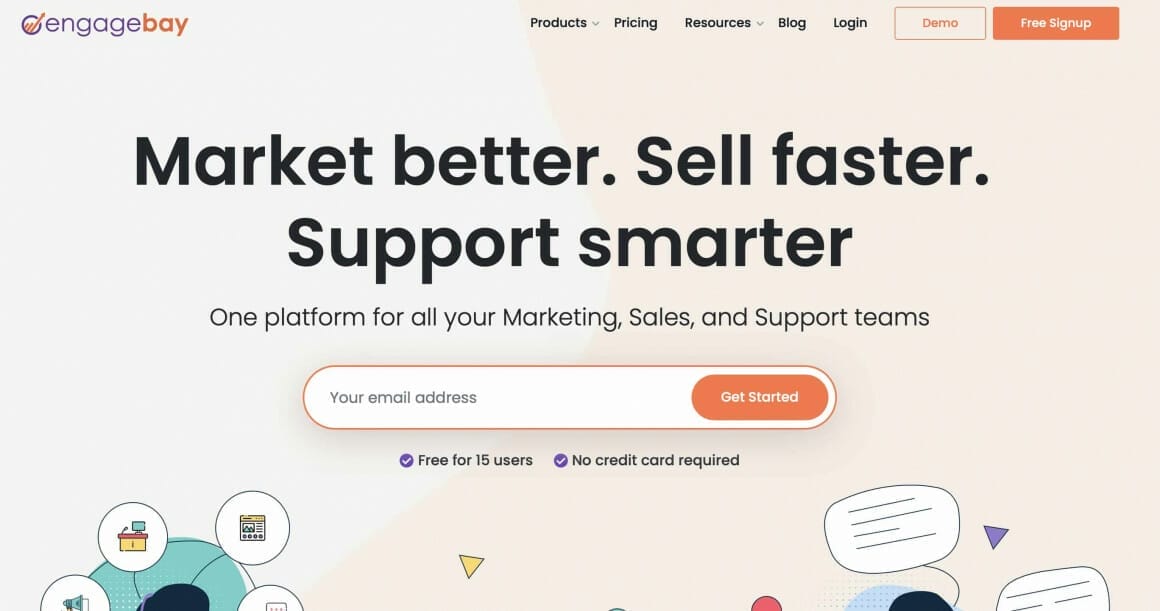 EngageBay is a robust all-in-one platform for marketing, live chat, sales, CRM and helpdesk. It enables you to manage all these tasks in a single place with the help of marketing automation, CRM software, helpdesk software, and live chat software. It serves as a single solution for all activities as a single body before customers are connected to various departments. Its marketing software provides email management, marketing automation and landing pages, whereas its helpdesk software covers ticket automation, ticket management, views, and macros.
EngageBay serves as a free SMS marketing software for up to 500 contacts and 1000 branded emails. If you have more connections, then you can go for its paid plans – basic ($8.99 per month), growth ($29.99 per month), or pro ($47.99 per month).
Salesmsg
Salesmsg is best known for its effective call management feature that includes outbound calling, call analytics, call recording, call history, and more. It turns text into sales faster by providing useful services and features such as toll-free and landline numbers, two-way texting, team communication, and more. Its SMS broadcasting feature allows you to connect with several customers at once. It readily integrates with commonly used apps and can automate text for engaging customers.
As of now, Salesmsg features three pricing plans – pro ($35 per month), premium ($300 per month), and custom.
Podium
Podium is a user-friendly SMS marketing software for local businesses. It helps users get payments and reviews, create marketing campaigns, and gather all customer conversations in one place. It offers video chat and webchat facilities to contact your customer in a friendlier and more encouraging manner. You can use it to conduct extensive customer surveys that help in taking feedback and analyzing your performance closely. Podium also provides solutions to sales, marketing, customer support departments, and operations.
Before you opt for a paid plan or ask for a quote, you can check out Podium's free demo and experience its features beforehand.
Twilio
Twilio is a feature-rich platform that allows users to engage their customers through any channel of their choice, such as email, call, live chat, video, or chatbots. It provides highly effective communication channels, including email marketing, dispatch notifications, capture leads, appointment reminders, and more. It comes with numerous applications such as Twilio segment, Twilio frontline, Twilio flex, account security, and marketing campaigns.
Twilio is also notable for its simple pricing plans – between $0.001 to $150 per month according to different applications, channels, and connectivity. Thus, you can save money by only paying for the features that you actually want.
Conclusion
You're now familiar with the importance of SMS marketing for businesses, regardless of their size or scale. SMS marketing is far from dead; instead, it has been steadily evolving with time. It serves as an effective channel to reach out to your customers and communicate with them.
The SMS marketing software for businesses listed in this article are all loaded with useful features to help you communicate better and ultimately increase your sales and revenue. All these are available to you whether you are a PC or Mac user. Not just these, most of these SMS marketing software platforms offer free trials. So use the trial first and then decide if you want to give it a go.