15 Best Landing Page Builders for Better Lead Conversion
Looking for the best Landing Page Builders to create impressive landing pages and lead conversion pages for your online business? If you are, you are at the right place.
Why do you need Landing Page Builders?
I have already outlined what landing pages are and why do you need them. But if you try to build landing pages on your own — it will not only require extensive knowledge of web-programming languages (like HTML, PHP, JS and CSS) but will also take a lot of your time and money.
If you are a business, then forget this. Your time is precious, and you cannot learn programming from scratch now. Money, on the other hand, can be invested, though.
By investing in a good Landing Page Builder, you can take a step in the right direction and invest most of your time in marketing rather than wondering on how to create powerful landing pages.
The Best Landing Page Builders
There are hundreds of landing page builders, and selecting the best can be a real challenge. But don't worry; I will guide you through the best ones of the lot.
So, sit back and relax because here is a list of the best landing page builders that could give you all the answers you're looking for:
The best landing page builders
Hubspot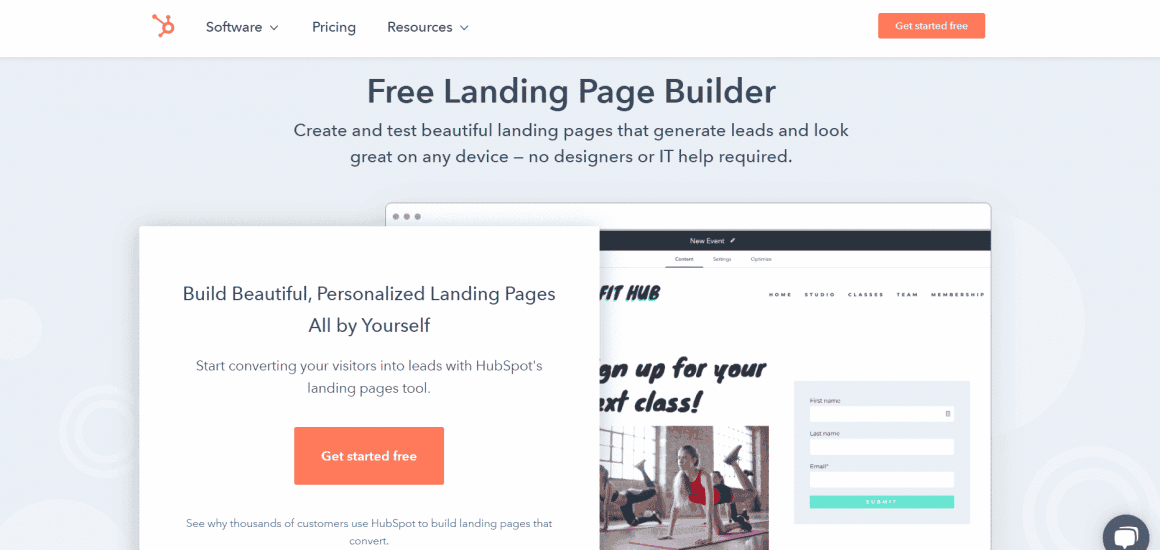 The first landing page builder on the list is Hubspot, and unlike most of the options in the list, it has a very easy-to-operate interface without leaving out any of the good stuff.
Hubspot offers strong AB testing features with a flexible interface. The user also gets access to steady customer support and documentation system.
Although HubSpot does provide you with a full set of necessary features, the user has to be a member of its marketing hub to access most of them.
Hubspot is free to begin and use. At $49, you get access to the starter pack, which includes limited landing page-building features. To access the full version, you'll need to max out at $800 per month and gain access to its professional plan, including in-built AMB tools and automation, dynamic website personalization, video hosting and management, and more.
Instapage
The name itself holds all the secrets.
With Instapage, users can instantly create landing pages in the blink of an eye with over 500 pre-made template designs. Its powerful drag-and-drop builder also lets you create beautiful high-converting pages.
With Instapage, you are guaranteed faster page loads, with or without AMP. In addition, you get personalized AB testing and commendable real-time analytics software.
With a monthly subscription of $299, users can gain full access to unlimited landing pages without any conversion limit, GDPR compliance, SSL encryption, HubSpot integration, and much more.
Landingi
Found over nine years ago, Landingi has made a name for itself in the landing page business. It has a sleek design with the ability to create personalized popups and lightboxes.
It is also one of the few platforms where the users can get precise results through its custom-built landing page system, where the landing team builds the landing page for you in whatever way you seem fit. This is a great tool for those who want to pinpoint the slightest of details when building a landing page.
Landingi starts at $55 per month; there is no free trial and with every extra feature, you add to your workflow, you will have to pay a charge, like $450 for premade templates.
Elementor Cloud
Elementor is possibly the best landing page builder for WordPress. If you already have a WordPress website and need a total marketing suite to get started, install the Elementor plugin and give it a run.
But if you are starting fresh, Elementor Cloud – a hosted version of Elementor on managed WordPress is the a great place to start at just $129 per year.
Elementor's affordable page builder and simple, easy-to-use interface is very viable for beginners.
Gutenberg
Gutenberg or Block Editor or WordPress editor, whatever you call it, is a free landing page-building solution if you use WordPress. Since the entry of Gutenberg, WordPress has become an ideal solution for building landing pages.
While the Block Editor sports several page-building features on its own, you can also extend its features by adding several new blocks using new plugins from WordPress.org repository.
See the list of the best Gutenberg Block Plugins here.
Each piece of content in the editor, from an image to a paragraph to a headline, is its own block, and the blocks can be added, arranged, and rearranged according to the user's needs.
Not only is this clever, but it is also effective as users can intuitively create flashy pages without any disturbances in shortcodes and/or custom HTML.
Additionally, Gutenberg comes with premade templates called layouts if you are using a compatible theme or plugin. Plugins like UAGB and GenerateBlocks can greatly enhance your page-building experience as both come with premium quality landing page layouts.
Divi
With its extensive customization and thousands of design options to choose from, Divi is one of the few drag-and-drop builders that can replace the default WordPress editor with a visually superior and exceptional editor.
Designers can easily make use of Divi's visual design controls by adding custom CSS to any element using the Divi code module. It also has a built-in split testing and fluid and intuitive interface.
Not only is it affordable at $89 per year, but the customers also get an option to pay a one-time $249 fee to gain lifetime access with premium support! To add more — Divi comes both as a theme and a plugin — so it is all up to you what you need. By paying $89 per year, you will have access to premium templates, bonus plugins, and WordPress themes from Elegant Themes.
Webflow
Webflow is a powerful and versatile platform for building visually striking, high-performance landing pages without writing code. Its powerful design tools enable users to create responsive designs, animations, and interactions easily.
Webflow's intuitive visual editor allows users to build seamlessly and style landing pages that automatically generate clean, production-ready HTML, CSS, and JavaScript code.
Additionally, Webflow offers a rich collection of pre-built templates and components, facilitating the rapid development of custom landing pages. With its robust features, Webflow empowers beginners and professional designers to create engaging and effective landing pages that drive conversions and meet their marketing goals.
SendPulse
What sets SendPulse landing page builder from other tools on the list is the fact that it brings so much more to the table. SendPulse, a multi-channel marketing platform, helps marketers automate lead generation and nurturing by means of email, SMS, and messenger chatbot marketing.
When it comes to a landing page builder itself, with SendPulse you can create a landing page, an online store, or a page for your social media bio. You can customize your page to your liking as well as add preferred subscription widgets and a payment system.
SendPulse is very flexible in its pricing policy and offers most of the features for free with certain limitations in functionality. Paid plans start at around $8 and give more freedom in terms of features available to the user.
Unbounce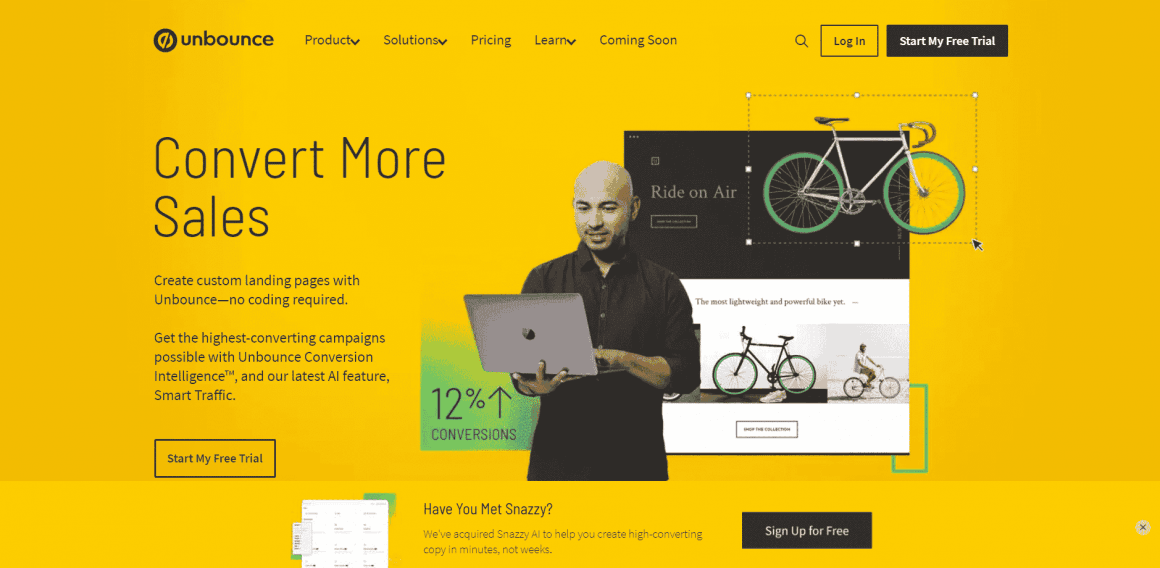 When anyone talks about landing page builders, it would be a mistake not to include Unbounce in the list. Having been around for 12 years, it has become one of the best tools for website developers, especially for landing page creation.
With Unbounce, one can create and optimize dedicated landing pages that prompt any visitor with one focused goal instead of a million other distractions.
Its powerful drag-and-drop builder and over 100 templates coupled with a built-in AI conversion power system make it easy to differentiate between what's working and what isn't.
With plans starting at $80 per month, Unbounce can feel costly. But you get what you pay for with Unbounce. Unlimited landing pages, pop-ups, sticky bars, and the list goes on!
GetResponse
With GetResponse, you get access to a lot more features than any other landing page builder for the price you're paying.
For just $15 per month, the user can unlock a set of tools like unlimited landing pages, a personalized website builder, unlimited lead funnels, and more.
The only downside to this is that beginners could find it difficult to find the different hays in the stack. The abundant set of features can turn out to be confusing for the average developer.
GetResponse also offers an elite reporting and analytics system with flexible email marketing options, but the user is forced to upgrade once any of the landing pages get 1000+ visits.
SendinBlue
An email marketing software program at its core, SendinBlue has caught up over the years and now offers a reliable and unique drag-and-drop system with little to no flaws.
It also offers a set of custom-made templates that are sassy as well as dependable. Users can create their own designs and get pages published in a matter of minutes.
The users have to purchase the premium membership of SendinBlue at $65 per month to gain access to landing page builders, its integrated email marketing features, a neat AB testing system, automated marketing, and more.
LeadPages
Leadpages can be another viable option for you if you're on the inexperienced side. Not only is it affordable, but it provides you with a bunch of features including 160+ templates to choose from, a powerful drag-and-drop builder, and great editing tools.
With a start-out package of $25 per month, the user can get access to an in-built A/B Testing system, real-time analytics, and more. And if you wish to upgrade to its PRO version ($45 per month), you get your hands on integration with Hubspot, Marketo, and Salesforce.
Wishpond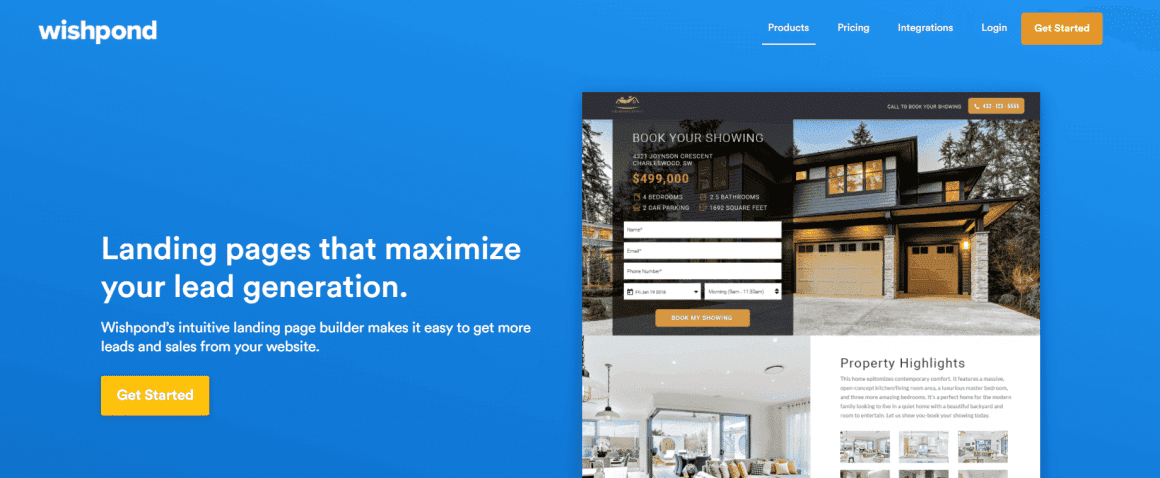 Wishpond is one of the few landing page builders which gives you an entry to all its features including unlimited landing pages, popups, and social contests without charging a hefty amount.
Its simple drag-and-drop editor makes it easy for any marketer to create outstanding landing pages, without the need for acquiring any type of coding skill.
It also lets you fully optimize your landing pages with its A/B split testing and real-time analytics.
The basic plan starts at $49 per month, granting unlimited user accounts. The only downside of Wishpond is that your leads would be capped at 1000 per month and you'd have to upgrade your plan to increase the number gradually.
MailChimp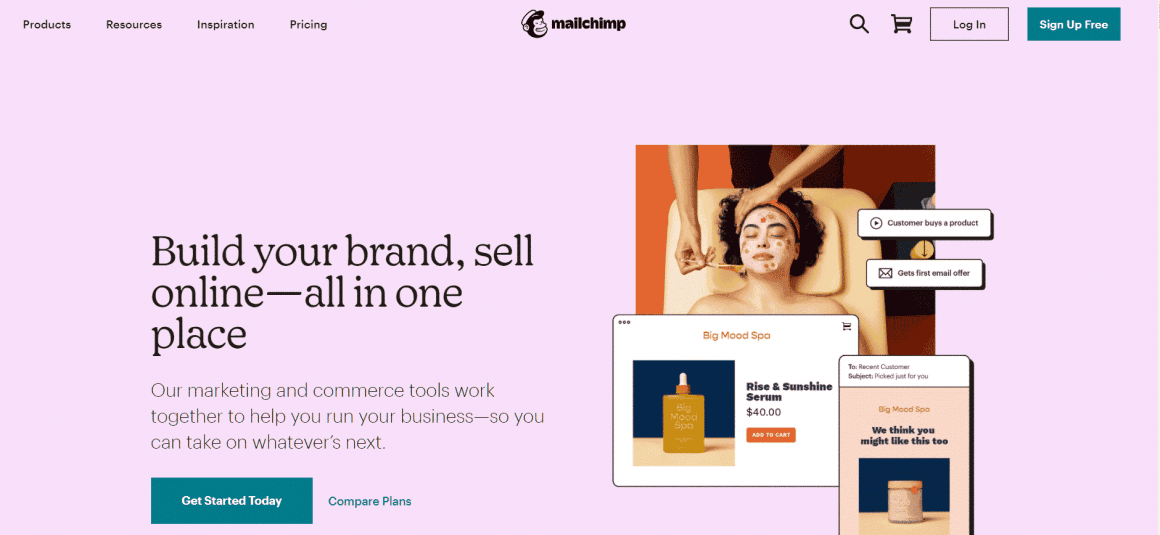 With Mailchimp, users get a reliable marketing CRM, access to integrated email marketing features and unlimited landing pages.
A major reason why MailChimp is included in this list is that its landing page builder is free to start across all plans – even the free version!
If you want access to dynamic content, branding removal and more, you can upgrade to the essentials plan, starting at $9.99 a month all the way up to its premium plan which starts at $299 a month.
Ucraft

Ucraft broke new grounds in the website building market with its abundant features, which come in at an affordable price. Its intuitive page builder and design flexibility will give customers the best bang for their buck.
The users can create unlimited landing pages across all plans, with a hefty amount of templates on hand and real-time analytics. Ucraft also offers SSL encryption on all plans.
FAQ
Which is the best free Landing Page Builder?
Hubspot. With features, price and integrations in mind Hubspot is the best landing page builder in my opinion.
Which is the best Landing Page Builder for WordPress?
Elementor, without any doubts.
What are the best Landing Page Builders for Small Businesses?
Hubspot, Instapage, and Landingi are the top 3 landing page builders for small businesses.
Conclusion
| Landing Page Builder | Notable Features | Pricing |
| --- | --- | --- |
| HubSpot | Easy interface, strong AB testing, customer support, and documentation | Free to start; $49 Starter pack; $800/month Professional plan |
| Instapage | 500+ pre-made templates, drag-and-drop builder, fast page loads, AB testing, real-time analytics | $299/month |
| Landingi | Sleek design, personalized popups and lightboxes, custom-built landing pages | Starts at $55/month; extra charges for additional features |
| Elementor Cloud | WordPress integration, affordable, easy-to-use interface | $129/year |
| Gutenberg | Free for WordPress users, block editor, premade templates, plugin extensions | Free with WordPress |
| Divi | Extensive customization, drag-and-drop builder, visual design controls, split testing | $89/year or $249 one-time lifetime access |
| Webflow | Responsive designs, animations, interactions, visual editor, pre-built templates | Free to start |
| SendPulse | Multi-channel marketing platform, customizable landing pages, flexible pricing | Free with limitations; paid plans start at $8/month |
| Unbounce | Drag-and-drop builder, 100+ templates, AI conversion power system, unlimited features | Starts at $80/month |
| GetResponse | Affordable, numerous features, reporting and analytics, email marketing options | Starts at $15/month |
| SendinBlue | Drag-and-drop system, custom templates, integrated email marketing features, AB testing | $65/month for premium membership |
| LeadPages | Beginner-friendly, affordable, 160+ templates, drag-and-drop builder, editing tools | Starts at $25/month; $45/month for PRO version |
| Wishpond | Unlimited landing pages, simple drag-and-drop editor, A/B split testing, real-time analytics | Starts at $49/month; lead limits apply |
| MailChimp | Marketing CRM, integrated email marketing, unlimited landing pages, free to start | Free; paid plans start at $9.99/month |
| Ucraft | Intuitive page builder, design flexibility, unlimited landing pages, SSL encryption | Contact for pricing |
It all comes down to your business. If it requires a sustainable approach with the best optimization tools to squeeze in and use every single detail, Hubspot and Instapage would be the match for you.
If you use WordPress to run your business, Gutenberg and Elementor could be what you're looking for. One more honorable mention is OptimizePress, which is not in the list yet.
If you want a more cost-effective hosted approach, tools like Webflow, GetResponse, Leadpages, MailChimp, and Ucraft can do the job for you.
And then, there are tools like Sendinblue and Wishpond – which favor small businesses and large companies alike.