Email Marketing for Beginners: The Complete Guide
Are you trying your hands at email marketing? If you are, you may also be looking to build your first email list. Then you'll seek to gain subscribers to your email list. After that, you will need them to click and convert on your emails. And on and on and on. Email marketing is an endless process with its own share of pains and gains. But worry not!
In this in-depth article on email marketing, I will discuss everything that you need to know about becoming an email marketing pro.
In this article, you will also learn how to create and build an email list that converts, which tools you can use, how you can grow and how you can write and send better emails.
The majority of marketers agree: that email marketing is still the best way to do digital marketing! Despite all major social networks in action, analytics show that email still has the most success, regardless of the industry.
Next to content marketing, email is still considered the marketing platform with the highest ROI which is proved by statistics.
While it's evidently clear that email marketing is worth it, the real question is: how does a business start utilizing email? This is where the challenges begin. 
How to build your first email list?
The straightforward answer would be, to create an email list in your favorite email marketing tool (Mailchimp for an example). But creating an email list is not what building an email list means.
By building an email list, you build an audience of quality people who can be converted into leads and sales whenever needed.
The cornerstone of running successful email marketing campaigns is to build a list of engaged readers, leads, potential customers and loyal customers.
However, it can be quite hard to build a high-quality email list that will boost your sales, especially if you're just beginning.
If you are still at the beginning of your journey and you are yet to start building your email list from scratch, we're bringing you the best tips on how to get users to sign up:
Set up a fixed opt-in button on your landing page or website
Organize sweepstakes
Invite and remind your social media followers
Use pop-ups to build your first email list
Implement widgets and games
Offer subscriber-only perks
Offer freebies
Create a Survey
Let's dive into detail.
Set up a fixed opt-in button on your landing page or website
Now, let's start with the basics: the most common way users will sign up to your email newsletter is after seeing a call-to-action on your website or landing page. Therefore, your sign-up button should be prominent on your website and easily accessed from all pages.
The easiest way to make sure your email sign-up button is included on all your pages is to set up a designated area for it. This way, it will appear on the same spot everywhere, not just on your homepage.
It's also important to pay attention to the color, font, and size of your opt-in section. You should also try out some of the rules for effective email opt-in call-to-action.
The users you get to sign-up this way will be your most precious audience segment.
You are 6 times more likely to get a click from an email than a tweet.
Organize sweepstakes/giveaways
On many websites, landing pages, and online stores, you can see prize raffles and sweepstakes. The reason that this is such a widely-used method is that it's incredibly effective: you will get tons of participants, while they will not see email sign-up as a hassle, but as a way of winning the prize.
A sweepstake (giveaway) is also something that's very social media-friendly. Many marketers use it to increase their follower base or likes, by asking participants to like and share a post.
However, in the case of building an email list, you should direct users to a landing page where they enter their data for the prize raffle along with their email.
If you manage to hit a home run and make your giveaway go viral, you can expect thousands of new email contacts on your list.
Invite and remind your social media followers
Even though many website owners believe that email and social media are two separate marketing channels, they can actually be significantly entwined. Namely, inviting your social media followers to sign-up for your email newsletter can result in high sign-up rates.
It's the same the other way around when you invite email subscribers to like or follow you on social media. In any case, it's definitely a valid and efficient method that you should consider adding to your social media workflow.
If you're just at the beginning of building your email list and you don't have a social media follower base either, remember to connect the two further down the road. Social media followers and email subscribers are not two different worlds!
Use pop-ups to build your first email list
Some marketers refrain from using pop-ups and other aggressive CTA methods because they can have a negative impact on the user experience. However, the fact is that pop-ups generate a very high rate of email marketing sign-ups.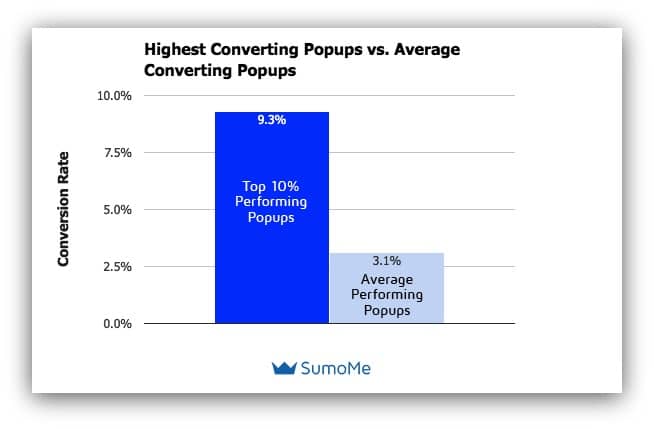 In Sumo's study (above) of almost 2 billion pop-ups, they found that pop-ups have an average conversion rate of 3.09%, while the top ten percent of performers had a conversion rate of 9.28%.
These numbers are quite promising when you take into consideration that the average conversion rate for calls-to-action on landing pages is 2.35%, according to WordStream.
To include pop-up prompting for email sign-up on your website, you can use plugins and widgets if you use WordPress. Even if you're a development and design rookie, it's very easy to implement a pop-up on your website, and you can deactivate it at any time.
If stats are to be believed, the exit-intent popups can increase the conversion rate to up to 267%.
In fact, we have seen a hike of 10-15% by using the same technique.
Implement widgets and games
A similar method that you can use to directly approach your visitors with an email sign-up CTA is games and widgets. This is a method that's less aggressive than a pop-up because the sign-up prompt is not so obvious but it's actually embedded into the game.
A common strategy that eCommerce sites use is the "Wheel of Fortune" widget. When a user enters a website, the wheel with prizes is shown (and who doesn't like spinning a wheel of fortune!).
After a user lands at a particular prize (usually a discount), they have to enter their email to obtain the reward:
Another awesome opt-in game idea is the Scratch game – ideal mostly for mobile apps and mobile websites.
Offer subscriber-only perks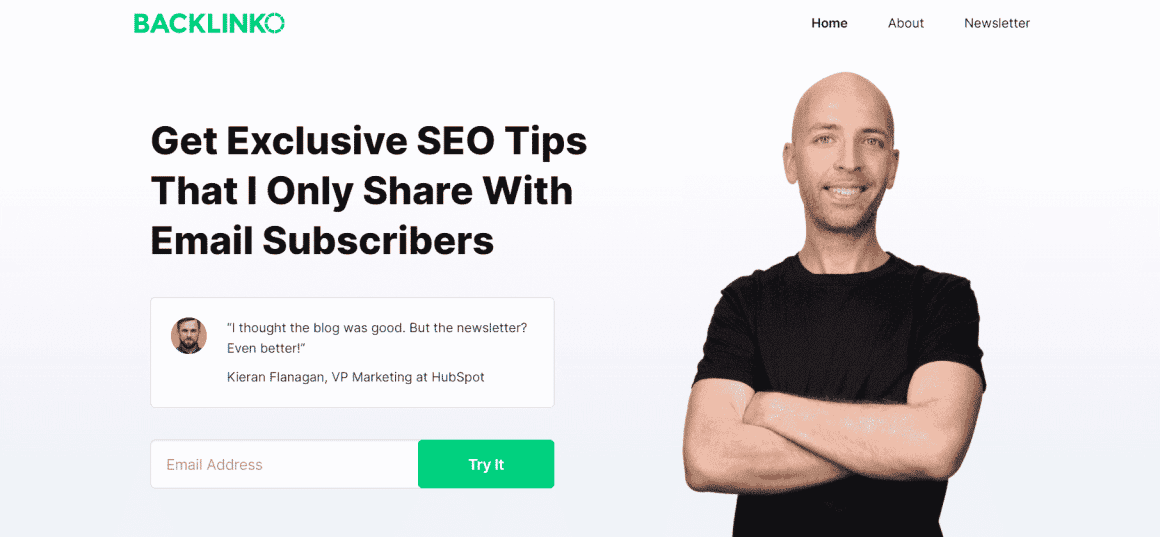 A well-known fact that many marketers choose not to talk about is that it can be very hard to get users to sign-up for your email newsletter on their own. This can only happen if they're absolutely thrilled by your website or online store, and even then, a huge majority wouldn't think of signing up.
In reality, to get someone to sign up for your email newsletter, you have to offer something in return. For most users, one of the most enticing offers would be that they will get access to something only subscribers have.
For example, you can introduce subscriber-only discounts and even entire hidden collections. The concept of exclusivity is very attractive and it's proven to boost sales and spark customer interest.
If you run a blog or a digital services website, you can offer subscriber-only content that users will have access to only in the newsletter.
This strategy is used by a variety of different businesses and brands, from fashion and lifestyle blogs and stores to podcast networks and advice websites.
Offer freebies
There's nothing people love more than receiving free stuff. Especially if the only thing they have to do to get it is to provide their email address and click a button.
If you run content or a digital service site, you can offer free eBooks, PDFs, courses, infographics and other types of engaging content in exchange for an email address. You can also do this by installing a chat service with a pop-up asking if the user needs help with something around the site.
Create a Survey
The survey is another subtle way of receiving a user's email address. Many users like participating in surveys, either for the feeling of being able to express their opinion or to get access to the results.
Create a survey that's relevant to your website content and offer sharing the results with participants who enter their email addresses.
Another great thing about surveys is that you will get access to more detailed info than you would from a simple sign-up button. In their survey, you can ask the participants for information such as their age, gender, location, interests, and many other data points. Later on, you can use this information to segment your audience in your email newsletter program.
How to Grow Your Email List?
Now, let's talk a bit about using the power of your present subscribers. Even if you only have a handful of email subscribers at this point, their recommendations can be very effective.
As you have started with the building process, you should follow the process with some great growth tactics. Here are some of the tactics that will help you both in building and growing your email list.
Add Share and Forward buttons
In each of your email newsletters, remember to include a "Share" button so that users can easily share the content of your newsletter on social media or "Forward" to send the email to a friend. Of course, every email client will have a "Forward" option on its own, but it's much more likely that users will actually do it if you remind them and give them the option of quick and easy forwarding.
You can also set-up prize systems and affiliate programs for users who get their contacts to sign-up. For example, if you offer a 10% discount to your subscribers, you can offer an additional 5% for each user they get to sign up to your newsletter using their link. Just make sure that the math is correct and that you're not losing too much of your margin!
Use Bloggers, Vloggers and Influencers
It's a very well-known fact that influencer marketing is an efficient way to boost brand awareness and sales. However, many marketers ignore the fact that influencers can be used to promote email signups as well.
For this method, you will need to set aside more resources than for some other strategies on this list. A great way to achieve a high conversion rate is to find a blogger or a website that's connected to your industry or niche. In partnership, you can get them to promote your email signup link, which will get you a relevant audience for your newsletters.
By cooperating with bloggers, you can develop your own content that will work as a guest post on the blog you're targeting. If you're not much of a wordsmith, you can hire a content writer or more accurately a copywriter to create some content for you.
Offer a shopping discount
Discounts on products or services are the most commonly used way of building an email list. You simply offer a discount code to whomever after they sign up for your email newsletter and then share the code with them after they confirm their participation.
If you don't sell products or services directly, you can use shopping discounts from other stores (by agreeing to a partnership and affiliate promotion).
Of course, you should take these discounts and promotions into consideration when you're doing calculations and projections of your sales, profits, and margin.
Go Unplugged
Your email-building efforts don't strictly have to happen online, especially if you're running a business that targets a local audience. There are ample ways you can organize live events and promotions that will result in email list building. Here are just some of the ideas:
organize educational seminars and conferences
organize networking sessions
attend business fairs
host a celebration for the brand's birthday or other milestones
Automatic opt-in during the checkout process
A sure-fire way to get email subscribers is to include an email newsletter sign-up checkbox in your checkout process (if you sell products or services), and leave it automatically checked. This way, you will be granted permission to send emails to those customers that have already purchased something from your company.
However, keep in mind that some of the subscribers that you get this way might leave the box checked unintentionally, which can result in higher opt-out rates for your email marketing campaign.
Best Email Marketing Tools
If you are going all-in into email marketing, be sure to start with an email marketing tool.
If you are looking for the best email marketing tools in 2023, these are the 6 best email marketing tools that I recommend:
Let's dive into the details and see how each stands with the others:
Aweber
Aweber offers a drag-and-drop email builder, pre-designed templates, and plenty of integrations. It can help you create automated email sequences and email follow-up sequences.
You will also get advanced features like open rate data, the ability to test your emails and deliverability rates.
Pros
Engaging email templates
Ideal for small businesses
Drag and drop email editor
Ready to use templates
Email automation
Email workflows
A/B testing
Easy integrations
* Aweber now has a very good free plan. Premium plans cost from $19 per month to $149 per month.
Constant Contact
Constant Contact is an amazing email marketing software for businesses and email marketers of all kinds.
It is considered one of the largest email marketing services in the world and they are continuously providing its users with advanced tools like event management, social media, tools to create coupons, etc. There are also a wide variety of niche-specific templates to use along with a dashboard that provides you with important email metrics.
Pros
Several useful guides and services
Easy to use for beginners
Live chat, email and phone support
Great for small business owners
Mailchimp
Mailchimp is an easy-to-use marketing tool for bloggers and small websites.
Pros
Email automation
Data segmentation
Numerous readymade email templates
Manual code editing of templates
Landing page A/B testing
Lead capture forms
Cons
Their policy towards free accounts is very hostile.
Mailchimp has a free plan, for which it is quite popular as it allows you to have 2000 subscribers and you can send 10000 emails every month. Paid plans are available as Essential, Standard, and Premium plan that allow about 50000 subscribers per month.
Drip
Drip's email marketing software is relatively new and is mainly for marketers, bloggers, and eCommerce site owners.
If you sell plenty of products, you need to create complex marketing sequences – Drip should be your first choice.
Pros
One-click resend to un-openers
Drag and drop editor
Geo-optimized email with smart send
Smart Email campaigns
Custom reporting and detailed analytics
Automated emails
There are several plans like Free forever, Basic plan, Pro Plan, and enterprise plans for Drip users.
Hubspot
HubSpot is both a CRM tool and an email marketing software.
Hubspot offers great services and has helped more than 100 thousand people worldwide grow their businesses. It is easy to set up and connects easily with Gmail, GSuite, and several versions of Outlook.
You will get a drag-and-drop email builder along with images and CTAs to change your content. There are advanced features like email automation tools, ready-to-use templates, email tracking, list segmentation, and extensive analytics.
Pros
User friendly
Drag and drop email builder
Email automation
Ready to use templates
List segmentation
Detailed analytics
You can opt for free or paid subscription plans and all the plans include CRM features that scale up with higher-tier plans.
EmailOctopus
EmailOctopus is a simple, easy-to-use email marketing tool that's perfect for beginners. The learning curve is short and the UI is intuitive enough to mean you won't spend hours searching through help docs. Plus, excellent customer support is always on hand to help get you set up and make the most of your email marketing. As a tool, it gives you everything you need to grow your mailing list, sends engaging email campaigns and analyzes results. There are also advanced features including time-based automated workflows and list segmentation, as well as integrations with over 2,000 apps via Zapier and Integromat.
Pros
User-friendly
Ready to use templates
Drag and drop email editor
Time-based email automation
List and campaign activity segmentation
Live chat and email support
Generous free plan for up to 2,500 subscribers
Cons
No A/B testing
Missing advanced automation
You can start with EmailOctopus for free for lists up to 2,500 subscribers. After that, prices start from just $24/month for up to 5,000 subscribers. Free plan users get access to the same features as paid users.
Remember, when choosing the right email marketing software for your business, you must consider your budget and marketing needs.
During Black Friday, Christmas and Cyber Monday events – these companies offer heavy discounts and deals. You should wait for apt timing and purchase a relevant tool for your campaigns.
Email marketing tools like these are very important in email marketing and are widely used by business owners and marketers. Automated emails can help engage existing customers and help in increasing audience relationships through email marketing.
Why use email marketing tools?
Email campaigns in today's world need to be mobile-responsive, personalized, integrated and segmented. Businesses are realizing the importance of investing in email software with 49% of the companies using email automation. An email marketing software can provide several features like email scheduling, personalized messaging, email analytics, email automation, and email integration. When investing in an email marketing platform there are several factors to consider.
User Interface: The main function of email marketing tools is to help marketers, so email marketing software must have a great user interface in order to increase the number of users. If the user interface of the tool is good then even a beginner can use it with ease.
Audience segmentation: I think all email marketing tools must have audience segmentation as it increases the performance of email campaigns. With the help of this feature, you share the content on the basis of their location, demographics, and online interactions.
Email automation: In email marketing, there is a great requirement for repetitive and manual tasks and if the software provides you with email automation, it will help you save loads of time and marketing resources. This feature helps with email scheduling, tracking of user engagement, sending and receiving delivery receipts, text analytics, etc.
Merge Tags: These tags are codes that help users insert unique data points that are sourced from customer data platforms. This allows the syncing of customer data for personalization, directly into your email. In this way, you can personalize your emails on the basis of your audience.
Ready to use templates and editor: The email marketing tool that you are using should be able to provide you with basic email templates so that you can use them easily after making some changes. The editor provided in the tool must be easy to use with a drag and drop builder. This way you can create customized emails with your brand and design.
Reports and data analytics: These dashboards help digital marketers in making data-oriented decisions to enhance their email marketing by using factors like open rate, click-through rate, etc.
A general guideline that can help you get a big subscriber rate is to offer your opt-in subtly and shrouded in valuable content or offers. The least effective way would be to just offer a plain sign-up button on your website and wait for users to come to you without offering something in advance.
Therefore, when you're building your first email list, think of the added value that you can offer customers in exchange for their email.
How to convert more with your email List?
See, the ultimate purpose is to convert and make your email marketing profitable. No matter how hard you try, no matter how many subscribers you have, if you are not making any sales, all your hard work is useless.
In this section, I will tell you how you can convert more with your email list.
Write better newsletter emails
The first step to converting better is to write better and more engaging newsletters. A whole Wikipedia page can be written about this but the first way to grow your email list is to write better emails. This helps your subscribers stay with you longer and convert better.
Write proper content, format that for the best experience and send only when you feel it's going to be the best email ever sent.
There are a couple of tips that you can follow while writing newsletter emails.
The first one is to stop using images and communicating using text as much as possible.
Even if you have to use images, try to use the best ones.
Implements GIFs in your emails, but only when that is needed.
Write shorter emails. Give your readers a couple of sentences and a link. If they liked what you pitched, they will surely click the link and read the total piece and/or convert.
Also, if you send longer emails, Gmail like mail-providers will truncate those emails with a link to read the full email in a new tab. Truncated emails are the arch-enemy of email marketers. In a perfect world, the full message would be viewable the instant the email is opened.
Use attention-grabbing email subject lines
Every email marketer understands the importance of grabbing people's attention at once. Try the best subject lines to gain the attention of your subscriber. This increases the email opening rate and thus increases the conversion rate.
But don't make false promises.
That can hurt your reputation and the reader may unsubscribe your email.
The key to crafting a good email subject line is to be informative and honest. Click-bait subject lines have no place in an email inbox.
You can use tools like CoSchedule's Headline Analyzer and the Emotional Marketing Value Headline Analyzer to determine whether your honest email subject line is catchy enough.
If you really want to increase your email open rates, here's a good ninja trick for your headline: keep it short, informative & interesting
Here are a few examples:
Here's how to make $5 today
My prediction for your business
Left-handed people live longer
The main takeaway from those is that the subject lines are interesting and informative. Instead of having to guess what it's going to be, I already know what to expect.
Use this technique wisely and watch your open rates soar.
Don't hard-sell
Whenever someone subscribes to your email list or newsletter, don't just go on selling a product in the very first email. I mean, who the hell are you? That person just signed up thinking you'd be offering something valuable and you go like, "Come On! Get This Awesome Product At Just $29"? This backfires.
You mustn't hard-sell your product, no matter how good your product is. Try applying the popular Gary Vaynerchuk approach, "Give, give, give, give, give, give, ask."
Offer your subscribers regular updates, "Hi and Hellos" and freebies. Build a relationship and once you think the relationship has been built, tell the reader that you have a product. Don't sell it yet. Offer him a discount if they choose to buy and tell him that the discount is exclusively only for him.
This is a tested method and it works.
Send segmented and targeted emails using email segmentation
You can categorize your audience as per the pages or leads they subscribed to in your newsletters. If you had 10 people signing up for an ebook, while 15 people signed up for regular blog posts — you should divide both groups of people into different segments. This way you can handle both segments correctly.
The purpose of segmentation is to provide relevant content to a certain group of people.
This is what separates the wannabes from the professionals.
Email segmentation is the next level of email marketing. Learn it and master it if you want to become an email marketing champion.
This is one of the best-kept secrets in the entire world of email marketing.
Many small-business owners and entrepreneurs, understandable, have absolutely no idea about this concept.
Most people tend to believe that every person who subscribes to their list is looking for the same thing.
But as you can see from the picture above – if you can capture visitors based on what they are most interested in, your overall rate of success and profits increases.
Humans are diverse creatures and not everyone likes the same thing.
Yes, it takes a lot of work.
Yes, it's worth it.
Don't let your list go dormant
I've literally heard business owners say they're waiting for their list to hit 100 subscribers before sending out their 1st email.
That's insane.
This #1 enemy of email marketers is dormant subscribers.
Even if you only have 1 subscriber, EMAIL THEM!
Letting subscribers go dormant is like getting a paycheck in the mail and never cashing it. In fact, you waited so long that the check expired.
When your email marketing technique is properly executed, dormant subscribers are something that you'll rarely have to deal with.
The reason I'm able to get open rates of up to 60% and keep those numbers high is that I'm really good at making sure my list gets contacted within moments of subscribing thanks to an email marketing tool that has an autoresponder.
Most statistics indicate that between 60% – 70% of active email lists are dormant. That alarming statistic means that most people haven't caught onto the fact that an email autoresponder is absolutely crucial if they want to grow their blog or business.
Email on purpose
Have a clear focus behind each email that is sent to your list.
Including multiple links that lead to the same destination is a great strategy that keeps people on track.
Most web users are savvier than marketers give them credit for.
If someone clicks over a link and sees it's going to a certain destination and then clicks over another link only to see a different destination, that usually leads to lead paralysis. If your email reader doesn't know what you want them to do, they usually won't do anything.
Why?
Because it's easier.
When given more than 1 choice, most people will choose not to choose.
Your email subscribers will greatly appreciate it if you told them exactly what to click and why.
The energy they save by not having to choose on their own is the energy they can therefore use when choosing what to buy from you.
There are plenty more email marketing tips and techniques that have been shared online over the years.
But keep in mind, that every business is different.
Statistics are proven that email marketing is the most cost-effective marketing channel on the planet. So if any of these email marketing strategies I've shared with you don't seem to work for you, try something different.
Just like email segmentation, not everything is cookie-cutter perfect for every person.
At the end of the day, a survey or questionnaire to your subscribers can always help you re-identify the needs of your list. Try a survey if your business is large and plan things wisely. Never underestimate the voice of your subscribers even if they are just one to give you some input.
Use Email Automation
Basically, email automation is a way to create emails that get to the right people
with the right message at the right moment. It is a strategy wherein marketers
send out triggered or timed promotional emails to both customers and prospects
on their mailing lists on a schedule, or when certain conditions are met.
Based on you can your subscribers' preferences, behavior, and history of previous
sales, you can personalize every customer's experience and make campaigns more relevant and automated.
In this, all you need is to pick an email marketing tool and start automating. There are several ways email automation can be used and utilized in email marketing.
To welcome new subscribers
To offer freebies and regular post updates
To gather feedback
To win back lost customers
There is a lot to learn in email marketing, and we're already over 5000 words. There are several resources that you can refer to but the best way is to practice. You can signup for an email marketing service for a free trial (I recommend Constant Contact) and give the whole email marketing thing a run. You will automatically know and understand what is needed and what is not for your email marketing business.