Best CRM Software for Online Businesses
Customer Relationship Management or CRM software has nowadays become the most important tool for online businesses. If you are an online business and are looking for the best CRM software for your business, you are at the perfect place.
Recently I analyzed and compared 50+ CRM apps from top brands. The purpose of the comparison was actually for a client's work. But since the client has allowed me to share the finding, I am super excited to bring you the list of the best CRM software for online businesses.
In this article, I have listed the 15 best CRM apps, analyzed them, reviewed them and ranked them in an order that makes sense and defines their worth.
But before that, let's talk about some basics of CRM for entrepreneurs who are new to this term, "CRM". You can also skip to the list of the best CRM apps by using this table of content:
What is a CRM?
CRM, or the Customer Relationship Management app, is a tool/software that allows you to manage your leads, customers and clients using an easy-to-use interface.
From generating conversations, converting them to leads, data onboarding, and keeping track of your expanding customer base, clients and suppliers – CRM software manages everything required for business growth.
A CRM software is highly effective for reducing costs and increasing profitability for businesses, small or big.
By collecting leads or consumer information, the CRM software helps analyze the collected information to understand the actual requirements of the customers and the market so that marketing campaigns can be adjusted accordingly to improve sales and overall profits.
Advantages of a CRM
One of the biggest advantages of CRM software is that it reduces the cost of customer acquisition. Moreover, it is highly beneficial in improving the rate of customer retention and customer support besides enhancing customer satisfaction and facilitating organizational-level data sharing.
In addition to these advantages, the customer relationship management software helps schedule environments to promote better customer service delivery and provide satisfying solutions to customer needs using web-based or online applications.
Furthermore, this is also useful in establishing a central resource for business communications as far as customer transactions are concerned, besides allowing easy management of sales force functions and eliminating time-consuming tasks such as scheduling and setting appointments with customers.
All in all, the CRM software can be trusted to promote shorter sales cycles, improve reporting, provide quick turnaround time, reduce administrative costs, improve customer retention, and increase sales closing rates to help a growth-oriented business capture new customers, retain existing customers, explore new opportunities and niche markets, and manage business operations smoothly and easily.
See, the thing is that it was not very easy to manage customer data before the CRM apps came into play.
But likewise, there was very less competition among companies to get hold of customer data.
Times have changed and technology has now become an integral part of businesses. Every brand is competing with the other businesses. You can't choose the wrong tools if you want to win the competition. Choosing the right CRM software is very, very important.
I have briefly analyzed 15 of the best CRM software(s) (also known as Business CRM apps) you can use in this article. These are trusted by premier brands, are easy to work with and are also cost-efficient.
Most of these are free to start (as they offer free versions or at least free trials), so if you are uncertain about investing too early, feel free to explore the trial period first and decide whether or not it's worth paying.
Without further ado, let us look at the 15 best CRM apps for online businesses (more options to be added soon).
Best CRM Software for Online Businesses in 2023
CapsuleCRM is an easy-to-use application to get organized with your business and make more sales. It can easily handle your sales pipeline, monitor deals, bids, and organize your emails, documents, and conversations in a single place.
Benefits
It enables you to get a wide range of contact management strategies by sorting important information about your clients.
Business owners can get an easy summary of their business's growth opportunities by using the Capsule dashboard.
Capsule's servers ensure the safety of your business data.
You can create customized categories of various information related to your customers.
It has a comprehensive contact management tool that saves and sorts your clients, contacts, and vendors and categorizes them accordingly.
Capsule makes monitoring conversations and business with organizations and business owners easier.
Using the Capsule dashboard, business owners can easily get their business's growth summary easily.
It can also be integrated with other software like Xero, Zendesk, and many more.
Price: 30-day free trial, then $12/user/month.
Zoho CRM is the most-recommended app on this list. Why? They deliver some of the best email services and CRM tools for small businesses. It's designed to help companies attract, engage, and satisfy customers. Plus, it is free to start.
Zoho CRM has been around for a long time and is completed by Zoho's other tools, including their email marketing and helpdesk services. It has a large user base, and it's hard to complain about the feature set.
Benefits
Zia is the AI-powered sales assistant which learns about business and predicts trends, conversions, and anomalies.
Smooth integration with Google apps and Zoho Apps.
Realtime data.
Live online training.
You can link Zoho CRM to your customers' social media accounts and pages and send invitations to connect with them.
Detailed analytics.
Price: Free for teams with up to 3 users (with some limits). For businesses, it offers 15-day free trial, then $12/user/month.

Whenever you search for management tools, you may see that Hubspot will appear at the top because it has some of the best features and offers you everything you need to track and organize customer leads for mostly free of cost.
Not only is the core CRM free, but it's also incredibly easy to add your existing contacts and new ones. New contacts are immediately associated with the right company based on their email domain.
Before long, you'll be able to view your up-to-date sales pipeline and get on top of the organization. It's the perfect CRM for small businesses and freelancers. You also have room to grow with plan upgrades.
Benefits
Up to 1 million contacts, users and storage are free of cost. (Seriously!)
More deals with less work involved.
Effectively track your deals.
Offers a single, detailed dashboard view.
It allows you to link it to all locations of your sales processes, such as websites, email service providers, and social media profiles.
Price: FREE. It lets you store as many as 1,000,000 contacts and companies. But if you ever need access to their Sales, Marketing, Service or CMS Hubs, other fees apply.
Freshsales CRM is specially developed to help your sales team keep track of leads and solve their queries. It provides a straightforward and easy-to-use interface that allows you to manage thousands of leads very effectively.
Benefits
The setup procedure is effortless and straightforward, and you can also integrate it with other business apps.
It offers a wide range of features such as affiliate management, call recording, auto-dialers, and many more.
It enables you to track user management with the website.
It effectively helps you identify where your leads are coming from, which gives your sales team a great advantage.
Pricing: Free version available. Premium versions start at $15 per month.
Agile is an easy-to-use CRM application with all-in-one automation, primarily focused on marketing, sales, and service. It offers services such as helpdesk, two-way email, gamification, and many more.
Agile CRM offers sales enablement, marketing automation and customer service and ticks a lot of the right boxes. It's free for up to 10 users and 50,000 contacts, but you miss out on useful features like call recording and marketing automation without a paid plan.
Benefits
It's useful in speeding up sales, which makes the customer experience more satisfying.
It has a smooth integration with the social media channels to connect with customers, which makes it more efficient.
It has an online scheduling feature that makes a date for appointments and meetings.
Price: Free plan: $0; Premium: $14.99/month
Salesforce brands itself as the #1 used CRM application but is not always a good fit for small businesses because of the complexity and costs of its best features.
Salesforce focuses on hassle-free contact management by enabling you to see all your customer information and interaction history in one place.
It also offers various integrations, such as the one for Power dialer, Linkedin, JIRA and many others.
Salesforce is a multipurpose CRM, and it's built with scaling in mind. The main advantage? It's extremely customizable. You can also set up completely automated processes to take contacts from lead, deal won, invoiced, onboarded, and upsold.
Benefits
It integrates with your Gmail and synchronizes your emails so that users can have a complete view of customers.
It gives you a complete analysis of your business's performance in the market.
It runs various campaigns across multiple social media channels to captivate the audience.
The Salesforce Mobile app allows users to view meetings, events, and account updates at fingertips.
Price: Starts at $25/user/month and goes to hundreds of dollars a month.
Salesflare is a CRM application designed and built for B2B companies. It has a neat and straightforward interface that shows you a clear view of your customer's activities.
Benefits
It's easy to setup. It takes only a few clicks before it gets up and starts running.
It has a customer conversation feature, which helps your team members to follow customer conversation without having to be involved in direct messages.
It has a better document management system.
It boosts the productivity of your sales team by enabling them to perform sales related tasks instead of spending significant time on data entry.
Price: $30/user/month
Pipedrive is a leading CRM application with some of the easiest sales tools for small businesses. You can add up to 100 apps to Pipedrive, which helps you set up and manage client dashboards.
Benefits
More reliable as it introduces a wide range of features to automate the important information about the customers.
It helps your sales team to visualize the complex process and increases sales productivity.
It does better forecasting and reporting.
It comes with goal tracking and revenue forecasting features to use existing data to monitor your progress and performance in the market.
Price: $12.50/user/month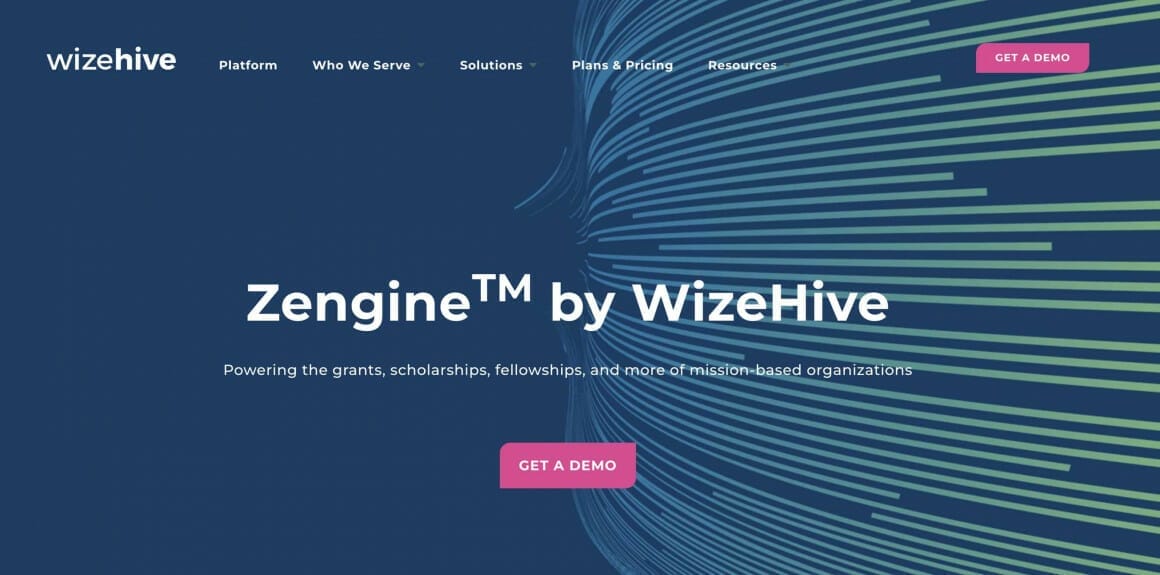 Zengine is a comprehensive management application specially designed for organizations like foundations, nonprofits, and universities. It provides useful application tools such as the submission portal, which offers an easy-to-follow experience with apps and helps manage the entire lifecycle of scholarships, grants, and many more.
Benefits
It has secure submission portals for the applicants of grants and review portals for the reviewers.
Forms, dashboards, and reports can be created very quickly using this application.
It is a cloud-based system, so there is no need for paper-based forms to be submitted.
The system's automated emails help your team manage grants and scholarships with ease.
Price: Price varies based on the number of programs and features required.
Nimble is a simple application for small businesses that integrates social media platforms with its CRM system for customer service and communication. It's designed to streamline your business process and allow you to manage all incoming messages and tasks from a single interface that can be accessed on any device.
Benefits
Nimble CRM integrates with your social media platforms, and it not only engages with your customers but also gathers more data and improves relationships with the existing client base.
It includes analytic tools that divide your customers based on various parameters.
It is built from the start, dictates the rules of the game and helps small businesses to proliferate and establish brand awareness.
Price: 14-day free trial, then $12/user/month
Insightly is one of the top choices for business owners regarding the best CRM for small businesses. It combines various business functions such as sales, marketing, and contact management into one integrated platform and helps you increase productivity.
Benefits
Using this app, you can reduce the amount of time spent on manual data entry tasks and increase your efficiency.
It delivers a great customer experience, increases customer satisfaction loyalty, and supercharges business growth.
It has tracking and analyzing metrics that help the business identify the strategies producing the results and discard the ones that are not.z
Price: $29/month
Liondesk is a CRM that is specially designed for real estate professionals. It is an all-in-one solution for agents, teams, and brokers who can use their platform to boost campaigns and increase client interaction.
Benefits
It has some unique features, such as video emails and video texting.
Video emails and video texts can be automatically created in the application using a built-in video recorder.
It enables users to import their leads from third-party sources.
It has excellent task management capability.
Price: Free trial, then $25/month.
Vtiger is an all-in-one CRM software designed for small businesses. It's been built to meet client's needs based on the feedback provided by the customer base. The app comes with a unique set of tools that help improve interaction with potential customers.
Benefits
It offers excellent sales automation capabilities, such as email marketing tools, project management, and many more.
It helps users maintain contacts and automate repetitive tasks.
It allows customers to search through past issues and to customize the database to make proper future operations.
Price: 15 days free trial, then $10/month
Bitrix24 is a collaborative application designed to automate the communication and management procedures in small and large scale businesses. This app offers a wide range of tools for managing your contacts, messages, emails, tasks, and projects, which helps you elevate your sales with ease.
Benefits
It offers a free version for up to 12 members with 5GB of storage space.
It allows you to manage both internal and external communications with secured models.
It includes a wide array of tools like task reporting, tracking, planning, check/in-out, and many more.
With this tool, uploading and sharing files with your co-workers is possible.
Price: Free plan: $0; Premium: $39/month
Salesmate CRM is designed in such a way that it can speed up the sales process and give your customers a very great experience. This application is perfect for sending out emails, managing your contacts and keeping track of all the sales very effectively.
Benefits
It drives more sales and can keep track of all the sales in its sales pipeline.
It automatically monitors email conversations to get your prospects' attention.
It offers a separate database to keep your data secure.
Salesmate has a virtual phone system that ensures you keep in touch with the customers.
Price: $12/month
Conclusion
A CRM software enables a company to align its strategy and interests with its customers and clients to meet their needs ensuring their long-term loyalty.
If you are a business and want to grow, you must switch to an online CRM app from the list above.