16 Best Gutenberg Blocks Plugins for WordPress Block Editor
Are you looking for the best Gutenberg Blocks Plugins for WordPress Block Editor? I was, too, and in the last couple of years, I have found some that have worked well for me.
In this article, I have listed the 16 best block editor plugins, also called Gutenberg plugins or Gutenberg add-ons. This is possibly the most comprehensive list of the best Gutenberg plugins on the Internet that you can try.
About Block Editor
Block editor is the default editor for all WordPress installations now.
It provides an innovative and seamless writing-editing experience for WordPress users.
Block editor, also known as the codename Gutenberg Editor, landed in the WordPress core in WordPress 5.0 — a move that was not welcomed by a majority of WordPress users. It was raw and full of bugs.
But with time, it has grown to be a better classic editor replacement and it doesn't matter if you like it or not; it is going to stay.
Personal Experience with Gutenberg
I have been using Gutenberg since day 1. It's not that I loved it at first sight but my regular readers know how much I hated slow-loading page builders. Gutenberg was way faster than Elementor and WP Bakery Page Builder and provided a native writing and designing experience. It took 1 or 2 months to totally master the interface and workflow. But once I got used to it — I started loving it.
WordPress Editor, Block Editor, New Editor, or Gutenberg — whatever you call it, it is all the same. And like any other thing in WordPress, it can be enhanced with WordPress plugins. I have tried and tested over 200 WordPress block plugins to date and only a few really impressed me.
In this article, I have collected some WordPress Block plugins that I use and love. This list is unlike any other lists you have read on the web, so sit tight.
Most importantly, all Gutenberg plugins in the list that I have listed are free (to some extent), bloat-free and very innovative. So yay! Let's hop on the list.
Best Gutenberg Blocks Plugins for WordPress
I have listed all these best Gutenberg block plugins one by one in a ranked manner. But this ranking is totally based on my personal interests. Even the best of the plugins may not work well for you. But don't worry. These plugins are either free or have a refund policy, of 14-30 days, for all your first purchases.
GenerateBlocks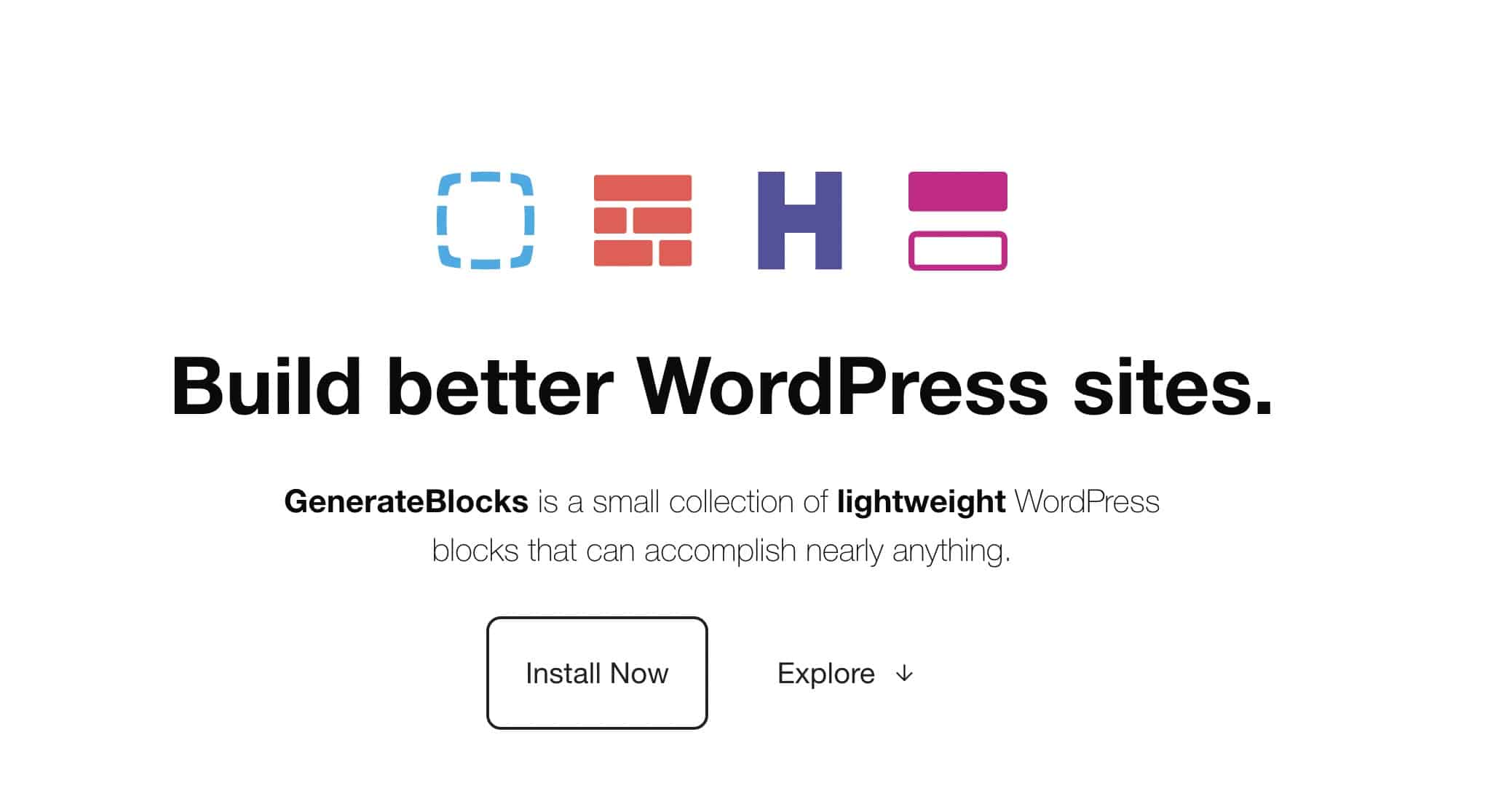 GenerateBlocks is the best Gutenberg blocks plugin in 2023 and for several reasons. The key parts of this website are built using GenerateBlocks Pro.
This is need-based no-bloat magic that can help you create almost any layout you want to.
GenerateBlocks come with just six blocks but don't get carried away by this number. The 6 blocks offered are:
Container
Grid
Image
Headline
Buttons
Query
Combining these six blocks with core blocks and unlimited customizations, you can achieve everything you need in a page builder.
GenerateBlocks was created by Tom Usborne, the same brilliant mind that created GeneratePress. So, it's evident that GenerateBlocks follows the same lightweight & SEO-first approach. It is fast, cutting-edge and user-friendly.
GenerateBlocks also comes with a premium version called GenerateBlocks Pro (just $39) which offers no extra blocks but plenty of design boost-ups.
Why GenerateBlocks?
Here are the 9 features that GenerateBlocks Pro adds:
Template Library
Global Styles
CSS Effects
Advanced Backgrounds
Beautiful Card Like Container Links
Asset Library
Copy+Paste Styles
Device Visibility
Custom Attributes
GenerateBlocks Pro comes with 200+ premade patterns to use from. New patterns are being added regularly as I write. You can also create your own local patterns and use those as many times as you want. GenerateBlocks' template library is possible one of the best that I have ever seen.
Here are the latest patterns: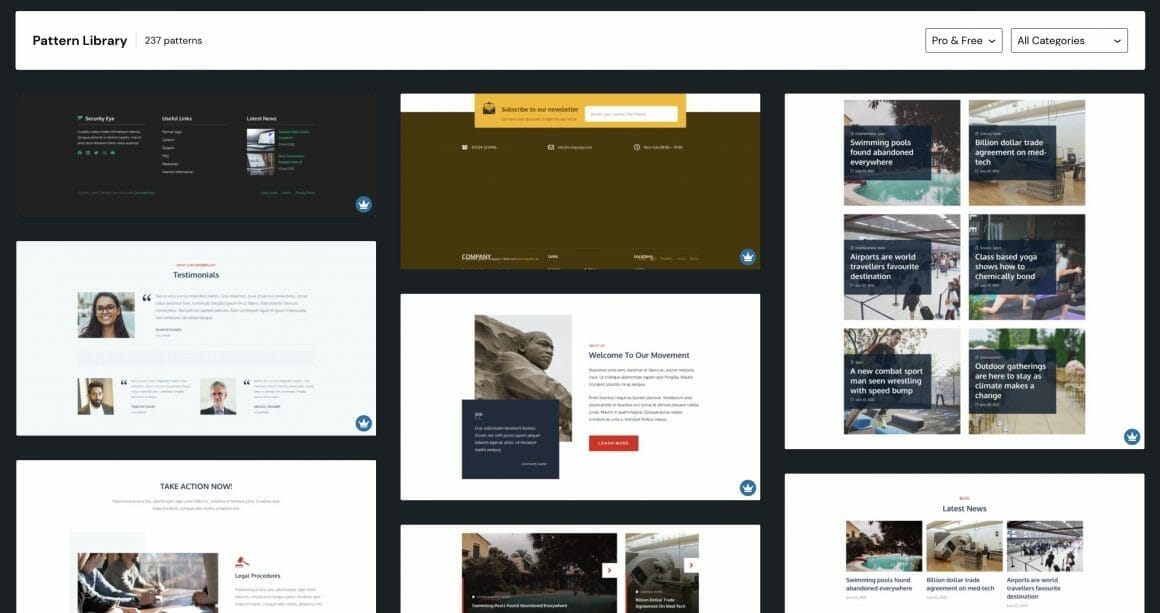 Explore GenerateBlocks patterns library →
Here are my own local patterns that I use with GenerateBlocks: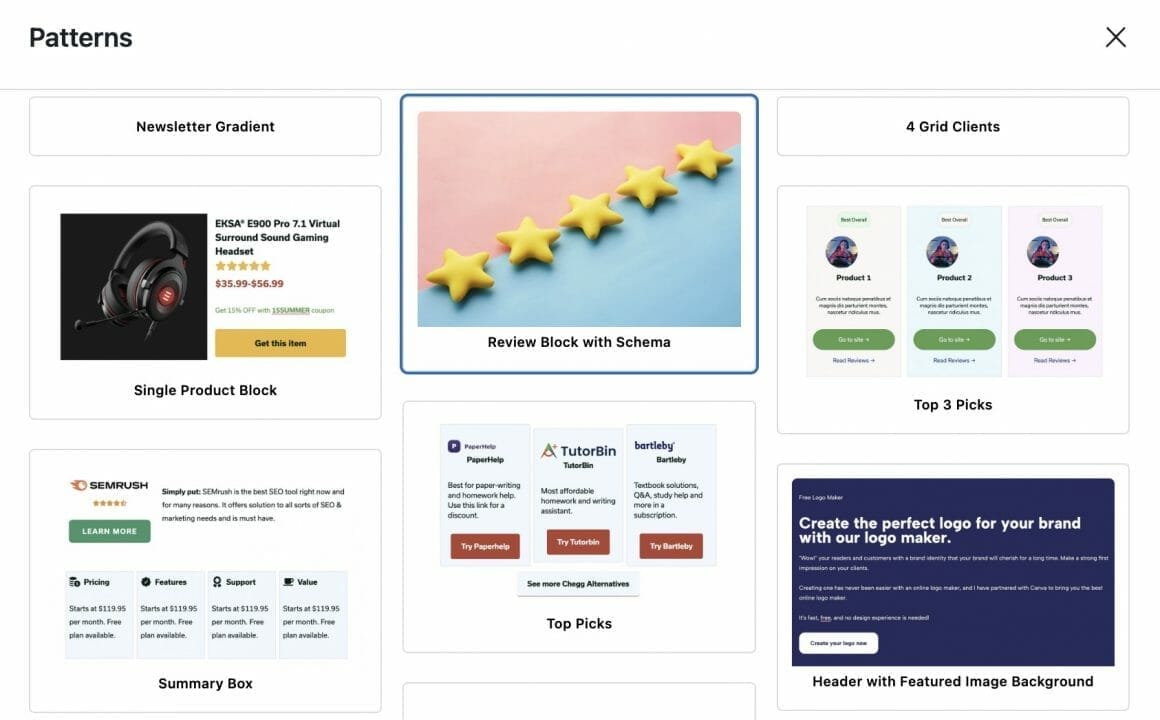 Kadence Blocks
Developed by the team of Kadence Theme, StellarWP, Kadence Blocks is an excellent WordPress block plugin that offers plenty of content blocks. It also features a pre-built content library to help you import designs with speed and convenience.
Apart from this, you will also be able to do more with the help of the Advanced Button and Advanced Heading blocks.
Here is a list of the Gutenberg Blocks that Kadence offers:
Row Layout
Advanced Gallery
Form
Advanced Text
Advanced Button
Tabs
Accordion
Testimonials
Icon
Spacer / Divider
Info Box
Icon List
Countdown
Posts
Table of Contents
Lottie Animation
You can buy Kadence Blocks' Pro version for $59 to access premium blocks like Split Content, Video Popup, Product Carousel, and much more.
Greenshift
Greenshift is a new block editor plugin by WPSoul focused on building faster websites and conversion first layouts. WPSoul is renowned for its marketing first theme Rehub and the plugin Gutencon, and I was a user of both.
Greenshift works like a complete block-based page building solution that works for both FSE and classic WordPress themes. It is made with performance in mind and loads only 2kB worth of required styles, followed by block-based inline styles, much like GenerateBlocks.
It is totally free, to begin with, and offers the following 22 blocks for free:
Advanced Heading
Slider/Carousel
3D FlipBox
Sliding Panel
3D Model
Advanced Lists
Tabs for anything
Flexible Container
Row block
Accordion
Shape Divider
Icon box
SVG Shape
Image box
Info/Notice box
Color Title box
Content Toggler
Counter block
Countdown
Button Block
Video Block
Social Share
In addition to these, Greenshift also comes with some ready-made templates that you can import into the block editor.
Even with these many blocks and features, you don't need to worry about performance as Greenshift uses conditional loading, and your site will be as light as it gets.
If you are looking for more blocks, Greenshift offers 4 paid add-ons called SEO Addon, Marketing Addon, Animation Addon and Chart Addon that go along well with the core plugin.
If you need these, Query Addon and listings + Animation Addon + Animated Section Library bundle is priced at $39.99 per year, Query Addon and listings + SEO and Marketing Addon + Link Hidder and statistic addon bundle are priced at $49.99 per year.
But if you are really looking to upgrade, I suggest their all-in-one plan that offers all premium add-ons at $59.99 per year. Lifetime offers for these add-ons are available as well.

Spectra
Spectra, formerly known as Ultimate Addons for Gutenberg (UAGB) is developed by Brainstorm Force, the team behind the Astra WordPress theme.
There are many reasons to love this completely free WordPress plugin. It adds 25+ fresh new blocks to the editor — out of which you will find the use of at least a dozen in every other post.
Plus, you can disable the blocks you don't want to use. On top of that Spectra loads scripts and stylesheets on demand — making it totally bloat-free.
While Advanced Columns Block, Section Block, and other similar blocks don't find much use in Block Editor due to improvements in core columns block — shape dividers and per block customizations can take your writing and designing experience to a whole new level.
Here are the most useful blocks from Spectra that you will love:
Forms
Lottie
Review Schema
Taxonomy List
How-to Schema
FAQ Schema
Call To Action
Icon List
Info Box
Marketing Button
Price List
Table Of Contents
Otter Blocks
Otter Blocks is a set of over 15 blocks. All these blocks are very well made, and the plugin itself extends Block Editor the way I expected.
I have loved how this plugin has progressed over the time. Blocks have improved and so has customer support. And with increased adaptation, ThemeIsle, the team behind Otter, has launched Otter Blocks Pro. Pro version adds more professional features but the free version is good enough as well.
Ultimate Blocks

Ultimate Blocks by Imtiyaz Rayhan & team is a free-to-use and high-quality Block plugin with over 18 feature-packed Gutenberg blocks, including some really unique ones. Like UAGB, Ultimate Blocks offers schema-ready FAQ & Review blocks too. In addition to these two, it offers a Content Filter block — a block unique only to this plugin.
Other blocks offered by Ultimate Blocks include Countdown Timer, Testimonial, Table of Contents, Social Share buttons, and Improved Button block. It also has its own block manager plugin which allows you to enable or disable blocks from the plugin. Thus, you can use it to keep things tidy and manageable.
CoBlocks
CoBlocks was the first ever Block plugin that I ever installed. Developed initially by Rich Tabor of ThemeBeans — this plugin is now owned and maintained by a team at GoDaddy.
So, the name behind the plugin may have changed, but the essence is still the same.
Of all the plugins, only Coblocks offers the best set of blocks for any purpose. The blocks are not just well made but also are targeted for specific page-building needs.
The unique blocks and features offered by CoBlocks are:
Typography control panel
Services Block
Author Block
Hero Block
Pricing Table
Alert and Notice Blocks
Logos and Badges
Food and Drinks
Post Carousel
You can also split things up using its Shape Divider and Dynamic blocks.
Ghostkit
Ghostkit by _nK was once my favorite and still amongst the best Block plugins in the market. Ghost Kit offers a large number of Gutenberg Blocks, Page/Post Templates, and Editor tweaks.
It has a set of unique blocks that rarely any other plugin offers, including:
Progress Block
Shape Divider Block
Icon Box Block
Number Box Block
Image Compare Block
Twitter Block
Contact Form Block
GitHub Gist Block
Changelog Block
Markdown Block
Widgetized Area Block
In addition to these, it extends the default editor to provide numbered headings, numbered lists and badges to help you create better content. The plugin is free to use with an optional Ghostkit Pro upgrade available with more features.
Ghostkit also offers ways to disable not only unused blocks from Ghostkit but from other plugins as well. You can use this option to get a faster backend and frontend and remove unwanted distractions from the editor.
PublishPress Blocks
Previously known as Advanced Gutenberg, PublishPress Blocks is a completely free-to-use WordPress block plugin that you can use to add various new designs and blocks to your posts and pages. Like Ghostkit, you can use it to enable or disable blocks from being displayed in the editor, including the blocks from other block plugins.
PublishPress blocks offers 23 blocks including these special ones:
List block
Table block
Count Up block
Info Box block
Login / Register Form block
Newsletter block
Recent Posts block
Social Links block
Summary block
WooCommerce block
PublishPress Blocks also allows you to enable or disable certain blocks for different user roles. Plus you create custom, reusable CSS styles and save them to make those available to end-users. You can use these reusable styles to instantly apply preformatted styling to blocks.
Genesis Blocks
WP Engine bought StudioPress, the company behind the fantastic Genesis themes & plugins.
Then they bought ArrayThemes — one of the best premium theme makers on the planet led by Mike McAllister.
ArrayThemes had all the vision for the future and built AtomicBlocks WordPress themes and Plugins. After the acquisition, ArrayThemes became a part of WPEngine, and they started focusing on Genesis products.
A year after the acquisition, they relaunched the AtomicBlocks plugin as Genesis Blocks. AtomicBlocks still exists and has over 100000 downloads.
Genesis Pro, which includes Genesis Blocks Pro, Custom Blocks, Genesis Framework + Genesis Child themes, on the other hand, has an n-number of added features and templates. If I had to choose only one premium Block plugin, I'd choose Genesis Pro. But the free version doesn't make the cut.
Stackable
Stackable is one of the most popular Gutenberg block plugins available today. It comes with a generous range of new features, templates, and blocks, including over 27 new blocks, 58 block layouts, and 72 pre-set design sections. It also has other general features like detailed typography options and a number of shape and blob dividers for every block. Important content blocks provided by Stackable include Counter, Feature Grid, Pricing Table, Posts, Team Members, and Testimonial. All these blocks stand above their rivals by virtue of their highly detailed settings.
With the help of pre-set design sections and block layouts, you can switch up designs as well. Stackable is compatible with every WordPress theme available, despite it having its own official theme. It features more than 127 premium layouts, 251 pre-set section designs, and three-layer separators. You can access the free plugin at WordPress.org. It also features a premium version for $49 per year for use on a single site, and $149 per year for using on unlimited sites.
VK Blocks
VK Blocks by Vektor Inc offers some really neat blocks including FAQ, Balloon, Flow, PR Blocks, PR Content, Border box and Page Content Blocks.
Their set of gutenberg blocks are quite unique and worth trying out.
Qubely
Qubely is a popular Gutenberg block plugin from Themeum, the team behind the Tutor LMS WordPress learning management system plugin. It features a vast number of new blocks, along with over 150 pre-built templates and sections that you can import and edit as required. Qubely has both a free version (available at WordPress.org), and a pro version for $39 per year for use on a single site, and $99 per year for use on unlimited sites.
The free version offers more than 27 layout and content blocks, such as Button Groups, Team Members, Pricing Tables, Testimonials, Video Popup, and Post Grid to display your recent blog posts. The pro version includes over 12 premium content blocks like Countdown Timers, Form Builder, an advanced Post Grid, and Image, Team, and Testimonial Carousels. It also features more than 27 starter packs and 160 section templates. The starter packs are essentially collections of full-page templates for the important pages in different niches like "photographer", "dietician", and much more.
Getwid
Getwid is a free and extensive set of more than 40 WordPress blocks from MotoPress – the team which gave us the MotoPress Content Editor page builder plugin. It also features over 35 importable templates which have been built using the aforementioned blocks. These blocks include Content Timeline, Mailchimp Opt-in, Sliders, Banner, Image Hotspot, Contact Form, and various options to display your most recent posts. Getwid can be readily accessed for free at WordPress.org.
Best Gutenberg Extensions for WordPress
Sometimes you may need to add a feature or two to your editor, these plugins can help you do so:
JVM Gutenberg Rich Text Icons by Joris van Montfort: Add inline icons to rich text fields like: paragraphs, headings, lists or buttons anywhere in the Gutenberg block editor.
WordPress.com Editing Toolkit by Automattic: Originally made for WordPress.com Business and higher websites, WP.com Editing toolkit extends WordPress editor to a greater extent.
Layout Grid Block: Block editor has only a set of 1 to 4 columns with fixed set of widths in the columns block. But if you want to have a detailed css-grid with more than 3 or 4 columns at varying widths, this is the plugin you should install. It adds a container block which you can use to add up to 12 columns of varying sizes.
Gutenberg Starter Templates
Here are some WordPress Plugins that offer the best ready-to-use Gutenberg layouts/patterns that you can import directly to your editor and get started with page building in no time.
Above all, if you don't like this new block-based editor and want to have the traditional approach, you can use the Classic Editor plugin to restore the classic WordPress editing interface. Both classic and block editors can be extended by Advanced Editor Tools (also known as TinyMCE).
This was from me in the list of WordPress's best Block Editor plugins. Hope you will find a couple of plugins that suit your needs.