7 Best WP Engine Alternatives & Competitors
Are you looking for the best WP Engine alternatives available currently? If yes, then you are in the right place!
If you've spent some time around WordPress circles, you must have come across WPEngine.
It is one of the most popular managed WordPress hosts and a top choice amongst professionals who want to create and deliver their WordPress websites. It includes a suite of agility, integration, intelligence and performance solutions to help you create and share everything from campaign websites to e-commerce shops.
However, being a leader in managed WordPress hosting doesn't necessarily mean that WP Engine is the best host for you. Like every other hosting solution out there, it has its own drawbacks.
For example, many users are unhappy with its relatively expensive plans. If you are unhappy with WP Engine's features, performance, or pricing, you can choose from plenty of other high-quality managed WordPress hosts.
In this article, I have listed some of the best WP Engine alternatives that might be up to your liking. But, before that, let us understand why people look for them.
What is wrong with WP Engine?
WP Engine undoubtedly offers good performance, impressive features, excellent security, dedicated support, and a hassle-free WordPress experience. However, it has certain flaws that make it imperfect. Let's take a closer look at them.
1. Premium-level pricing
WP Engine's base plan costs $20 per month per website and that too when you go for the annual plan and there is a sale going on. Monthly pricing begins at $30 per month per website for a limited amount of bandwidth.
Looking at it objectively from the hosting-essentials standpoint, Hostinger – one of the alternatives I have listed here – equals it in almost every aspect at ⅙ of the price. In addition, it offers more storage and bandwidth compared to WP Engine.
WP Engine does offer superb features such as the EverCache caching solution, powerful security tools, high-quality customer support, and AWS and Google Cloud infrastructure. Still, many users might find the pricing unreasonable.
2. Limited resources
WP Engine's plans are pretty inclusive and include many tools such as caching, CDN, and GIT and SFTP connections. However, its essential resources, such as bandwidth and storage, could be much more generous. For example, its cheapest plan ($22.50 per month) offers 50GB of bandwidth and 10GB of SSD storage space.
If your website is on the lighter end with no bulky images, fonts, or videos, WP Engine should suffice. But if you need a lot of pictures or multimedia on your website, 10GB might be inadequate.
3. Upselling attempts
Considering the premium prices of each plan, most users would expect WP Engine's checkout page to be clean. Unfortunately, it is filled with upsells. It tries to sell you four different add-ons, the cheapest of which costs $100 per year. They are:
The Smart Plugin Manager ($100 per year)
An option to enhance security ($300 per year)
An "additional sites" option ($200 per site every year)
A Genesis Pro license for ($300 per year)
As a result, WP Engine is not a perfect hosting solution, mainly due to its pricing scheme. Therefore, if you want a value-for-money hosting provider, you are better off searching for cheaper WP Engine alternatives.
Best WP Engine alternatives
Now that you're acquainted with the main drawbacks of WP Engine let us go through my picks for the best WP Engine alternatives available today.
1. WPX Hosting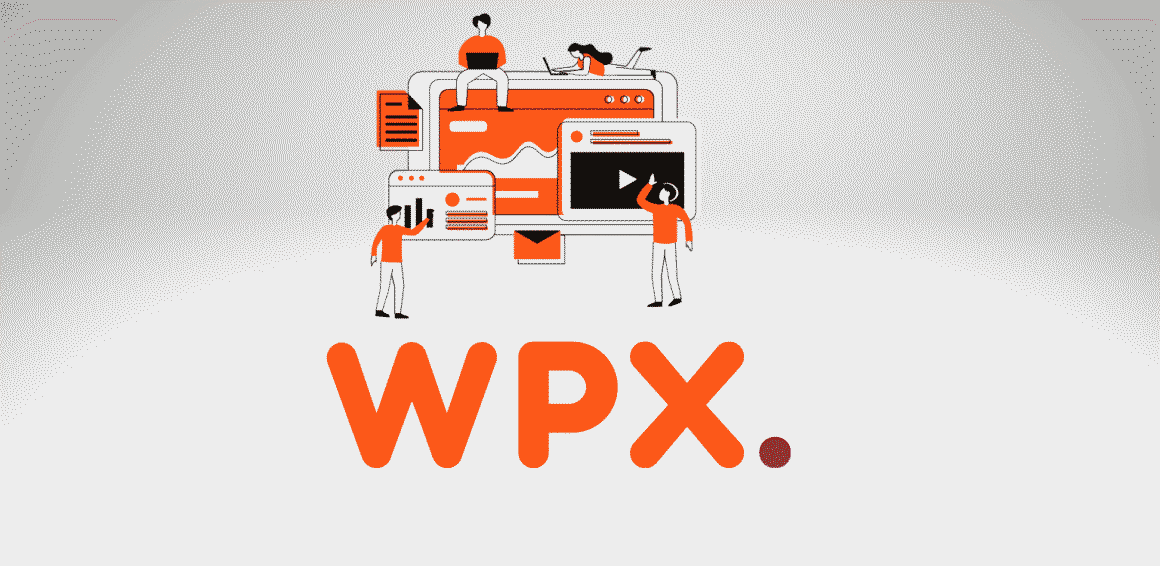 WPX offers robust and reliable managed hosting like WP Engine but at relatively lower prices. Founded in 2013, it aims to provide excellent, state-of-the-art WordPress-optimized hosting for all websites. You needn't look further than WPX Hosting for fast web hosting, efficient technical support, and outstanding overall performance. It is a great choice for users who want a clutter-free and user-friendly UI or control panel.
Being a managed WordPress hosting provider, WPX expertly handles everyday tasks such as website downtime monitoring, system updates, and security scans for you. Unlike WP Engine and most other managed hosting services, it offers free email account storage. It also provides free SSL certificates to help reduce your hosting expenditure's overall cost. In addition, it has garnered praise for its excellent CDN service, WPX Cloud. According to the developers, WPX Cloud is three times faster than its peers.
Apart from a free built-in cache, WPX includes a scanning tool for detecting and eliminating malware. Speaking of pricing, it has relatively cheaper plans than WP Engine. Its lowest plan offers the same 15 GB of storage space and also allows you to host up to 5 websites for $25 per month, which makes it effectively $5 per website per month.
Comparatively, WP Engine charges $14.95 per month for additional domains. Also, WPX Hosting provides 99.95% uptime and 30-day money-back guarantees. All three of its plans include free custom CDN, SSL, DDoS protection, staging area, etc.
Overall, WPX Hosting is an excellent choice if you want a reliable and efficient hosting provider for your WordPress site.
2. Cloudways
Being highly affordable and flexible, Cloudways helps you focus more on building websites than handling hosting complexities. It exclusively specializes in managed WP hosting services and promises superior performance and higher security than WP Engine. Furthermore, its SSD drive hosting performs three times faster than other hosting companies. In addition, with Cloudways, you can greatly reduce page loading times.
Since the websites hosted on Cloudways invariably have dedicated resources, your website will experience optimal app and server performance. The cloud server's servers are all PHP 7-ready and come with CloudwaysCDN for superior performance. Cloudways primarily focuses on providing excellent performance and speed. For example, it comes with HTTP/2-enabled servers to improve communication speed between the servers and clients.
Also, security is one of Cloudways' top priorities. It gives you access to features such as dedicated firewalls, IP whitelisting, and two-factor authentication to protect you from any unauthorized access. Moreover, it includes a Cloudflare add-on – a unified control panel that offers more security and better performance.
Cloudways offers five plans, and the basic one costs only $12 per month. Even its top-tier plan is available at just $50 per month and comes with 4 GB of RAM, two CPU cores, 80 GB of storage space, and 4 TB of bandwidth. WordPress is pre-installed in each plan, and you can migrate your website for free with the help of migration experts.
Overall, Cloudways is one of the WP Engine alternatives for users who need to host a high-traffic website.
3. Bluehost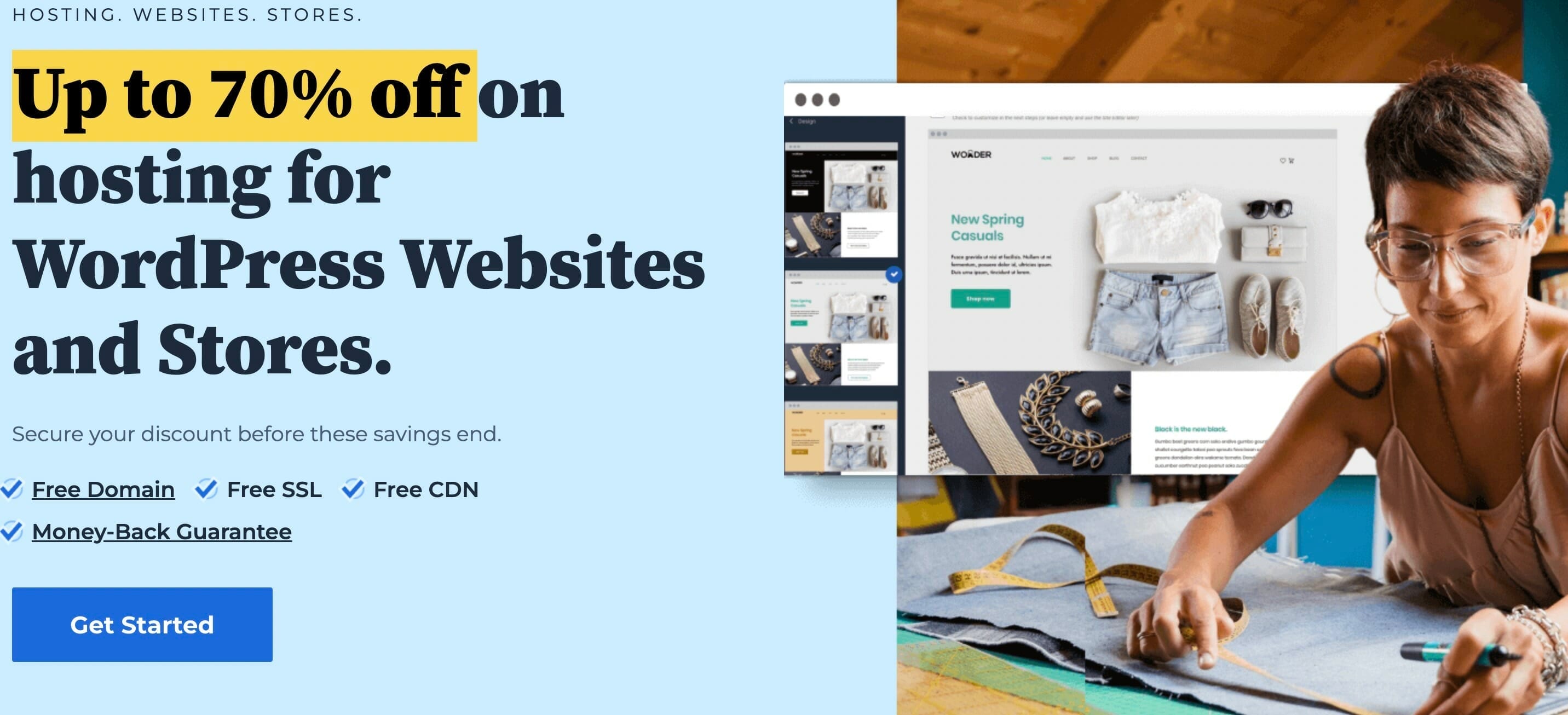 Bluehost is a veteran web hosting provider with a reputation for providing high-quality web hosting at an affordable price. It caters to a wide range of users, including managed WP hosting servers with crucial features that play a vital role in the growth of websites. Currently, it powers more than two million websites and has an excellent 99% uptime. The main strengths of Bluehost hosting are its impressive speed, free CDN, generous SSD storage, and affordable pricing.
Shared hosting is arguably Bluehost's most popular hosting deal and beats out rival hosting providers by virtue of its free SSL certification and domain name deal. However, although it is the most affordable hosting option for beginners, many users prefer to opt for better options as their website grows. That's where dedicated hosting and VPS hosting come in. The former is a more robust and reliable hosting option for optimal website performance, while the latter gives you more control, flexibility, and power.
Also, Bluehost offers Blue Sky – a service that gives you individual guidance and training to build, grow, and maintain WordPress websites. It also provides free automated backups powered by Codeguard, which keeps a record of your website's content. Its live WordPress support starts at $29 per month for on-demand ticket support and backup assistance, going up to $149 per month for access to Constant Contact, SEO tools, and help with content and mobile optimization.
Overall, Bluehost is an ideal choice for beginners creating a website for the first or second time.
4. Hostinger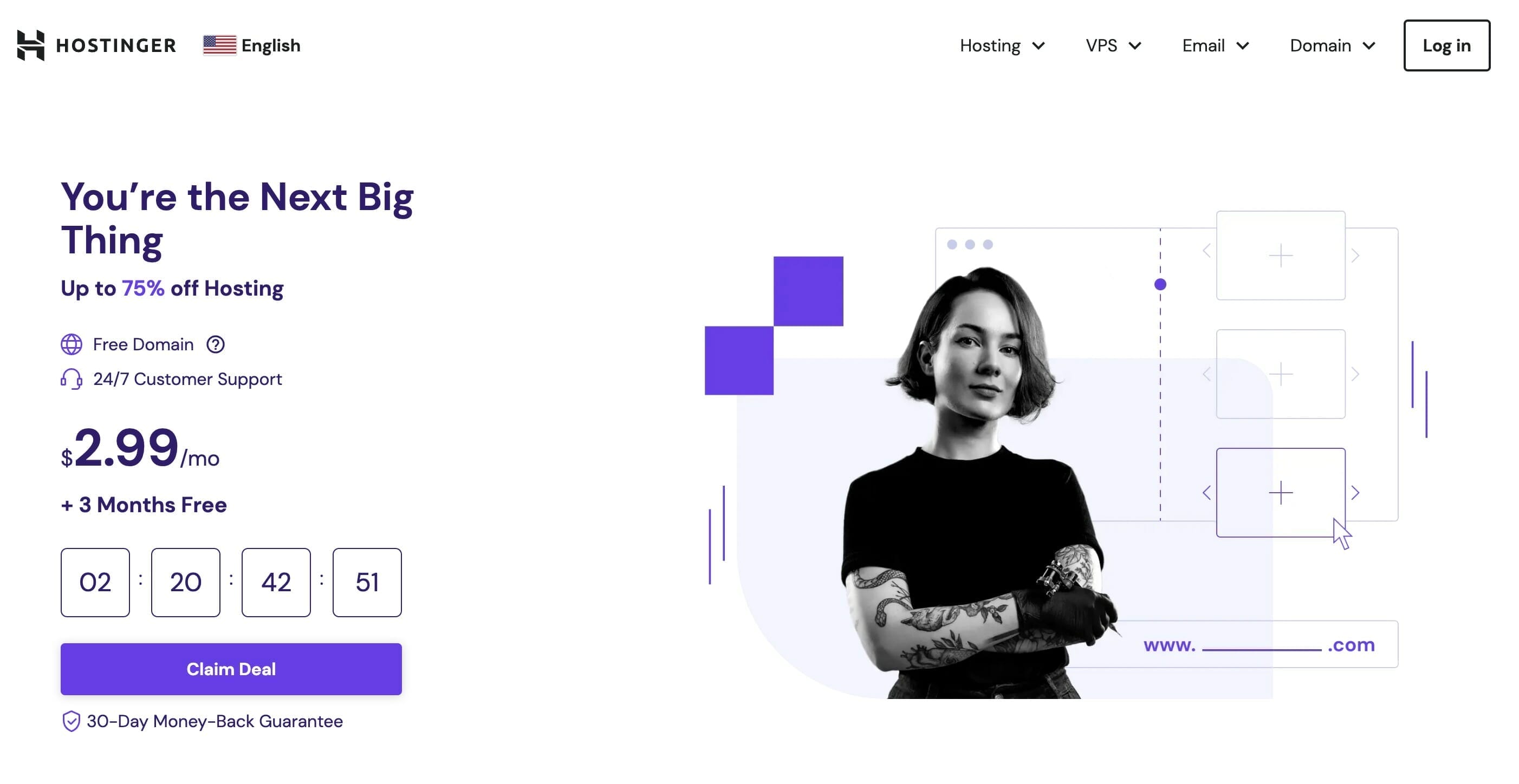 If your main concern with WP Engine was its pricing, then Hostinger could be an excellent choice for you. It is well-known for being one of the cheapest web hosting providers in the market. It currently offers four WordPress hosting plans ranging from $1.99 to $11.59 per month. They all include a 30-day money-back guarantee and, except for the Single plan, a free domain name.
Hostinger comes with LiteSpeed servers to offer a faster load time and improve your conversion rate, search engine optimization, and user experience. In addition, it includes a free SSL certificate with all of its plans and provides an LSCWP cache plugin to make your website work four times faster than other hosting services. Also, it offers fully managed WordPress hosting with easy-to-use features, including automatic WordPress updates and a user-friendly control panel.
With Hostinger's WordPress staging tool, you can safely explore new features. For example, you can create a duplicate website in just a few clicks and edit without affecting your live website. Moreover, Hostinger provides efficient, round-the-clock WordPress support to its users. Regardless of your time zone, you can contact its customer support team via live chat. It also provides an extensive knowledge base and WordPress tutorials created by its experts.
Speaking of security, Hostinger provides free SSL certificates, an in-house developed web application firewall, and anti-DDoS protection to protect your website from cyberattacks. In summary, it is ideal for users who want a cost-effective hosting solution that performs remarkably well.
5. Rocket.net
Although Rocket.net is a relatively new company, it is arguably the fastest-managed WordPress hosting provider in the market. What sets it apart from its rivals is that it is powered by the Cloudflare Enterprise global network (CDN). So although its managed WordPress hosting comes with all the bells and whistles you'd expect from any other provider, its most unique feature is how it uses the Cloudflare Enterprise network.
There are numerous benefits of this approach. For example, Rocket.net will fully cache your website on the extensive Cloudflare Enterprise network. It will also carefully purge and update the cache to enable visitors to see your content's latest version. Thus, unlike "normal" hosting, Rocket.net ensures that your website will load equally fast regardless of where a visitor is browsing from.
For example, visitors from the USA, the UK, Australia, and Singapore will experience comparable load times because they can download the complete page from their local Cloudflare edge node. It mainly holds for blogs or other static websites where Rocket.net can serve all your content from the cache. However, dynamic websites like WooCommerce stores might not be able to rely on caching for all content.
Another notable advantage is that your website will receive protection from the Cloudflare Enterprise firewall, which blocks threats before they can access your WordPress website. Also, Rocket.net aptly configures the firewall. For example, it adds extra levels of protection to your wp-admin area and login page.
Overall, Rocket.net offers a perfect balance between functionality and affordability.
6. GreenGeeks
GreenGeeks has stood apart from its peers in the crowded web hosting industry for being one of the more eco-friendly hosting solutions. It purchases three times the electricity it consumes through Renewable Energy Credits (RECs) to offset carbon output. In addition, with every hosting account, the GreenGeeks team plants a tree for you because of their "reforesting initiative" campaign.
Beyond its commitment to green hosting, GreenGeeks provides stable and affordable WordPress hosting with superfast speeds and ample SSD storage. It is quite beginner-friendly and features a simple yet modern-looking dashboard paired with the robust cPanel. The combo provides an intuitive yet functional management experience for beginners and veterans alike You will need the GreenGeeks cPanel for installing WordPress, setting up professional email accounts, domain management, and many other tasks.
To ensure the best hosting experience for its clients, GreenGeeks continuously optimizes WordPress hosting to provide 99.99% uptime and better performance. Unfortunately, it does not automatically activate an SSL certificate on your behalf. However, you can easily do that yourself and either go with the free Let's Encrypt SSL certificate or pay for the Premium AlphaSSL certificate. As a result, GreenGeeks is reliable and appreciably fast, smoothly handling heavy traffic even on its cheapest plan.
GreenGeeks issues a 99.9% uptime guarantee as well. In addition, it offers three different customer support methods – 24/7 live chat, phone support from 9 AM to 12 AM EST, and email with approximately 15-20 minutes of wait time.
Overall, GreenGeeks is one of the most affordable, fast, easy-to-use, and secure hosting providers.
7. Liquid Web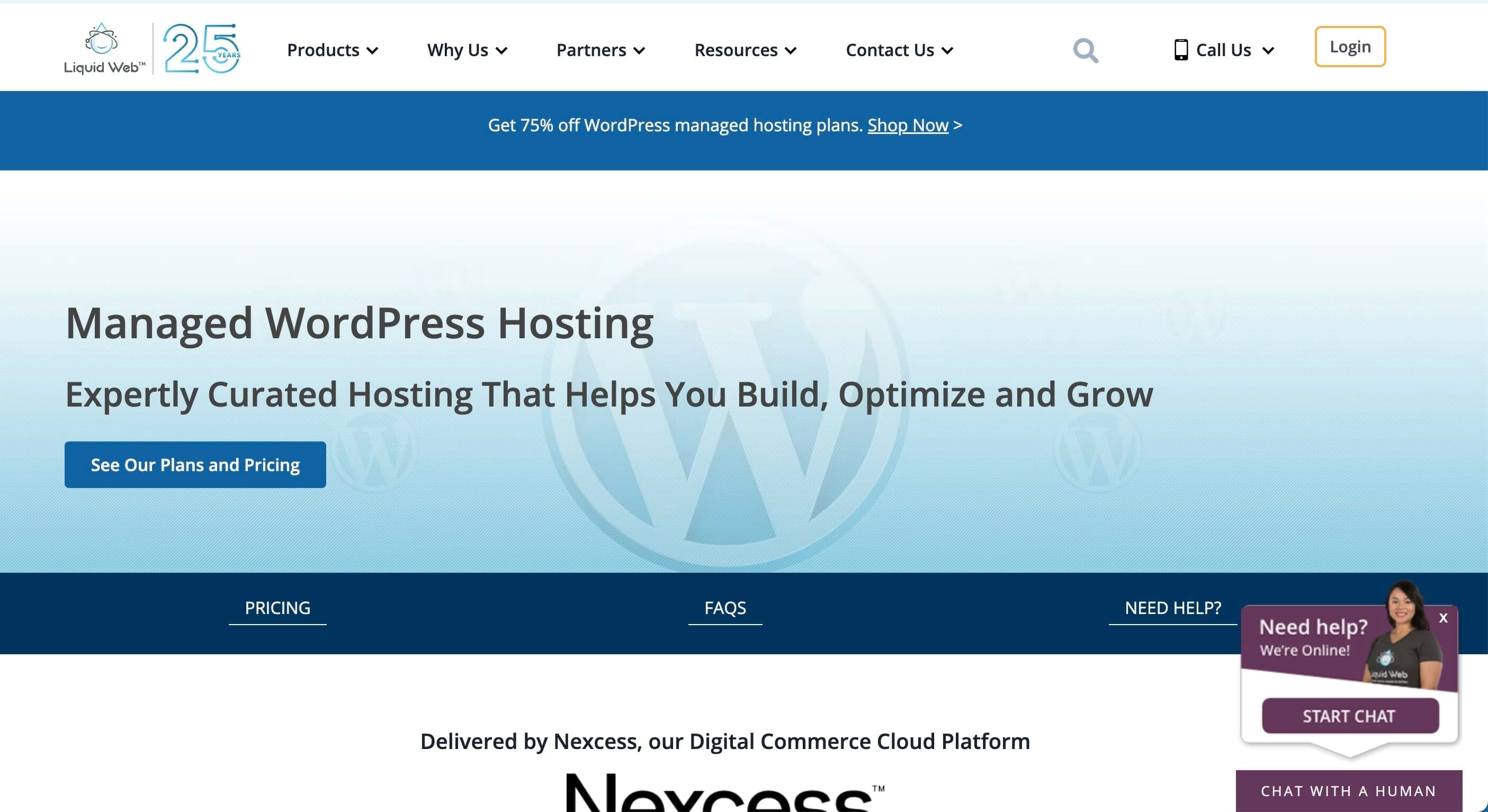 Liquid Web is an enterprise-class WordPress host that competes with WP Engine for WordPress web hosting with fully managed support. As a result, many prominent brands trust it to maintain their online presence. It offers various dedicated, cloud, reseller, virtual private server (VPS), and WordPress server packages that are strong and flexible enough to power the likes of National Geographic, Porsche, Home Depot, and Symantec.
The company has developed a platform built on the latest technologies like PHP 7, SSL, and Nginx, giving you faster website speed and better performance than other hosting providers. It excels in managed hosting and can smoothly handle even the most complicated administrative duties and support tasks. Thus, its service is mainly suited for large businesses. It does not offer shared web hosting, which individuals and the smallest of businesses commonly use.
Liquid Web's RAM and storage totals are among the best for their price point. Through its Nexcess brand, Liquid Web offers seven tiers of managed WordPress web hosting starting at $19 monthly for a single domain, a 15GB solid-state drive, and 2TB of monthly data transfers. It also offers a 14-day free trial of managed WordPress hosting to help you experience its services for free.
Liquid Web offers security features like firewalls, virtual private networks (VPN), Secure Socket Layer (SSL), and malware scanning and removal for your protection. It also has a highly reliable uptime and an efficient customer support team. Despite lacking shared hosting packages, Liquid Web's top-tier dedicated and VPS hosting place it among the web hosting elite.
Conclusion
Although WP Engine is a popular and efficient web hosting provider, many users search for cheaper and more powerful options. This article lists some of the most affordable and robust WP Engine alternatives that provide lightning-fast hosting and dedicated customer support. I hope you choose the right option to help you grow and manage your website better.