10 Best Money Earning Apps in India
Looking to make some money using your mobile? If you are, this is the perfect place to be. In this article, I have listed 10 of the best apps to make money in India.
Using the money earning apps is a great way to supplement your current income or make money on the side. However, not all such apps are safe to use. Therefore, the main purpose of this article is to list the 10 best money earning apps in India that you can use to make money safely.
These apps are free to download and will help users make extra income by completing simple tasks. These apps give away money by completing surveys, watching videos, and playing games.
Let us now go through my picks for the top 10 money earning apps in India available today.
10 best money earning apps in India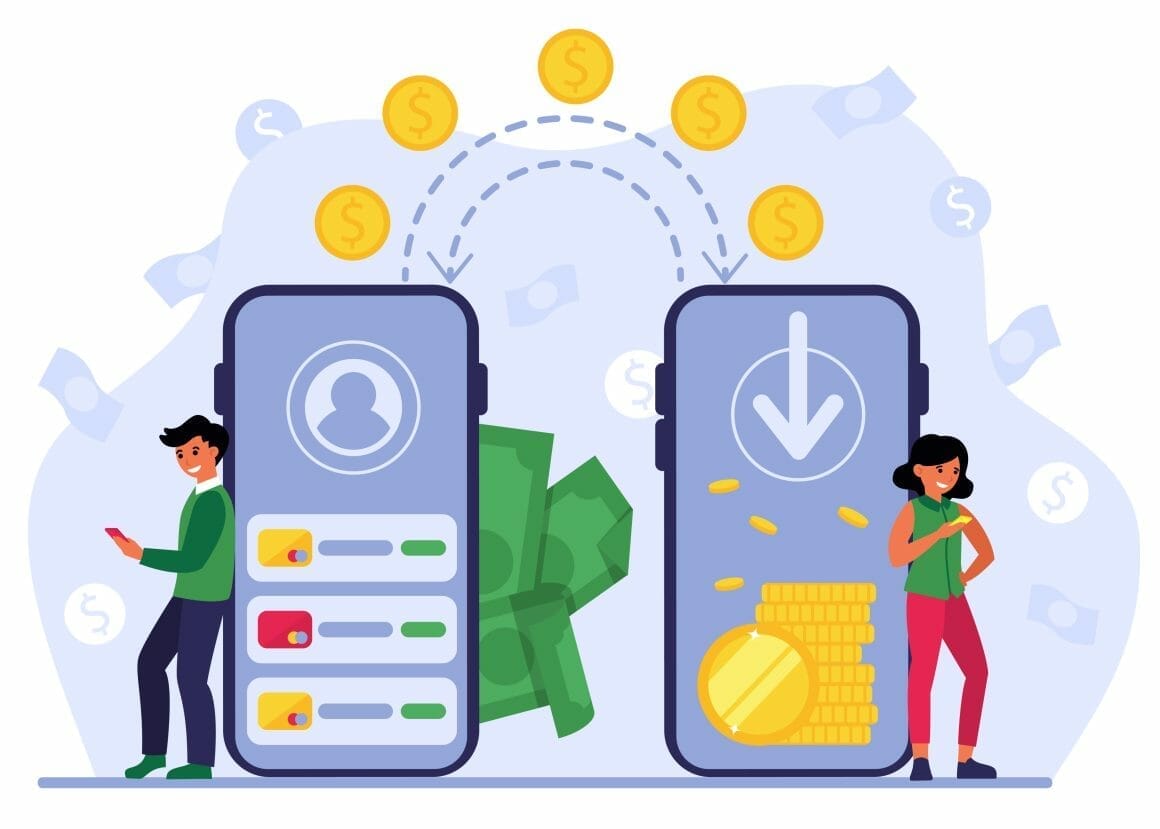 The best money making apps in India include the following:
EarnKaro
EarnKaro is one of the top money-earning apps in India. It is free to join, runs on an affiliate marketing concept, and you don't need to make any prior investment to earn with EarnKaro. To earn money with the app, you only need to share products and services listed on Earnkaro's app and website with your family, friends, and followers.
You can conveniently switch your e-commerce link into EarnKaro links and share them on your social media profiles. Thus, you will get to promote many popular retailers such as Flipkart, Adidas, Ajio, Myntra, Mama Earth, and more.
In addition, you will earn a commission whenever someone purchases through your affiliate link. Therefore, it is an ideal app to make money for students, part-timers, and homemakers.
Swagbucks
Swagbucks is a user-friendly app that offers a hassle-free way to make money. It helps you earn daily by playing games, completing quizzes, filling out surveys, watching promotional videos and ads, and more. However, the app does not process the cash rewards directly. Instead, it rewards you with Amazon, Flipkart, PayPal, Starbucks, and Walmart vouchers.
You just need to download the Swagbucks app on your device and join to receive a welcome bonus of $10. After that, you can log in daily to earn Swag points for your activities. Remember to invite your friends to earn more (a 10% lifetime commission). Once you reach 750 Swag points, you can request a cash withdrawal via PayPal and redeem the amount.
TaskBucks
TaskBucks is an Android-exclusive money making app that helps users earn bonus revenue for performing simple tasks such as completing surveys, downloading other apps, referring to their family or friends, participating in contests, sharing opinions, watching ads and videos, or visiting other websites, viewing ads and videos. With the app, you can earn up to ₹70 per day from referrals.
TaskBucks is well-known for providing free Paytm cash, mobile recharge and data recharges, Mobikwik money, and postpaid mobile bill payments (up to ₹500 per month). You can transfer the coins you earn through this app to your Paytm or Mobikwik wallet. Also, you can win up to 10,000 extra coins daily by participating in contests and quizzes.
Pocket Money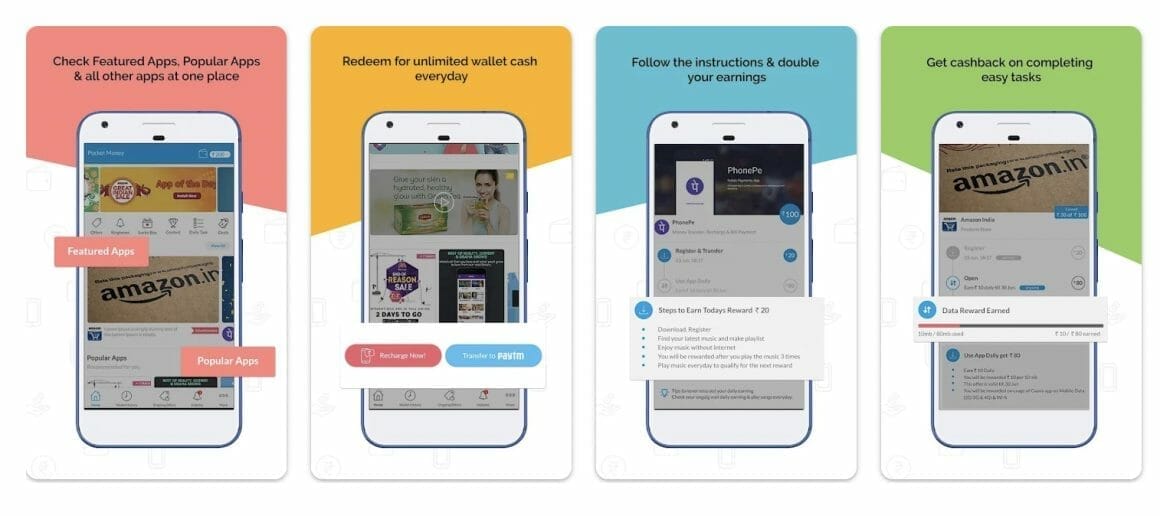 Pocket Money helps you make an additional income by finding high-earning offers, completing tasks, downloading applications, watching videos, and playing tombola. It also offers a referral program that rewards you with ₹10 for each referral. In addition, the app has an easy-to-use user interface that is frequently updated with new deals.
By doing the above activities, you can make up to ₹500 per day. However, you must have at least Rs. 20 in your Pocket Money wallet to request a withdrawal. The app has gained thousands of users and helped them avail of free mobile recharges worth millions. It is a good choice if you want to pay off your bills, movie tickets, or cab rides.
Roz Dhan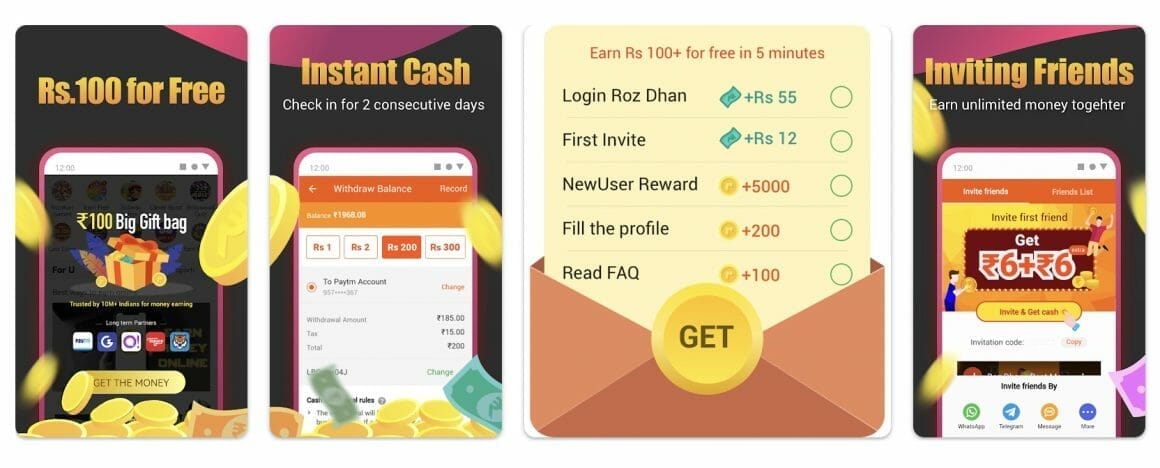 Roz Dhan is one of the most trusted apps for earning money online. It allows you to make money by being active and completing tasks such as checking daily horoscopes, completing puzzles, reading news, visiting websites, and reading news. You can also play free games and earn when you win. From the get-go, you will get ₹50 just for signing up. Once you fulfill the "given instant cash tasks," you can earn ₹300 and withdraw it after two days.
Like most other money-making apps in India, Roz Dhan credits your earnings to your Paytm wallet. It offers codes (similar to coupons) to help you obtain guaranteed rewards. So along with good entertainment, Roz Dhan provides its users solid earning potential.
mCent
The mCent app is the most feasible option for users interested in earning money for simple referral tasks. It also helps you earn free mobile recharges through tasks such as downloading specified apps, opening affiliate links, visiting other websites, and watching videos. With mCent, you also needn't worry about your data pack because it grants you a free data pack, which applies to all Indian mobile networks.
To earn rewards, you just need to download the mCent app on your smartphone and start using it as your default browser (Instead of Firefox or Google Chrome). Then, it links to your Paytm account to seamlessly process your cash rewards.
MooCash
With MooCash, you can earn money by completing surveys, playing games, and watching videos. The app is best known for entertainment and allows you to get rewards for watching entertaining videos. It pays you in cash, pre-paid recharge voucher, and bitcoin cryptocurrency. Also, it gives you various gift cards for Amazon, iTunes, and Google.
MooCash also offers free game codes and vouchers, allowing you to earn cashback on mobile recharges. You can redeem the rewards once you have 3000 coins in the app. Likewise, you can quickly sign up for this app using your Gmail or Facebook ID.
Google Opinion Rewards
Google Opinion Rewards tends to go under the radar when discussing money-making apps in the country. That's unfortunate because it is one of India's best real money making apps. Its premise is simple: for helping them consolidate user-generated data, they pay you for your time and efforts. The surveys here are generally random and based on public interest and search popularity.
To keep payment streamlined, you will receive your earnings on Google Opinion Rewards in your wallet as Google Play credit. After that, you can redeem them on the Play Store on paid apps. Overall, Google Opinion Rewards is an entry-level money-making app with a linear structure.
Poll Pay

Poll Pay is a popular and reliable Indian money-earning app. Thousands of people are joining its community of survey-takers every day to generate a steady stream of passive income.
On Poll Pay, anyone from any location across the world may sign up, do surveys, and earn rewards. They may receive these benefits in the form of Amazon gift cards, iTunes gift cards, PayPal credits, Netflix gift cards, Xbox gift cards, and more.
Through Poll Pay's highly secure network, customers can get rewards in real-time. By participating in their referral program, you could receive a higher amount of money
through paid surveys.
You will receive 15% of anything you make on Poll Pay, after which you can deposit your money into your PayPal account. In some countries, customers can withdraw their money as soon as they earn $5 to $10.
CashBuddy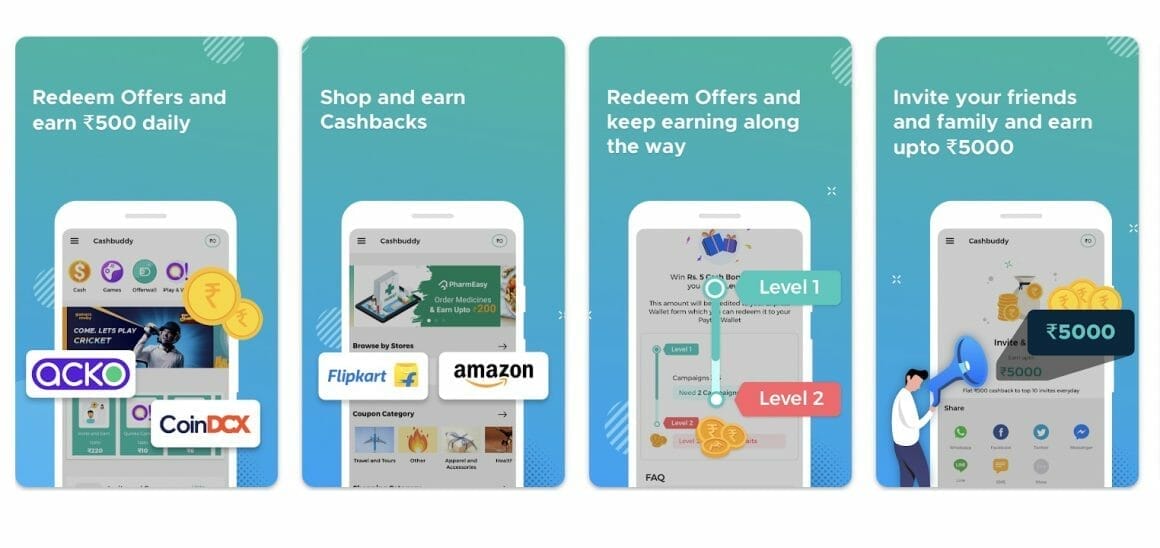 CashBuddy is another decent money earning app in India. It delves deep and fetches rewards for you from various tasks. Some of them can be as simple as watching a promotional YouTube video for a specific product. Going with tradition, it also offers a user referral scheme to ensure guaranteed rewards.
Typically, CashBuddy's rewards fall in the range of ₹50. They are credited to your Paytm Wallet, which you can redeem later. CashBuddy offers a remarkably smooth and user-friendly experience.
Conclusion
Earning money is arguably everyone's top priority today. One of the best ways to do so is to get well-acquainted with money earning apps in India. They are an excellent resource for students and people who can spare a little time to do something valuable. I hope this article helps you choose a great money earning app and make a good side income from home.