Keyword Research in SEO for Beginners: Complete Guide
Everything important that you need to know about keyword research and to be successful in it.
I am super excited to bring you this complete guide on keyword research in SEO for beginners. In this guide, you will learn complete keyword research and competitor keyword analysis under the following sections:
Importance of Keywords
There is nothing more important than understanding your audience when it comes to online marketing.
Knowing what they're…
in need of
looking for
interested in
what will bring them the most value
… is vital.
Your audience uses search terms, called keywords, to reach your website.
So, keywords are probably the only connection that you have that connects unknown people to your website/blog.
Also, keywords are the most important thing when it comes to reaching your target market.
How do keywords help?
If you own a website, what do you want?
The first thing that you want is traffic. You want people to know about your work, your business, your website or your blog.
You want them to interact with your content, services and products.
Keywords help in getting you this traffic. But not any traffic. Keywords bring you the most targeted traffic ever possible.
Once you have your fair share of traffic, you can try converting them into money using various money-making methods. (I have written about this here. But let's not focus on this for the moment.)
What do we usually do with the keywords?
We write content around them. We tell stories that people will like and engage with.
And then, we optimize that content for SEO. We tell Google (and other search engines) that we have a great article for you.
If the content is well-written and search engines think it is worth readers' time, they will send traffic to your article.
Here is how I plan an article around a keyword:
I put the keyword in the first paragraph if the first sentence is not possible.
The keyword must also be in the first heading.
The keyword must also be in the last paragraph.
I keep the keyword ratio at 0.5 to 1.5 percent. It means that content of 1000 words should have the keyword 5-15 times in the content.
What is keyword research?
Keyword research is the process of finding the keywords that would work best for the kind of website that you'd like to use.

– I, This is the definition that I tell other people.
Isn't that obvious?
Keyword research is to find the perfect keywords that you can write about.
The only problem is that finding these perfect keywords can be a real pain.
But don't worry. Once you finish this guide, you will be able to do that as well.
What to aim for?
When you do keyword research, you aim to find search phrases that have:
high volumes of search traffic, and/or
good payouts for ads, and
not much content or competition out there yet.
Who needs keyword research?
Everyone who has an online presence.
No matter what type of blogger or business person you are, keyword research is absolutely vital to your success.
There is no alternative to keyword research, and nothing beats its effectiveness.
Prerequisites
There are not many prerequisites. But before you begin, you need to make some things clear.
You need to understand loud and clear:
Who/what is your target market?
What niche within an industry are you going to focus on?
How much effort and money are you willing to put in?
Why are you doing keyword research at all?
Let's understand this one by one:
Who/what is your target market?
Do you know what target market you are about to embark on?
Do you know how it behaves?
Do you understand the day-to-day vocabulary that your target market has become accustomed to?
In this target market, do you have an area of expertise? If yes, then how much?
Knowing who and what your target market is all about is one of the most important elements of a business and not just keyword research.
By understanding your ​​target market, you will be able to connect with them on a much more personal level, generate more revenue and create more effect.
By understanding the target market, you can also tap on to the emotion and take benefit of it.
Many top sales and marketing "Gurus" explain that no matter what anyone thinks, no matter how big or small the organization, no matter how important someone is, every decision, including corporate decisions, is based on some sort of emotion.
So identifying the target market is very important.
Once you are able to connect with your target audience at a deeper level, all your other keyword research tactics will work flawlessly well.
What niche within an industry are you going to focus on?
Every single industry has smaller, more specific niches called niches, mini niches, microniches and micro-microniches. (See how to choose a profitable niche.)
These are areas that you can zone in on.
Let's take an example to clarify what I mean by this:
Industry – Pets
First Level Niche (Niche)– Dogs

Second Level Niche (Mini Niche) – Golden Retrievers

Third Level Niche (Microniche) – Golden Retrievers Grooming
Now, as you can see, I have broken the industry down to a fairly specific niche, also known as microniche – Grooming Golden Retriever Dogs.
Almost every niche can be broken down like this, and the deeper in levels you can go, the more connection you are going to be able to have when you do your keyword research.
How does this help, you may ask?
Since we are targeting Grooming Golden Retriever Dogs, we now know that people with Chiwawas or Pit Bulls are not going to be all that interested in our niche information.
More importantly, we know that people interested in grooming their golden retrievers for dog shows will be pretty interested.
Who else would benefit from our information? Probably dog groomers who deal with those specific dogs a lot.
The point is that keyword research becomes far easier once you have narrowed down the industry into a specific niche!
How much effort and money are you willing to put in?
Everything that you have read until now is important. Very important indeed.
But if you are not willing to put much effort into the work, you just aren't going to see the results I'm sure you want to see.
I know to a lot of people all this seems like hard work.. well, that's why I always tell people to work on industries that they either know a decent amount of knowledge in or something that they are willing to research on a regular basis. This way, they can both put in their efforts and enjoy the work at the same time.
I was successful in writing this guide only because I know things about this niche and as an added bonus, I love it. But that's not how it happened. I didn't come all trained. I have put a lot of effort and time into studying keyword research, SEO, blogging, marketing and whatnot.
I love to read new articles, ebooks, and blog posts. I regularly watch videos and listen to audiobooks about how people are succeeding with new ideas of marketing online.
It is something I believe in and love to do myself. That's why I can put all my energy into my industries.
So, if you want to continue with keyword research and for that matter, with online marketing & SEO, try to put as much effort as you can into learning about your niche.
You should also be ready to invest some money when needed. Most of the keyword research tools that I will be teaching you about, cost a decent amount of money.
There are free trials and cheaper alternatives but remember, you need to pay something to be able to get paid.
Why are you doing keyword research at all?
What is your aim? You are not going to do this for fun. You may be doing keyword research for yourself or some other company. Chances are that you are learning it so that you can build a career for yourself.
In any case, always remember why you are learning keyword research and what is your ultimate goal.
How to do keyword research?
To do keyword research, you need an SEO tool or, more specifically, a keyword research tool.
Ahrefs, SEMrush, AnswerThePublic, Ubersuggest etc., are some of the most popular SEO tools marketers use.
I use SEMrush for my own needs. It costs less than Ahrefs and has better features than any other SEO tool. If you want to get started, you can signup for a free trial here and use it for 7-days risk-free.
About SEMrush
SEMRush is a popular marketing SEO tool that allows you to conveniently assess your rankings and get acquainted with new ranking opportunities. SEMrush has a massive keyword database consisting of more than 20 billion keywords.
There are two ways you can do keyword research with SEMrush (or any other SEO tool for that matter):
Starting with a keyword
Starting a competitor
Starting with a keyword
In this, you will start with a keyword (generally a niche topic) and then follow an instinct & calculation-based approach to find the best and related keywords on which you can write a copy.
Let's take an example. Say you are selling some pet foods. For that you will use the keyword "pet foods" to begin with.
Now go to SEMrush's keyword research section and open the keyword overview section.
Here you can insert up to 100 keywords at once.
Select the country you want to target and click search.
Once done, you will see this list of keywords matching your query. Now, based on what you like, open a keyword and look for various parameters.
I clicked on dog food and here's what I see.
So, this keyword has a volume of 277.5k, keyword difficulty (KD%) of 94% and 2.1 Billion pages are competing for this.
Here volume means the number of searches every month and difficulty is an index that tells how hard it is to rank on the keyword.
With 94% difficulty, ranking on this keyword is next to impossible. So, what would you do next?
You will look for variations. Not everyone searches for "dog food" only. SEMrush tells what other keywords, related to searched keywords, people are searching for.
There are 374k keyword variations that you can try your luck on.
SEMrush keeps these variations under its keyword magic tool. See: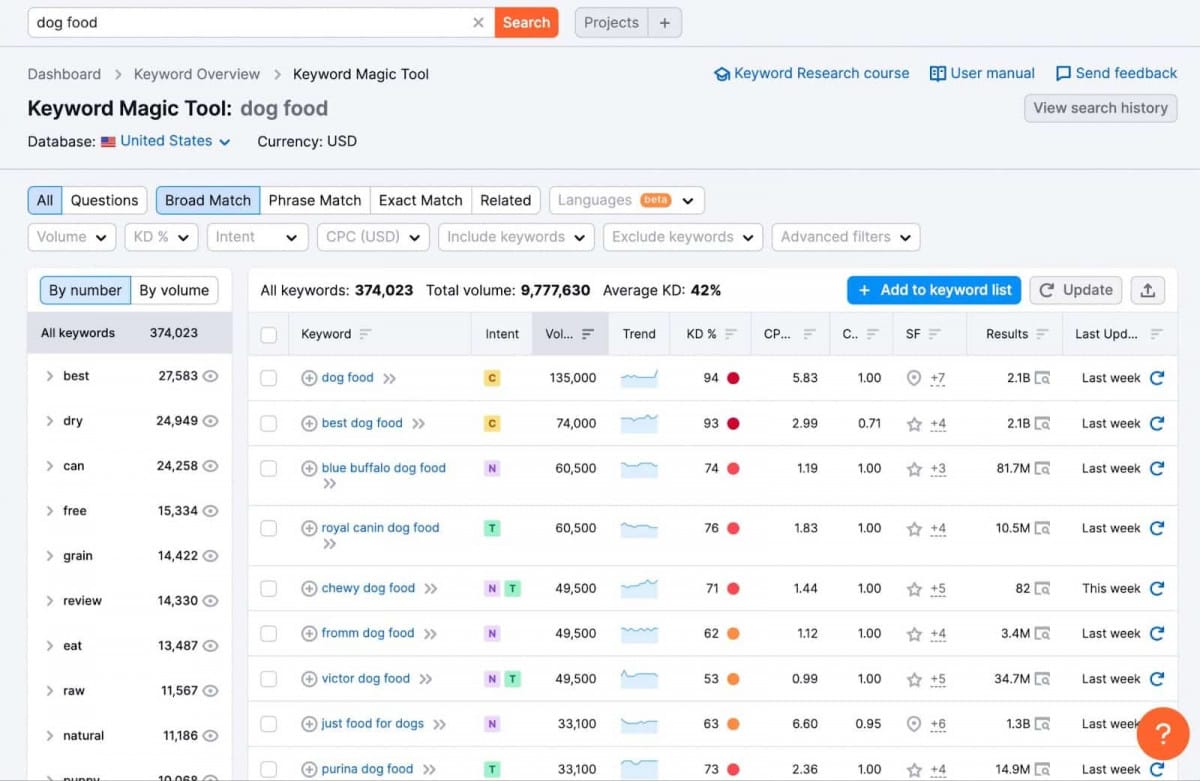 Notice how there are keywords that are voluminous and much easier to rank.
Out of the 9 keywords that you see, which one is the easiest to rank on?
For that, you will have to check two factors. KD% and Results. Victor dog food has 53 KD but has 34.7 million results. This means, 34.7 million pages are competing for this at the moment and it is medium to tough to rank on this keyword.
Chewy dog food, on the other hand has 71 KD but only 82 registered pages competing. In my opinion, it is easier to beat 82 pages than 34.7 million pages. So, you can filter and note this keyword for further analysis.
This, however, is not the end. You can look for other KD% and competing pages to see which one is better to rank for.
It is an unpopular opinion, but keyword volume doesn't matter if your keyword is commercial or transactional in purpose. If you are running AdSense ads or something like that then you should also focus on keyword volume, as more the traffic more the revenue. For businesses, the quality of traffic matters.
Feel free to take your time and browse through all the keywords in the keyword research panel.
Starting with a competitor
This is an alternate but very effective method if you know who you are trying to beat. In our dog food example or pet foods in general, one of the biggest pet food providers is chewy.
In the SEMrush dashboard, go to Competitive Research and click on Domain Overview.
Here, when you put chewy.com in the box and click search, here is what you'd see.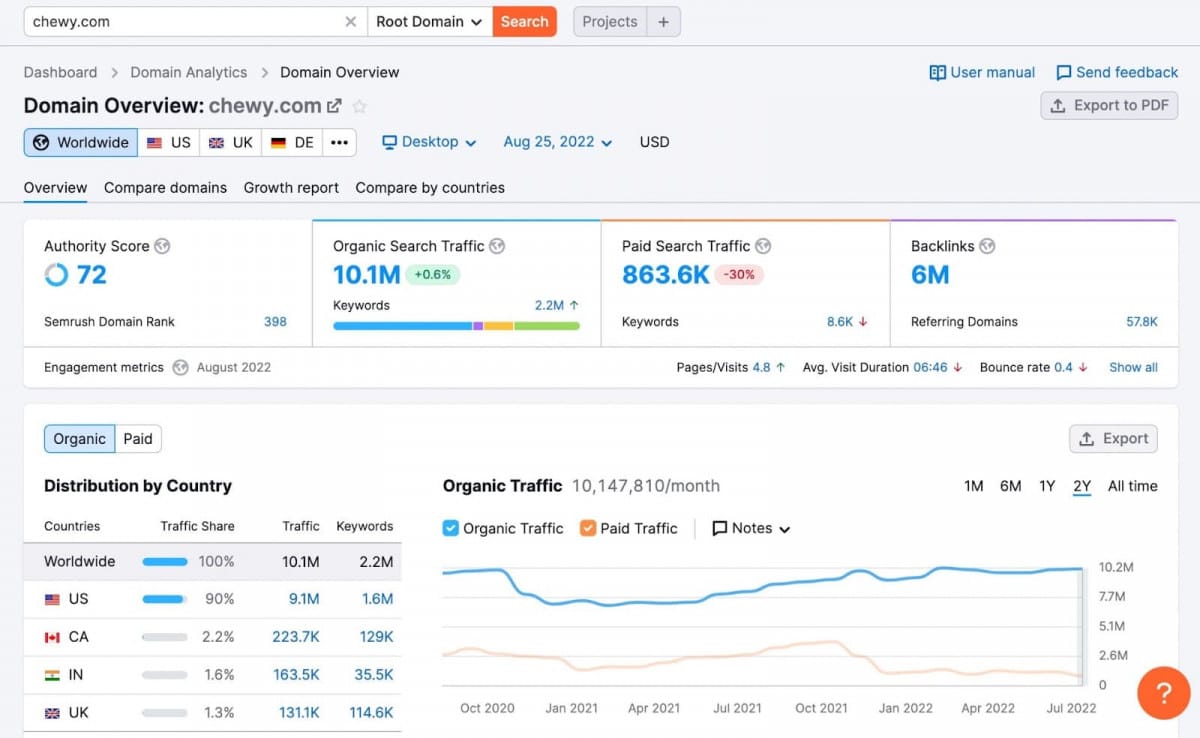 So, Chewy has around 10.1 Million organic visitors per month and is ranking on 2.2 million keywords.
2.2 million keywords mean 2.2 million opportunities for you.
Let's see what they are ranking for.
Click on that tiny-tiny 2.2M link.
In the US alone, it has 1.6M keywords. But you don't need all.
In the filter by keyword part, search for keywords like pet food or dog food to find which related keywords chewy.com is ranking.
Here, the keywords are sorted by position. You can sort these tables by difficulty (KD%), volume or intent to find the keywords you need. Similarly, you can use other competitor sites to extract good keywords.
Once you have the keywords extracted, all you now need is to write quality content.