Best Instagram Apps to Promote Your Business Online
Instagram has grown tremendously, with over a billion active users every month. It has been offering an excellent platform for brands to promote their products and attract more customers.
Although it is possible to attract attention with the help of influencers and Instagram ads, they do not always yield the desired results.
To get the best results, you need the best tools as well. Of course, I am talking about the best Instagram apps here.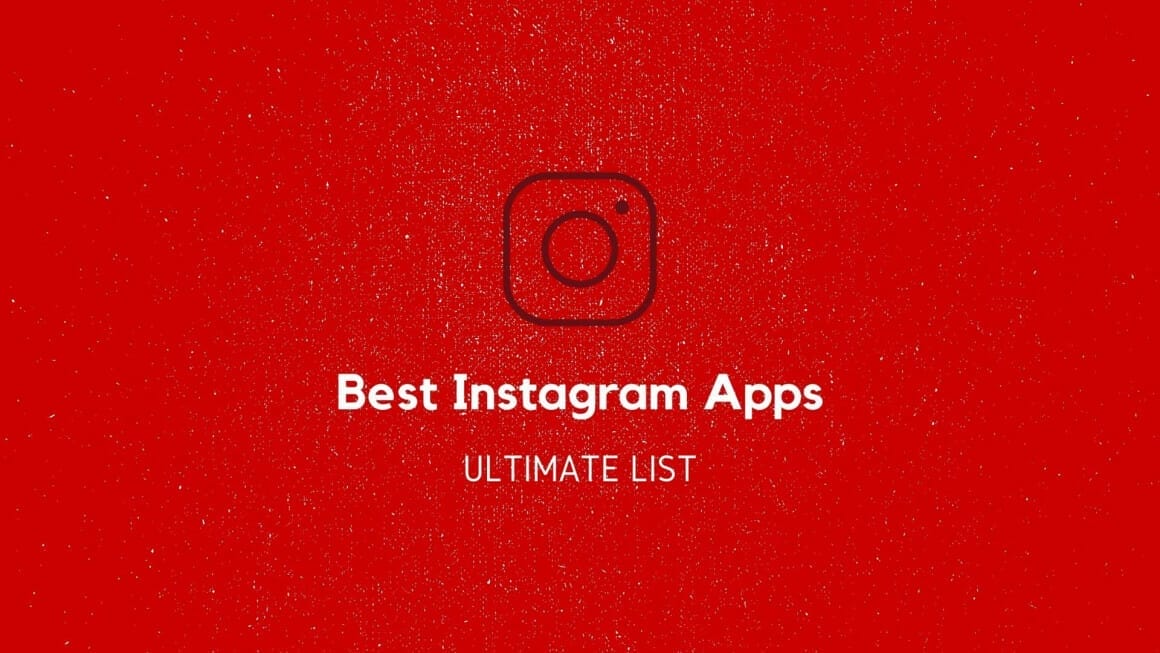 These best Instagram apps developed with businesses in mind are powerful tools to help your business develop a unique identity of its own.
Not only will they bring in more customers to your online store, but they will show you how to earn money on Instagram better.
In this guide, I have listed the best Instagram apps to promote business/profiles online. I hope they will provide the right tools to your Instagram account and improve the growth of your business.
Let's have a quick overview of all the best Instagram apps:
| App | Online Version | Android App | iOS App | Free? | Pricing | Category |
| --- | --- | --- | --- | --- | --- | --- |
| Snapseed | ❌ | ✅ | ✅ | ✅ | Free | Design |
| Canva | ✅ | ✅ | ✅ | ✅ | $12.99 per month | Design & Marketing |
| Crello | ✅ | ✅ | ✅ | ✅ | $7.99 per month | Design & Marketing |
| Afterlight | ❌ | ✅ | ✅ | ❌ | $17.99 per year | Design |
| Photoshop Express | ❌ | ✅ | ✅ | ✅ | Pro version included in Adobe Create Cloud Pricing | Design |
| VSCO | ❌ | ✅ | ✅ | ✅ | $19.99 per year | Design |
| Flipgram | ❌ | ✅ | ✅ | ✅ | In App Purchases | Design |
| Layout by Instagram | ❌ | ✅ | ✅ | ✅ | Free | Design |
| Instasize | ❌ | ✅ | ✅ | ✅ | In App Purchases | Design |
| GoDaddy Studio | ✅ | ✅ | ✅ | ✅ | $2.99 per month | Design & Marketing |
| Instagram Reels | ✅ | ✅ | ✅ | ✅ | Free | Video |
| Life Lapse | ✅ | ✅ | ✅ | ✅ | In App Purchases | Video |
| Hyper-Type | ❌ | ❌ | ✅ | ✅ | In App Purchases | Video |
| Repost | ❌ | ✅ | ✅ | ✅ | In App Purchases | Marketing |
| Autohash | ❌ | ✅ | ✅ | ✅ | Free | Marketing |
| Display Purposes | ✅ | ❌ | ❌ | ✅ | Free | Marketing |
| Instagram Shoppable Feed for Shopify | ✅ | ❌ | ❌ | ❌ | $4.99 per month | eCommerce & CMS |
| Covet.pics for Shopify | ✅ | ❌ | ❌ | ✅ | $14.99 per month | eCommerce & CMS |
| Later | ✅ | ✅ | ✅ | ✅ | $15 per month | Scheduling & Management |
| Hootsuite | ✅ | ✅ | ✅ | ✅ | $29 per month | Scheduling & Management |
| Buffer | ✅ | ✅ | ✅ | ✅ | $15 per month | Scheduling & Management |
| PostBuilder | ❌ | ❌ | ✅ | ✅ | $4.99 per month | Scheduling & Management |
| Sked Social | ✅ | ✅ | ✅ | ❌ | $21 per month | Scheduling & Management |
| Sprout Social | ✅ | ✅ | ✅ | ❌ | $89 per month | Scheduling & Management |
| Iconosquare | ✅ | ✅ | ✅ | ❌ | $59 per month | Analytics |
| UserGems | ✅ | ❌ | ❌ | ✅ | $19 per month | Analytics & CMS |
Now let's check out these in full detail.
Best Instagram Apps to Promote Your Business Online
The Best Instagram Design Apps
To strengthen your presence on Instagram, you must work hard on your account's overall feel and design – generally termed as Visual Appeal in social media marketing.
Visual appeal is one of the most important aspects of great marketing.
Your Instagram feed should have attractive visuals that clearly convey your brand's identity and products' worth to your potential customers.
Though good, Instagram's default filters are not up to professional standards when it comes to photo editing.
If you are not experienced with photography and graphics, don't worry. You can create wonderful visual appeal and amazing photos using some of the best Instagram design apps.
Here are my picks for the best Instagram design apps:
Snapseed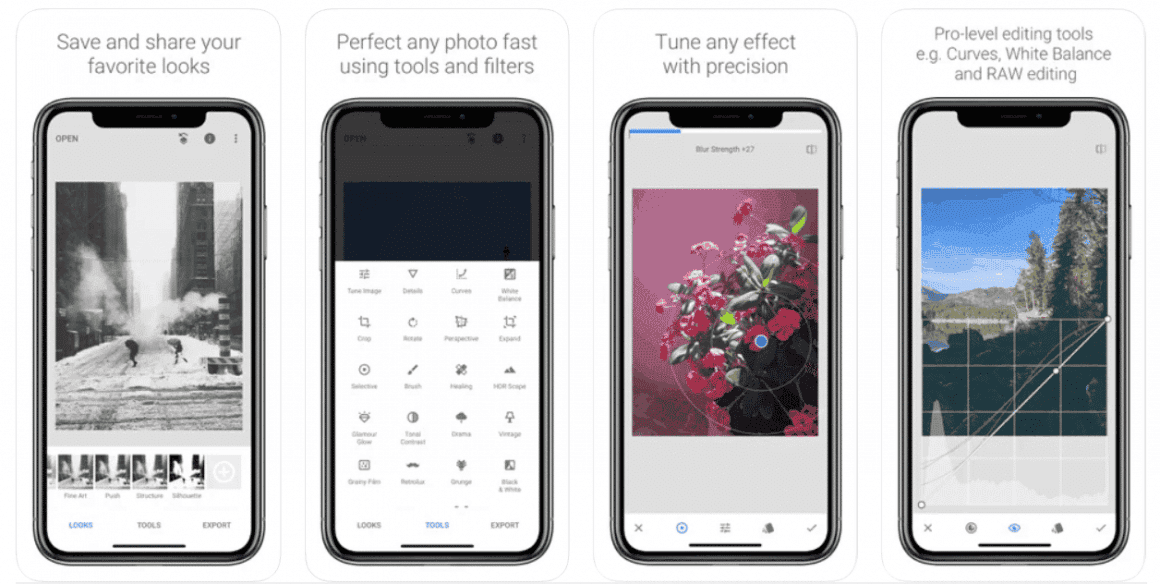 Snapseed is a photo-editing app designed by Google. You can use it to edit and choose various enhancements and effects for your photos.
You can modify everything you need in your photo to be professional, like adjust the contrast and color of your photos and more.
Snapseed also has a useful "save filter" function, which allows you to identify the filter combination that suits you best and save it for future use.
Snapseed is well-known for its ability to fine-tune your images. Unlike Instagram's default filters, which edit a complete image in one go, you will be able to use a brush to apply effects to Snapseed. This will help you achieve a whole different level of perfection with every photo.
Apart from this, Snapseed offers another useful feature known as Stacks. It allows you to save collections of filters as a template. You will then be able to apply these Stacks to your photos while editing. As a result, your entire collection of photos will have a smooth and uniform look. It will also help you save time during the editing process.
Price: Free
Canva
You can use Canva to create distinctive images for your Instagram feed and Stories. It offers various predesigned graphics to help you superimpose text and produce multi-image layouts. By using a consistent selection of fonts and formats, you can create Instagram content that is distinctly recognizable. It will certainly help you in gaining a larger number of followers.
Price: Free for image designing purposes. Canva Pro, which costs $12.95 per month, offers higher-quality graphics and features.
Crello
Crello is a free graphic design tool for everyone in need of trendy-looking visuals. Thousands of professional templates are available here: Choose those fitting your needs most, and customize them the way you like. With Crello, you can create and download 50+ visual content formats in minutes, even if you have no design skills at all.
Crello allows you to choose among 50,000+ static and animated templates, millions of premium images, royalty-free stock photos, and tons of audio and video files in their library.
All of this is available for users for free under Starter accounts. For those with Pro, extra features exist: They can create branded content with Brand Kits, design projects in teams, and remove backgrounds from template images.
Price: Crello is free to sign up and use. Some features are limited for free account holders but still extensive enough for creative and productive work with individual designs. Their Pro plan costs $7.99/month.
Afterlight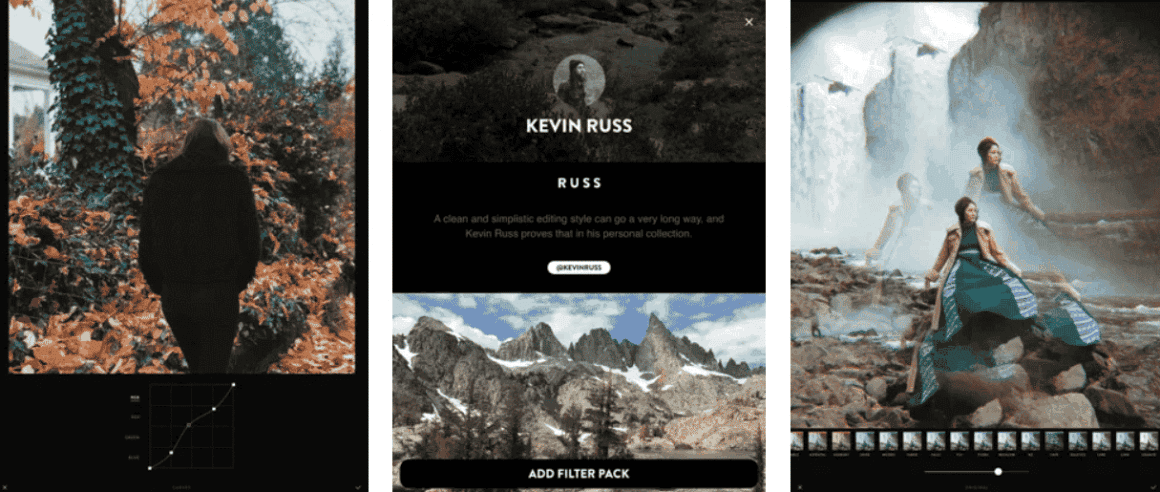 Afterlight is well-known for its user-friendly design and functionality. Notably, it offers you a large number of frames, textures, and filters by default. Thus, you will have several excellent choices for editing your photos right from the beginning. It is compatible with a large number of image formats and allows you to create and save your own filters as well.
You can add a unique look to your photos with the help of its typography tools. These useful features make Afterlight a convenient and highly recommended tool for editing your Instagram photos.
Price: After the 7-day free trial, it costs $2.99 per month or $17.99 per year.
Photoshop Express

The mobile version of Photoshop offers relatively fewer features than its PC counterpart. However, it still offers a wide range of unique presets, options, filters, and controls to give you a smooth image editing experience. For example, with just a click, you can use its blemish tool to remove dust, dirt, and spots from your photo. It also features an option to add watermarks to your images.
Price: Free
VSCO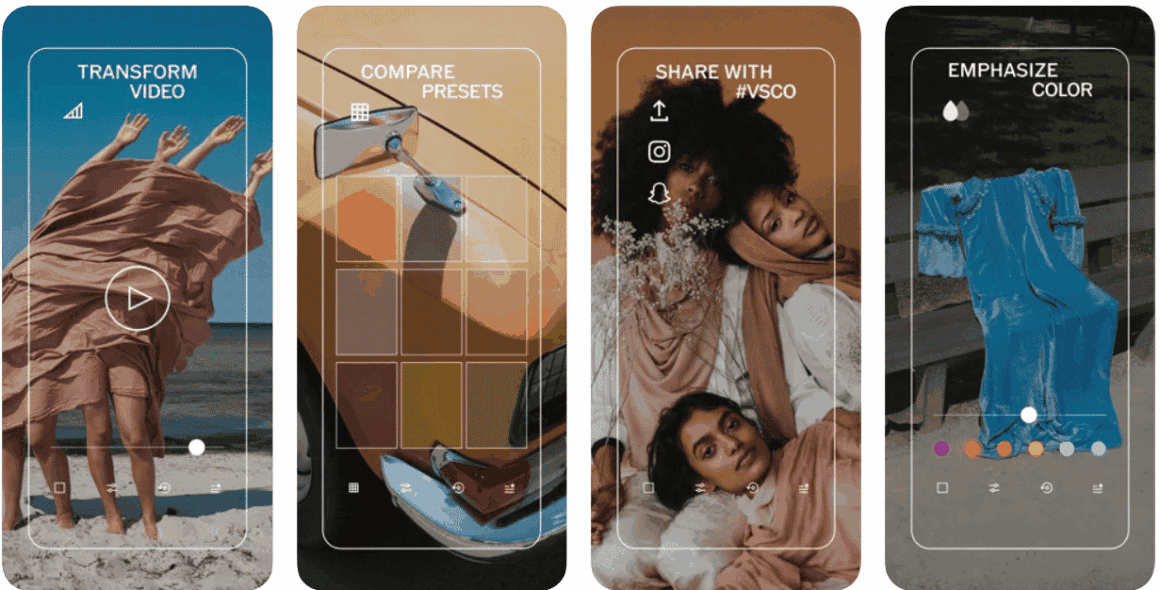 VSCO is an image editing app, platform and social media network that is an excellent resource for editing photos and videos. It comes with a detailed editing suite and several high-end default filters. The premium plan gives you access to even more filters. With the help of this tool, you will be able to beautifully customize your photos and help them stand out in the competitive market.
Price – Free for basic editing tools and presets. VSCO's full version costs $19.99 per year.
Flipagram
You can use Flipagram to produce a slideshow of your photos (known as "photo video stories") to post on Instagram. It is a fast and effective way of allowing your followers to consume their products. Professional photographers, restaurants, and hotels have all been known to present their offerings in this manner.
Price: Free
Layout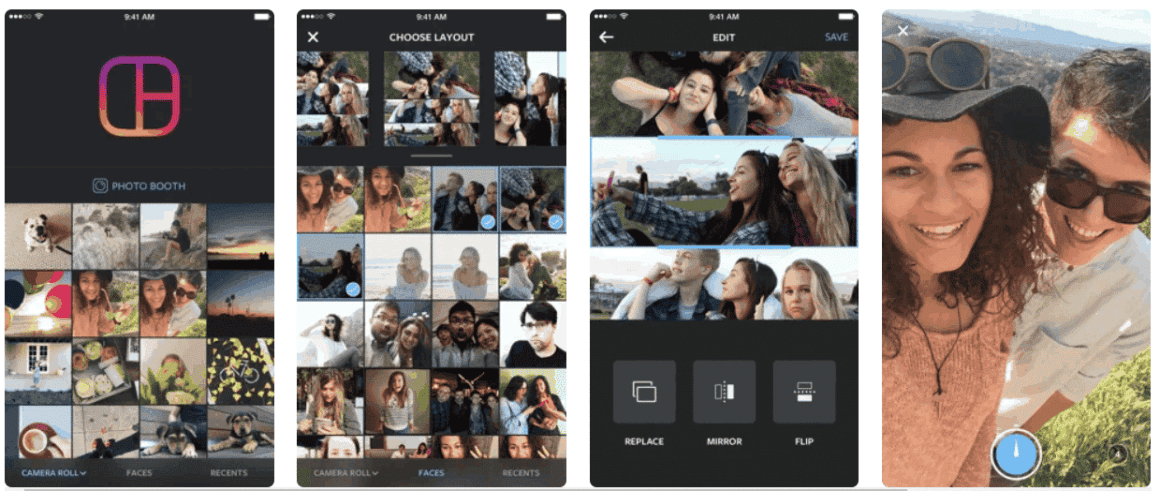 This is a free collage app offered by Instagram. With its help, you will be able to combine up to nine smaller images into a large one. You can choose photos from your recent photos and camera roll for this purpose. Intriguingly, the app also offers a "faces" option where it puts together all the photos of people's faces in your collection!
Layout also offers a lot of creative features, such as flipping, rearranging, resizing, and mirroring. You can also click up to four consecutive photos using the countdown in its photo booth feature. It is used by various businesses like beauty salons, real estate agents, and merchants for promoting their products.
Price – Free
Instasize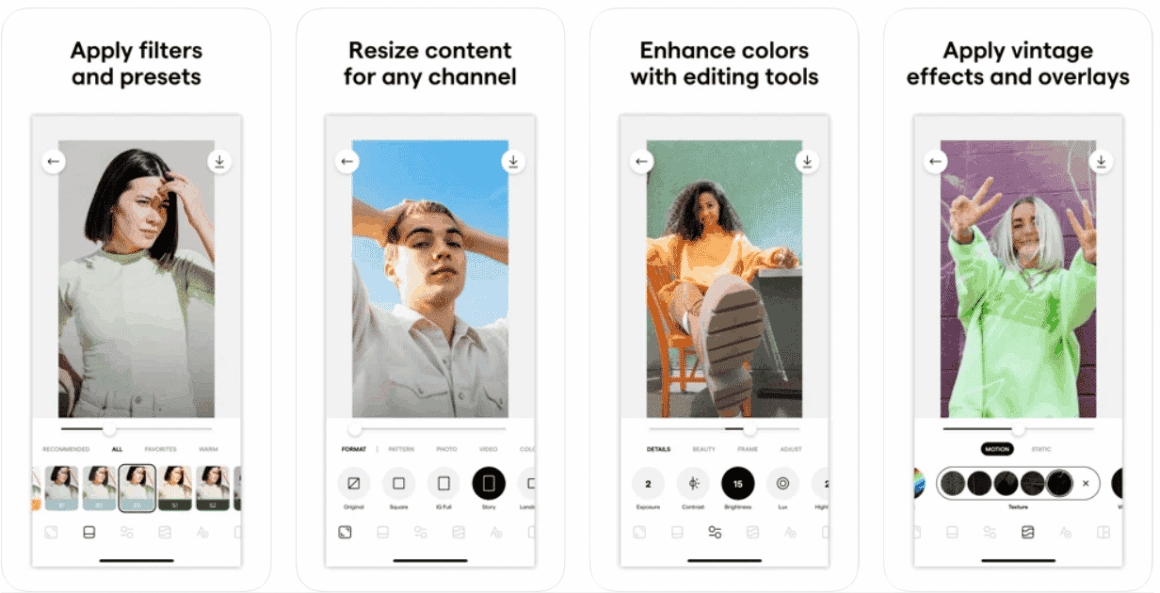 With the help of this handy app, you can post an entire image on Instagram without any of it getting cropped out. Instasize quickly resizes your photo or video, even if it has not been taken in "square" mode. Apart from that, it also has a number of other useful features like stickers, collage frames, overlays, and borders. The app also allows you to download more stickers and borders for free.
Price – Free
GoDaddy Studio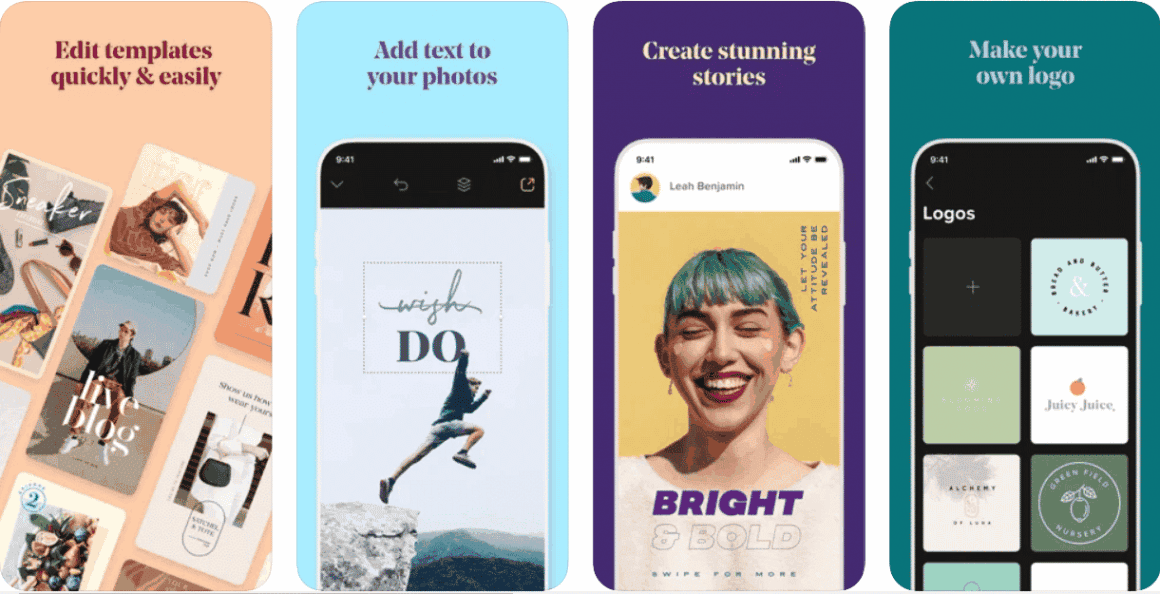 Specially designed by users dedicated to producing quality graphics, GoDaddy Studio can help you create truly excellent content for your Instagram page. It allows you to add artwork and text to your images, with both regular and customized fonts available. You can even upload your own fonts to GoDaddy Studio for editing purposes.
Price: Free with in-app purchases
The Best Instagram Video Apps
With the help of the Instagram video apps given below, you will be able to record videos quickly with your phone and produce professional-quality videos for your company's Instagram account. It will save you the hassle of working on complicated video editing software on your PC or laptop
Official Instagram App
Here I am talking about Instagram Reels that the Instagram app comes integrated with. You can now create reels, loops, animations and whatnot, using the official Instagram app. Be sure to use the best of the features that the official app offers, or use other Instagram reel makers available online. At the end of the end, all that matters is Instagram reels Like. More likes, the merrier.
Price: Free
Life Lapse
Life Lapse is known for the vast range of features it offers. You can upload unlimited photos and use those to produce long, short and stop-motion videos to display your company's products. The app allows you to modify the speed between photos, adjust the video size, and incorporate music free of cost.
Price – Free. It has some optional in-app purchases.
Hype-Type
Hype-Type features a magnificent collection of animations and fonts. You can use it to conveniently add captions for various portions of a pre-recorded video. You can then post the completed video on Instagram without exiting the app.
Price: Free with video watermarks which can be removed using in-app purchases.
The Best Instagram Marketing Apps
Using hashtags, reposts, Instagram caption CTAs you can reach out to a wider audience and attract more followers on Instagram. The useful Instagram marketing apps listed below will make that task much easier for you.
Repost for Instagram
Appreciation is something everybody likes universally. 65% of Instagram users have expressed that they are delighted and honored when mentioned by a brand. This is something that can greatly increase the respect for your brand among your customers.
You can achieve this by using Repost to display your user-generated content (UGC) and appreciate your customers. Don't worry about stealing because it also allows you to give them due credit.
A number of prominent brands and celebrities use Repost to reach out to their followers.
On a related note, I advise you to come up with a tag unique to your business. By doing that, you will be able to come across user-generated content images for your brand with greater ease. It is also an excellent way of allowing more Instagram users to go through your images.
Price: Free
AutoHash
If you are looking for an app to help you with suitable Instagram hashtags for your photos, look no further than AutoHash. With the help of AI, it identifies items in your images and gives you appropriate hashtags related to them. Keep in mind, though, that it has a 30-hashtag limit, so make sure you do not cross it. You will also be able to save your favorite hashtags in this free app.
Price: Free
Display Purposes
You can use this web-based tool to gain more followers on Instagram. Once you provide an existing keyword or hashtag, it will automatically recommend more hashtags relevant to your photo. You have the option of increasing or decreasing the number of hashtags you wish to use. You can even opt for a DIY approach by switching to manual selection. Over there, you will find a list that shows you every hashtag's popularity and appropriateness.
Price: Free
The Best Instagram Apps for eCommerce
Promoting sales of products is one of the main motives of a lot of Instagram users. You can use the apps listed below to conveniently share your Instagram images to your Shopify account. As a result, visitors will be able to easily find the items they saw on Instagram and buy them from your website.
Instagram Shoppable Feed for Shopify
Apart from attracting customers on social media, your Instagram photos can also help them get an idea of how your products actually work in context. The Instagram Shoppable Feed conveniently adds your Instagram images to your store and tags the items shown in every photo. You can also consider featuring it on your store's homepage. This will help you promote your products and gain followers simultaneously!
Price: After the 7-day free trial, you will have to pay $4.99 per month.
Covet.pics for Shopify
Similar to the Instagram Shoppable Feed, this app uses your Instagram images to create galleries on your site. Interestingly, it also allows you to invite customers to upload their own photos of your products to your galleries. You can use it to tag various products in your gallery images, display costs, and put a direct Buy option on your popup. The app also provides useful statistics regarding the performance of your galleries. It will list helpful parameters like orders, engagements, and views.
Price: Free for one product tag for every photo, and one gallery. The Basic plan costs $14.99 per month.
Best Instagram Management Tools
Simply attracting customers on social media is not enough. To maintain their interest, you need to keep updating your Instagram account with new content. Unfortunately, regularly uploading fresh images to your account is a very time-consuming process.
Fortunately, there are a lot of management tools to help you out with this purpose. They will help you plan out your posts beforehand and keep your account regularly updated with fresh material.
Later
Promoting your products online involves more effort than just image editing and adding captions. In that regard, Later is a versatile social media scheduling platform with several useful features. You can use it to carefully plan out your promotional campaigns by sharing customized material and exploring various hashtags.
It also helps you keep your content organized and preview your Instagram feed before publishing it. With the help of its Saved Captions feature, you can save similar collections of hashtags together and use them to run your promotional campaign more effectively.
Price – Free for up to 30 Instagram posts every month and one user. The Plus plan costs $9 per month for one user, and up to 100 posts every month.
Hootsuite
Hootsuite is well-known for streamlining marketing on social media platforms like Twitter and Facebook. However, you can also use its Instagram tools to manage and publish your Instagram posts more easily. It allows you to schedule your posts beforehand and notifies you to post them on time. In the case of Instagram Business accounts, it can post them automatically as well.
Price: After the 30-day free trial, the Professional plan costs $29 per month.
Buffer
Buffer is a well-known app for creating and scheduling social media posts, including Instagram Stories. You can subscribe to its Premium plan to embed an attractive Instagram grid on your site. It will also give you a detailed statistical analysis of the performance of your posts.
Price – Free for 10 scheduled posts, three social accounts, and one user. After the 7-day free trial, the Pro plan costs $15 per month and the Premium plan costs $65 per month.
Sprout Social
Sprout Social is a useful all-in-one social media tool that you can use to schedule and publish your content. It also provides detailed statistics about the performance of your recent Instagram posts. You can also use these reports to compare the performance of your store's account with that of your other accounts.
Apart from this, Sprout Social also offers tools to help you monitor comments and hashtags on your posts. Thus, you can understand your community's needs and preferences better. By adjusting your content accordingly, you can significantly improve the growth of your business.
Price: After the 30-day free trial, the Standard plan costs $89 per month for every user.
PostBuilder
PostBuilder is a social media management app that allows you to schedule stories and posts, use over 60+ custom fonts (that work on all social media platforms), and create perfect line breaks for your captions and bio.
PostBuilder doesn't limit the number of posts or stories you schedule; you can save unlimited future posts and hashtags in the app's Drafts.
Price: You can make unlimited captions with line breaks for free; full premium access starts as a 14-day free trial and then costs $4.99 per month.
Sked Social
Basically, Sked is a scheduling app that has a number of perks, including web-browser-based scheduling, to make your campaigns more effective. It has advanced image editing features that produce much better results than Instagram's default filters.
You can use its mass uploading feature to simultaneously put up several batches of images. This will help you save a lot of time during marketing.
Price: After a 7-day free trial, the Freelancer plan costs $25 per month.
The Best Instagram Analytics Apps
You have been working hard to create quality content, posting it on Instagram, and keeping your account updated regularly. But the question is, are these efforts bringing you closer to your goals or not? You can find answers to this question using a good Instagram analytics app.
They will help you see the effects of your Instagram promotional campaigns on your bottom line. That, in turn, will help you learn which of your posts were the most effective in attracting customers. You can then implement the same tactics in future posts for better results.
Iconosquare
Iconosquare is a handy analytics platform that can give you a detailed and accurate report of the performance of your content on Instagram. You can use it to monitor data like likes and followers, their location, and your own level of online influence.
You can avail promising outreach and effective marketing opportunities by finding out about your most influential followers. You can also use Iconosquare to compare your performance with your rivals. That will help you get an accurate idea of where you stand in the industry.
Price: After the 14-day free trial is over, the Pro plan costs $29 per month.
UserGems (Shopify)
Certain sly organizations have been known to create fake accounts on social media to spy on their competitors.
You can counter such people using Usergems, which can obtain your customers' social media data within seconds. You can then use this information to look for red flags (such as a massive number of followers) and identify the spies in your midst. Also, this data will help you put together an effective influencer campaign.
Price: Free for up to 100 customers every month. After that, the Starter plan costs $19 per month and supports up to 250 users every month.
Summary
With these apps, you can promote your business better and help it grow healthily over time. I hope you enjoyed the list. Let me know if you have a tool that you want to add to the list.