10 Best Canva Alternatives in 2023
I love Canva. I use it to create blog graphics, media assets and other infotainment content on the go. It is possibly the best online graphics and video editor out there.
Canva has literally revolutionized the design world by offering simple graphic design tools for all experience levels. It enables beginners and non-designers to create stunning graphics, videos and docs.
In addition, it works as a perfect space for designing things such as blog images, presentations, simple social media posts, and basic photo editing options.
However, it has been recently subjected to feature restrictions, aggressive price changes, and policy changes. Thus, some users look for Canva alternatives.
So, if you are looking for a Canva alternative, I have got you covered. In this article I have listed 10 of the best alternatives to Canva in 2023.
Some are entirely free, while others have certain unique features you have to pay for.
Whether you are looking for a cheaper option or want to try a new interface, you should look at the list of the best Canva alternatives below.
Best Canva Alternatives
Based on their features, pricing, the number of options and public opinions (like the ones on Reddit & Quora) available, here are some of the best Canva alternatives in 2023.
| Canva Alternatives | Pricing | Features |
| --- | --- | --- |
| Adobe Express | $9.99/month | Graphics, Social media, and Video Creation |
| Snappa | $10/month | Graphics, Social media, and Ads |
| PicMonkey | $7.99/month | Graphics, Photo editing, and Collages |
| Easil | $7.50/month | Graphics, Social media, and Printables |
| Visme | $25/month | Infographics, Presentations, and Visual content |
| VistaCreate | $9.90/month | Graphics, Social media, and Video Creation |
| Design Wizard | $9.99/month | Graphics, Video creation, and Social media |
| Pixlr X | Free or $5/month | Photo editing, Collages, and Design templates |
| Stencil | $15/month | Graphics, Social media, and Ads |
| PicMaker | $8.99/month | Graphics, Social media, and Video creation |
Let's see these in detail, one by one.
Adobe Express
Adobe Express (formerly Adobe Spark) is an online Adobe tool for quick graphic designing. With its impressive set of features, it is one of the best Canva alternatives. Although it is part of the Adobe suite, you don't need to own anything like InDesign or Photoshop to use it. In fact, one of its plans is available for free, and some premium plans are cheaper than Canva.
Adobe Express has a clean, minimalistic interface and streamlined onboarding to new projects. It allows you to create social media graphics in the most common sizes. It also helps you create simple, responsive websites and short animated videos. However, its most unique offering is the branded stories feature. You can effectively add your main brand assets, such as fonts, logos, and colors, to your work.
Adobe Express is an excellent choice for people who want to create social media content quickly.
Visme
Visme is a graphic design tool that goes much beyond its peers. Its drag-and-drop editor is intuitive, easy to use and loaded with features. It allows you to create professional and impressive presentations, social media graphics, infographics, and more. It is an excellent Canva alternative for people looking for an all-in-one design tool.
Visme's data visualization tools include more than 40 charts and graphs, an interactive map builder, an easy-to-use table maker, customizable flowcharts, and several data widgets. You can use the Graph Engine to create any type of chart with data you input manually or import using a spreadsheet.
Using Visme templates, you can produce striking social media graphics, interactive projects, presentations, flyers, and multi-page documents for printing or embedding on your website.
Also, Visme has an inbuilt photo editor that lets you enhance your images inside your browser. In addition, it offers a powerful suite of animation and interactive features such as exclusive animated illustrations, hover effects, and popups.
VistaCreate
VistaCreate is a powerful alternative to Canva. It has many templates in various formats and styles – from social media to print and marketing assets. In addition, the editor includes a massive library of animated illustrations similar to Instagram stories.
VistaCreate is an excellent choice for anyone using Canva who wants something different for a change.
The tool is mainly intended for bloggers and small businesses that need to create appealing visuals for social media.
Design Wizard
Design Wizard is an easy-to-use Canva alternative for creating short videos or static graphics. The tool offers templates for most social media assets, documents, and presentation-style projects. You can choose between two editing spaces inside the editor – a static graphic editor and a video editor. The tool's design features are similar to Adobe tools with terminology such as "layers" and "artboards."
However, Design Wizard lacks design elements to add to both static and video projects. It has no data visualization tools, icons or illustrations available. However, the video editor does have a handy timeline for editing. Design Wizard is a good choice for people who want to design simple visual assets without delving too deeply into the technicalities. It is perfect for casual bloggers and people who regularly use social media. Its templates are diverse and standard for many topics, industries, and niches.
Easil
Easil is an efficient Canva alternative with refreshing and vibrant templates, with the most popular ones being Instagram stories and other standard social media sizes. Depending on the subscription, you may also get access to many more templates. Its editor has a respectable number of design elements to work with, the most notable being the long list of shape masks. It also has icons, illustrations, images, and patterns.
Easil also offers a granular locking feature to help you create templates for teams. You can even use this design tool to create animated GIFs. It has thousands of social media templates in diverse styles. However, most of them are trendy and unsuitable for the corporate space. Therefore, Easil is a better choice for bloggers, creative entrepreneurs, and users who mainly deal with social media visuals and blog-related graphics.
Pixlr X
Pixlr X has an online advanced photo editing tool cum graphic editor and a simpler Canva alternative. Pixlr X is a great choice and is cheaper than Canva.
Pixlr X comes with thousands of stock images, overlays, and stickers. It even features an AI CutOut tool to eliminate unneeded parts of your design. In addition, you will have access to thousands of texts, icons, beautiful templates, and preset dimensions. It is one of the more advanced image editing tools compared to Canva and many other options on this list. The free version gives you full access to the basic Pixlr editing tools and limited access to overlays and stickers.
Snappa
Snappa's graphic design templates only cover sizes for blog graphics and social media channels. Apart from those, it does not offer any templates for business-related graphics such as business cards or documents. However, Snappa is still a decent alternative to Canva. It has a clean and user-friendly editor, and its design elements include icons, photos, vectors, and shapes. In addition, it displays the vectors fully in black and allows you to customize their colors.
Unfortunately, Snappa has no animation features and does not let you create GIFs. Its template styles are geared toward small businesses and startups. Since it has no data visualization tools, it is unsuitable for academics or enterprises. Thus, it is mainly intended for casual designing by bloggers and social media marketers because it offers Buffer integration for social media scheduling.
Stencil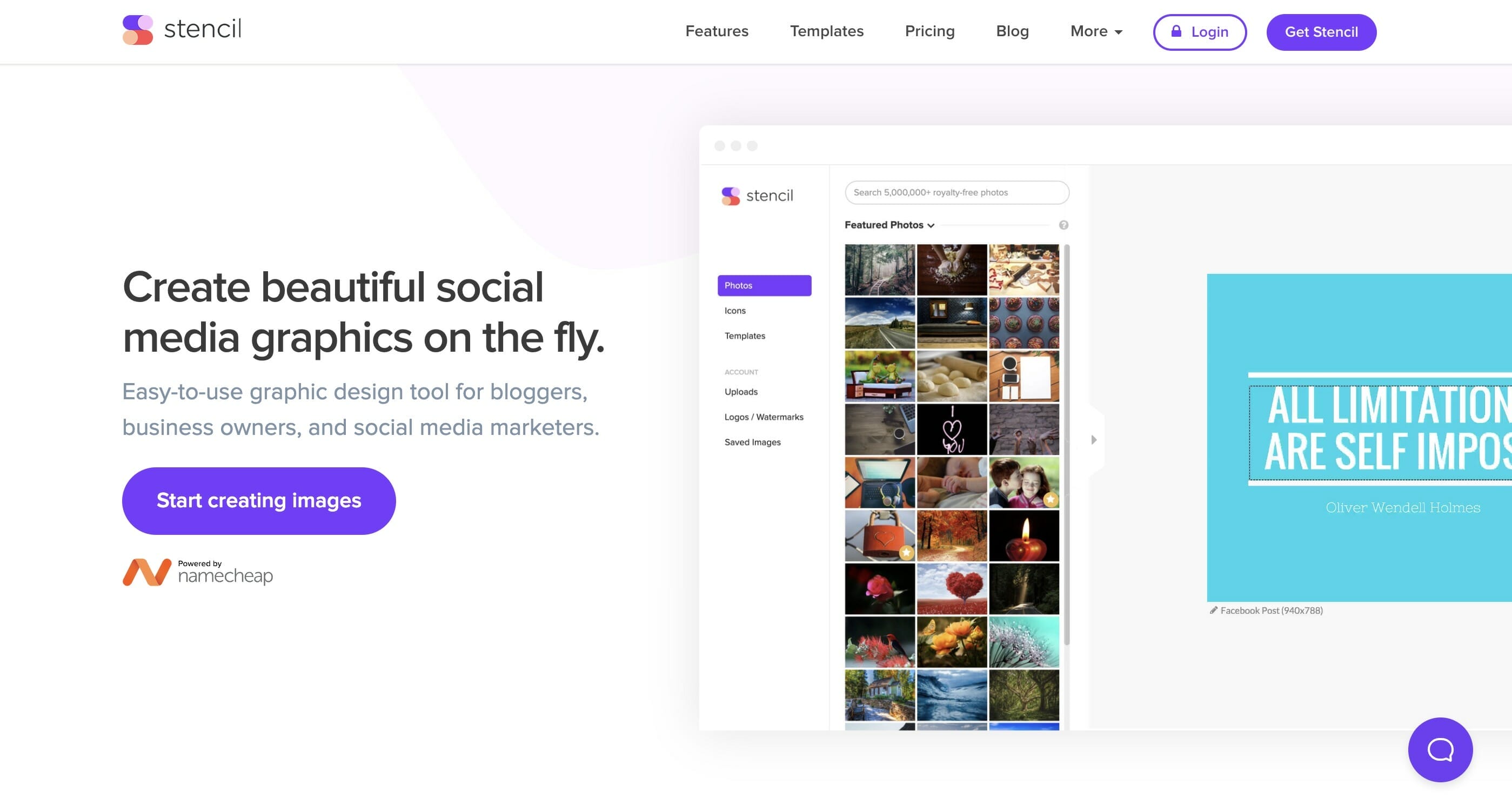 Stencil is a very minimalistic graphic design tool with limited features. The main idea here is to use a background image and put text over it. It also offers some simple icons and shapes to add to a design, and its editing features are easy to use. But, unfortunately, it lacks animation, interaction capabilities or video backgrounds.
The editor features a section with quotes which is quite an excellent addition. You simply need to choose a quote to add it instantly to the image you selected for the background. Stencil is a good choice for people who need to create content fast and don't require more advanced tools. It's perfect for content creators who regularly prepare quotes because it offers plenty to choose from.
Stencil's templates list also has sizes for Amazon shirts and Zazzle products. As a result, it is an ideal graphic design tool for casual content creators.
PicMonkey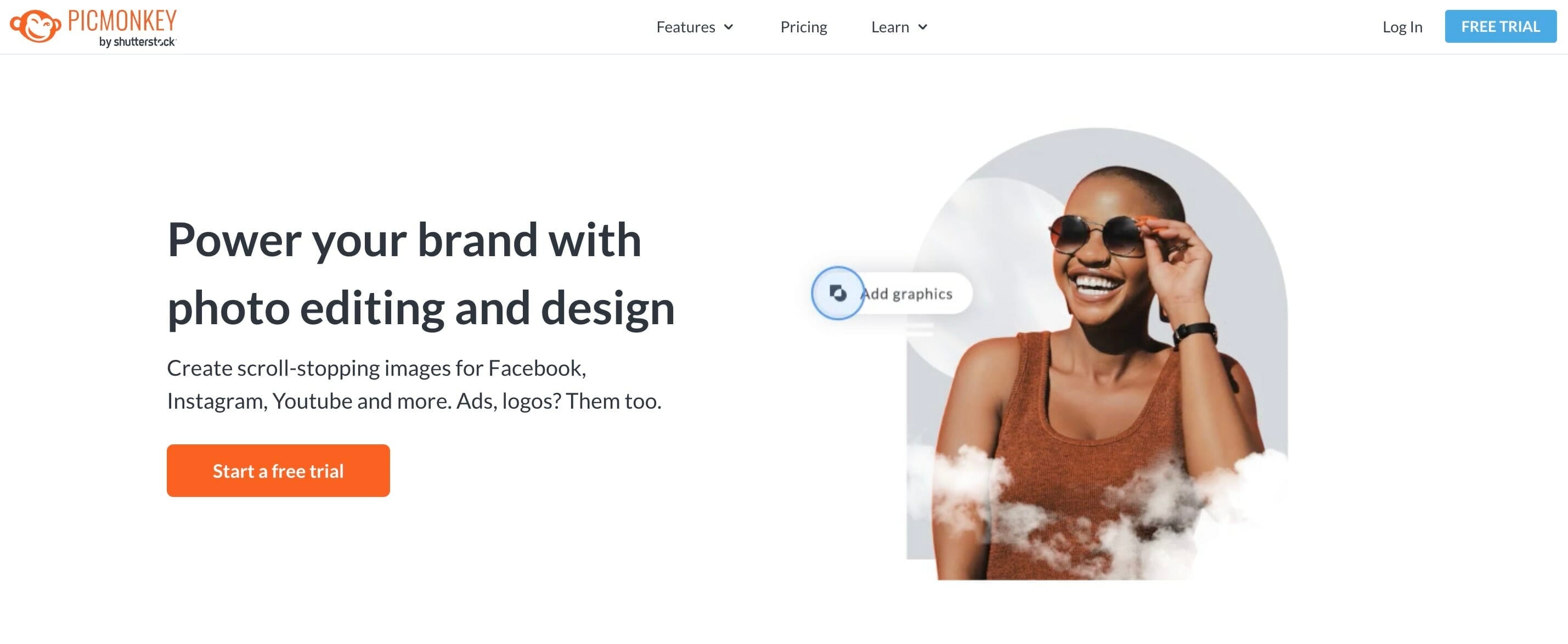 PicMonkey is one of the most powerful alternatives to Canva available today. Although it offers plenty of templates to choose from, it is also one of the best tools for creating from scratch.
The editor gives you a large selection of design tools to work with, the most notable being the photo retoucher. It can even perform several Photoshop functions, but it is comparatively easier to use.
Another exciting feature of PicMonkey is its collection of pattern and effects tools, which you can apply to the background and shapes in the design. It is an excellent choice for anyone who wants to create professional-looking visual graphics for any purpose. It is especially great for users who require photo retouching features and graphic design tools.
The tool is mainly intended for bloggers, creative entrepreneurs, small business owners, and startups.
Picmaker
Picmaker is an AI-based graphic design platform that helps you create visually appealing designs across more than 70 categories, including Instagram posts, Twitter ads, and YouTube thumbnails. It has plenty of readymade design templates, a custom brand kit, 100 million stock images, 100,000+ icons, and many other robust features.
Even non-designers can use Picmaker to effortlessly create social media designs, flyers, logos, posters, memes, invitations, and certificates within minutes.
Its impressive artificial intelligence-based MAD button allows you to choose from a stunning mix of colors, fonts, pictures, and templates. But unfortunately, it does not have any video or MP4 integrations yet. Instead, you will have to use its sister tool, Animaker, to create animations and live-action videos.
It is one of the best free alternatives to Canva. The free version of Picmaker gives you access to more than 10,000 premium templates, 2GB of cloud storage, and more.
Conclusion
Canva is a popular graphic design platform that provides a lot of great design templates to save you time and inspire you. However, it has its limitations. For example, it is somewhat expensive and lacks some essential editing features.
I listed some of the best Canva alternatives with additional features in this article. You can choose from them according to your requirements.