7 Essential Tools to Help Start Your Business
Starting and launching a business can be deeply rewarding on a personal level, but no one will argue that it's not intense and time-consuming. You will need help to get your new company off the ground quickly and efficiently. Fortunately, a host of affordable resources already exists.
In this article, I have listed some of the best and essential tools that can help you start your business. Without further ado, here are the tools:
7 Essential Tools to Help Start Your Business
For: Project Management and Team Organization
Today's digital workforce offers maximum flexibility for companies to hire talent locally or from anywhere in the world. The more spread out your team members are geographically, the more important it is to have a good communication and productivity tool to keep everyone on task. Asana has a good reputation among users for allowing them to do just that.
Asana, which is a cloud-based platform, makes it possible for businesses to collaborate, communicate, manage, and organize their tasks from their desktop or tablet computers. Companies of any size can use it, and the platform makes it possible to manage multiple projects at the same time.
Users seem to especially appreciate the second feature because it keeps them from mixing projects up and becoming confused about what is due and when. Here are some additional features included with an Asana membership:
Assign tasks and subtasks in multiple projects
Create columns and sections to keep your tasks organized
Customized fields
Due dates and times
Forms
Goals
Manual rulesets
Milestones
Timeline of task and project deadlines
Work approval function
Asana has received recognition online as being the best for team organization.
For: Business Formation and Branding
The Limited Liability Company (LLC) business structure is the most popular choice among small business owners due to its benefits and simplicity in formation.
Tailor Brands provides you with all the forms you need to complete for your state to become a recognized LLC. The process of becoming an LLC involves seven simple steps:
Give your LLC a unique name
Choose the state where you intend to do business
File articles of incorporation with your Secretary of State
Choose a person to receive communication on behalf of your LLC as a registered agent
Create an operating agreement with your business partners
Apply for an Employer Identification Number (EIN)
Be sure to comply with all federal and state tax requirements
While working through the process of becoming an LLC, Tailor Brands remains available to provide unlimited support.
Tailor Brands also offers a logo design service where you can create a logo for your new business within a matter of minutes. Just enter the name you want to appear on your logo, answer a few additional questions, and the possibilities for your new logo appear on the screen. If you don't like what you see at first, you can always change the wording or answer the questions a bit differently.
For: Marketing and Design Assets / Also see: Canva Alternatives
Canva offers both free and paid subscription options. The free version allows individuals to design a project on their own or through collaboration with others. Examples of features in the free version include:
5 GB of cloud storage
250,000 free templates
Drag-and-drop editor
Several printable products you can design and have delivered to you
Over a million free graphics and photos
The paid version can be a good choice if you're an entrepreneur, individual, or freelance designer who needs access to unlimited content. Please note that Canva's paid option is only available to one person, so you wouldn't be able to share your membership with any collaborators. However, you receive at least twice as many features as people who use the free version. Examples include:
1 TB cloud storage
100 brand kits with logos, fonts, and colors to help you establish a brand identity
Customer support available 24/7
Over 100 million stock photos, graphics, audio, and video
Over 610,000 free and premium templates with new designs available daily
You can save money on the paid version of Canva by opting to pay yearly rather than monthly.
For: Free Web & App Analytics
The Google Analytics platform collects data from your apps and websites to provide valuable insights into how well your business performs online. The service is free. Here are the types of data you can expect to find:
Forms automatically submitted by website visitors
Number of users currently on your website
Pages they visit and how long they remain on each page
Types of browsers people use to find your website
Website your visitors were visiting when they left that site and clicked over to yours
Whether they arrive at your website via a mobile device or website
When you're working with a tight marketing budget, Google Analytics can help you maximize your return on investment. By paying attention to trends in Google Analytics reports, you can make better decisions regarding future campaigns based on how users typically interact with your content.
For: Email Marketing / Also see: MailChimp Alternatives
MailChimp is a marketing platform built for small businesses. You can choose from among four membership options, including free, essentials, standard, and premium. Pricing for all but the premium account assumes that you have 500 contacts or less. The premium package is for businesses with 10,000 or more contacts each month.
Regardless of the package you choose, MailChimp gives you the ability to compare your company's emails to the emails performing best in your industry. You also receive insights that enable you to focus your marketing efforts on potential customers who are most likely to convert to a sale along with predictions of who will buy again. Below are a few features from each of the package options.
Free
Email support from MailChimp for the first 30 days
Pre-made email templates
Essentials
A/B testing
Basic customer journey automation
Onboarding assistance
Standard
Campaign manager
Chat and email support available 24 hours a day, seven days a week
Enhanced customer journey automation
Pre-built and custom-coded email templates
Predictive segmentation
Premium
Dedicated onboarding
Multivariate and A/B testing
Priority email and phone support
MailChimp offers a free 30-day trial for the essentials and standard packages.
For: Building Websites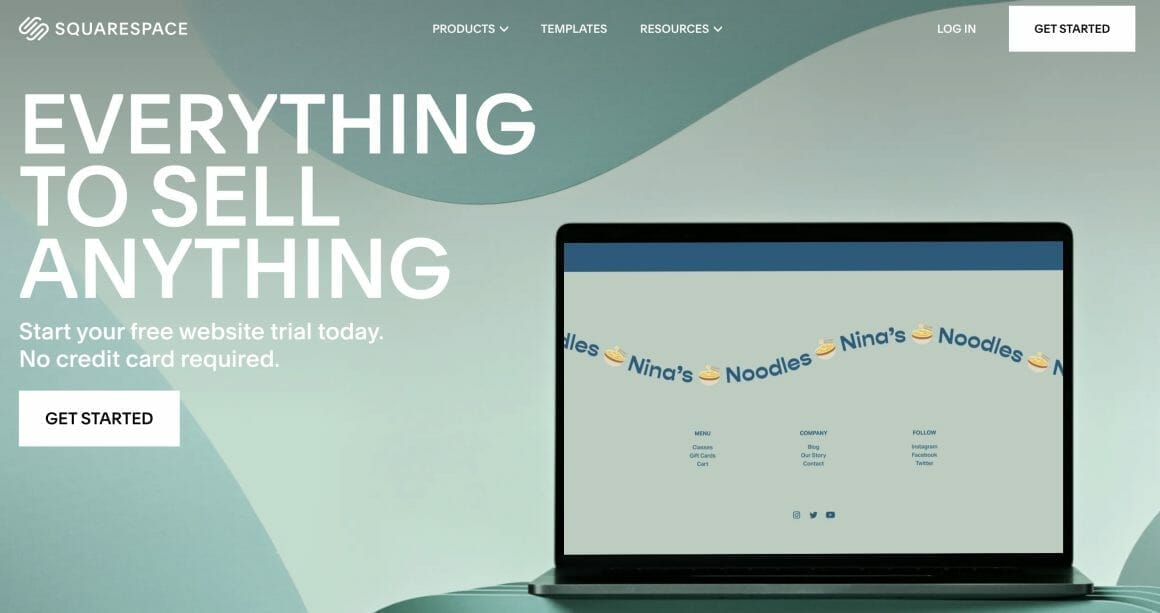 You don't need coding knowledge to build a website with Squarespace. After you sign up for an account, the first thing you need to do is choose a template for your new website. Here are several other features available to you with a Squarespace membership:
Analytics and reports from your website
Connected experts and services
Domain name registration
E-commerce templates
Email marketing tools
Extensions for point-of-sale systems
Integration with social media
SEO and search engine solutions
Tax and checkout payment tools
Website drag-and-drop design and editing feature
Squarespace offers four affordable options ranging from $16 to $46 a month as of early 2023. These include personal, business, basic commerce, and advanced commerce.
The personal package allows you to have up to two contributors, while the other three packages allow for unlimited contributors. All packages provide SSL security, unlimited bandwidth and storage, templates for all occasions, and SEO features to improve the visibility of your website. These are the standard offerings, and you receive several more with each package upgrade.
For: Accounting & Finance
If you're like most new small business owners, you have deep passion for your product or service, but not necessarily keeping the books. Since tasks like invoicing your customers and managing your cash flow are unavoidable, working with Xero can make your life a lot easier. The company offers three plans. Below are a handful of features available at each level.
Early
Recommended for new businesses, self-employed individuals, and sole traders, the least expensive package offers the following:
Send up to 20 invoices monthly
Enter up to five bills monthly
Use the Hubdoc feature to capture receipts and bills
See your business snapshot at a glance, such as short-term cash flow
Growing
You might want to consider upgrading to this package as your business starts growing. Features beyond the early package include:
Send unlimited quotes and invoices
Enter unlimited bills
Bulk reconciliation of transactions
Established
After you have been in business for a few years, you might find that this package works better for you. You will enjoy these features that are not included in the other two packages:
Ability to use multiple currencies
Expense claiming
In-depth analytics
Project tracking
All three packages allow you to add Gusto Payroll Processing for an additional $40 per month. Packages range from $13 to $70 monthly as of early 2023.
Starting a business is an exciting time in your life. The more resources you take advantage of, the sooner you can launch your business and start turning a profit.