7 Best Cloudways Alternatives
Are you looking for the best Cloudways alternatives on the market? If yes, then you are in the right place.
Cloudways is a managed cloud hosting provider that allows users to quickly deploy and manage web applications in the cloud. It provides users with managed web hosting services, such as shared hosting, VPS hosting, managed WordPress hosting, and more. The platform is popular among small and medium businesses thanks to its affordability and ease of use.
Unlike traditional WordPress hosting, it allows you to choose from five different cloud hosting providers for your hosting infrastructure. Afterward, they configure everything for you and let you manage your WordPress sites from a simple dashboard.
However, although there is a lot to appreciate about this approach, Cloudways isn't for everyone. Some people might find it too complex, while others may feel it is too expensive for what it offers. In this article, I will discuss some of the current best Cloudways alternatives.
Why do people look for Cloudways alternatives?
Before we start looking at Cloudways alternatives, I'd like to discuss some disadvantages of using Cloudways. Below are the main reasons why people start looking for Cloudways alternatives.
1. A more straightforward experience
Cloudways more or fewer offers just a control panel to manage your cloud hosting. As a result, beginners tend to feel overwhelmed trying to configure everything and look for Cloudways alternatives that simplify hosting a WordPress site.
2. More comprehensive support
By default, Cloudways' support scope is only for your hosting server — it does not include support for WordPress. Thus, it significantly differs from a managed WordPress host where the support staff consists of WordPress experts who can step in and help you with WordPress issues.
3. Lower prices
Cloudways is relatively cheap for people using a single, low-resource server. However, if you need to use multiple servers or high-resource servers, it can be costly. You can find much cheaper alternatives that charge a flat rate ($10 to $30 per month) regardless of the server you are using.
4. Better technology stack
Experienced users often complain that Cloudways' tech stack isn't as fast as possible because it uses a hybrid Apache/Nginx stack that some people dislike. They prefer to use a pure Nginx stack or the LiteSpeed server, which tends to perform better than Cloudways' hybrid stack.
Best Cloudways Alternatives
Now that you know Cloudways' drawbacks, let us go through my picks for the best Cloudways alternatives available today.
1. WPX Hosting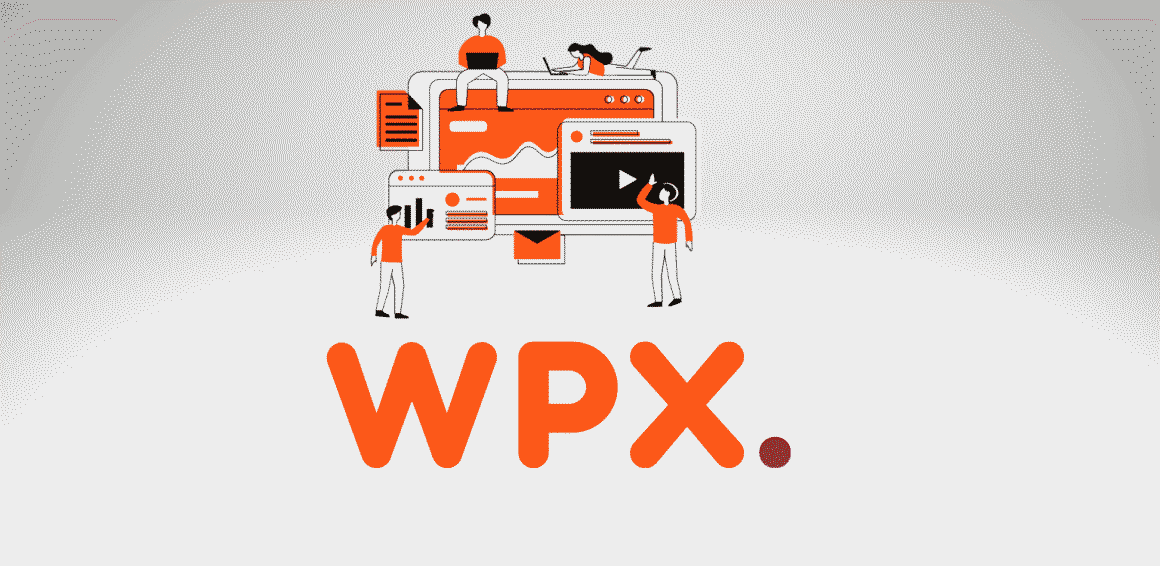 WPX Hosting is one of the best-managed WordPress hosting services today. Top marketer Mathew Woodward has proudly recommended it due to its remarkable performance and dedicated support team. It offers lightning-fast loading speed and provides unlimited site migrations, unlike most other Cloudways alternatives.
If you are looking for fast web hosting, efficient technical support, and great overall performance, then you don't need to look further than WPX Hosting. Since it is a managed WordPress hosting provider, you needn't worry about website downtime, system updates, or security scans because the WPX team expertly handles most of these things.
In addition, WPX Hosting also offers free SSL certificates that will help reduce your hosting expenditure's overall cost. It is well-known for its CDN service, WPX Cloud.
WPX hosting is one of the fastest out there. It offers a great pricing set and incredible storage & bandwidth options. Along with a free built-in cache, WPX also offers free support in detecting and removing malware from hosted websites.
Also, WPX Hosting provides 99.95% uptime and 30-day money-back guarantees. It offers three plans with monthly and yearly billing cycles to keep the pricing simple. All three include features such as free custom CDN, SSL, DDoS protection, staging area, etc. The only significant difference is the number of websites hosted and storage space.
Overall, WPX Hosting is an excellent choice if you want a reliable and efficient hosting provider for your WordPress site.
2. WP Engine
WP Engine has more than 500,000 customers from across 120 countries and data centers in Tokyo, the U.S., and London. It is notable for exclusively offering WordPress-based shared and dedicated hosting. By virtue of its mastery over hosting, many prominent organizations such as America's Funniest Videos, Arizona State University, and Thomson Reuters have opted for it. It offers most of the features that one would expect from major hosting companies, along with some cool extras.
Currently, WP Engine is the only hosting service provider worldwide that offers Genesis Framework and over 35 premium StudioPress themes for free. It is backed up by Cloudflare CDN and a multi-datacenter clustered environment. In addition, it features proprietary Evercache technology that allows pages to load faster by combining caching and proxy servers. Apart from auto plugin updates, it also provides both AWS and Google Cloud Platform for optimal speed.
You will receive an SSL certificate free of charge with your hosting subscription. Also, WP Engine performs daily malware scans and has a powerful firewall to block the latest threats. It also offers enterprise-grade firewalls, real-time threat detection, and free hacking remediation by WordPress-trained security experts.
WP Engine is also well-known for its website staging feature with all of its plans. It recently extended its 24/7 customer support to all clients via telephone and chat. Unfortunately, it doesn't offer email or register domain names yet. You'll have to sign up with a third-party company for email and register a domain name at a dedicated URL registrar such as NameCheap.
3. Bluehost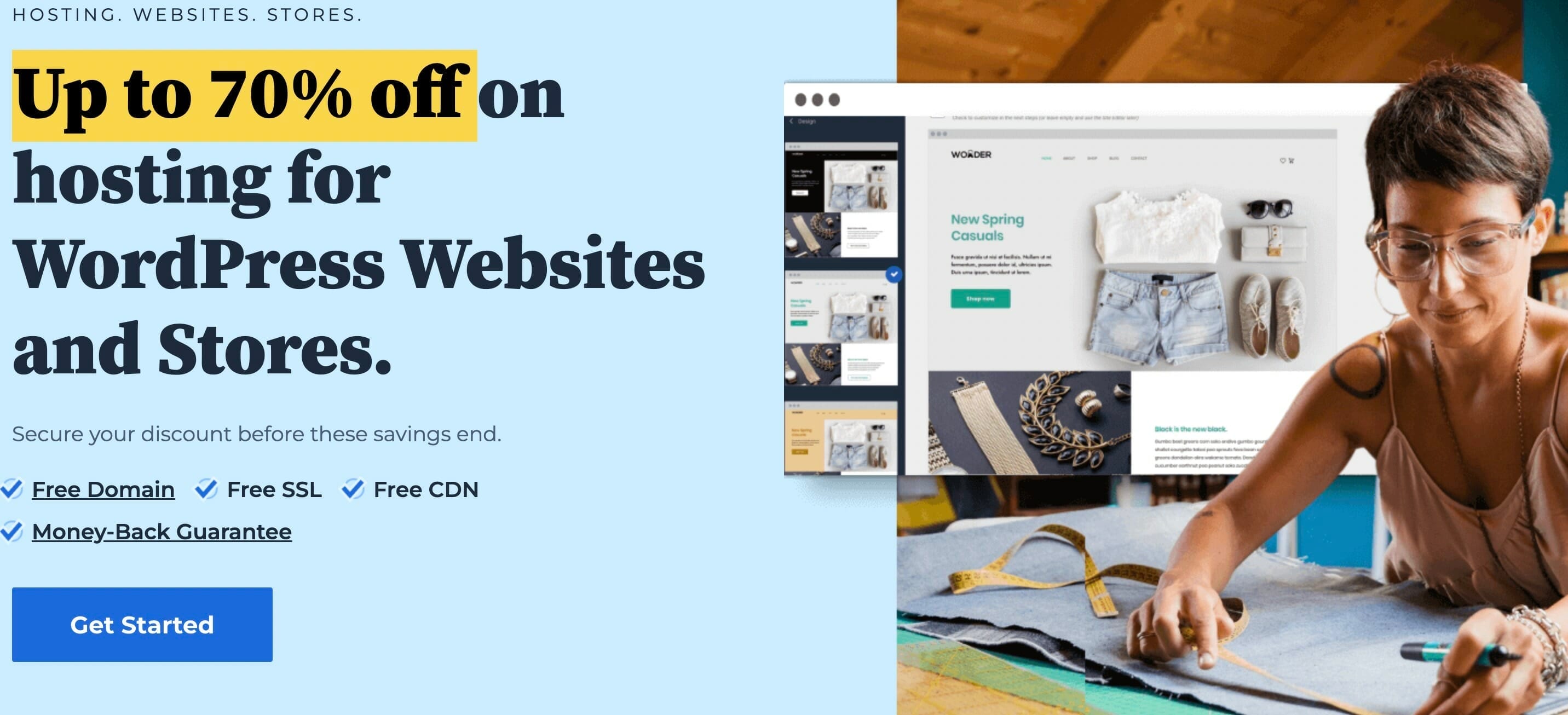 Bluehost is a veteran web hosting provider that WordPress officially recommends. It provides affordable web hosting and currently powers over two million websites, with an impressive 99% uptime and a minimum response time of 405 ms. The strong points of Bluehost hosting are its incredible speed, free CDN, generous SSD storage, and affordable pricing.
Bluehost has outdone its rivals regarding shared hosting by virtue of its free domain name deal and SSL certification. However, although it is one of the most affordable hosting options for beginners, you might want better options as your website grows. That's where dedicated hosting and VPS hosting come in. The former is a more robust and reliable hosting option for optimal website performance, while the latter gives you more control, flexibility, and power.
Also, Bluehost offers Blue Sky – a service that teaches you how to build, grow, and maintain WordPress websites through individual training and guidance. Its live WordPress support starts at $29 per month for on-demand ticket support and backup assistance, going up to $149 per month for SEO tools, access to Constant Contact, and help with content optimization and mobile optimization.
Besides hosting services, Bluehost gives you additional tools to assist your business with design and marketing strategies, allowing you to focus more on running your business and revenue-generating activities. Overall, it is an ideal choice for beginners in particular. You should go for it if you are a blogger, small business owner, or even have an eCommerce store.
4. Hostinger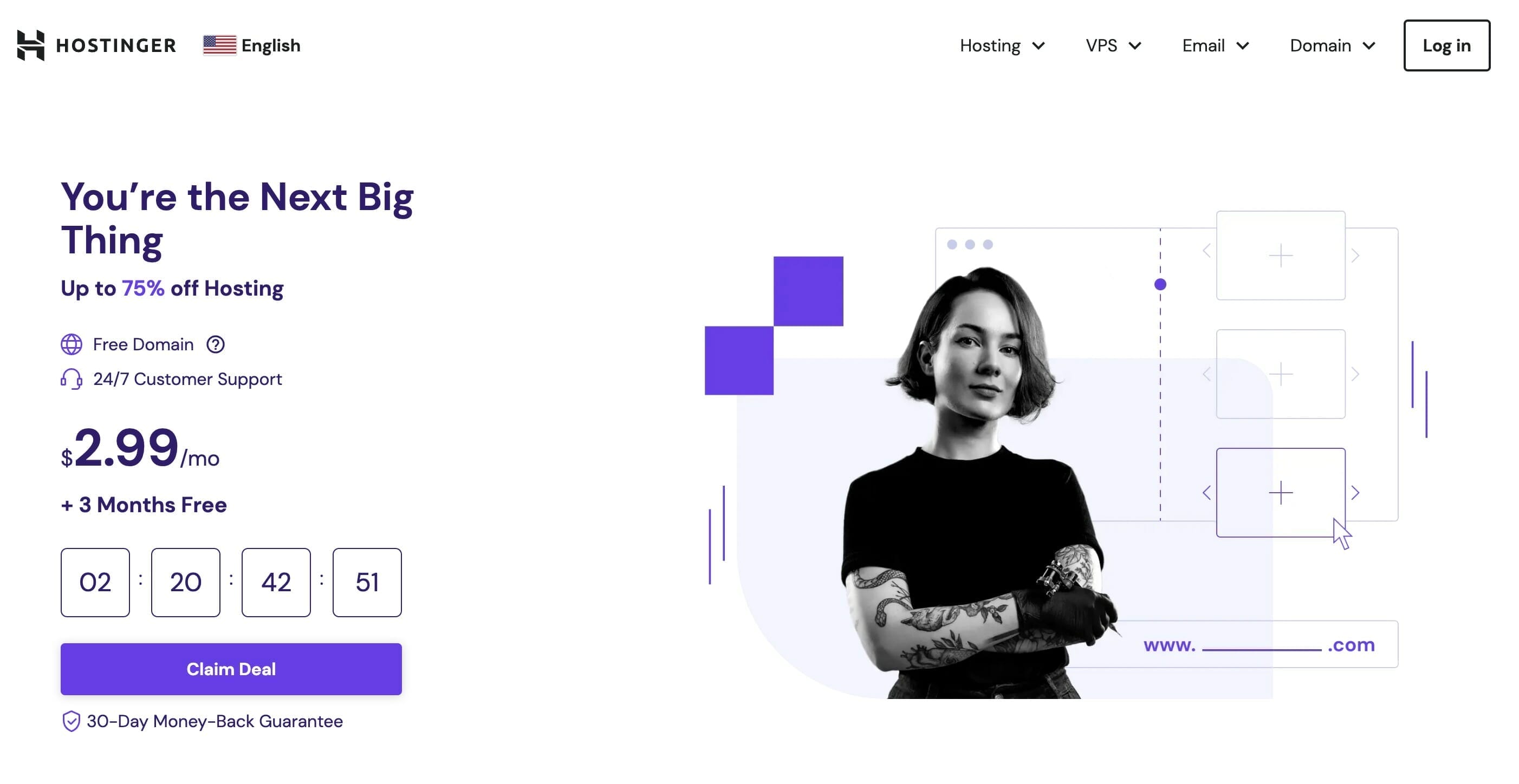 Hostinger is a wholesome hosting solution with LiteSpeed servers to offer faster load times and improve your conversion rate, search engine optimization, and great user experience. It offers three hosting plans: Single, Premium, and Business, ranging from $1.99 to $11.59 per month. Depending on your plan, you will receive SSD storage space ranging from 50 GB to 200 GB.
Hostinger's plans invariably include a free SSL certificate, a free domain (except for the Single Plan, in the latter case), and a 30-day money-back guarantee. In addition, it provides an LSCWP cache plugin that makes your website four times faster than other hosting services. Also, it offers fully managed WordPress hosting with handy features, including a user-friendly control panel and automatic WordPress updates.
With Hostinger's WordPress staging tool, you can safely explore new features. Likewise, you can create a duplicate website with just a few clicks and make edits without affecting your live website. Also, Hostinger gives you round-the-clock WordPress support. You can contact its customer success team via live chat anytime, regardless of your time zone. Apart from this, it provides an extensive knowledge base and WordPress tutorials from its experts.
To enhance security, Hostinger provides free SSL certificates, an in-house developed web application firewall, and anti-DDoS protection to shield your site from cyberattacks. Overall, Hostinger is a great choice for customers who prefer cost-effective solutions over performance.
5. GreenGeeks
Amid the heavy competition in the web hosting industry, GreenGeeks has earned a reputation for being one of the more eco-friendly hosting solutions. Aiming to be a maximum use and no waste of resources company, it purchases three times the electricity it consumes in Renewable Energy Credits (RECs) to offset carbon output. Besides its commitment to green hosting, GreenGeeks strives to provide excellent hosting services.
GreenGeeks is a beginner-friendly hosting service with a simple yet modern-looking dashboard paired with the powerful cPanel. This combo gives you an intuitive yet functional management experience, whether you are a newcomer or an experienced user. Remember that you will require the GreenGeeks cPanel for WordPress installation, domain management, setting up professional email accounts, and other tasks such as configuring SEO tools and database management.
I was disappointed that GreenGeeks doesn't automatically activate an SSL certificate on your behalf. Fortunately, you can easily do that yourself and either go with the free Let's Encrypt SSL certificate or pay for the Premium AlphaSSL certificate. In addition, the hosting service issues a 99.9% uptime guarantee and offers three different customer support methods – 24/7 live chat, phone support (9 AM to 12 AM EST), and email (with approximately 15-20 minutes of wait time).
Overall, GreenGeeks is a highly affordable, fast, easy-to-use, and secure hosting provider.
6. Rocket.net
Rocket.net hosting (not the same as the WP Rocket plugin) belongs to a new breed of managed WordPress hosting powered by the Cloudflare Enterprise network. Its managed WordPress hosting has all the features of a managed WordPress hosting provider. Still, its most remarkable quality is how it uses the Cloudflare Enterprise network.
This unique approach has quite a few benefits. For example, Rocket.net will fully cache your site on the massive Cloudflare Enterprise global network (CDN). Similarly, it will carefully purge and update the cache to ensure visitors see your content's latest version. Thus, with Rocket.net, your website will load equally fast regardless of your visitors' locations, which doesn't hold true for "normal" hosting.
As a result, whether a visitor is from the USA, the UK, Singapore, or Australia, they will experience similar load times because they can download the complete page from their local Cloudflare edge node. It mainly applies to blogs or other static websites where Rocket.net can serve all your content from the cache. However, dynamic websites like WooCommerce stores may not be able to depend on caching for all content.
Also, Rocket.net's approach allows your WordPress website to benefit from the Cloudflare Enterprise firewall, which blocks threats before they can reach you. Likewise, Rocket.net optimally configures your site. For example, it adds extra levels of protection to your wp-admin area and login page. Finally, by serving your website via Cloudflare Enterprise, it also utilizes its performance optimization features.
Overall, Rocket.net is among the few hosting service providers that successfully strike a perfect balance between affordability and functionality.
7. Liquid Web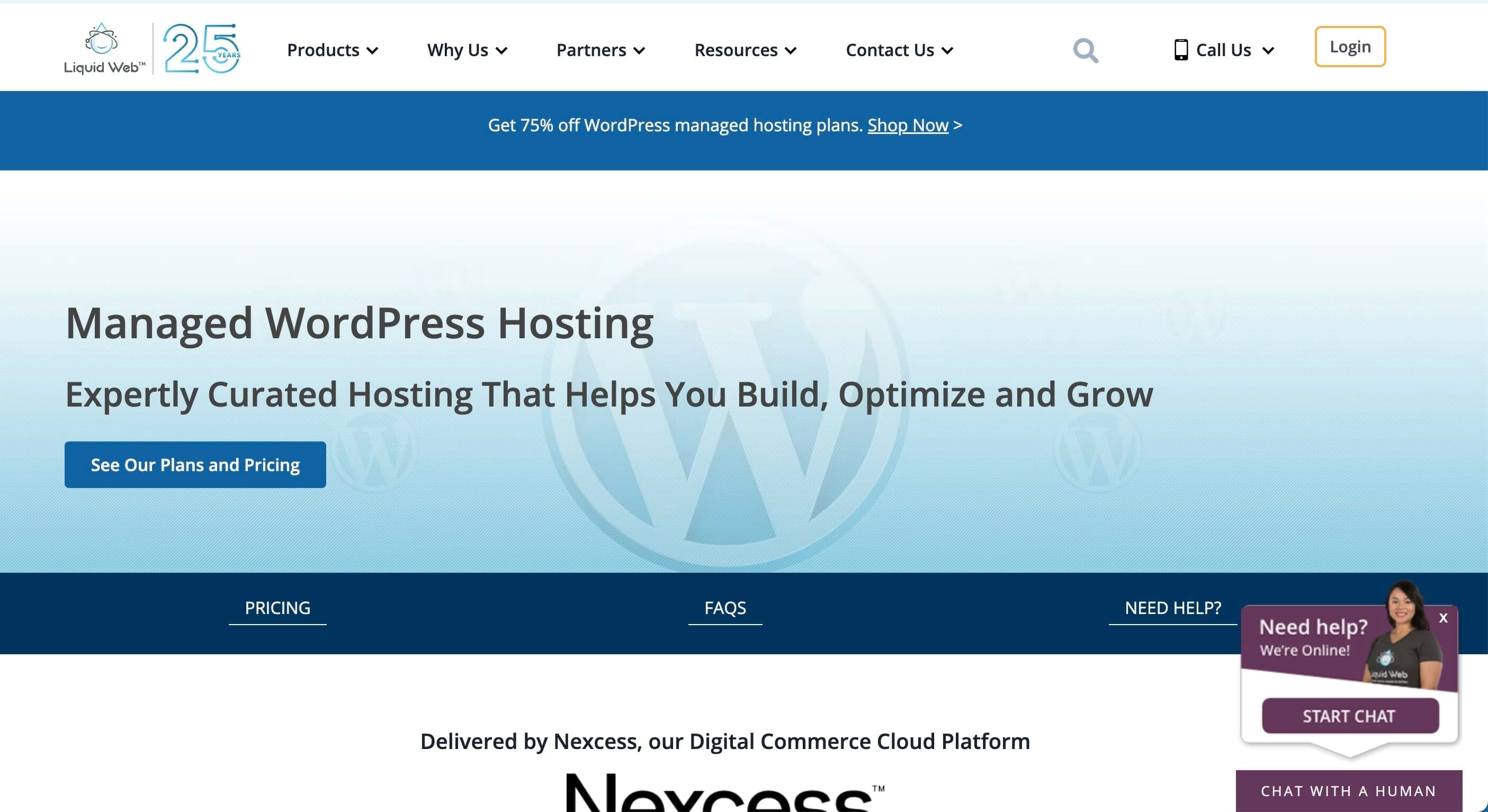 Liquid Web is a powerful web hosting service that several major brands trust. It offers a wide range of cloud, dedicated, reseller, virtual private server (VPS), and WordPress server packages that are strong and flexible enough to power the likes of Eddie Bauer, Home Depot, National Geographic, Porsche, and Symantec.
Liquid Web has a particularly glowing reputation for managed hosting. It smoothly handles the website's administrative duties and support tasks, no matter how complicated they are. Such a service is mainly intended for large businesses. Liquid Web does not offer shared web hosting, which individuals and smaller companies commonly use.
The company's RAM and storage totals are among the best for their price range. Unlike many other VPS services, it only charges you for the number of days you use the service per month. You will find that feature helpful if you cancel your account. Through its Nexcess brand, Liquid Web offers seven tiers of managed WordPress web hosting, starting at $19 monthly for a single domain, a 15GB solid-state drive, and 2TB of monthly data transfers.
Liquid Web offers firewalls, virtual private networks (VPN), Secure Socket Layer (SSL), malware scanning and removal, and more for optimal security. It also has a reliable uptime and an efficient customer support team. Despite lacking shared hosting packages, Liquid Web's exceptional dedicated and VPS hosting make it a worthy choice.
Conclusion
Although Cloudways is a great hosting service provider, it does have some drawbacks. In that case, you should go through the Cloudways alternatives I have listed here. Make sure you review your requirements first to find yourself the best-suited cloud hosting service provider in the market.