WPX Hosting Review: Fast, Simple and Customer-First. That's it
After a lot of discussions, comparisons and reading multiple WPX hosting reviews, I moved my website to WPX Hosting. And that was possibly the best decision I made to date. This review is a tribute and an attempt to share the experience that I have had with the host so far.
So, let's start this review with an overview of the hosting.
WPX Hosting: Overview
| | |
| --- | --- |
| 🔥 Hosting: | WPX |
| ⭐️ My Rating: | 9.8/10 |
| 💵 Pricing: | $20.83/month for 5 sites to $99/month for 35 sites |
| 💾 Storage: | 15GB/30GB/60GB |
| 📊 Bandwidth: | 200GB/400GB/Unlimited |
| ▶️Uptime: | 99.95% |
| 💐 Type: | Managed WordPress |
| 🗺️Server locations: | United States, Europe, and Australia |
| 👨‍💻Support: | 24/7 live chat/email under 30 seconds |
| 🏠 Homepage: | WPX.net |
Table last updated on March 12, 2023
Why did I switch?
Since 2008, I have used many hosting providers and not to mention I was never completely satisfied.
I started with shared hosting services that offered 100MB storage and 32MB RAM and then went on to 4GB RAM.
Shared, VPS, Managed and whatnot — I have tried all sorts of hosting services.
Recently I was with WordPress.com Business and that was the best experience that I had to date.
But the limitations were too much. And they kept on forcing new features that I did not need, plugins that I did not use.
So I decided to make a switch, and there was only one direction I could have gone — UP. So, I switched to WPX.
Initially, the challenge was to pick from the 3 best WordPress hosting services on the planet:
Cloudways was also in the race, but I ousted it for several reasons, especially for those extra configurations you need to do before launching your site. The key battle was WPX hosting vs Kinsta. And after many comparisons, online reviews and based on my needs, I went with WPX.
And, I am glad that I was right (as always).
WPX's features may fall a little compared to Kinsta but the experience is way better than I had expected.
The speed is surreal, and so is the customer support.
WPX is, in fact, the fastest WordPress hosting on the planet, but that's not something that they should only sell. Their customer support is exceptionally fast too.
So the current thought of the mind is that if you are looking for high-performance WordPress hosting with great customer support, WPX is the brand you should try.
It's been weeks since I joined WPX, and that makes me comfortable with writing a WPX Hosting review.
In this WPX Hosting review below, I have shared everything I have experienced with WPX hosting speed and features and how I rate WPX so high.
Looking to try WPX for your own WordPress website?
What is WPX hosting?
WPX is a premium managed WordPress hosting service focused on performance, speed and great customer experience.
It is run and managed by K Media Tech, a Bulgaria-based brand that was founded by the awesome due of Georgi Petrov and Terry Kyle in 2013.
As per Terry, the CEO of WPX, the focus has always been on offering unmatched performance and exceptional customer support.
When WPX launched in 2013 the hosting space was crowded and very slow.
WPX changed the way hosting services were perceived and made a place of its own by standing out.
WPX Hosting Features
Before I state my verdict, let's see the key features of WPX.
Lightning Fast Loading Times
Before anything, WPX is known for lightning-fast loading time.
Even a heavy site like mine loads within 1.5 seconds on mobile and under a second on desktop, which used to take around 3.1 seconds on WordPress.com business hosting.
There is no doubt WPX is the fastest in this budget and many independent speed tests have proved that.
So, why is WPX so fast?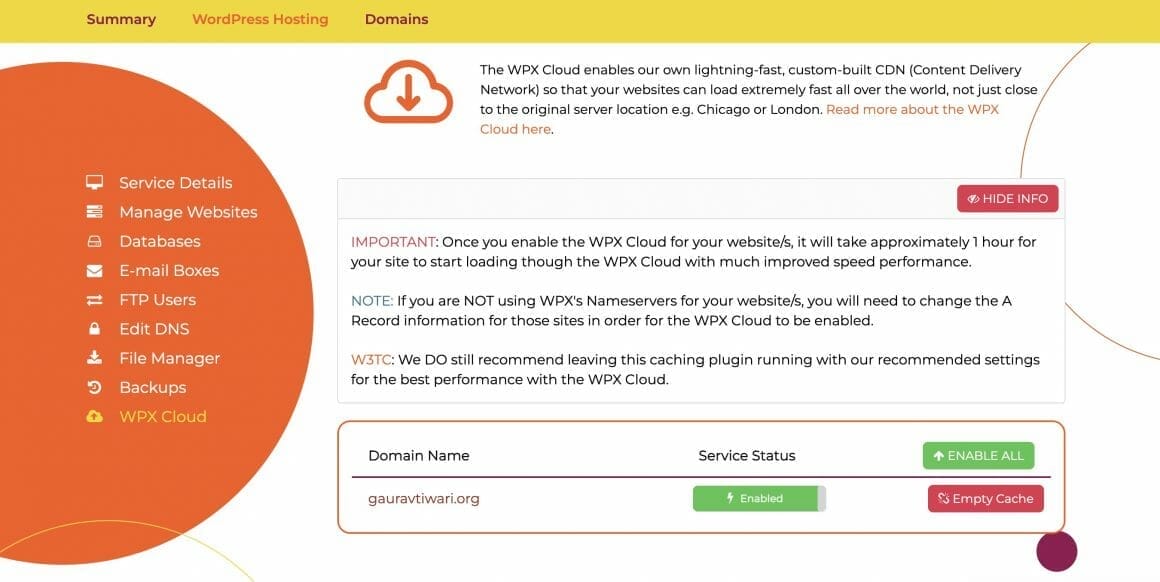 WPX is powered by cutting-edge infrastructure and three data centers across continents in Australia, the UK and the USA. But the real magic happens with WPX Cloud.
WPX CDN, called XDN, is custom built from the ground up by the WPX team for the highest performance. It mirrors your site content to 34 servers around the world so that your readers can load out your pages instantly.
XDN also applies some custom-made optimizations to your pages so that they load quicker and have lower TTFB (time to the first byte) durations.
XDN is free for all WPX customers but isn't activated by default.
Once you activate your account, you will have to navigate to WPX cloud section and activate the CDN/XDN. You can alternatively ask the support team to do that for you.
Free Malware Removal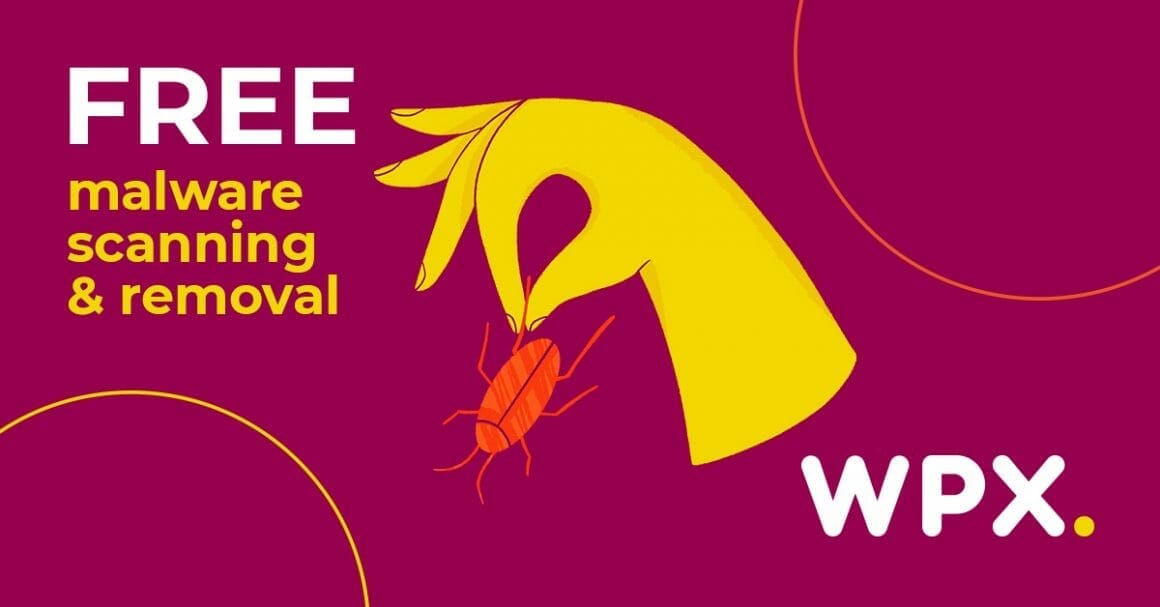 This is something every managed hosting provider should have. Malware removal is very important for smooth operation of a website and WPX offers it for free.
If you have some issue with site's security or may have virus/malware in your site, you can ask the WPX team to check it for you. For what Sucuri like security plugins and tools charge $199 per year, WPX charges nothing.
30 Seconds Average Support Response
WPX is known for its unmatched customer support experience. No matter what time of the day it is, you will find a customer support executive ready to respond to your queries within 30 seconds.
And that counts for something.
Free Fixes If Site Offline
If your goes offline, WPX fixes that for you for free. (And that will rarely happen if you are on a managed hosting.)
Free Site Speed Optimization
Most of us don't know WordPress speed optimization inside out.
You may need to hire a developer to do that. But if you are on WPX, they can do it for free for you.
Just send a speed optimization request from your dashboard and they will take care of your site's loading time.
They will also suggest on what you should do for the best site-speed experience.
Daily Backups
WPX takes both daily and on-demand backups so that you can revert if you have made any drastic changes.
Staging Sites
Creating something big that you don't want to show your readers right now? With WPX, you can also create staging sites and merge them into the live site when satisfied.
30-day Money-Back Guarantee
Not happy with the hosting? No issues. WPX commits on a 30-day money back guarantee. If you are unsatisfied with their services, you can open a chat, tell the customer support executive and they will take care of the refund.
99.95% Uptime Guarantee
I haven't seen any downtime but WPX offers an almost perfect uptime guarantee. Besides, if you feel your site has been down, you can ask the customer support to check and they will fix it for you.
Free Migration
If you already have websites hosted somewhere else, just like I did, you can ask the WPX team to migrate those to your WordPress account. Most of the managed hosting services do this at a fee but WPX offers it for free.
WPX Hosting Pricing
WPX has increased storage by 50% and bandwidth by 2X.
The current WPX hosting plans are:
| Plan Name | Storage | Bandwidth | Number of Sites | Price per month |
| --- | --- | --- | --- | --- |
| Business | 15GB SSD | 200GB | 5 | $24.99 |
| Professional | 30GB SSD | 400GB | 10 | $49.99 |
| Elite | 60GB SSD | Unlimited | 35 | $99.00 |
My Experience with WPX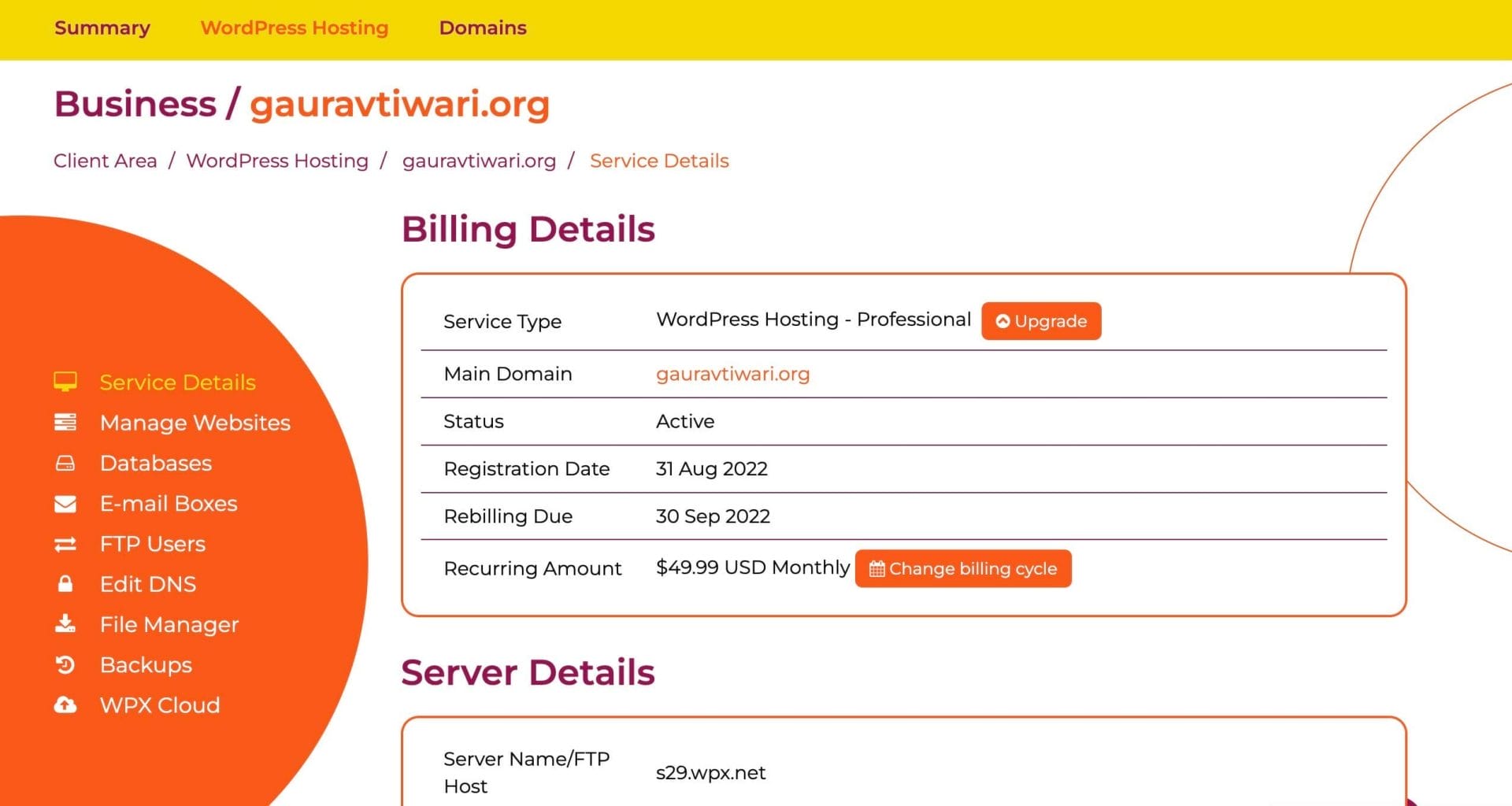 When I signed up for WPX, I was anxious about what would happen. I had these doubts:
Will my site be faster?
Is WPX right for me?
Will they be able to move my site correctly?
What if I don't like the hosting?
gauravtiwari.org was hosted on WordPress (dot) com Business since 2019 and has been doing great with time.
Everything was great, but I didn't like how they had overridden my WordPress dashboard and how they were forcing features I didn't need.
You won't believe it, but I was using the Alpha version of Jetpack (not even Beta — cutting-edge unstable alpha) on this site.
Alphas are not stable! Alphas are dangerous.
And then they had Akismet preinstalled.
Akismet is a great spam-protection plugin but I wasn't using it for anything. So it was bloated software for me that I couldn't deactivate or uninstall.
The biggest shame was how they had modified the plugin installation experience.
See this video for example, how I couldn't manually update WP Rocket with a ZIP file. (They even blocked dashboard updates for WP Rocket, my go to cache plugin.)
Bonus to this, WordPress (dot) com blocked several plugins that I used to use, like Post Type Switcher and Broken Links Checker.
With all these reasons and more — I knew I had to switch. But their customer support was love. I loved the way they tackled my issues despite limitations. So, I kept using their hosting.
The trigger happened in July 2022 when despite all attempts, I was not able to pass core web vitals.
WordPress dot com was mediocre in page loading speed and they had 2.1s FCP and 3.1s LCP, despite Cloudflare APO being active.
I made up my mind and started looking for alternatives.
When I signed up for WPX, I first had to notice the performance of popular sites they hosted.
Good on that side; all were having exceptional load times.
So I signed up.
And yes. The site speed was faster, and gauravtiwari.org was loading within 2s. I was so happy to be right.
And not to mention, the customer support was exceptional. They moved the site correctly, answered my questions and helped me optimize my site for the best experience.
Overall, WPX was and is currently the right choice for me. It feels so good to make the right decision.
How easy was it to switch to WPX?
Very easy, I would say.
Their signup process is as great as it can be.
I visited their pricing page, chose a plan, put a domain name and I was good to go.
If you have an existing site, which I did, send the WPX team a migration request from within your freshly created account.
WPX migrates all your data within 24 hours. Not only do they migrate, they also clean bad code and malware so that you don't have to.
Problems with WPX
There aren't many problems that I can point out right now, but here are two things that they need to improve.
The first one is their homepage. My eyesight isn't that great and WPX's homepage/dashboard design doesn't help either.

Yellow text on an orange background, white text on yellow background and yellow text on white background aren't accessible color choices.
In addition to that, they use a light font of 300 weight that is hardly readable in some places. I think they should fix this.
The next issue is their IP blocking algorithm. If you keep too many tabs open in WordPress Dashboard, the IP blocking algorithm randomly blocks you from accessing the site for 10 minutes.
While this happens seldomly but has happened to me a couple of times and left me frustrated.
They need to work on this as well.
Apart from these two, I am still looking for something that I can add to the cons table below.
WPX Hosting Reviews
WPX hosting has a lot of positive reviews all around the Internet. Their Trustpilot reviews tell what they are capable of. Matthew Woodward has awarded WPX as the fastest hosting service, and so has ReviewSignal.
While most people, including me, rate WPX high, some defer from this opinion. Tom from Online Media Masters rates WPX a mediocre 3-stars due to their server limitations and the hosting service technically being "shared".
All other reviews look bright, but if you are willing to give WPX a try, why don't just give it a try? After all, WPX comes with a 30-day money-back guarantee.
WPX Hosting
I have been using WPX hosting for a while now and I feel it is one of the best WordPress hosting services out there. There are some ifs-and-buts related to pricing and specifications but once you get hold of it, you will start loving the experience.
Product Brand: WPX
Product Currency: USD
Product Price: 20.83
Price Valid Until: 2025-07-06
Product In-Stock: InStock
Pros
Blazing fast
Great Customer Support
Free Migration
Daily Backups
WPX CDN
Clutter-free
Cons
Random IP Blocking
Aggressive rules
Looking for WPX deals? WPX offers heavy discounts during Black Friday week. Check out WPX Black Friday deals here.
FAQs
What is WPX?
WPX is a premium managed WordPress hosting service focused on performance, speed and great customer experience.
Is WPX hosting any good?
WPX is the best out there. It is everything a professional blogger and entrepreneur needs. If you are looking for WordPress hosting services with a fast loading speed, great servers, daily backups and superb customer support, look no further than WPX.
Can I install other CMS on WPX?
No. WPX is dedicated only to WordPress sites. You can host HTML webpages and some other code, but you cannot install any other CMS.
How much does WPX cost?
WPX costs from $20.83 per month to $99 per month. On yearly plans, there is a discount available.
Where is WPX hosting based?
WPX Hosting is located in Bulgaria, which is an EU country. It has its datacenters in the United States, Europe, and Australia.