WP Rocket Review 2023: Is It the Best Cache Plugin for WordPress?
WP Rocket is a popular WordPress cache plugin but is it good enough for you? We will see that in this honest WP Rocket review, so If you are thinking of buying WP Rocket, read this review before you complete your purchase.
Want to use WP Rocket on your blog but are not sure whether you should invest your money in it or not?
If yes, then I promise you that after reading this honest WP Rocket plugin review 2023, you won't have a single doubt left about whether you should invest in this plugin or not.
So without wasting any more time, read this review before you complete your purchase.
Let's jump straight to our topic.
What is WordPress caching?
Before knowing what actually is WP Rocket and reading more on the WP Rocket Review, you first have to understand what actually is WordPress caching.
You might know already that when a visitor visits your blog, a lot of data is transferred to and forth from your hosting server to the visitor's browser.
This can consume a lot of your hosting's resources, especially if you are on shared hosting with limited resources.
So, to reduce that, you need caching on your WordPress website.
Caching basically makes a static HTML/asset copy of your WordPress website on your server which would be shown to your visitor if they visit your website. These HTML and asset copies have a longer expiration time, thus every visit doesn't have to query the database for the page creation.
Caching saves your hosting resources and makes your website load faster.
You should definitely enable it using a plugin if your host doesn't do it for you or if you are on shared hosting with limited bandwidth and storage.
There are three types of cache:
Browser Cache
Page Cache
Object cache
How to enable caching on your WordPress website?
After understanding what actually is caching now another question might come into your mind, "How can I add caching to my website".
You can do that in two ways: first, either buy a hosting that provides you an inbuilt caching such as WPX, Kinsta and more.
However, the hosting plans under which inbuilt caching comes are not cheap and may cost you $400 per year at least.
So, there comes the second and final option – plugins. If you want to enable caching without spending too much money, then you can use any of the cache plugins which would do that work for you, such as
WP Rocket
Hummingbird
Swift Performance
W3 Total Cache and more.
Why does your WordPress website need caching?
There are several reasons why WordPress websites need caching. Some of the major ones are:
Cached static pages on your website load faster, which leads to a significant decrease in your website load time.
It saves the storage and bandwidth of your hosting so it can handle more traffic and won't fail when a large amount of traffic comes to your website.
Helps you rank higher on Google as it helps in loading your WordPress website faster.
Increase your conversions as it helps in loading your website. With 1 second of load, time improvement can increase your website conversions by up to 7%.
A minor drawback
With all these benefits, there is a drawback of website caching if you frequently update your website.
As you know that caching makes a static copy of your website, and it is possible that if you update your page, it won't show on the live page as it would show the old cached version.
However, you can easily fix this by clearing your website's cache.
After knowing the basics of caching and why you need it, now let's jump to WP Rocket.
About WP Rocket
WP Rocket is a cache and website performance-enhancing WordPress plugin that can significantly improve your website's speed and core web vitals.
It is a

premium plugin

which means to use it on your website;

you have to pay for it.

There is no free or trial version available. (There is a 14 days refund policy, however.)
It is available only for WordPress websites.
Did you know?
WP Rocket was launched in 2013 by a visionary French duo of Jonathan Buttigieg and Jean-Baptiste Marchand-Arvier. I was among its first 1000 users, and I still use it. 10 years with the plugin means something, doesn't it?
Now onto the WP Rocket review.
Based on my experiences, I will walk you through all the features the plugin offers and whether or not it is worth buying – all in this WP Rocket review.
The Success of WP Rocket (as seen by me)
Here is how their homepage looked in 2014:
4077 sites in orbit, huh?
Now they have more than 2,686,000 websites running WP Rocket as of Post Date.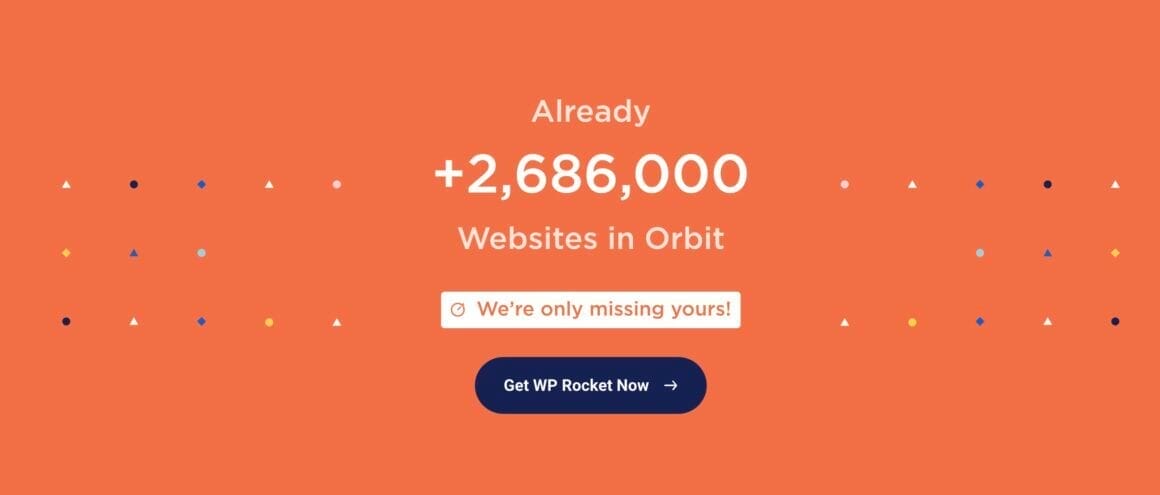 This has to mean something. WP Rocket actually surpassed the popularity of W3 Total Cache, WP Super Cache and others.
The reasons are the same as what they should be, great product and even better customer support.
My Experience with WP Rocket
I have consistently renewed my subscription for the last 10 years. It is gladly the best investment I make every year.
The best part of this plugin which I personally like is that to use this plugin to its full potential; you won't need any extraordinary coding skills.
So, if you are a beginner and want to improve your website speed, then WP Rocket can help you do that easily. Plus, with the ever-changing rules of webperf, WP Rocket has equally changed. It has improved to add new cutting-edge features and compatibility to most of the plugins out there. And I have seen all.
Here is how gauravtiwari.org performs with WP Rocket configured:
Whole site, on mobile devices:
Whole site, on desktops:
If you browse my site, you will know how heavy it is but at the same time, it is really-really fast.
I have spent years with WP Rocket. With this much experience, I may be the best person to write this WP Rocket review. I have had those support experiences, those plugins and everything about what you will have a question.
The version reviewed in this article is 3.13, and this WP Rocket Review was last updated on March 12, 2023.
What does WP rocket actually do?
WP Rocket doesn't do anything out of the box it has the same features as other caching plugins, such as caching, website code minification, and more.
But the best thing about this plugin is its simplicity which many cache plugins fail to provide.
You don't have to go through a long learning phase to know all the settings of this plugin and make it work perfectly for your website.
So, if you are a guy like me who wants to make his website fast without the hassle of learning how to set up things, then WP Rocket is a perfect choice.
I'd rather use my time on something more productive than just setting plugins over and over again.
Best WP Rocket features
WP Rocket has many awesome features that you won't even get in other premium cache plugins.
I personally use it on this website and it has helped me fix my core web vitals easily, which has resulted in increasing my website's ranking.
Here are some major features that you get in the WP Rocket plugin:
1. 80% optimization on the GO!
WP Rocket automatically does 80% of your website speed optimization just after installing it on your WordPress website.
So it would make your website fast even if you haven't tweaked any of the settings yet. And this is why I rate WP Rocket so high in this WP Rocket review.
Here are the features that WP rocket automatically activates right after installation:
Page and browser caching are enabled right away.

It automatically activates GZip compression, which would reduce your website's HTML page size.
Cache preloading is automatically activated as well. This improves your website user experience and makes it snappy.
E-commerce optimization is enabled so page caching won't affect the purchasing process.
2. Extensive documentation, guides, videos to get started
With WP Rocket you would get a lot of tutorials that would help you configure this cache plugin properly.
To access the tutorials and documentation you first have to go to your plugin's dashboard and on the right, you would get the tutorials.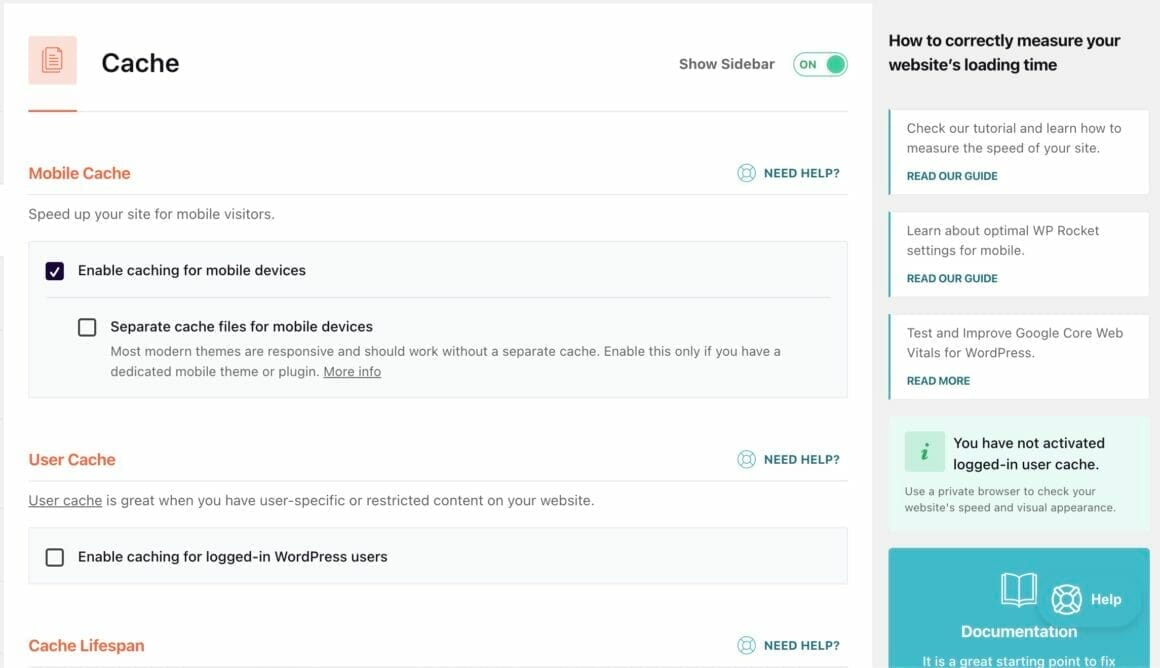 Also, you can go to the Tutorials tab in your plugin's dashboard, where you would get a lot of important video tutorials to properly configure this plugin.
Along with that, there are a lot of tutorials available on the documentation page of WP Rocket which would help you fix any problem regarding this plugin.
3. Advanced media optimization
Media elements on your blog like images, videos, and graphics can significantly hamper your website speed if not optimized correctly.
WP rocket knows it and that is the reason why they have provided advanced media optimization settings in their plugin.
It helps you properly optimize your website's graphics and makes your website fast.
Here are all the media settings which WP rocket provides:
Lazyload for images, iframes, and videos.
Replace YouTube iframes with preview images
Adds missing image dimensions
Enable WebP caching
All these settings optimize the media of your blog to the fullest.
Along with that, you can also download the Imagify plugin which would optimize all your website images by compressing them without losing their quality.
4. Code minification at its best!
Do you know which is the main reason for your website's slow speed?
The coding of your website!
Here is what an unoptimized website code looks like: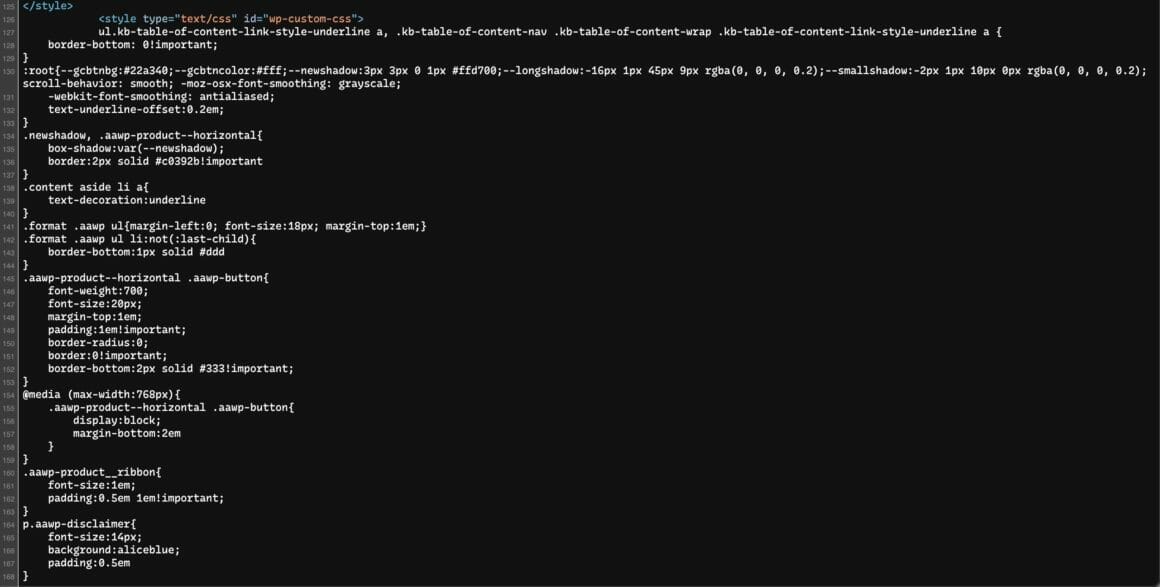 Properly organized!
But is it good for your website speed? Actually not.
Because this properly organized coding increases the page size of your website which makes your website super slow.
But you can reduce it by minifying your code which looks something like this:
WP rocket gives you a lot of code optimization features that help you minify your code without breaking your website.
Here are the code optimization settings of WP Rocket:
Minify and combine CSS files
Optimize CSS delivery
Minify and combine JavaScript files
Load JavaScript deferred and delay JavaScript execution
5. Extra Add-ons to supercharge your website
WP Rocket comes with a lot of add-ons that would help you increase your website speed.
For example, you can easily integrate Cloudflare with WP Rocket by using these add-ons which would improve your website more.
6. Cache preloading – Website loaded in a blink
WP rocket comes with an awesome cache preloading feature that automatically generates the cached version of your page.
It helps in loading your website super fast in front of your readers which also helps in SEO too.
This feature is a boon for all those cost-cutting bloggers who are using shared hosting with very few resources.
You can change the cache preloading time from the cache section of this plugin.
7. Seperate mobile caching to make your website fast on mobile
The main problem that I have faced with the majority of WordPress cache plugins is that they don't have effective mobile caching options in them.
But that's not with WP Rocket because it comes with great mobile cache options which can make your website super fast on mobile as well.
Also, you might know that Google has mobile-first indexing which means that Google will index your mobile version first which makes it super important to make your website on mobile fast.
You would get the mobile cache setting in the cache tab of WP Rocket.
8. Best cache plugin for E-commerce website
E-commerce speed optimization is one of the toughest tasks to accomplish.
First e-commerce websites have a lot of product pages which makes it difficult to clear the cache of all of them.
Along with that caching can cause problems in the purchasing process as well.
But what if I say that there is a plugin that can fix both of these problems and make your eCommerce website fast.
Actually, it is there which you know as WP rocket.
But the best part is that this plugin comes with all the eCommerce settings pre-enabled so you won't have to put your mind to it.
Great isn't it?
9. Reduce latency and drive international traffic
Do you want to drive international traffic to your website?
If yes, then you have two options to do that
First, you can go with super-fast cloud hosting.
Or you can use CDN (Content delivery network) which makes a copy of your website on different servers around the world.
If you are on shared hosting then you have to go with the second choice.
You can easily integrate CDN with the help of the WP Rocket plugin.
For adding CDN you first have to go to the CDN tab in the plugin's dashboard.
There you can use RocketCDN which is the official CDN of WP Rocket or if you have a subscription to any other WordPress CDN then you can also add it from here as well.
Adding CDN to WP Rocket would make your website much more snappier and faster.
10. Exclude individual pages or posts from cache
Is there a specific page or post which you don't want to cache?
If yes, then you can also do that with WP rocket.
For that, you first have to go to the Advanced rules tab in your plugin's dashboard.
Just put the post or page URL in Never Cache URL(s) section.
And that is not the end. There are a lot of more features that you will learn in the setup part.
How to Install and Setup WP Rocket?
WP Rocket is a caching and website performance improvement plugin made exclusively for WordPress-hosted sites. It can be installed in the same way other premium plugins can be. Setup is easy as well. But for the maximum optimization, you need to follow some settings that I have mentioned here.
Buy and install WP Rocket
To use WP Rocket on your website, you first have to buy and install it on your WordPress website.
First, click here to go to WP Rocket's official website and click on the "Buy WP Rocket" button on the top navigation bar.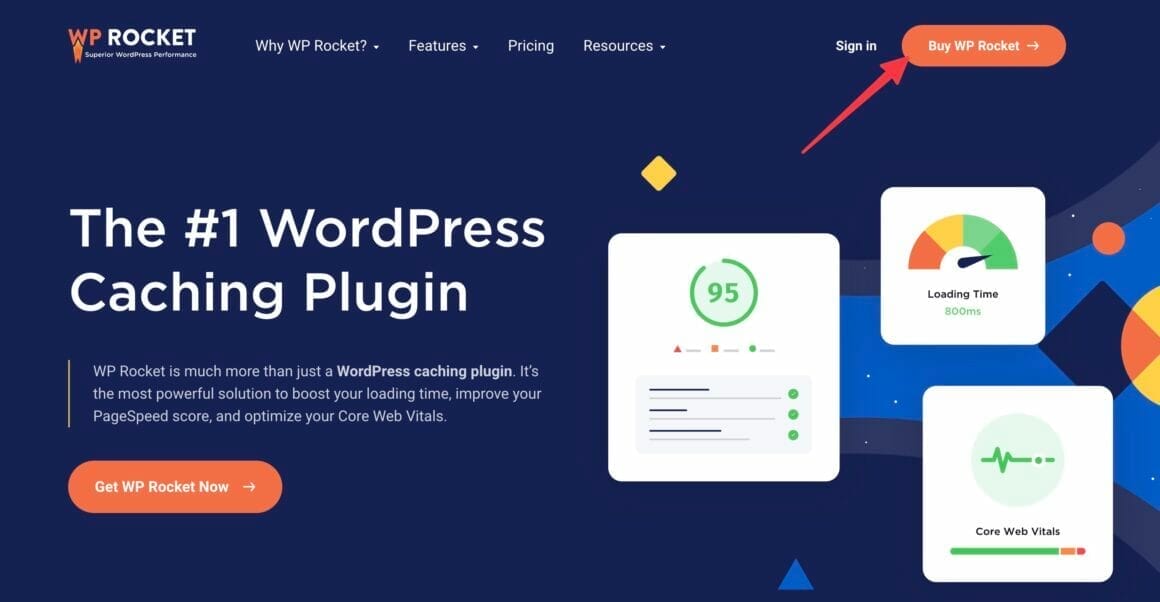 After clicking, you would be redirected to the pricing page, and choose the plan you like.
I am personally using the one-site license on this website which costs me $59 per year. If you buy this during WP Rocket's black Friday deal, you can get it for just $34.
After choosing the plan you will be redirected to the payment page, where you have to fill in your details and choose the payment method.
Scroll down, click on the "place order" button, and that's how you can buy WP Rocket.
Next, download the zip file of WP rocket, go to the plugin section of your website, click on upload plugin and drop the zip file here.
Once you are done with installation and activation, you will see a new menu under settings listed as WP Rocket. Click or tap on that, and WP Rocket Dashboard opens.
Generally, WP Rocket activates the plugin just by uploading the ZIP but for some reason, if it cannot, use the API key from the WP Rocket account page to activate the license.
WP Rocket requires a license key to operate. You can use and optimize your website even if the license has expired.
Once you are done with the setup, you will be greeted with a page like this.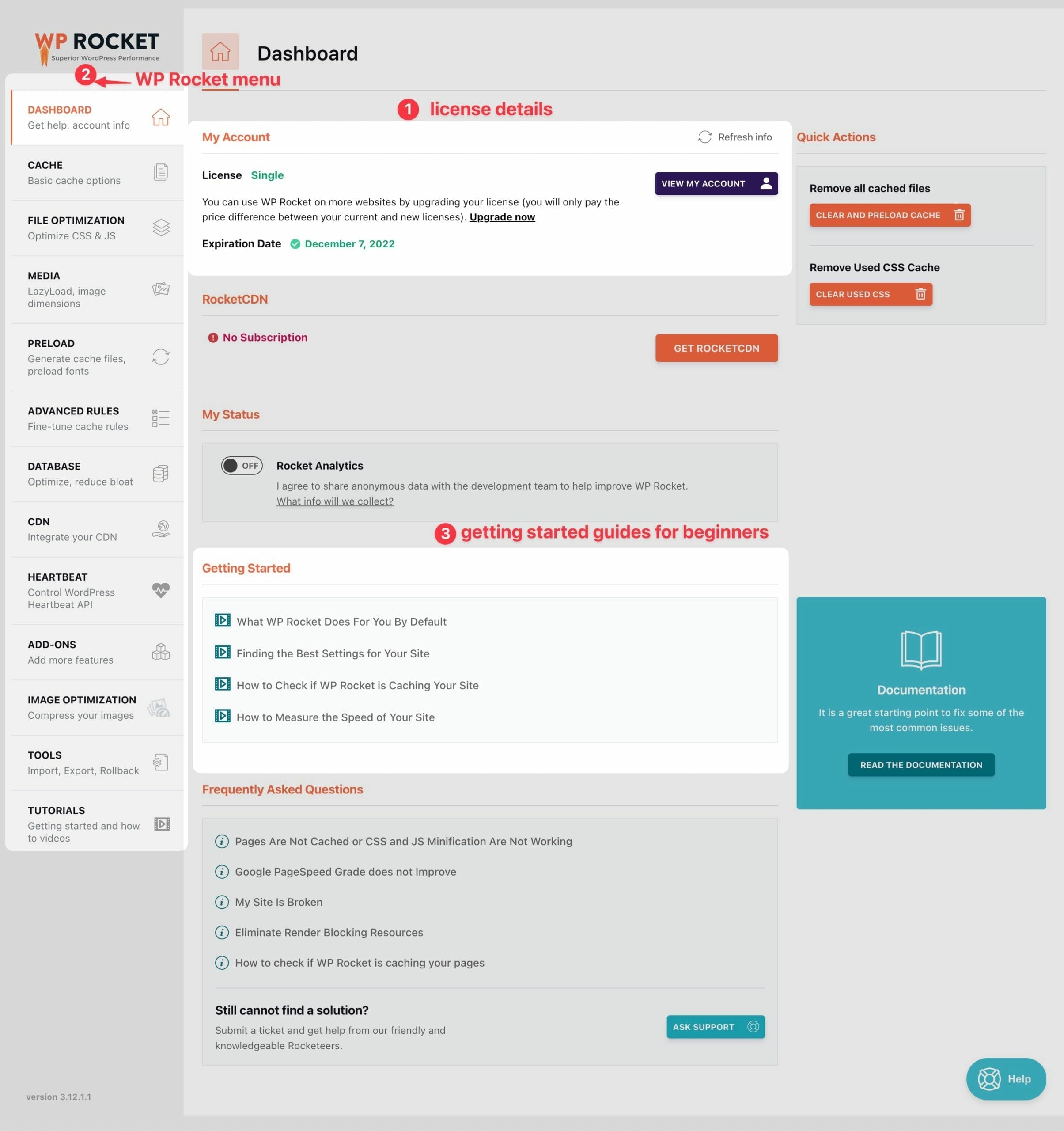 This is your WP Rocket Dashboard. Here you can configure all your settings.
Scroll down you will first see your license and expiration date. Along with that, on the right, you would see some quick actions like:
Remove cache files,
Start cache preloading
Purge OPcache content
Regenerate Critical CSS
These quick actions may differ from site to site or configuration to configuration.
Also, if you scroll down more then, you will get some videos and FAQs in the Getting Started section, which will help you get familiar with WP Rocket.
There are various WP Rocket Menus on the left tabbed vertically over one another. Power users call these just Tabs.
There are the following 13 tabs in WP Rocket:
Dashboard
Cache
File Optimization
Media
Preload
Advanced Rules
Database
CDN
Heartbeat
Add-Ons
Image Optimization
Tools
Tutorials
You will have to configure all these perfectly to get the best website speed. I have outlined and shared the WP Rocket best settings here.
Support
WP Rocket plugin itself has great video tutorials on the tutorials tab inside the plugin dashboard. If you are seeking further custom support, you can use WP Rocket Support directly from WP Rocket Dashboard.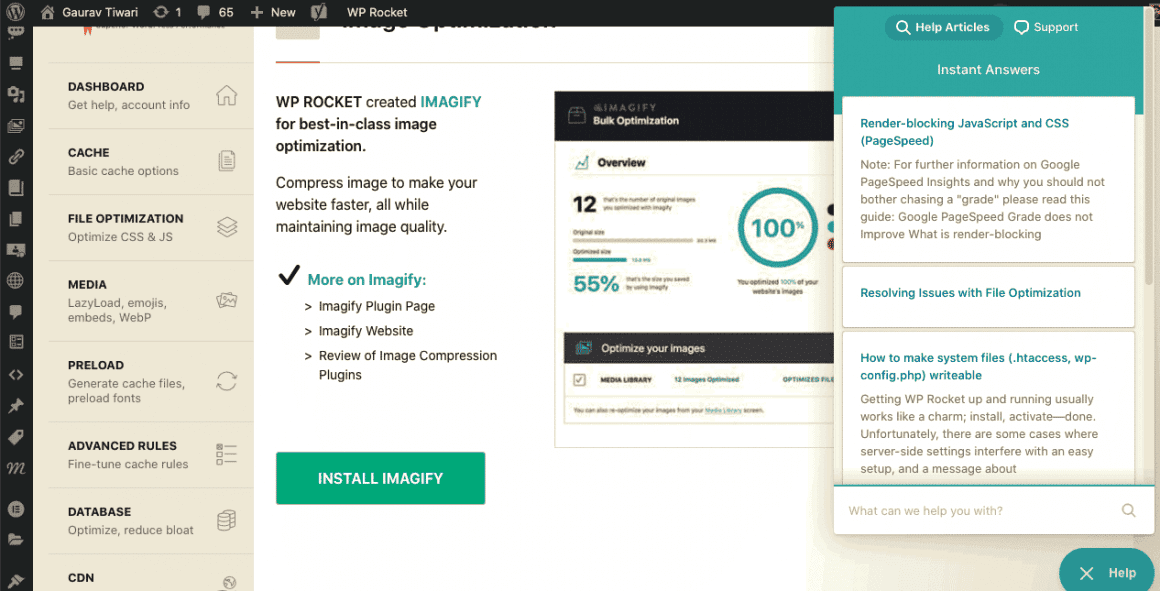 Pricing and WP Rocket Discount
WP Rocket is priced at $59 per year for a site, $119 for 3 sites, $299 for unlimited sites.
During Black Friday, it will be at 30% OFF.
WP Rocket Plans
Single
$59 / year
All features
1 year of support
1 year of updates
1 website
Plus
$119 / year
All features
1 year of support
1 year of updates
3 websites
Infinite
$299 / year
All features
1 year of support
1 year of updates
Unlimited websites
WP Rocket Renewal Discount
As WP Rocket is a paid plugin, so you have to pay for it to use it on your website.
Each plan of WP Rocket comes with an awesome 30-50% renewal discount.
This means that you would get an at least 30% off on WP Rocket if you continue its license after one year.
Isn't it just great?
Also, WP Rocket offers 14 days full refund policy, so you can try this plugin on your website and choose whether you want to continue it or not.
WP Rocket Deals
WP Rocket runs deals and promotions on various events like Black Friday & Cyber Monday deals, spring sales, festive season discounts, birthday sales and more.
| | |
| --- | --- |
| Spring Campaign | March |
| Anniversary Campaign | July |
| Halloween | October |
| Black Friday | November |
| Cyber Monday | December |
Get 10% OFF by subscribing to WP Rocket Newsletter here.
WP Rocket Review
WP Rocket is the favorite cache and website performance improvement plugin for many WordPress users, developers and bloggers worldwide. With features like lazy loading, minify & defer and unused CSS removal features, you can now easily improve the core web vitals of your website and make it faster, which would improve your website's ranking and help you get more organic traffic.
Also, it has reduced all my stress of making my website fast, so I can not focus on other aspects of my website.
Here are some insights that I had from my years of experience with WP Rocket:
Good Insights
Simple interface. Not too many options. Easy to set up. No coding and hacks are required.
Image lazy loading at its best. Works with any theme you use and highly reduces the number of HTTP requests for heavy sites.
When activated, all CSS, Javascript and HTML files are minified automatically. You can tell plugin to ignore some of the scripts you don't want to be minimized or concatenated.
Mobile Caching : Enables caching for high-end smartphones. Stores website's static files for better and faster reloading of the pages.
Enterprise-class Cache preloading.
CDN Support is an added bonus.
Multilingual and multisite support
Loved their customer support. So humane and they know what they are doing.
Bad Insights
Here's what WP Rocket lacks:
Hummingbird and perfmatters like Asset Clean Up and Optimization. These two plugins allow whether or not to load some extra CSS and JS files on various pages. I think WP Rocket should implement this to their plugin as well. (

Update:

They added most of these features. But still lacks some.)
Live chat support. I know WP Rocket has a small team, but with more than 2.6 Million sites in orbit, they should really start live chat support. Emails are good but old-fashioned and slow. One of the key reasons I have reduced some points in this WP Rocket review is this lack of live chat support.
What makes WP Rocket different from other WP Cache plugins?
WP Rocket is not a regular WordPress caching plugin, which would make some minor changes to your website speed and be done.
It can make your slow-loading website fast and contribute to making your website a lot more user-friendly.
Here are some of its unique features that make WP rocket different from other caching plugins:
1. Compatibility with different hosting services
Before the WP rocket plugin, I used Swift performance lite on my website to speed it up.
It was all great but the major problem was its compatibility with my host.
And this is a major problem with the majority of hosting and cache plugins.
But this is not with WP Rocket because it is fully compatible with the majority of hosting providers including WP Engine and WordPress.com which doesn't allow any other caching plugin on its hosting.
Also, if there is any compatibility issue of WP rocket with your hosting then WP rocket would automatically turn off that setting which is a great feature of this caching plugin.
2. Beginner-friendly setup
The majority of cache plugin out there have a problem that they don't offer a beginner-friendly setup.
They throw a lot of different settings on the face of bloggers which makes it difficult for them to configure the cache plugin properly.
But with WP Rocket you don't have to worry much about the settings because it automatically does 80% of your website speed optimization just after activation.
The rest of the settings is quite easy to configure and if you face any kind of problem then you can contact its premium support or read their tutorials from here.
3. Minifies files but doesn't kill your website
I have previously told you that before using WP Rocket I was using the Swift performance lite plugin on my website.
Which was actually working great but there was a major issue with CSS minification in it which was breaking my website's design and user experience.
It was the thing that I can't afford and that is the reason why I shifted to WP rocket.
Its CSS settings didn't break my website instead it made my website faster.
So, my investment was worth it.
4. Automatic database cleaning on the go
A fully loaded database is one of the main reasons why your website is so slow.
Over time post revisions, spam comments, transients, etc fill up your database and pull down your website's speed.
You can easily clean your database by using a cache plugin on your website easily.
But with WP Rocket you don't need to do it manually because WP rocket would do it automatically.
Just go to the database section in WP Rocket, scroll down, check the schedule automatic cleanup box, set the frequency of it, and you are DONE!
5. Single plugin = Multiple features
WP Rocket is a multi-functional website optimization plugin that gives you a lot more features than normal cache plugins.
If you want to optimize and fix the images on your website, you just have to go to the image optimization tab in WP Rocket and do the necessary settings.
You can go to the preloading tab to activate its advanced pre-loading settings.
And if you want to show your website images in WebP then you can also do that with WP Rocket.
5. Can speed up your website like no other plugin
I have used a lot of cache plugins on my website over the last 2 years but trust me, no cache plugin has fully satisfied my needs except WP Rocket.
WP Rocket has made my website fast and fixed the issue of my website's core web vitals fully.
Before WP Rocket, I used Swift Performance, W3 Total Cache, Litespeed cache, and many other plugins on my website. They worked great and speed up my website but were lacking in some features.
But with WP Rocket, it was not the case because it totally revamped and optimized my website speed.
Should you buy WP Rocket?
If you have a WordPress blog or website that gets more than 200 visitors a day, YES.
If you haven't reached this level of traffic, you should rather wait.
WP Rocket vs Free Cache plugins – Which is better?
I know that you might have a question that there are 100s of free cache plugins out there then what's different with WP Rocket?
Free cache plugins would make my website load fast, optimize your website's images, etc and the same goes with WP Rocket.
"So why should I invest in WP Rocket?"
The reason number 1 is reliability and number 2 is optimization like no-other. WP Rocket nails in both cases.
You can only feel the difference between the free cache plugins and WP Rocket once you get your hands on it.
Pros and Cons of WP Rocket
Like every WordPress plugin, there are some pros and cons of WP Rocket as well, which we are going to discuss in this section:
Pros of WP Rocket
It is super fast and easy to configure the WP Rocket plugin, it took me around 10 minutes to do so.
Can easily fix your website's core web vitals and make your website rank higher.
2.6 million websites are using WP Rocket to fasten their website up.
Saves you time as WP Rocket automatically does 80% of your website's optimization tasks.
Comes with advanced speed, image, database optimization features and more.
Awesome pre-load cache feature which helps your website to load in a blink.
Get a flat 30% discount while renewing your WP Rocket license.
WP Rocket supports multisite which means that you can use this plugin on different domains with one license.
Cons of WP Rocket
WP Rocket is a premium plugin so you would have to invest your money in it.
Imagify plugin that is used with WP Rocket for optimizing images is also paid. However, instead of that, you can use Shortpixel.
Real User Reviews
In this section, I will tell you some unbiased reviews of WP Rocket by its real users which would tell you whether this plugin works or not.
In the first two reviews, people are telling that WP Rocket is the best cache plugin according to them.
In the next review, the person is telling how WP Rocket has helped him make his e-commerce stores faster.
Umit Tiger on Trustpilot is saying that WP Rocket has helped him increase his website's page speed insights score. Along with that, WP Rocket's blog posts have helped him become a professional page speed improver.
Kenneth in his WP Rocket review is telling how WP Rocket has helped him achieve 100/100 score on Google page speed insights and that's why he is fully satisfied with this plugin.
A review on G2.com is telling how WP Rocket has helped him sleep peacefully at night without any worry of making his website fast.
Another review is telling how WP Rocket is much more than an ordinary cache plugin for WordPress websites.
However, he also mentioned that this plugin sometimes crashes his website.
This user of WP Rocket is telling that using this plugin didn't break his website and there are a lot of things that you can do with WP Rocket.
Also, he tells how the developers of this plugin are working hard to improve it regularly.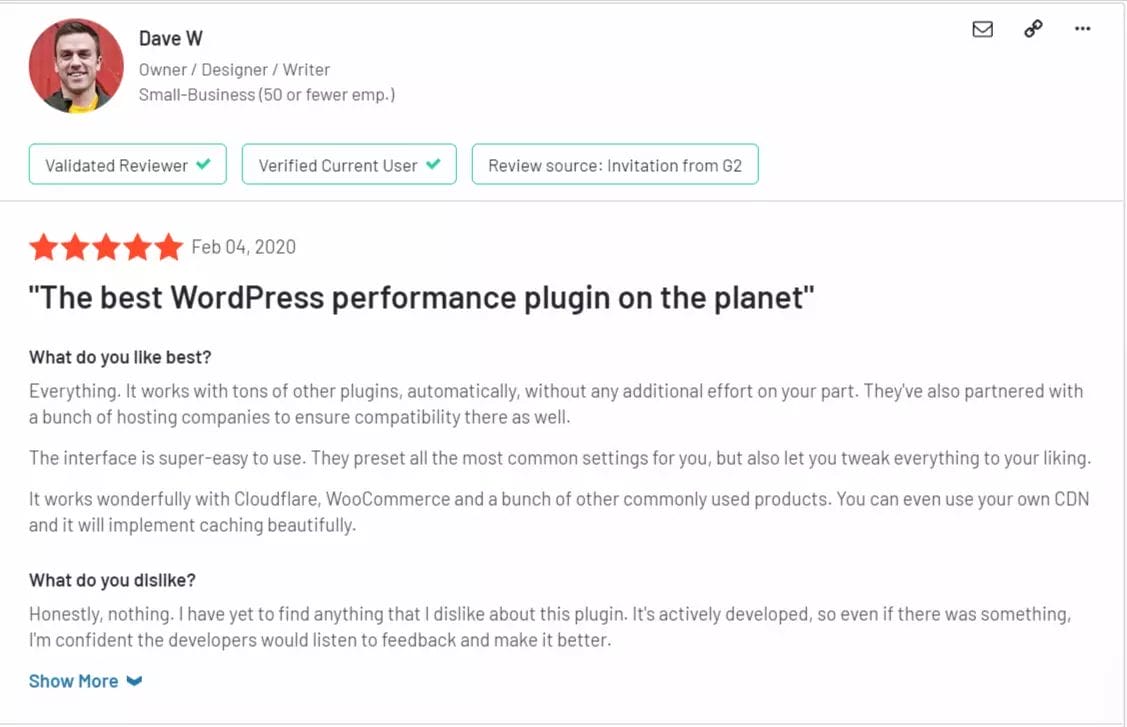 Dave, in his review of WP Rocket, is telling how this plugin is the best WordPress performance plugin on the planet, giving all the features required to improve your website's performance.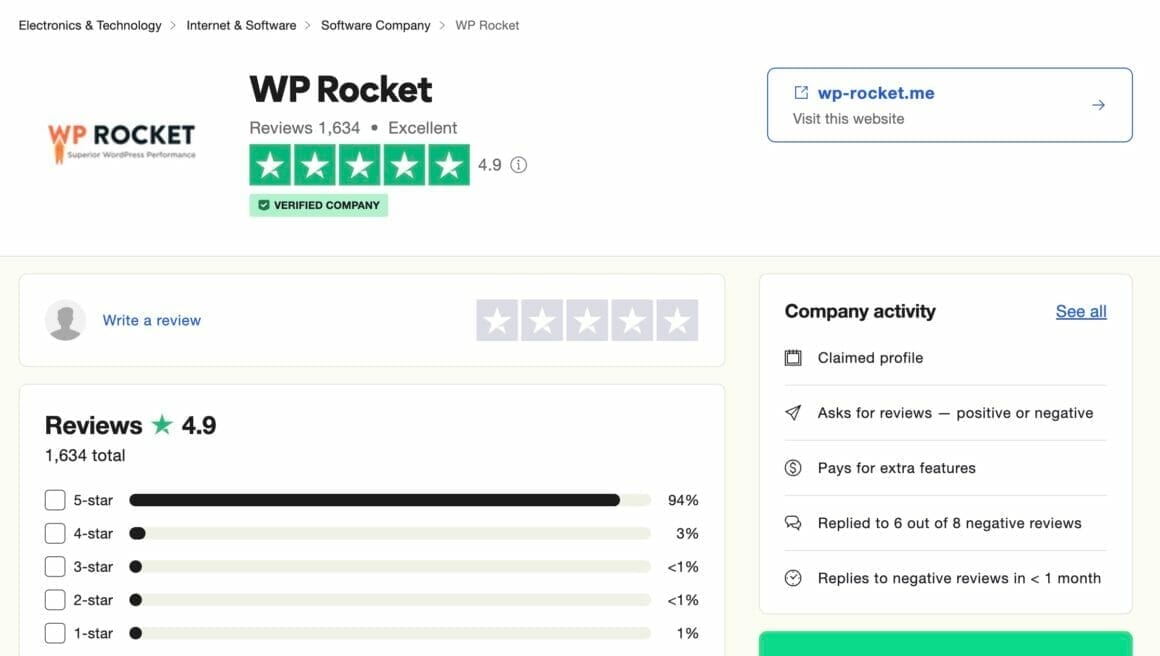 In total WP Rocket has got more than 1600s reviews on Trust Pilot and has got 4.9 stars out of 5 which is quite amazing.
However, this doesn't mean that there aren't any bad reviews of WP Rocket. But those are very rare and mostly about the support and not the plugin.
Here is one.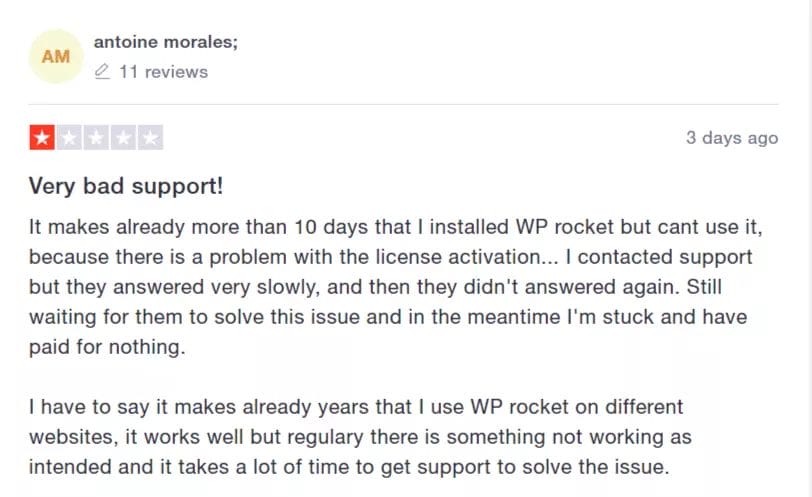 And here is another.
On these review websites, one thing I saw was that there are mixed reviews about the WP Rocket support.
Best WP Rocket Alternatives
I am totally in love with WP Rocket and would recommend it to anyone who really wants to load their website fast.
But it could be possible that you don't want to use it on your website because:
You don't have enough money to invest in it.
First, you want to try free cache plugins
You are skeptical about investing in premium plugins and more.
So, for all those of you guys here are my two favorite WP Rocket alternatives.
1. Swift Performance
Swift performance is my second favorite cache plugin for WordPress which I have tried and tested on my website for more than one year and it has been a great experience to use it on my blog.
It made my website fast and snappy which improved my website's overall experience.
Here are some benefits and drawbacks of this cache plugin:
Benefits
No prior knowledge of coding is required to properly set it up
A lot of advanced caching options make your website a lot faster
Ultimate image optimization features in the premium versions
Can easily connect with any CDN or Cloudflare
25,000+ users trust the Swift performance plugin for their website
And more…
Drawbacks
CSS optimization features can break your website.
Isn't compatible with the Shortpixel plugin for image optimization.
Learning curve if you really want to fix the core web vitals of your website with this plugin.
Pricing
Swift performance comes in a lite version which you can simply install on your website and use it.
However, if you want to use premium, then this plugin offer three plans:
Single plan – $45 for one website for 1 year
Multi plan – $100 for four websites for 1 year
Developer plan – $240 for unlimited websites for 1 year
2. W3 Total Cache
Another superb alternative to WP Rocket is the W3 Total cache which comes with many advanced features even in the free version.
These features would help you make your website faster and more efficient than before.
Here are some benefits and drawbacks of this plugin:
Benefits
Speed improvement with very little change in settings
A lot of caching options to fix all the cache of your website and make it fast
A whole bunch of speed optimization settings right at your doorstep with this plugin
You can easily configure any CDN with this plugin
Saves a lot of your website resources with its superb website optimization features
Drawbacks
Advanced settings can be a lot advanced for non-techie users.
Some users have said that minification with this plugin breaks their website
The pricing structure of the premium version is a lot more costly than WP Rocket
Pricing
As mentioned that pricing structure of the W3 total cache premium is not great.
You have to pay $99 per website without any multi-site discount.
However, if you want it for a single site then the deal is not bad when compared to the features present in the premium version.
But if you want to use it for more than one website then I won't recommend you w3 total cache premium.
Along with that here are three more WP Rocket alternatives which can make your website faster.
WP Super Cache (Free)
Hummingbird (Free + Paid)
Comet Cache (Free + Paid)
Frequently Asked Questions
Does WP Rocket work?
Yes, it definitely works and fixes your website's speed to make it super fast. WP Rocket is the best cache plugin that can speed up your website without breaking it.
Is WP rocket worth it?
Yes, WP Rocket is totally worth it. If you have enough money and want to make your website fast, then you should definitely invest in it.
Which is better WP rocket or W3 cache or Swift Performance lite?
WP Rocket > Swift Performance > W3 Total cache