10 Best Online Image Background Remover Tools for Flawless Results
Are you trying to remove image backgrounds without installing any software? If yes, you're in the right place! This list of the 10 best online image background remover tools is just for you.
Imagine you've just captured the perfect shot that expresses the true essence of the moment, but the image's background isn't satisfactory. It could be due to random people in the background, different objects diverting attention from the main thing, etc.
An online image background remover tool can work wonders for you in such cases. Fixing the background enhances your product and lets you be as creative as possible. However, it takes a long time for professionals to remove the background from an image using Photoshop. Also, people new to Photoshop are usually unwilling to spend much time learning it just for occasional needs.
There are several free background removal tools to help you get your job done efficiently. This article has discussed the top ten online background remover tools to give you exceptionally flawless results.
10 Best Online Image Background Remover Tools
Let us now review my picks for the ten best online background remover tools available today.
Canva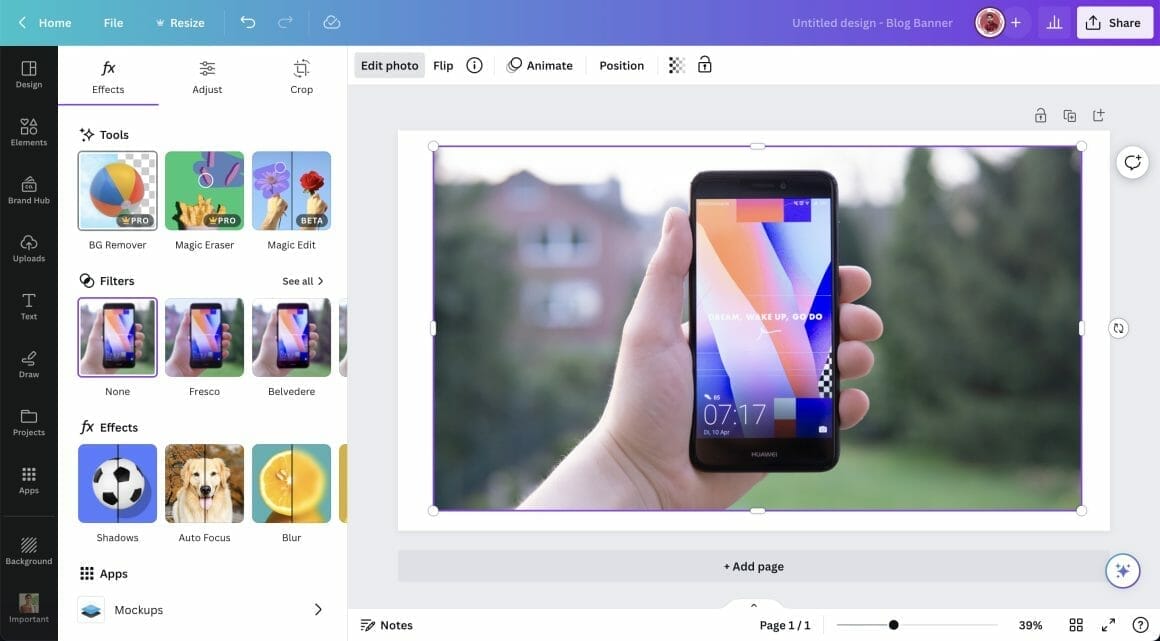 Canva's Image Background Removal feature helps you quickly remove the background from a picture, leaving only the main subject.
It uses AI technology to make this process easy and smooth. Canva also allows users to create beautiful designs by blending the main subject with any new background they choose. It's a simple way to make pictures look better and more professional.
Open your desired design in Canva.
Upload or select the image you want to edit. Click on the image to select it.
Once selected, an editing toolbar will appear above. Choose the "Effects" option.
Within Effects, find and click on "Background Remover".
Canva's AI-powered tool will begin processing the image. After a few moments, the background will be erased, leaving only the subject.
Adjust the placement or size of the subject as needed, then add a new background if you wish.
Here is the background removed version of the photo shown above:
This feature is free to use on Canva, or you can use the link below for an extended 47-day long Canva Premium trial to do more.
PhotoRoom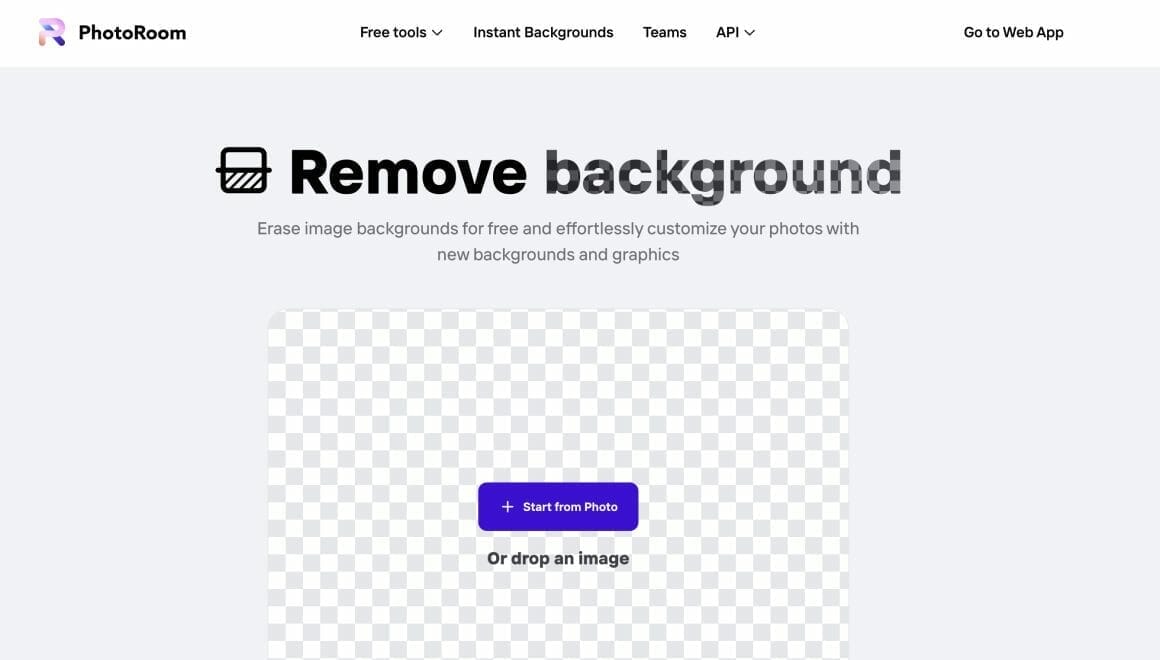 PhotoRoom provides photo editing software that is robust enough to create amazing images and simultaneously simple enough to be used without any training. In addition, its online background remover tool is also fast and efficient; once it finishes processing, only your image's foreground will be visible on top of a white or transparent background.
To get started, you just need to upload an image in JPG or PNG format and let the tool work magic. After removing the background, you can click "More tools" to replace it with a new background color or an image of your own.
PhotoRoom gives you access to thousands of fantastic backdrops as well. Similarly, creating an account can save your picture in the PhotoRoom App.
Fotor BG remover
Fotor's AI background remover can automatically detect the subject at once in any image and smoothly remove the background without any manual work. It can easily handle hair, animal fur, and other complex edges in a few seconds. With Fotor, you can save time and energy to produce a high-quality transparent PNG or add a white background to the photo.
With Fotor, you can add photo effects, clipart and text to your photos. You can also edit the foreground with its innovative background eraser tool. It is an excellent choice for projects such as design programs, e-commerce platforms, and social media profiles. It is currently available on Microsoft Windows, Mac, and mobile phones.
Removal.ai
Removal.ai aims to simplify image processing using AI, allowing everyone to unleash their inner creativity. With this tool, you can immediately create a transparent background and turn your images into beautiful art, unique banners, visual presentations, product catalogs, and more. It is fully customizable to your requirements as well.
The developers regularly update the tool to keep up with the users' latest trends and experiences. Thus, they've got a good track record for satisfying their clients' and partners' needs. With a dedicated team of data scientists, designers, and professional photo editors, Removal.ai strives to tailor its innovative technology to satisfy ever-changing user demands.
Remove.bg
With Remove.bg, you can erase backgrounds from images automatically within seconds with just a click. It doesn't matter whether you want to create a transparent background or add a white background to an image – you can do it all with this tool. It is particularly notable for its ability to account for pesky, feathery hair without making your image look uneven and amateurish.
Whether you wish to make a great greeting card for your best friend or power through thousands of car photos in a short time, Remove.bg makes it happen smoothly.
Slazzer
Slazzer can remove backgrounds automatically within seconds. It instantly detects the subject from any photograph and gives you a smooth and precise cutout. You can save an incredible amount of time because this can expertly handle hair, fur, and various other complex edges.
You just need to install the Slazzer desktop application, drag and drop the required images, click "Start," and watch as each image gets cut out automatically. If you're looking to process more images, you can easily integrate Slazzer's API into your project with just a few lines of code. The developers have also built additional plugins to improve your efficiency and workflow.
Pixlr
Pixlr is a free and fully automatic online background removal tool. It allows you to remove backgrounds from product photos, e-commerce listings, selfies, and profile pictures without the tiring manual work. In addition, you can remove the background on several images simultaneously and fine-tune the result with its detailed cutout tools.
Pixlr's state-of-the-art AI can remove backgrounds from even the most complicated objects, such as people, clothes, cars, and more. Moreover, it allows you to save the result in up to 16 MPX (4096 × 4096px) quality. Therefore, creating a perfect-looking image for your e-commerce storefront and boosting your sales is a great choice.
PhotoScissors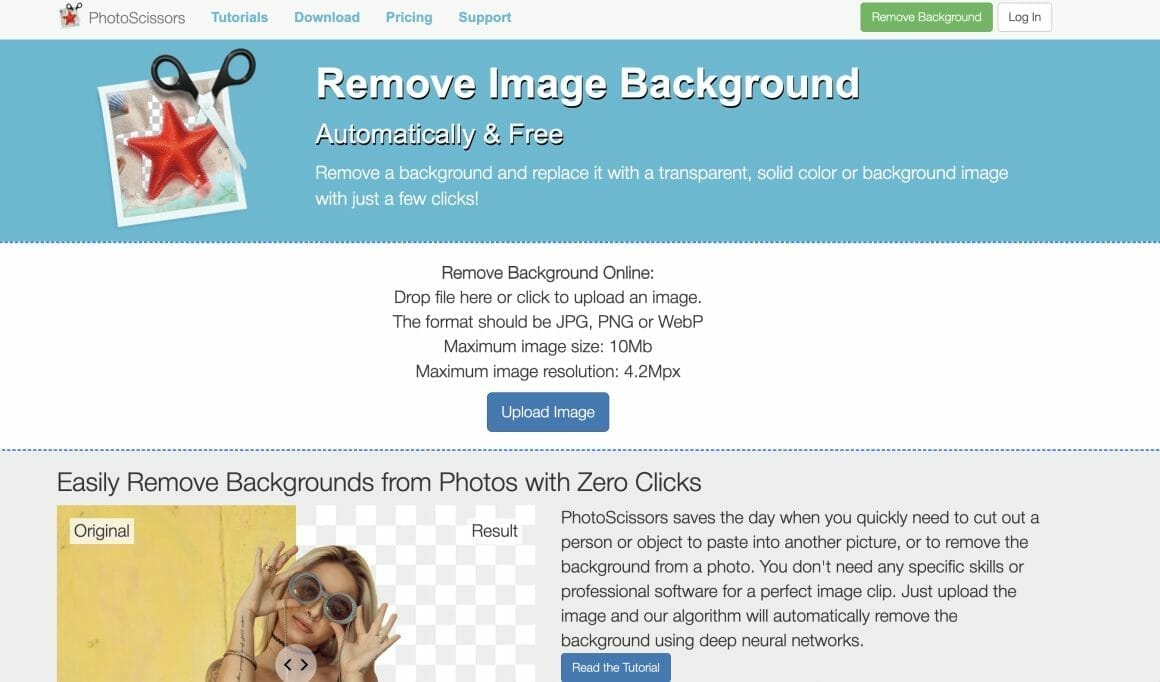 PhotoScissors is an excellent choice for quickly removing the background from a photo or cutting out a person/object to paste into another picture. You don't require any particular skills or professional software for a perfect image clip; just upload the image, and the PhotoScissors algorithm will automatically remove the background using deep neural networks.
The tool smoothly handles complex semi-transparent objects such as hair, allowing you to get rid of the background in those pictures as easily as in any other scene. Compared to many other tools where hair must be dealt with pixel by pixel, PhotoScissors saves you a lot of time because the Hair tool also effectively manages transparent objects.
Clipping Magic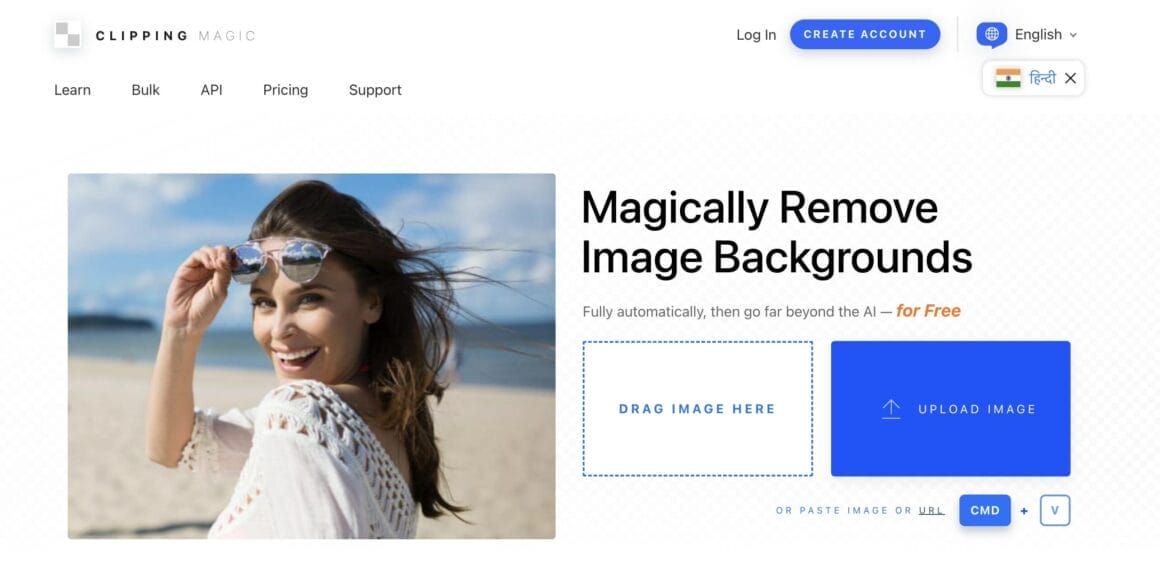 Trained on millions and millions of real-world images rather than artificial lab data, the Clipping Magic Auto-Clip AI background remover handles much more than just a handful of cherry-picked foreground categories. Moreover, as the AI background editor is exposed to more and more photos, its ability to handle yours continues to improve.
Clipping Magic is arguably the only background removal editor in the world that smoothly combines fully automatic AI with powerful tools, including a scalpel for precise cutouts. Thus, it gives you complete creative control over your work. It is an excellent choice for touchups and helps you get uniform, professional shots in every edit.
Depositphotos
The Depositphotos background remover tool is AI-powered and free to use. It processes graphic files and identifies their main objects to isolate them. As a result, you don't need any skills to remove the background from a photo or illustration using this tool. It currently supports JPG, JPEG, PNG, and WEBP file formats for uploads.
After removing the background, you can download the finished image in a PNG format. The Depositphotos team regularly improves the tool to help users remove backgrounds faster and get high-quality results.
Online image background removers are helpful tools that streamline your projects and enable you to create stunning results that will impress the mass audience. To find the perfect background remover for your needs, you should try the above platforms and explore their different aspects. These fantastic tools will prove to be of great help in your content creation journey.