20 Best Websites to Download Free eBooks
Looking for the best websites to download free eBooks? In the modern digital age, eBooks have been gaining a lot of popularity. Gone are the times when we needed to scramble around shelves in public libraries looking for books we needed urgently. Today, nearly every title you want is available to download in digital format with a click of your mouse or a tap of your screen.
If you're not enthusiastic about carrying around a heavy hardcover under your arm or in your bag, then you should consider going for eBooks. Moreover, this method helps us protect the environment by preventing trees from being cut down. However, it can be tricky to find eBooks online if you don't know where to find them.
Don't worry; that's just what this article is meant for. eBooks are generally much cheaper than hardcover versions and there are plenty of online resources to help you get eBooks without paying anything at all.
These can be extremely helpful for students and people undergoing financial crises. Below, I have listed some of the best websites for downloading eBooks free of cost.
Best websites to download eBooks for free
Given below are my picks for the 20 best websites to download free eBooks today.
1. Project Gutenberg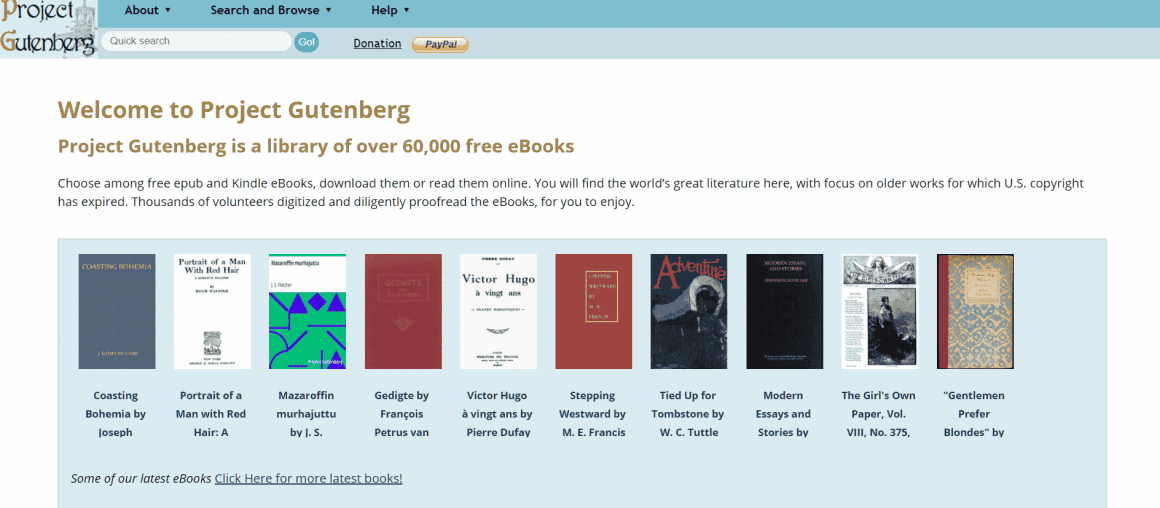 Project Gutenberg is one of the best sites for downloading free eBooks. It is a charity endeavor that is maintained through fundraisers and volunteers, and aims to put together a high-quality collection of as many eBooks as possible. You will find more than 60,000 eBooks available to download for free at Project Gutenberg's public domain. Most of them are available to download in both .epub and .mobi format, or at least one of them. Alternatively, you can read them online in HTML format.
The website's library is well-organized; you can browse the titles by category, by latest, by most popular (referring to the total download count), or just randomly (which is actually a good way to come across new interesting titles). Although the platform is a bit dated compared to other entries in this list, its rich selection of eBooks more than makes up for it. If possible, do consider making a donation to the site for helping their cause.
2. ManyBooks
ManyBooks is a relatively small but very useful website that has been running successfully for over a decade. It aims to curate and provide an extensive library of discounted and free fiction eBooks for people to download and read at their leisure. Today, it features a rich assortment of more than 29,000 free eBooks that you can conveniently browse by titles, authors, popularity, genres, languages, reviews, and much more.
A large portion of the collection featured over here came from Project Gutenberg back in the mid-2000s. Thereafter, it assumed a distinct identity of its own following the addition of several self-published works that are now available free of cost. You can download eBooks from ManyBooks in various formats, including .epub, .mobi, and .pdf. They are readily compatible with iPads, Nooks, Kindles, and most other e-readers. Moreover, every story has a rating out of five stars to help you choose titles better.
3. Open Library
Open Library features a conveniently searchable library of all the free eBooks that are present in the Internet Archive. The developers have been working hard on developing the platform, and their efforts are clearly bearing fruit. As of now, its collection is quite close to almost 1.5 million titles! On Open Library's homepage, you will find all the books neatly sorted into scrollable categories.
Popular categories of books at Open Library include History, Kids, and Romance. It features selections of well-known works from various renowned authors such as John Grisham and Roald Dahl. You will find quite a few academic textbooks in the catalog as well. The website is open source and users can freely edit the available details for every book.
4. Authorama
Authorama – Public Domain Books provides a great collection of free books from both classic and contemporary authors. They're all formatted properly, have been neatly sorted alphabetically by the author's last name, and are written in an easily readable format – HTML and XHTML. Although the website largely features English books, you will find some German titles in there as well.
The books featured at Authorama are all in the public domain. Thus, you needn't worry about legalities; all of them are freely accessible and allowed to be distributed. The platform allows you to read these books without creating a user account at all. The only downside here is that the website's design is a bit too simplistic.
The search bar is very basic and you can only find books by scrolling through the author list. Nevertheless, the quality selection of books here certainly makes up for the same.
5. Internet Archive
The Internet Archive is a non-profit digital library that provides free universal access to a colossal collection of eBooks, films, music, and nearly 624 billion archived web pages. Today, it offers more than 20,000,000 freely downloadable books and texts. If you have a free archive.org account, you can also borrow from a collection of 2.3 million modern eBooks.
You can download books from the Internet Archive in various formats including the DAISY files intended for print disabled people. It also encourages content holders, libraries, and the reading community at large to have their physical texts digitized non-destructively and put them up online for the benefit of everyone. It has worked hard to digitize more than four million books and microforms.
Since 2005, the Internet Archive has collaborated and produced digital collections with more than 1,100 library institutions and other content providers such as the Library of Congress, the Boston Public Library, the Lancaster County's Historical Society, and much more.
6. Feedbooks
Feedbooks has a huge collection of downloadable eBooks – both free and paid, fiction and non-fiction, copyrighted and public domain. Although it hosts more than a million titles, only about half of them are available free of cost. That said, there is a pretty smooth division between "free original eBooks" and "free public domain eBooks"
Many of the public domain titles featured at Feedbooks are short stories, and a large portion of the original titles comprises of fan fiction. Nevertheless, you're bound to come across some engaging stories if you go through the collection properly. Most of the books here are available in .mobi, .epub, and .pdf formats. They also come with reading time estimates and word counts, in case you happen to consider them when choosing titles to read.
7. Library Genesis
Library Genesis is a well-known search engine for free research papers and free reading material such as eBooks, magazines, articles, and much more. It presently indexes nearly 3 million eBooks and 60 million articles. The collection is indeed so extensive that it would be quite difficult for anyone to read it all in one lifetime! You will find both fiction and non-fiction titles in there, spanning various types and genres.
Since Library Genesis is a search engine, it is quite impossible to browse for books in there. Your best option is to use the "Authors" dropdown menu in the navigation bar to browse titles by authors. You can also search for a particular author, book title, or synopsis and use the Advanced Search function to narrow the results by file extension and language.
Even after that, you must get accustomed to the rather clunky user interface of the website. If that's a price you are willing to pay for the extensive collection of reading material, then you should definitely check it out.
8. Google Books
Google Books or the Google eBook Store is right at the top of the list of websites for free eBook downloads for many people. It hosts millions of eBooks in its collection, many of which are available to download free of cost. In the free section, you will find several titles belonging to a wide range of genres – everything from romance to self-help and everything in between. Although the selection isn't as large as some of the other platforms listed here, it is still worth checking out for sure.
At Google Books, you will find eBooks in every format you can think of and also read reviews from other users. By virtue of its ease of use and the Google brand, it is certain to remain one of the leading platforms when it comes to free eBooks even in the future.
Please don't get confused in Google Play Books and Google Books. Both are different. You can read free books from Google Play Books but cannot download them to save for other purposes like printing etc. Google Play Books, Kindle ebook Store and Apple Books offer proprietary collections of ebooks for their registered users.
Also see: Why you should get a Kindle?
9. Scribd
Founded in 2007, Scribd is a well-known eBook and audiobook subscription service that gives its members access to millions of quality titles. It has now become one of the leading digital library platforms with over 80 million readers from all across the world. For an affordable monthly fee of $8.99, it allows members to read and listen to an unlimited number of eBooks, audiobooks, sheet music, and magazines. Due to this subscription approach, it is often referred to as the "Netflix for Books" in the community.
You can readily access titles on Scribd on all major mobile devices such as the iPhone, iPad, Android, Kindle Fire, and many more. Using the Scribd mobile app, you can browse the website and read previously downloaded eBooks and magazines conveniently. Most importantly, Scribd allows every member to upload books and short stories of their own to the platform for others to read.
10. LibriVox
Founded in 2005 by Hugh McGuire and his friends, LibriVox is a group of worldwide volunteers who record, catalog and publish books in the public domain as audio files. Their mission is the "acoustical liberation of books in the public domain". By doing this, they have been giving people access to audio versions of well-known classics such as books by Louise May Alcott, Charles Dickens, Arthur Conan Doyle, HG Wells, Mark Twain, and many more.
The LibriVox catalog maintains a regularly updated list of all the various audiobooks that are presently available. Anyone across the globe can volunteer to read the books as long as they possess some basic recording equipment. You can also download these audiobooks in .mp3 or .ogg format, which can be readily played on all popular audio devices and software. The LibriVox app is available on the Android and iOS operating systems and presently has a rating of 4.5 stars out of 5.
11. The Online Books Page
If you're seeking to expand your collection of books even more, then you should definitely visit the Online Books Page. Hosted by the University of Pennsylvania, it features a massive list of more than three million eBooks. Unlike other resources like Project Gutenberg, it doesn't actually host any of the books itself. Instead, it provides separate links for you to download.
Admittedly, the website has a rather dated look to it. Nevertheless, it doesn't detract one from the incredibly rich collection of eBooks that it has to offer. It is a great source for classic and relatively obscure titles that allow you to explore esoteric topics thoroughly. If you prefer reading newer books, then you will be delighted to come across plenty of them over here as well.
12. Wikibooks
Wikibooks is a sister portal of Wikipedia that is dedicated to creating a rich library of academic textbooks that anyone can freely access and edit. It possesses a huge repository of open-content textbooks, instructional guides, annotated texts, manuals, and much more. Keep in mind, though, that it doesn't harbor material related to primary research, fiction, or published texts.
At Wikibooks' website, you will find books divided across 11 different primary categories given below:
Computing
Engineering
Humanities
Languages
Mathematics
Miscellaneous
Recreational activities
Science
Social sciences
Standard curricula
Kids' books
For the sake of convenient browsing, each of these categories is further divided into subcategories. You can also browse the collection by a book's reading level and completion status.
13. International Children's Digital Library
If your child happens to be an avid reader, then you will inevitably end up spending a lot of money on new titles. In that case, I'm sure you will appreciate having access to a reliable source of free eBooks for kids. That's exactly what the International Children's Digital Library is meant for. It is nothing short of a godsend for anyone who has young and eager bookworms in their house!
On this platform, you will find numerous books available in a wide variety of lengths and levels of reading difficulty. You can also search by criteria that might appeal to kids, such as the color of the book's cover. The developers have taken care to list every book in a separate category for convenient browsing. As of now, titles at the website are available in four languages – English, German, Persian, and Yiddish.
14. PDFBooksWorld
There are three main eBook formats available today – .epub, .mobi, and .pdf. Although books in .epub and .mobi format have gained the upper hand in recent times, a lot of people prefer sticking to the .pdf format because of its universal support across devices and platforms. If you're looking for a platform that exclusively deals with eBooks in this format, then PDFBooksWorld is just what you need.
The collection of books on this website is rather small, with only a few thousand titles presently available. However, all of them are completely free and guaranteed to be PDF-optimized. You will find books on various subjects for readers of all ages, with genres including fiction, non-fiction, children's writings, and academic works. Avid readers will be delighted to come across a lot of literary classics over here, such as Crime and Punishment, A Tale of Two Cities, The Great Gatsby, and many more.
The website features an easily navigable interface and a responsive web design that allows you to conveniently access it using devices of any screen size, including mobiles, tablets, and laptops.
15. Overdrive
Overdrive is arguably one of the fastest, cleanest, and most legal ways of accessing millions of free eBooks. These include not only the titles in the public domain but even several recently released and popular mainstream ones. The only catch here has that in order to get access to these quality eBooks, you must be a student or possess an active and valid public library card.
Overdrive works in conjunction with more than 30,000 public libraries in over 40 different countries all around the world. Apart from free eBooks checkouts, you can listen to audiobooks for free as well. After accessing the service, you will also get immediate access to the latest New York Times Bestsellers. The development team works hard to update the list every week and ensure that you don't miss out on an engaging reading experience.
16. Read Print
Read Print is another excellent resource for downloading thousands of eBooks free of cost. The website is free to join and gives you access to a wide range of useful features. For example, it features convenient lists for tracking your read history and must-read titles. You can also join book clubs and groups for discussing the best titles and discovering new interesting reads along the way.
Not only is the search bar at Read Print remarkably easy to use, but the website also allows you to search for popular quotes from books. The search results are so accurate that you will be able to find the title(s) you're looking for in no time. It is an especially great resource if you're urgently looking for a book whose title you're unfamiliar with.
If you don't mind the fact that the selection of titles here doesn't offer may new releases, then it's definitely worth checking out.
17. Free-Ebooks.net
Free-Ebooks.net is a great online resource that offers thousands of free eBooks for download. The titles here are broadly divided into six different categories:
Business
Fiction
Non-fiction
Romance
Sci-fi
Self-help
You will find titles belonging to all sorts of genres over here – from education to romance to thrillers. To help you make a selection, the website lets you go through ratings and reviews for every book.
To download eBooks from the site, you must sign up for a free account. After that, you will be able to download up to five free eBooks per month. You will also find books in dozens of languages other than English in the collection.
18. GetFreeEBooks
GetFreeEbooks is a unique website that connects both authors and readers in a world of free eBooks. It allows budding authors to submit their eBooks for free on the platform, which people from the huge community of readers can then download and read for free. As of now, the platform has over a hundred categories of free eBooks to read from. There are plenty of gems waiting to be discovered over there!
19. FreeTechBooks
As its name implies, FreeTechBooks is dedicated to providing books, textbooks, and lecture notes for engineering, programming, and computer science. All of them are legally available to download free of cost. Moreover, you will also find material on computer philosophy, ethical hacking, artificial intelligence, and various other interesting topics over here. It is nothing short of a haven for techies out there!
20. Bookyards
Bookyards serve as a place for efficiently collecting free eBooks and other related materials. Apart from providing direct access to more than 18,000 books, it also provides over 40,000 links to other websites, videos, news websites, blogs, and various online libraries. All in all, it gives you access to nearly 800,000 free eBooks.
Conclusion
Today, the internet is filled with so many free eBook resources today that it can be quite difficult to check out all of them thoroughly. In this article, I've listed some of the best online platforms for downloading free eBooks.
You can visit them to download both vintage classics and new reads from the comfort of your iPad, smartphone, or whichever device you prefer to use. You can also share them with your friends and family.