18 Best SEO Tools that Experts Use (And You Should Too)
How many SEO tools are there? 1000s. Too many to count but still too less to rely upon.
Some tools are free, but for most, you need to pay. When you start something, the first challenge is to pick the right tools and the same is true in SEO.
If you are looking for the best SEO tools, nope, the right SEO tools – you have come to the right place.
In this article, I have listed, reviewed and compared the best SEO tools that you can rely on.
I have tried and tested these SEO tools so that you don't have to waste your time taking these into a run one by one. These tools are also used and recommended by other SEO professionals, and that's what makes this list perfect.
All you need now is to go through the list and choose one that fits your budget, opt for a trial and see if that works for you.
Without any further ado, let's skip to the list of the best SEO tools.
Best SEO Tools in 2023
For certain types and needs, here are the best SEO tools categorized:
SEMRush is a popular marketing SEO tool that allows you to conveniently assess your rankings and get acquainted with new ranking opportunities.
Its Domain Vs Domain analysis helps you accurately compare your website to that of your competitors.
You can compare domains and keywords to help you generate more traffic and get an edge over your rivals.
Similarly, you can monitor your website's rankings and get recommendations for improvement by virtue of the On-Page SEO Checker tool.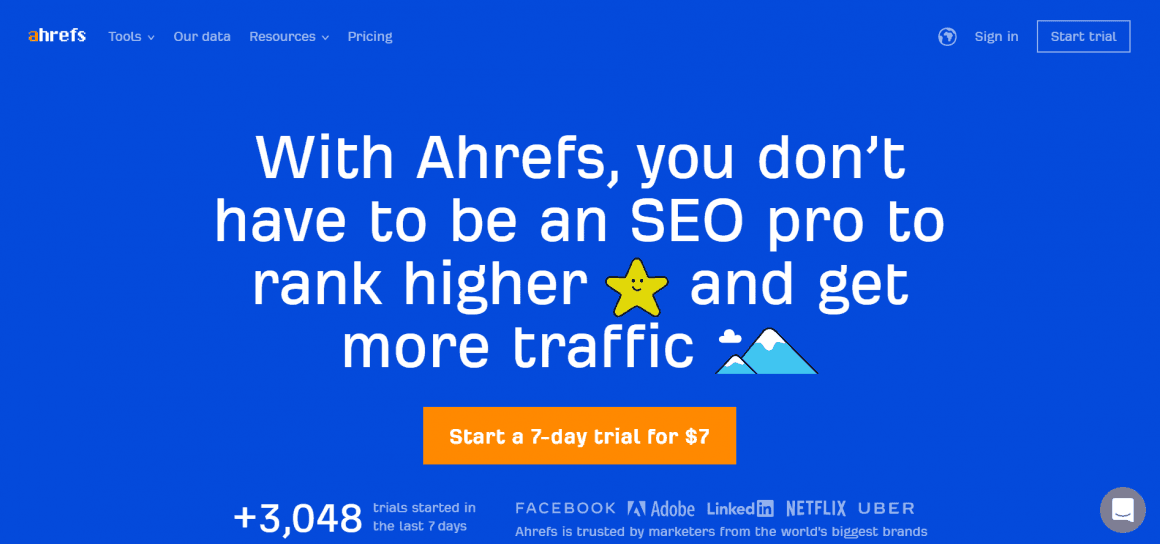 After Google, Ahrefs is the second largest website crawler available today and possibly the best SEO tool on the planet.
Ahrefs Site Audit feature stands out. It highlights the portions of your website that can be improved to rank higher in search engines, is among the most sought-after SEO analysis tools out there.
This tool can also help you analyze your rivals' backlinks to use as a reference for your own company.
Ahrefs launched site auditing tools for webmasters recently and since then it has become my go-to tool for site monitoring.
The Google Search Console, which is available for free to everyone who owns a website, is the leading SEO tool today.
You can submit your sitemap for indexing after verifying your website by going through Google Analytics or inserting a code in your website.
If you wish, you can also get a Search Console account to help you take a look at your website from the point of view of Google and its users.
Moz Pro is a popular SEO software from Moz that has a track record of staying updated in spite of Google's regular algorithm changes.
It also possesses an efficient support portal that provides prompt and useful responses to queries.
Moz also offers a free MozBar toolbar which allows you to view your website's metrics when going through any page.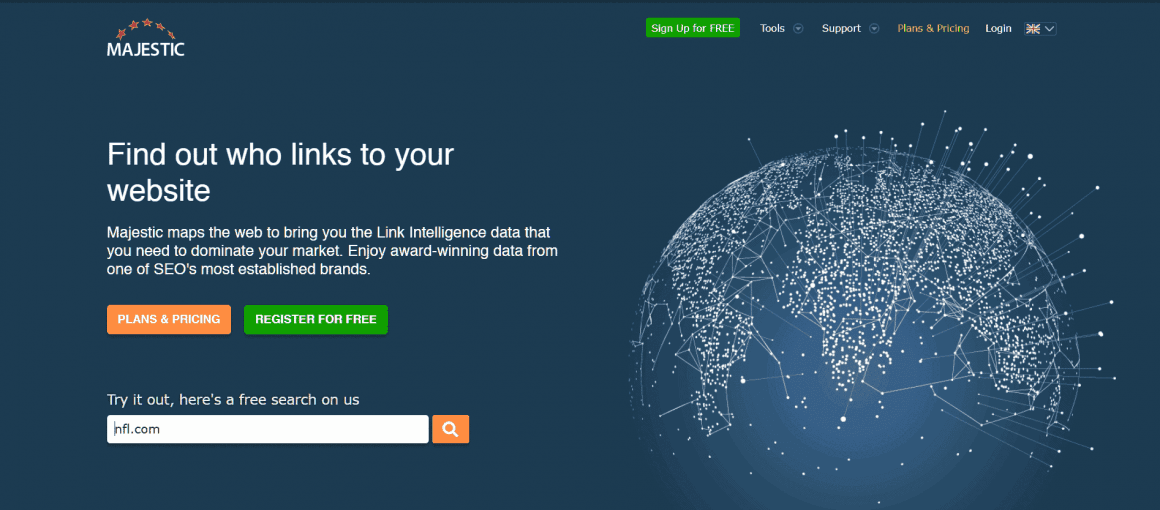 Apart from its use as an SEO keyword tool, Majestic offers a plethora of useful features for your help.
For example, its Site Explorer feature enables you to view the number of backlinks in your possession, as well as a general overview of your site.
Similarly, you can view the rankings of the top million websites with the help of another feature, The Majestic Million.
Developed by Neil Patel, this free keyword finder tool is known for displaying the top-ranking SERPs as well.
This helps you determine how competitive a keyword is, and whether it is worth targeting or not.
Ubersuggest will provide a plethora of useful suggestions to help you choose the right terms to use on your website.
This is a freemium SEO tool that will aid you in finding better topics to write about in your blog.
Depending on your preferences, you can write content around particular keywords to improve your online ranking.
For example, if you hire a freelancer to produce content for you, you can simply send them this list of keywords.
With the help of an SEO keyword tool like KWFinder, you can identify long-tail keywords that have relatively low competition.
It helps you ascertain the best keywords to help your website rank higher, and run analysis reports on SERP (Search Engine Results Page) and backlinks. You can use the Rank Tracker tool to conveniently determine your website's ranking.
Although the premium version of SpyFu gets more attention, its free features are remarkable as well.
It will help you research any website, including your competitor's or your own, to see how many times a particular keyword gets searched, its ranking difficulty, the number of monthly clicks it gets, the campaigns they are running with Google Ads, and much more.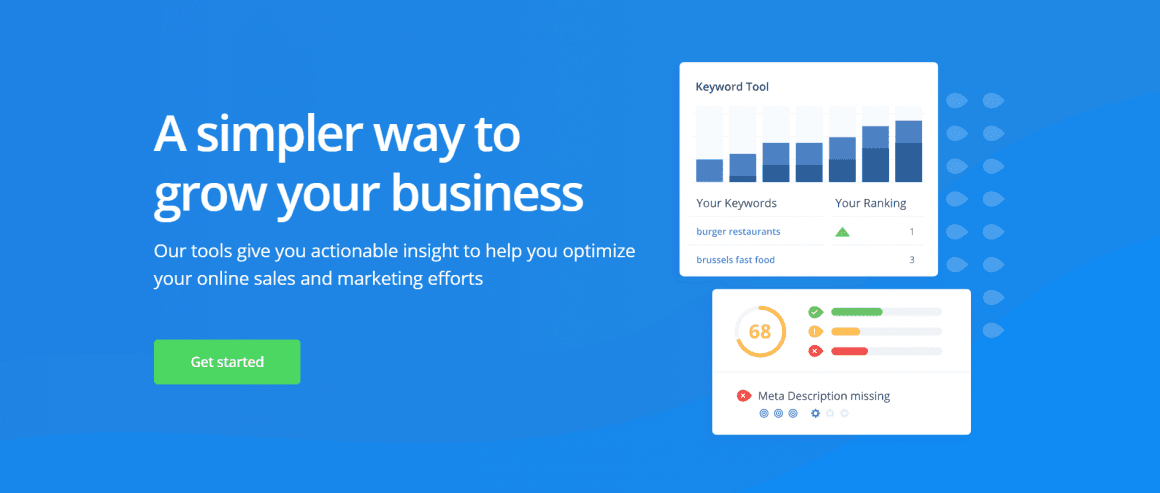 Woorank is considered one of the best on-page SEO tools out there. You can choose from both free and paid options to report and track your marketing data.
You can also lookup the keywords your rivals are targeting and understand how they perform in due time. That, in turn, will help you understand what your website is lacking and optimize it for search engines and users in the best possible manner.
You can also rectify issues like downtime, duplicate material, and security deficits with its help.
Unfortunately overlooked, this useful SEO checker tool provides information about keywords and the latest trends revolving around the topic as well.
The latter details include top queries, interests depending on geographical location, and much more. It can help you ensure healthy growth for your business in the years to come.
SiteGuru
SiteGuru is a high-quality SEO audit tool that tells you exactly where you need to start to improve your rankings. Now you can get SEO success without knowing all the SEO details.
SiteGuru is available on AppSumo for just $49 onwards. Buy it once and use it forever.
When it comes to free SEO tools, SEOQuake is a Chrome extension highly recommended by experts. It can assess both external and internal links, carry out on-site audits, compare performance with that of rivals, and perform keyword analysis as well. It also possesses a useful export feature to help you download and share data with important team members at your convenience.
You can avoid getting penalized for duplicate content by using SEO checker tools like Siteliner to identify and remove it from your website. It can also help you fix broken links, decide the number of internal links on every page, and much more.
Fat Rank is an SEO Chrome extension that helps you analyze your website's performance by learning about the ranking of your keywords. By adding keywords to your search, you can ascertain your rank per page for every keyword you optimized for. With the help of this information, you can optimize your website better for that particular keyword.
This is another useful SEO Chrome extension that collects data from various SEO tools, such as Google Trends, Search Console, Google Analytics, and many more. It helps you determine the most suitable keywords for your website with greater ease.
Experts consider Screaming Frog to be one of the best SEO tools online. Not only does it perform useful site audits and inform you about ways of optimizing your website, but it is fast enough to save you a lot of time. Its SEO Spider tool in particular has received significant praise from the community.
Serpstat is an all-in-one SEO platform that will help you analyze rivals, manage your team, and perform SEO jobs efficiently. Its Missing Keywords feature will show you keywords that your rivals are using to rank in the top ten search results, and you are failing to.
Extra Tool: Incognito Mode/Private Windows
By carrying out Google searches in incognito mode and private windows, you can get fresh and unbiased results to help you better understand what your users actually get when they search for keywords. You can use its autofill options to get a useful list of semantic keywords for use.
Conclusion
You can use these wonderful SEO tools to gain valuable insights that would be very difficult to generate otherwise. Even if you have financial constraints, you can get much help from the free features that most of these tools offer. By using them in conjunction with your own hard work, you can help your website achieve the zenith in terms of ranking in SERPs.