How to Create a Business Website with Bluehost and WordPress?
Looking to create a business website with Bluehost and WordPress and don't know how to start? Worry not. In this guide I will guide you step-by-step on how to setup Bluehost, create a business website and design it the way you want.
But first of all, the basics. BlueHost is one of the most popular web hosting services on the planet. It offers shared, VPS, dedicated and managed — all types of hosting services. You can even buy domains, SSL certificates and site security tools.
You can easily create a business website with Bluehost as it offers a step by step installation process with WordPress. We will see that later. But as of now let's see how to select a plan and set up a Bluehost account.
Selecting a Plan for your Business Website
Bluehost offers various hosting packages for different needs. All their hosting offers are divided into these 7 primary categories:
Shared hosting
VPS hosting
Dedicated hosting
Reseller hosting
WordPress hosting
Managed hosting
WooCommerce hosting
Shared hosting is ideal if you run a small business website with a lesser number of visitors a month. VPS and dedicated hosting services are useful for medium and large businesses. The catch is that you will need a WordPress developer to properly configure this for your WordPress business website.
Reseller hosting service is not for you if you don't want to resell the hosting services to others. So, let's just don't talk about this.
WordPress hosting services are nothing but shared hosting services which are optimized for WordPress installation. Speed and performance wise you will get the same experience as shared hosting, but can install only WordPress sites.
Managed hosting or Managed WordPress Hosting, as the names suggest, is managed by the Bluehost team. You will get WordPress pre-installed and optimized. These managed hosting servers are tweaked to boost performance and you will feel the speed boost right away.
Managed WordPres hosting services are your best choice if you own a business and are not comfortable with setup and maintenance processes. In WooCommerce hosting, your WordPress comes preinstalled with WooCommerce — a leading online shopping tool for WordPress.
If you own any of these hosting services, you can get Woocommerce by installing a plugin — so don't worry about the #7 either.
How to Setup a Bluehost account?
Bluehost has local websites for various geographic locations, like USA, India, EU, UK and Canada. Depending on your country of business, you should buy hosting that has server location in or nearby your country of work.
For example, if you own a business in India, you should sign up for a Bluehost account from bluehost.in. If you are located anywhere else, you can register at bluehost.com. In either cases you will get a similar onboarding and a similar experience. The only difference will be in pricing. Big brands like Bluehost, Hostgator, A2 hosting use purchasing power parity models to decide on price. For example, something that is $8 per month in the US — can be just ₹280 per month in India instead of normal ₹580 (current value of $8 in India).
Enough of the economy. When you are done buying a plan that is suitable for you, you can login into your control panel and start creating a website.
In this guide, I will start with a shared hosting (#1 in the list) and tell you how you can use it to create a business website. In the end I will also tell you how to properly configure your online shop with WordPress.
But wait. Here's a question that comes to mind of every business owner.
Is WordPress ideal for business websites?
WordPress was built for blogs. That is true for sure. But by the time and over 15 years of development, it has changed from a simple blogging tool to a full-fledged business tool. You can literally create any type of website with WordPress.
Top businesses in the world use and trust WordPress with their business. WordPress is secure, fast and above all — business friendly. You can create an online storefront, boost your online presence and make great sales with WordPress.
There are several articles online that can tell you why WordPress is a great business tool. My purpose, as of now is to not dive into such extra details.
Just remember that WordPress is made on PHP and using PHP you can create any website you want. Plus there are thousands of plugins and themes available for WordPress that can help you get started in no-time.
How to Create a Business Website with Bluehost and WordPress?
Given below are the basic steps you need to follow in order to set up a business website using Bluehost:
Go to Bluehost.in or Bluehost.com (as per your location)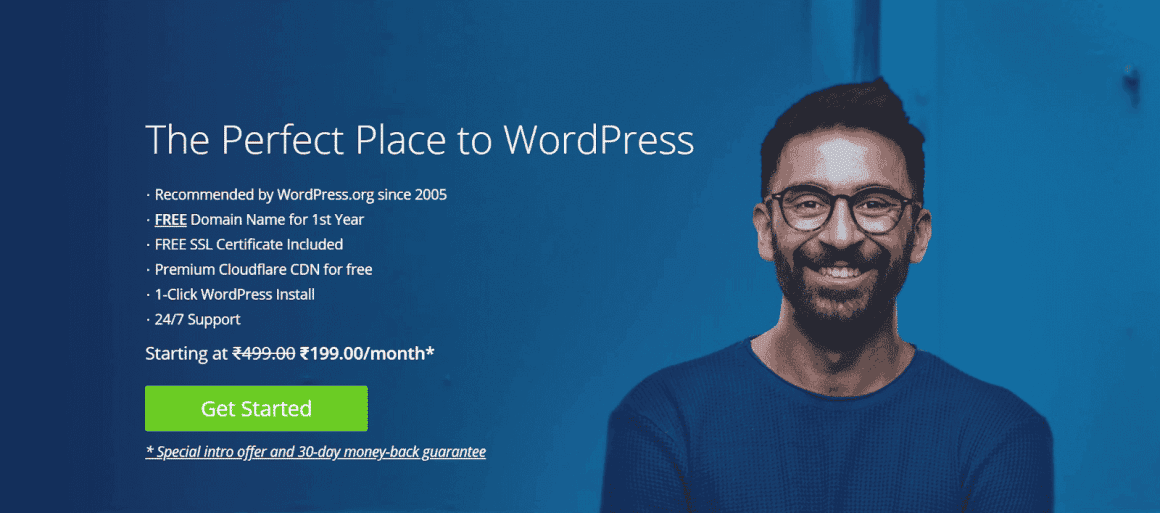 Click on the Get Started button on the homepage. This will guide you through the purchase process and installation.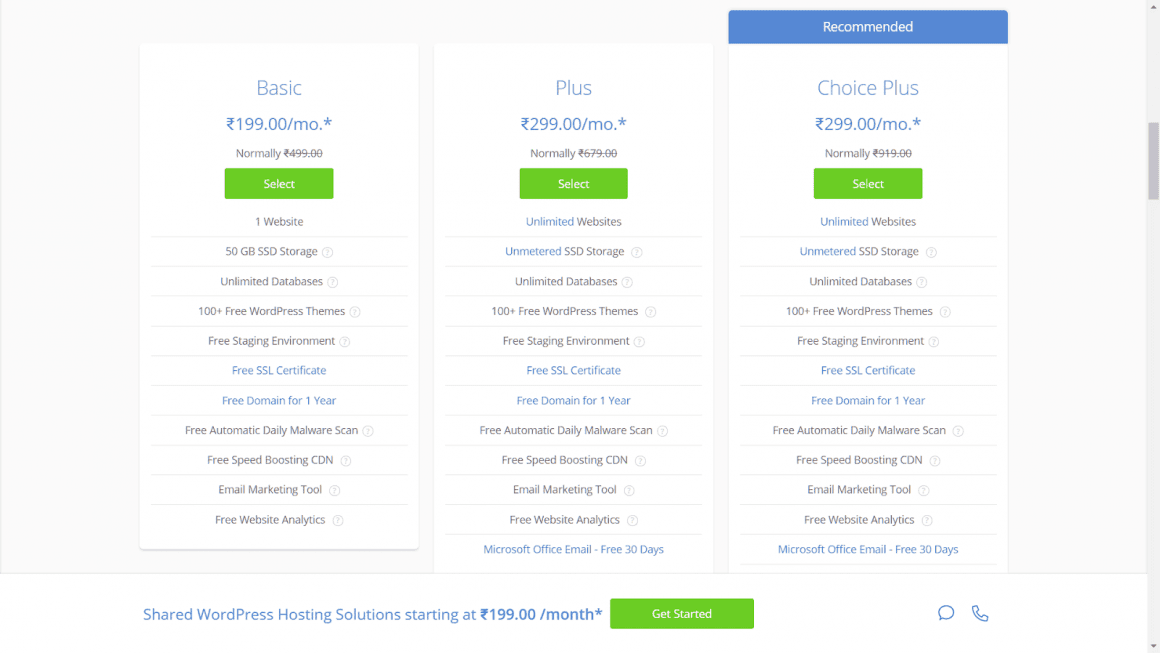 Choose a plan as per your budget and requirements. You will find the details on what you are getting and what not. Decide on what you need or take advice from your developer or an experienced person.
You get a free domain name with any Bluehost plan. Enter a domain name that resembles your business name and click next. If you don't need a domain name right away, you can skip this step.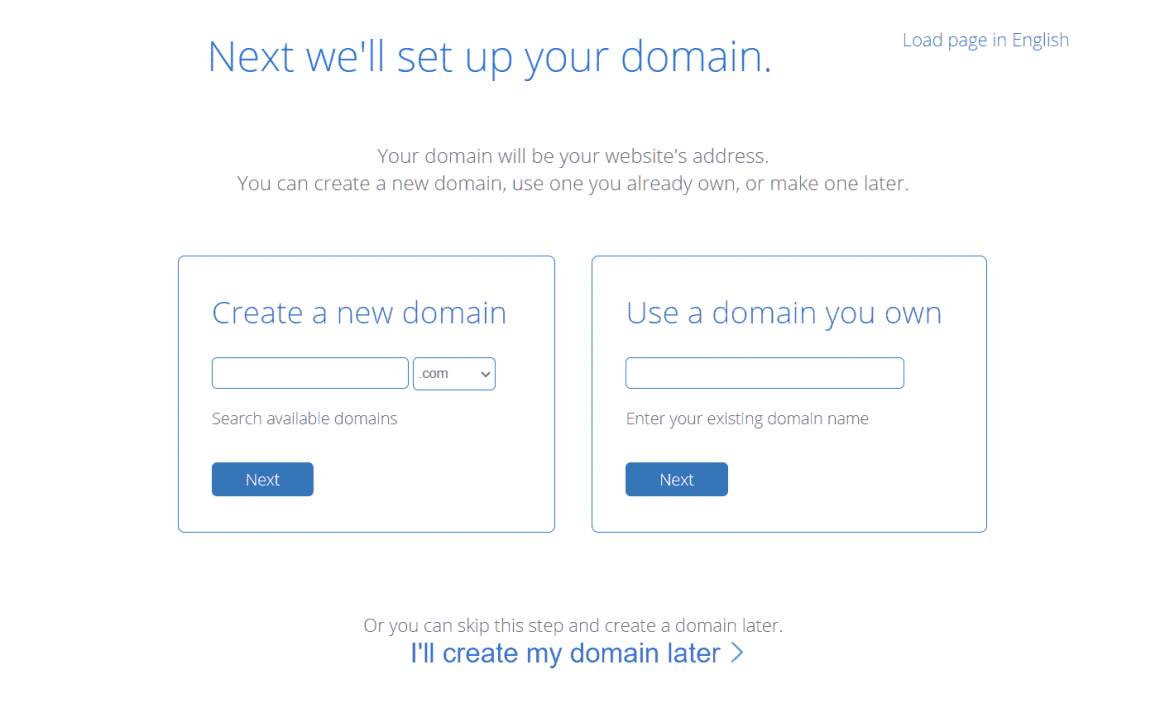 Fill in your details to create an account. You can also use your Google/Gmail account to create an account as well.
Make the payment and viola.
It's done.
You will find a few verification emails along with the purchase receipt in your inbox. Do the necessary steps and you will be ready to go.
Once you have completed all these steps, you can now login into your control panel. Most of the time Bluehost automatically redirects you to the control panel after a successful purchase but if it doesn't you can login to Bluehost by visiting bluehost.in or bluehost.com and clicking on the Login menu.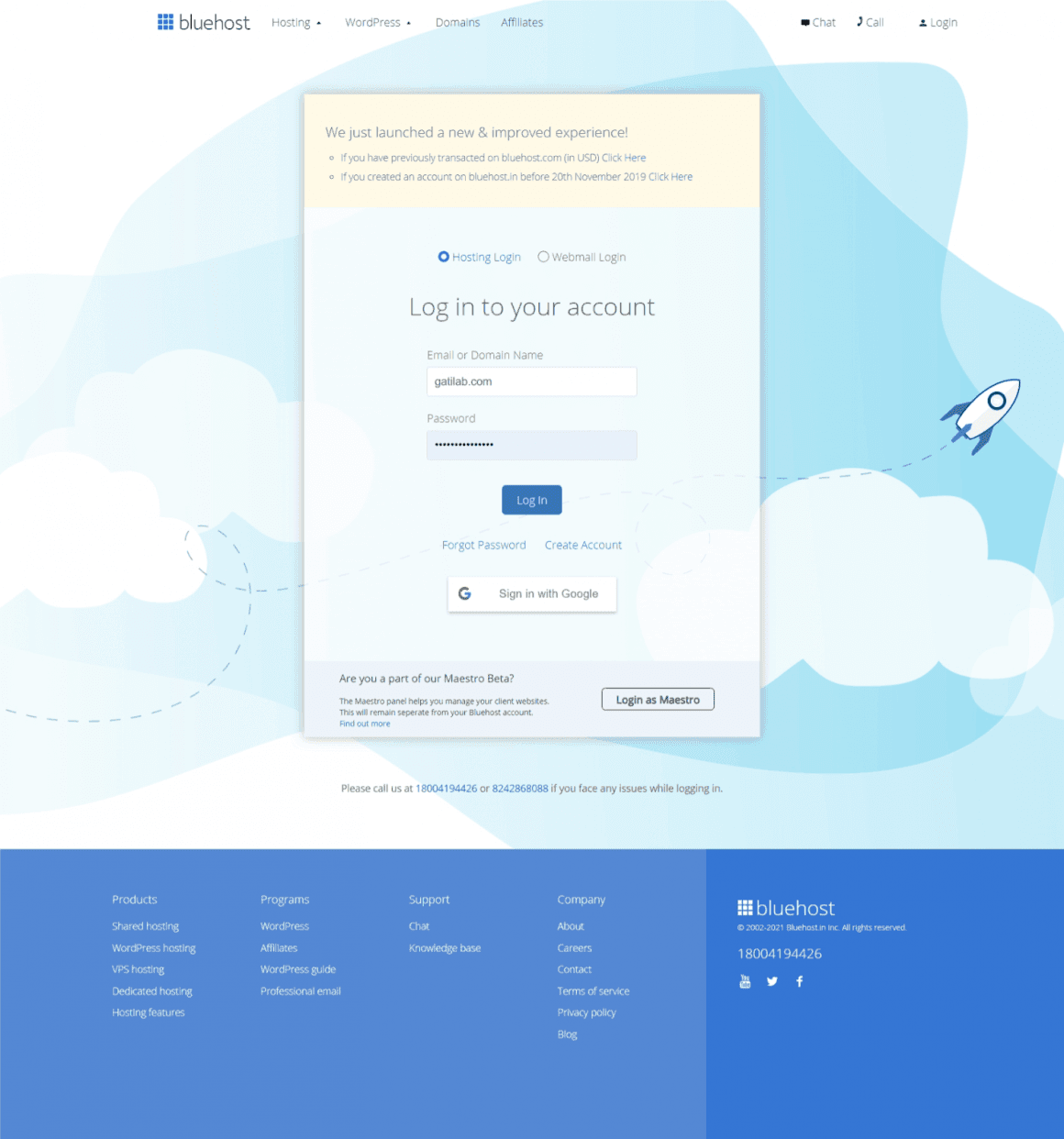 How to Install WordPress on Bluehost?
This is the easiest part of the process now. Bluehost guides you through step-by-step instructions on how to install WordPress.
Just go to your account/control panel and click on My Sites. You will have an option to add a new site.
You can create as many sites as they are allowed in your plan. As you can see I have already created a website under Gatilab which is using the incredible GeneratePress theme.
I will tell you how I did it.
I logged into my control panel.
There was already an option to start my first site. If you don't find such an option you can always go to My Sites option and create a new site.
By every step Bluehost asked me some questions and I genuinely answered those.
Step by step WordPress Installation on Bluehost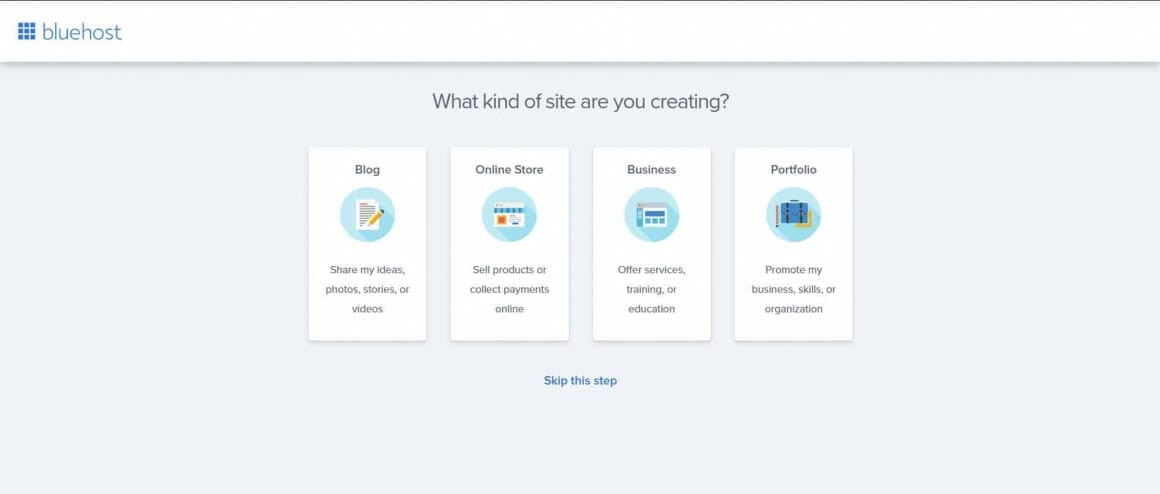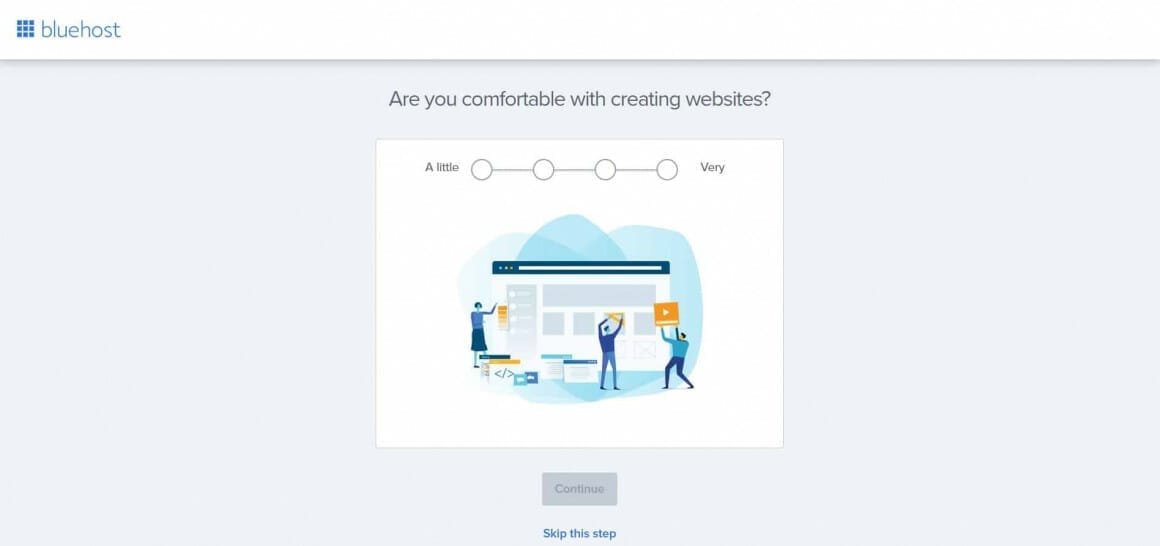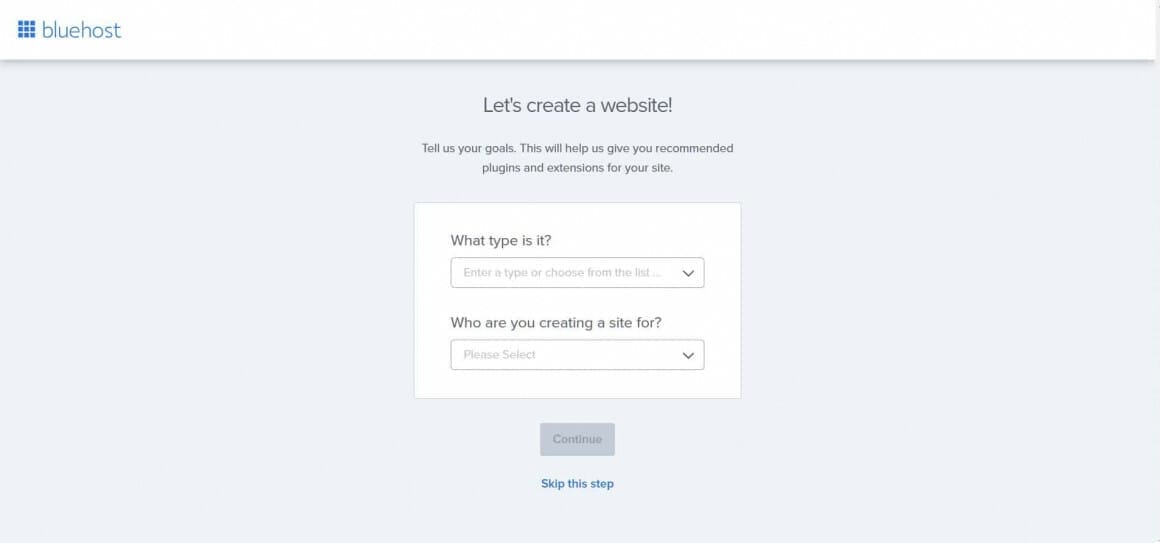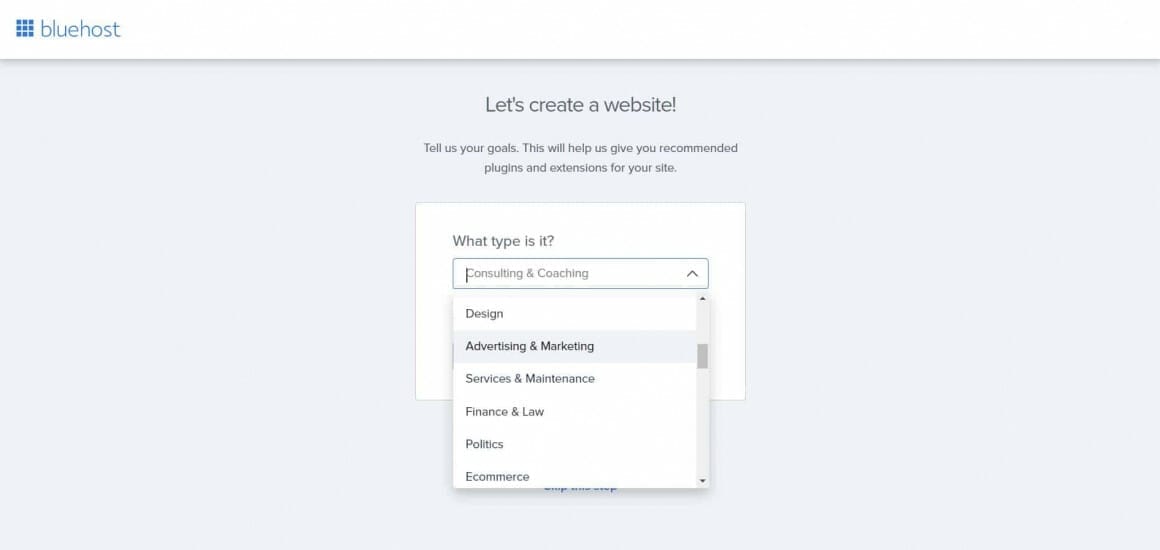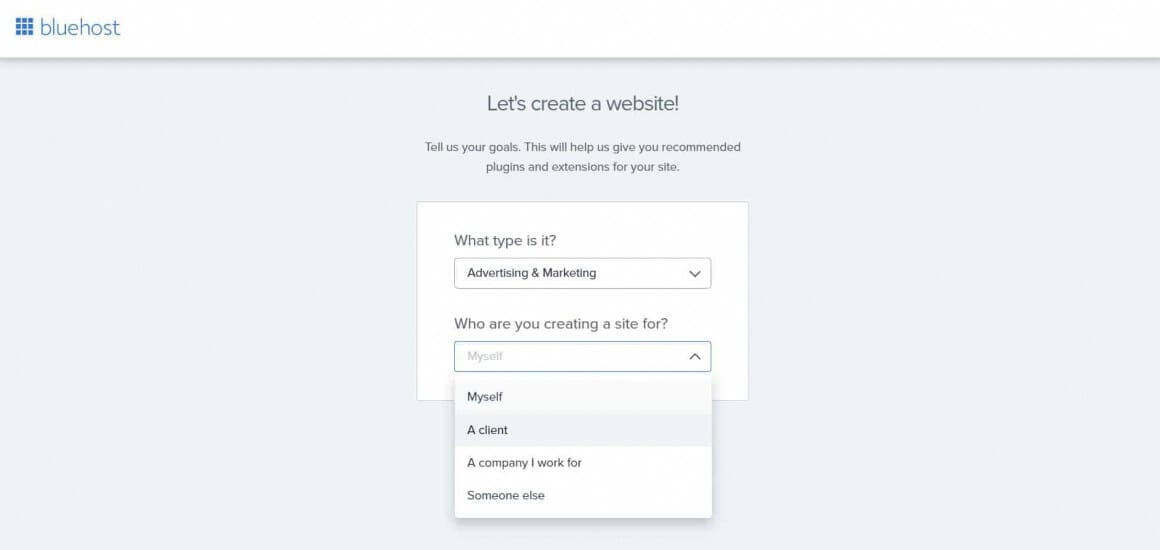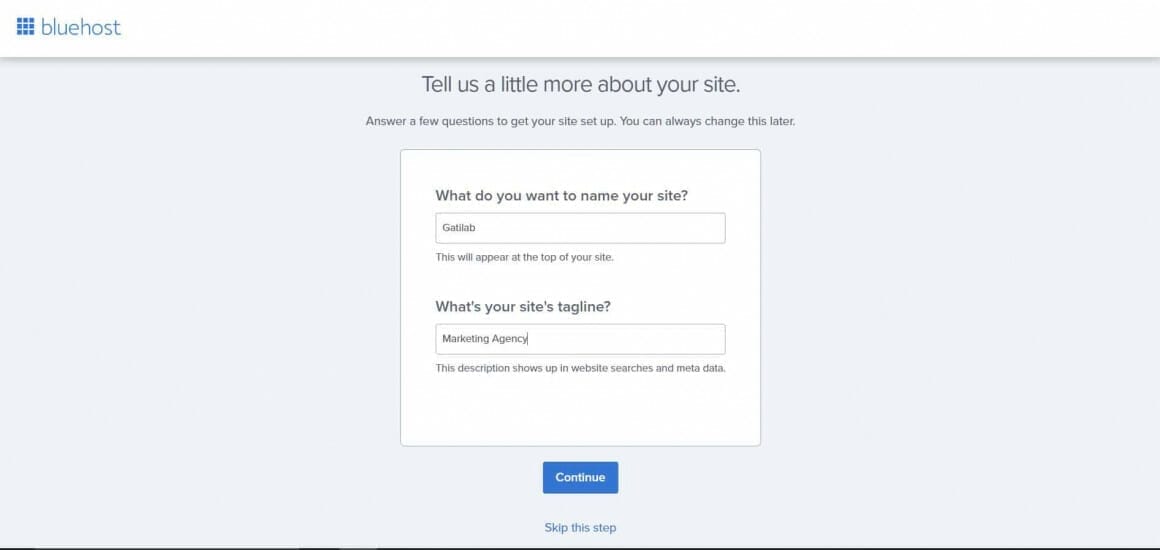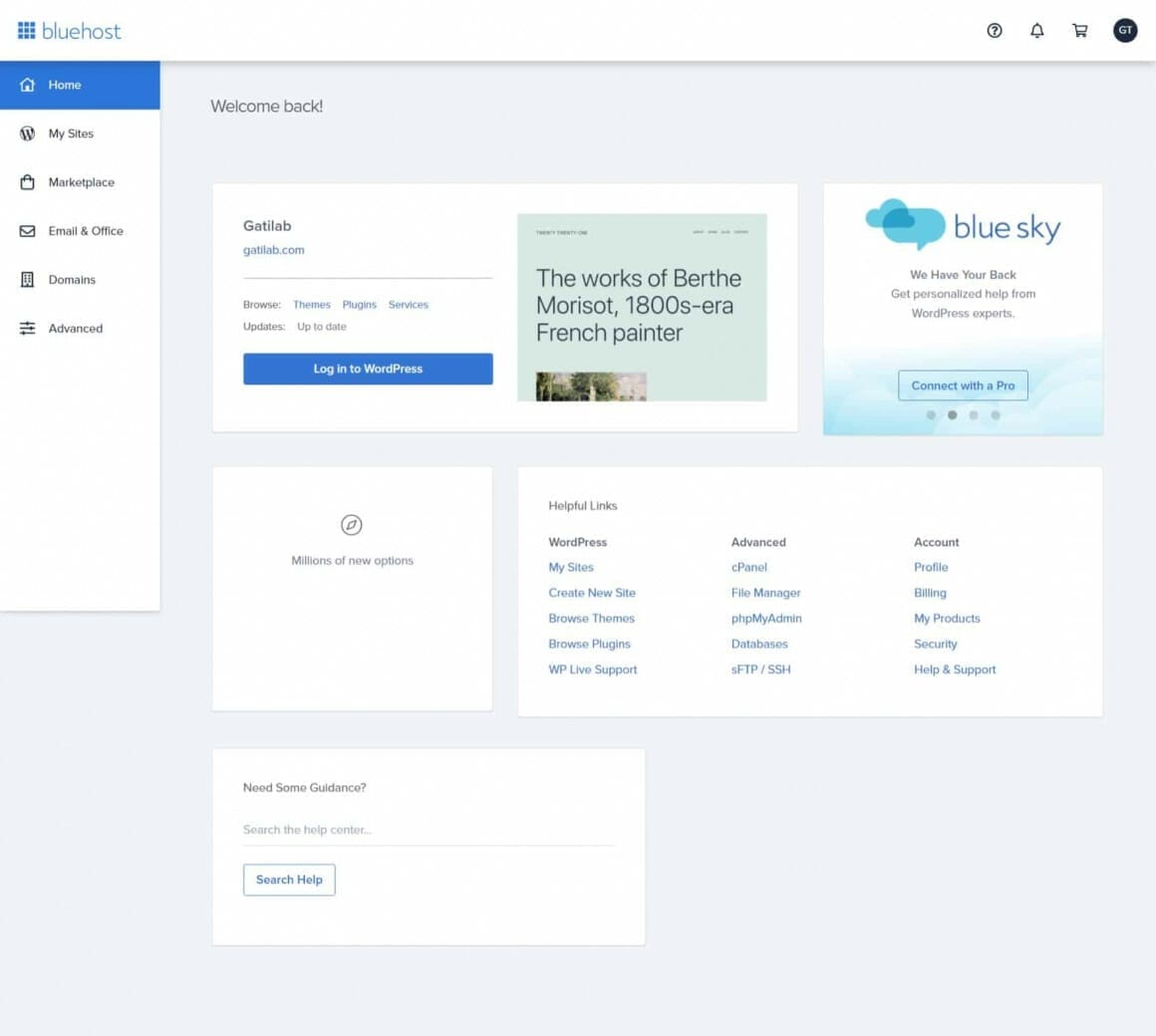 After WordPress has been successfully installed, you will be given your admin login URL, site URL, username, and password. You will also be emailed a copy of all these details, except your password. You must make sure that you keep it stored safely.
You can now sign into your WordPress site by visiting the admin login URL, entering your username and password, and clicking "Log In". It will then take you to your WordPress dashboard. You are now all set to work on your new website, performing activities like writing blog posts, creating new pages, and altering the site's design using plugins and templates.
What to do next?
Now as your site is ready to launch — all you need to do is to install some plugins, make some changes and you are ready to go.
In the example above, we installed GeneratePress. There are some alternatives to GeneratePress that I suggest:
If you are running a business website, it is always required to have these three things on your WordPress site:
A Premium Theme: So that you can get more features, white label your design and get support whenever needed. Astra, Marketers Delight and GeneratePress are the three themes that I wholeheartedly recommend. You can change these themes whenever you want. Having a beautiful but SEO first design is very important
A Backup Plugin. There are several backup plugins to install for free. But if you can get a premium version in your budget — that will be gold. BackupBuddy by iThemes is a great plugin to use and it costs $80 for 1 site and $199 for unlimited sites. Alternatively you can go for Jetpack's Backup— which has a dedicated integration with Bluehost.
A Performance Plugin. Having a fast business website is essential, especially when you have a significant number of visitors. Get WP Rocket — the best WordPress performance plugin and that will boost your site's speed instantly. I have created a guide on how to set up WP Rocket here.
How to design my WordPress business website?
You can use page building tools like Elementor, Beaver Builder or SiteOrigin Page Builder to visually create a website of your dreams. All these page builders are business first and come with some premade layouts that you can use.
You can also install the Starter Templates plugin to get more premade layouts for free. You can modify these templates to make them your own.
How to install some important plugins?
Plugins add extra functionality to your websites. I have already suggested to install a backup and a performance plugin. Next we need to install an SEO and an analytics plugin.
Install Yoast SEO
This is the best WordPress SEO plugin on the planet. To install this, hover on the Plugins menu in your Dashboard and click on Add New.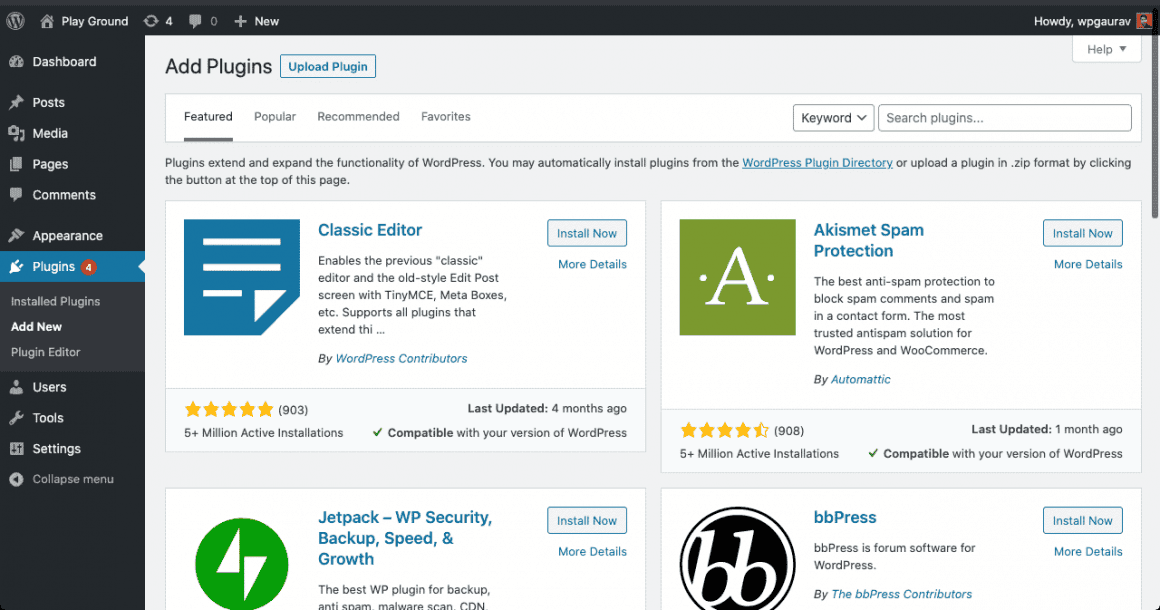 In the search plugins box, search for Yoast.
Install the first plugin and activate it. Now you will have a new menu on the bottom in the Dashboard – SEO. Click it and Yoast will guide you with the setup process.
See this video on how to set up Yoast SEO for your website. Installing an SEO plugin is a must for your business website. There are some alternatives to Yoast SEO, like Rank Math, SEOPress etc. You can go with any of these if you want. I have suggested only Yoast SEO because I use it on client's websites and I love it.
Install Google Analytics
This is easy now. Site Kit by Google allows you to link and install Google Analytics to your site. No coding is required.
Install Site Kit by Google from your Dashboard.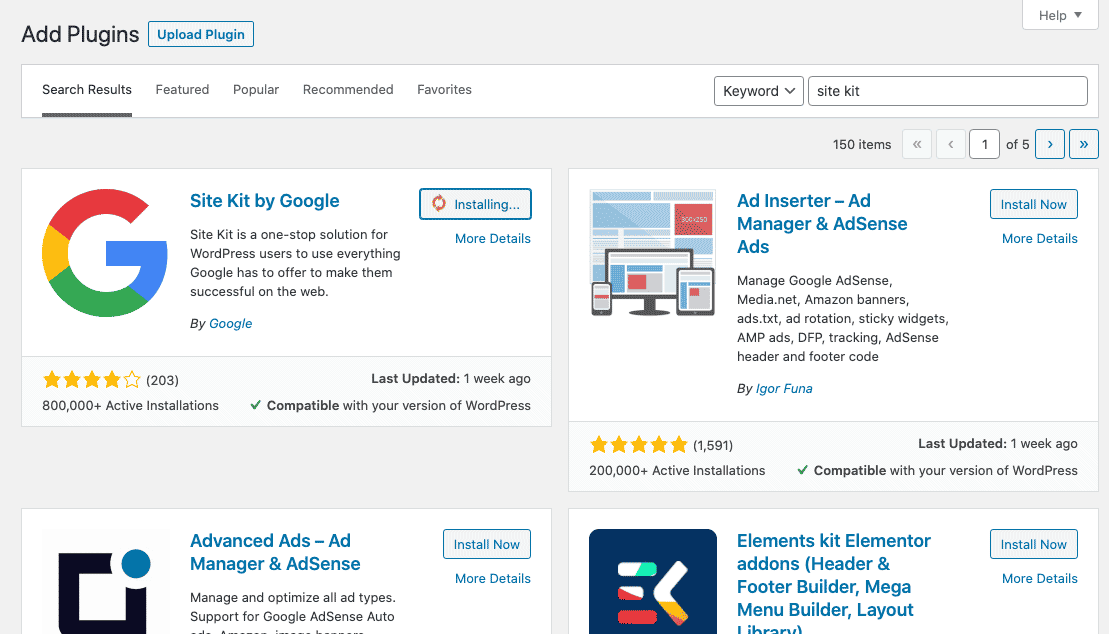 After activation, you will see a notice like this:
Click on Start Setup, login with your Google Account and provide all permissions required. Viola! You are done. Once set up properly you will be able to view all Analytics data in your Dashboard.
This process also connects your website domain to the new Google Search Console (earlier Webmasters Tools). The search console is the most important tool that you'll be using outside your WordPress dashboard. There you can traffic what keywords are ranking, which pages are getting enough exposure.
What are the advantages of using BlueHost for your Business?
Bluehost has been in the business for over 17 years and presently hosts more than 3 million websites. Here are some of the most notable advantages you can avail yourself by hosting with Bluehost:
Impressive server uptime – Website uptime is a very important factor in determining its success and popularity, because users cannot access your site if it is offline. In that case, you will lose a lot of revenue and reputation among your visitors. Bluehost, however, offers a truly impressive average server uptime of 99.9%. Plans like VPS, cloud hosting, and dedicated servers have a server uptime of nearly 100%. Unlike many other hosts, it actually adheres strictly to this standard.
Fast server speeds – Bluehost has servers situated in various locations all across the globe, such as Mumbai, Shanghai, Hong Kong, London, and Utah. Thus, it features sufficiently fast server speeds for shared hosting, and even faster speeds for plans like VPS or a dedicated server. You can also use certain bundled tools like Cloudflare to improve loading speeds even more.
Bundled daily backups – Backups play a very important role in preserving your website's precious data – an aspect that is often ignored. Bluehost offers daily website restorations and backups on all of its hosting plans. Thus, if anything goes wrong with your site, you can easily restore it from a previously saved version instead of having to put it together all over again from scratch.
User-friendly and easy to use – Building a website can be a rather intimidating task for newcomers. However, Bluehost has a customer onboarding experience that focuses on providing a comfortable experience to beginners. The user interface is easy to use, and complicated technical aspects are properly explained in simple terms. There are also a number of walkthroughs and tutorials to get you through any troublesome situation.
Excellent customer support – Bluehost features a friendly and helpful customer service team that can be contacted via various support options, such as phone support, live chat, and social media support. There is also a large support library to help you fix certain commonly encountered issues by yourself.
FAQ
Is WordPress free with Bluehost?
WordPress is a free open-source platform that is used by more than 40% of all websites today. With Bluehost, you will have access to web hosting and a simple one-click installation of WordPress. However, you need a Bluehost account and a paid plan to get your website online. After all, WordPress on its own is just a piece of software without a web host.
How can I connect my WordPress to Bluehost?
I've already covered the steps for connecting your WordPress to Bluehost in detail above. Here's a short summary of the same:
– If you're totally new to all of this, choose "a little help" at the beginning.
– Choose whether you're creating a business website or online store.
– Inform Bluehost how comfortable you are with creating websites.
– Select relevant details about the website you're going to create.
– Choose a WordPress theme, and proceed to finish.
I did not select a domain name while signing up. Will I be able to get one later?
Absolutely. You just need to sign in to your Bluehost dashboard and click on "Domains" in the left side menu. At the top right of the window that opens subsequently, you will see options to transfer an existing domain to Bluehost or purchase a completely new one.
Is Bluehost a good choice for blogging?
You must remember that Bluehost is merely a web host platform. Users do not directly do the actual blogging on Bluehost. Rather, you will be doing all of your blogging in WordPress itself. Performance wise, however, Bluehost is amongst the best.
What is the cost of using Bluehost?
The pricing of Bluehost begins at $2.65 per month. If you check around the holiday season like Black Friday, Halloween and Christmas, you are likely to come across special deals with lower rates.
Is it necessary for me to use WordPress with Bluehost?
No, it isn't a compulsion. Although Bluehost works exceptionally well with WordPress, it is definitely not your only option. You can readily use various content management systems with Bluehost. Examples of such systems are Joomla and Drupal, which work perfectly well with Bluehost.
What is the cost of using WordPress?
WordPress is free to use. It is an open source program that you can use through various web hosts. The only cost you'll have to pay is to have a web hosting service.