5 Best Business Plan Software for Startups
Starting a business is very tedious work (see our guide to start a new business here). You have to come up with a business plan first. This business plan will contain many details about your business, from the basic concept to the financial plan, detailed overview, and pricing. It is very hectic work and needs to be arranged and kept track of properly, and this is where business plan software and tools come in handy.
5 Best Business Plan Software and Tools
Let's see the top 5 business plan software and their features so that you can get all the information you need while choosing one. The right business plan software will make your business planning much easier and simpler.
Here is a list of 5 best business plan software that you should look into:
A comparison of these business plan software is as follow:
| Business Plan Software | Starting Price | Free Trial |
| --- | --- | --- |
| LivePlan | $15/mo | ❌ |
| BizPlan | $29/mo | ❌ |
| Enloop | $11/mo | ✅ |
| PlanGuru | $99/mo | ✅ |
| BizPlanBuilder | $27/mo | ❌ |
LivePlan
LivePlan is a cloud-based business plan software that is very popular. It is one of the best software available in the market with tons of features. LivePlan provides its services mostly to small and mid-size businesses.
Known for its great user interface.
Very easy to use and slick.
Allows you to make unlimited plans using a single account and comes with 500+ personalizable templates.
Contains many business resources such as video lectures, step-by-step instructions, and customer support.
Integrated with Xero and QuickBooks Online.
You can even track in real-time your financial data.
Convert the business plan into a pdf/word file, performance dashboard, and creating and exporting a one-page pitch executive summary.
LivePlan comes with three billing plans viz Annual plan ($15 / month), Six-month plan ($18 / month), and Pay-as-you-go plan ($20 / month).
BizPlan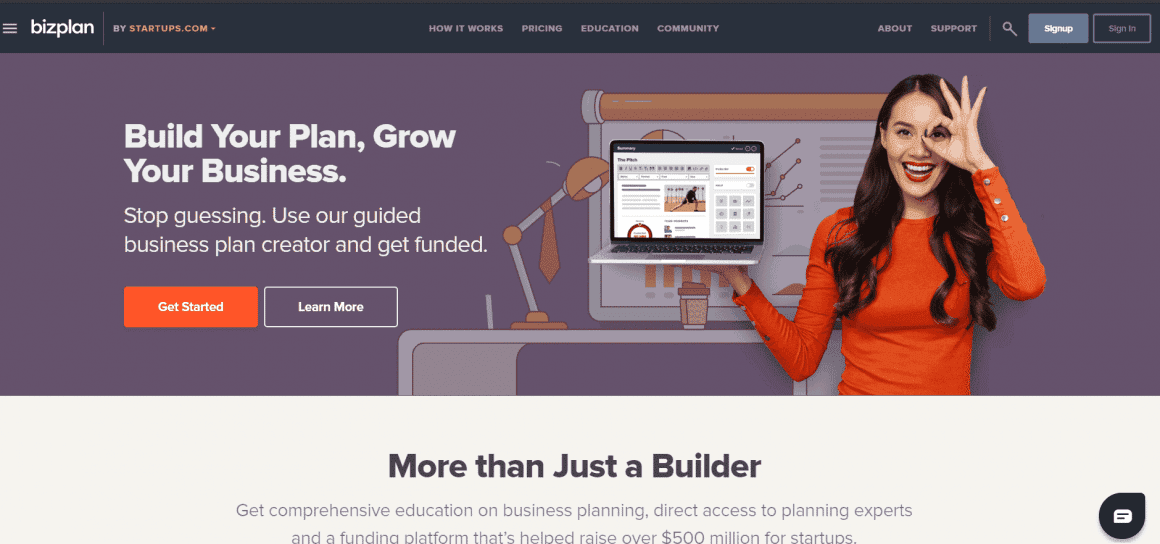 Bizplan is a remarkable and user-friendly business plan software. Its core features include:
Highly intuitive user interface.
Step by step business planning instructions to help you construct a top-notch plan.
Drag-and-drop templates
Unlimited account collaborators
Sharing options of business plans online
A financial dashboard to keep track of business finances
Video tutorials, self-guided courses and mentorship access
BizPlan has 3 pricing plans viz. Monthly plan ($29 per month), Annual Plan ($20.75 per month, billed at $249 per year), and Lifetime plan ($349 one-time payment).
Enloop
Enloop is a solid choice if you are looking for a powerful online business plan software. It is an excellent choice if you are looking for a simple and basic planner. It provides a free seven-day trial for you to see if the software suits your needs or not.
Enloop includes various business plan-related features like:
financial prediction
automatic text writing
instantaneous performance score, and much more.
Additionally, you can create three business plans by including personalized images, text, charts, tables, and more like others.
It also provides automatic financial statements, financial performance comparisons, real-time performance checks, pass / fail reports, and others.
Enloop offers three billing plans which are free trial (7 days free trial without card details), Detailed plan ($19.95 per month or $11 per month, paid yearly), and Performance plan ($39.95 per month or $24 per month, paid yearly).
PlanGuru
PlanGuru is a business tool focusing on forecasting, computing, and performance tracking for small to mid-sized businesses. It is integrated with Quickbooks, Xero, and Excel, making its utilization and implementation easier and more flexible.
If you are looking for a business planning software and don't know which one to start with, PlanGuru is an excellent choice for you. PlanGuru is mainly dedicated to the financial aspect of business planning and provides you with reports and data.
PlanGuru is a cloud-based software that can be locally installed on Windows. It contains 20+ forecasting methods and gives you forecasting for ten whole years.
PlanGuru provides a free 14-day trial and offers two priced plans viz. the $99 per month plan and the $899 per year plan.

BizPlanBuilder
BizPlanBuilder is a great business planning software as it comes with both cloud-based and local downloaded options. In addition, this software provides you with many templates depending on your needs.
BizPlanBuilder focuses more on the financial planning and tracking of your business, but you can create a startup business plan with it too. It comes with lots of helpful features like providing an explanation tab and video explanations when starting a new business plan, a business plan workshop for your better understanding of investors' needs, the ability to make a pitch deck, and flexibility to create 5 to 10 financial models.
In addition, BizPlanBuilder has a free guest account option but billed plans are required if you need more features.
BizPlanBuilder is a part of Business Power Tools suite. The plans are a $97/month plan(for all features included), $27 / month (for planning, start-ups, and growth funding), $47 / month ( including employee policies and procedures), and a $37 / month plan (for marketing, PR and sales).
Conclusion
Good business planning is needed to execute your business successfully and help it flourish. The software mentioned in this article will help you to do exactly so. Crafting a detailed business plan also attracts investors and lets you show how meticulously you have planned out everything. So, to help your business get investors and make it running, we suggest you these five business planning software. These are the best software available in the market for the task. We hope you can select and use the one that suits your needs the most.