Best Online Bookstores to Buy & Rent Books Online
The Internet now offers everything, doesn't it? You can now buy books, audiobooks, ebooks and whatnot – all from bookstores that are available online. But which ones are the best online bookstores and websites that you can shop for your favorite books?
I am asked this question every time, which is why I have listed the 10 best online bookstores to buy books and related stationaries online.
So without further ado, let's hop on to the list of the best online bookstores and shopping sites. The stores and websites listed here offer not only new books that you can own but used books, rentable textbooks, and more.
Please note that Amazon, Walmart, and BestBuy like stores are not specialist bookstores, but these, too, sell books & collectibles. I have listed only the specialist bookstores here.
Books A Million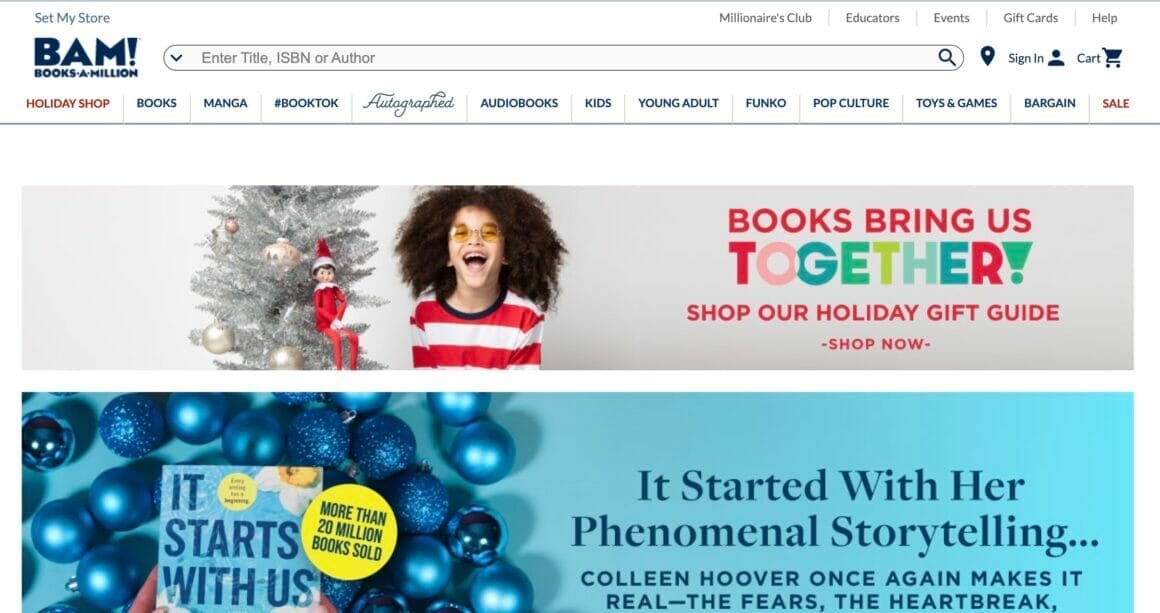 Books A Million was originally started more than a hundred years ago (not kidding) — in 1917: as a physical store in Florence, Alabama.
Since then, it has not only grown to become one of the largest book retailers in the US but also become one of the most popular online bookstores in existence. It operates more than 260 stores in 32 states and the District of Columbia.
You will find bargain books, weekly deals, and various other exciting offers on the numerous titles available on their website. The store often features an exciting selection of remnant books as well. These books didn't originally sell well for some reason and are subsequently offered at a discount of 75-90% off the regular price.
Here you can shop for more than just books, Books A Million offers audiobooks, manga, comics, toys, games, and collectibles as well.
AbeBooks
At AbeBooks, trusted independent sellers from around the globe offer millions of new, used, and rare books. You can grab the latest bestsellers, forgotten out-of-print titles from bygone years, and collectibles such as first editions and signed copies for economical prices over here. Their collection even includes copies of long-defunct magazines, 19th-century postcards, and ancient manuscripts created before the invention of the Gutenberg press!
AbeBooks caters to millions of customers from almost every country in the world who buy books and other printed material published in numerous languages. It is certainly a highly recommendable resource for every bookworm out there. Apart from books, the store also offers other interesting items such as fine art, vintage comics, photographs, and paper collectibles for sale.
Book Depository
Book Depository is a leading international book retailer that hosts a catalog of more than 20 million books without any minimum spend whatsoever.
It features both the latest titles in the market and a special "bargain shop" where users can find books at incredibly cheap prices. The store ships thousands of books daily from its fulfillment centers in Gloucester (UK) and Melbourne (Australia) to over 130 countries across the world sans delivery fees.
In 2011, Book Depository was acquired by Amazon and had been working to ensure the best possible experience for its customers worldwide. It has a dedicated team regularly working to help customers with their shopping. The team also makes title recommendations and shares them for avid readers to check out.
Book Outlet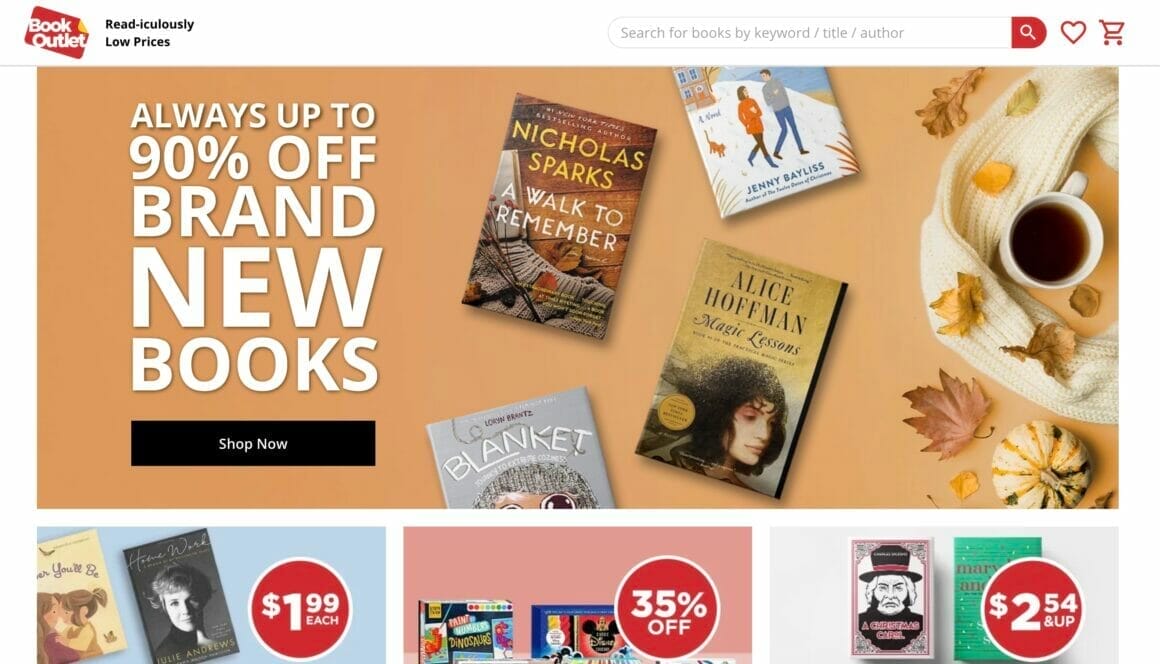 Book Outlet was founded in 1985 by John Hultink. Ever since, it has emerged as a major brand and strives to make more and more people discover the joy of reading books. For that purpose, it offers some of the most unbelievably low prices of great titles that you are unlikely to find elsewhere. At the store, you will come across a massive selection of titles from various genres such as children's books, fiction, biographies, and much more.
The store offers two categories of products:
Bargain Books – These are excess inventory and store returns that are available for up to 90% off the publisher's original price. The store ensures that the books are all new and in good reading condition.
Specialty products – These are books and related items that don't fall within the regular bargain pricing model but nevertheless offer great value. They represent purchases made at a higher price point and are usually discounted 10% to 65% off the original retail price.
KidsBooks
As its name suggests, KidsBooks aims to provide customers with a wide range of kids' books for economical prices. Its website features extensive collections curated by its dedicated and experienced staff and guarantees the best possible price for the books you are searching for – even lower than Amazon's price.
Since its inventory comes in from publisher overstock, the books tend to be in outstanding condition. As of now, KidsBooks offers free shipping in the US and Canada for all orders over $35 and $45, respectively.
Better World Books
Founded by Xavier, Kreece and Jeff, Better World Books is known for its noble goal to promote literacy all over the world. Whether you buy a school textbook, fantasy novel, or non-fiction biography from them, you can feel proud of what you just did – because for every purchase you make, the store donates a book to a person in need.
Their annual literacy grants fund educational non-profit organizations and libraries for projects to reduce global poverty through education. Its major partners are Books for Africa and Feed the Children, which take large numbers of donated books and distribute them to people who require them.
Biblio
Biblio was created for, as its name suggests, bibliophiles or people who live in books. It features a huge collection of over 100 million rare and used books cultivated individually by its independent sellers.
It prides itself on working with reputed booksellers from around the world to create one of the most unique online bookstores. In 2005, its team created a non-profit organization named BibilioWorks to provide books to communities in need.
Barnes & Noble
Barnes & Noble is one of the premier destinations for online customers when it comes to books. It has massive warehouses across the US and keeps over a million titles stocked for immediate delivery – a number far more than any other online bookseller.
Its efficient search engine allows customers to easily locate books by author, title, or keyword in just a few seconds.
Also, it provides editor recommendations and customer reviews on hundreds of thousands of titles.
Using its See Inside program, you can read excerpts from various titles.
Thrift Books
Thrift Books offers a collection of over 13 million titles for you to choose from – from the oldest board books to the vintage classics of English literature.
It also has cheap used books and offers free shipping in the US. Moreover, the orders are shipped in environment-friendly packaging. Books that are not in demand are donated to charity or get recycled.
Costco
Costco is a wholesale store and membership warehouse club that aims to offer its members the best possible prices on quality branded merchandise.
Founded in 1976, it has grown to become a multibillion-dollar global retailer with warehouse club operations in eight countries. Although people don't usually think of books when they hear about Costco, it is a great place to buy kids' books and book sets at excellent discounts.
The Costco Warehouse sells new books at a much lower price than all other wholesale retailers.
Several independent bookstores have also been known to purchase some of their books from Costco, because it costs them much less than buying them wholesale directly from the publishers.
Conclusion
With the growth of technology, every aspect of our lives has been influenced in some way, including the books we read.
Gone are the days when one needed to spend hours scouring the local marketplace for a title one needed badly, only to return home empty-handed and disappointed.
Today, there are numerous online bookstores where you can easily search for any title you are looking for and find a new or used hardcover copy within no time.
You can even visit multiple websites instead of just one to find better-quality copies or lower-priced ones.
These online bookstores are handy resources for readers and people looking for specific titles. They help you find rare titles, used copies of books, and new books at affordable prices. I hope this article helps you find the books you are looking for and have a most enriching experience reading them.