How to Apply for CCC Exam Online?
Every candidate who is on the board for the CCC (Course on Computer Concept) examination should wake up as the online forms are now ready to get filled. First of all, let us brush up CCC certification program.
This program is launched for candidates who are willing to magnify their knowledge of computers.
If you are one of such ambitious candidates, then read the blog until the end, as it comprises all the information on CCC online exam form. Without filling out the form, you can never be permitted to sit for the examination; hence ensure doing this task to the soonest.
Also read: How to prepare for entrance exams in India?
About CCC Exam 2023
Organized by
National Institute of Electronics and Information Technology (NIELIT)
Certificate provided
CCC Certificate
Course Name
Course on Computer Concept (CCC)
Course Duration
80 Hours
Exam date
Every Month in a Year, except January and July
Mode of Examination
Online
Official Website
https://nielit.gov.in
Requirements for CCC Application
Before you spring up with the online filling of CCC, it is valuable to bag these prerequisites.
Mobile number
Email id
Photograph and signature (scanned)
Left thumb impression
All these four are vital, and if you miss any, then there is no chance of getting through the online process in any manner.
Application Process
The online application form of CCC is very easy if you follow the steps: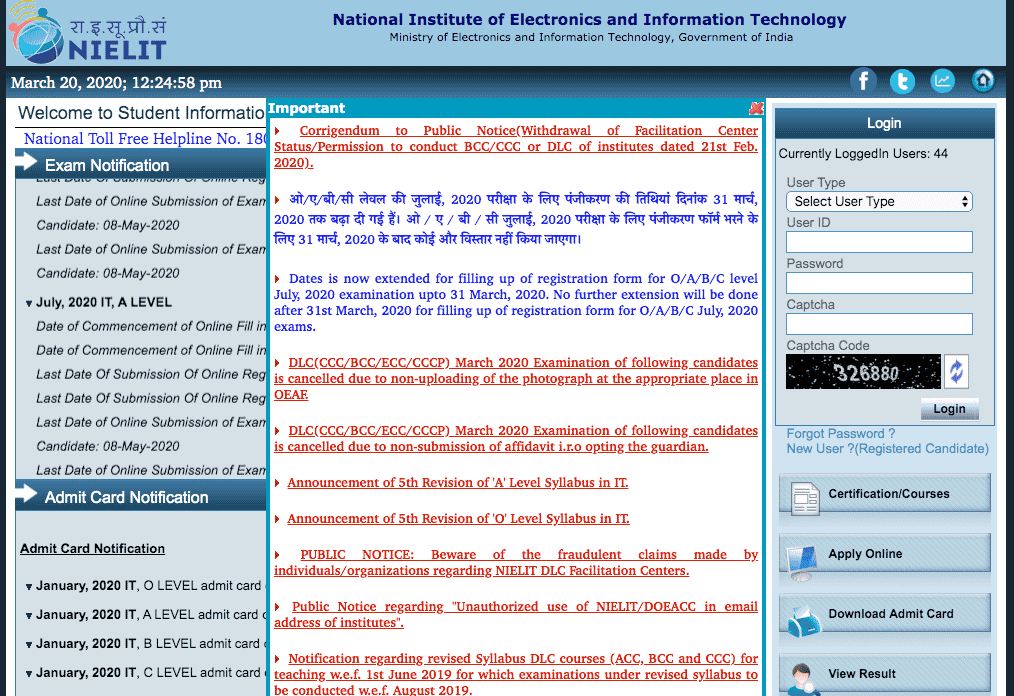 Open with the official student portal of NIELIT as your first step.
Check for the tab that shows Apply Online and then click
You will be shown with many numbers of courses, where you have to select the CCC course.
You will come across a list of terms and conditions, read it, and then tick on the given box along with Proceed.
The CCC application form is now live in front of you and start filling it with the details as asked.
Enter the documents, photographs, and signatures per the instructions.
Carry with the payment method as per your suitability after checking the entire form for mistakes.
Now, you are left with the last step, i.e., taking the prints of the submitted CCC application form.
You can also download and save the form for future use as well, but prints are needed.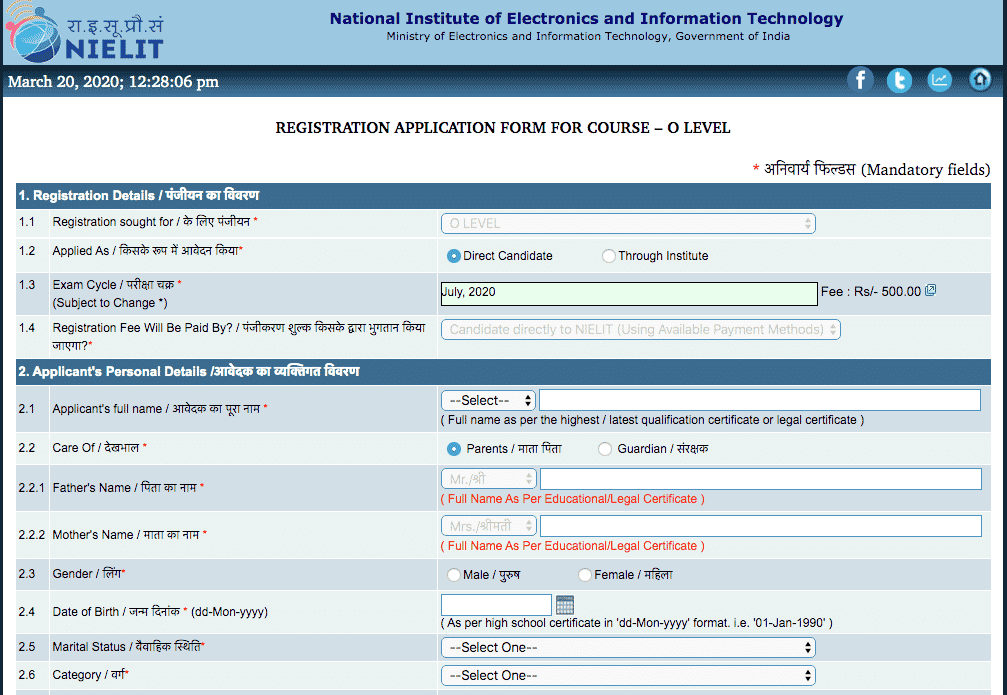 Can I apply for CCC examination without registration?
No, you are not deemed to fill the form unless the registration process is done, as it will not allow you at all.

How will I know whether I am eligible for writing CCC examination or not?
To meet your eligibility criteria, check the below-mentioned bullet points.
Candidates who are sponsored by the
Institutes recognized from NIELIT
By the Government recognized schools, or colleges plus has UIN (unique identification number commanded by NIELIT.
Direct candidates – are the ones who are neither sponsored by any of the above-mentioned points.
By the end, we can assure you of passing the primary step of applying for the CCC examination. CCC online form will only be available from the NIELIT student portal, so kindly do not try to use any other mode. After you are done, start with the task of preparation, and it will help you in reaching your innovative goal. 
CCC Admit Card
Once you have rightly filled out the form, look for notifications for admit card. Here's what your admit card would look like:
CCC Result
The result will be announced in a month or so. Keep looking on the official website to check the result when available.
The result is offered in grades and can later be accessed from https://certificate.nielit.gov.in/
Here's how a certificate would look like: