Top 5 Free Web Hosting Services to Start a New Website
The best things in life are free, although that is not always the case. How all that glitters is not gold, and everything that comes for free might not be the best in quality. In this article, we have collected the cream and listed the top 5 free web hosting services in 2023 that you can use to start a new website.
Free web Hosting has been quite popular over the past few years and why not! With all the various expenses charged for the successful running of a website, it is a relief to cut costs for once. If you are looking for paid hosting services that are cheap and ready for beginners, then you should refer this article.
If you want to go a step ahead, try our recommendation of the best WordPress hosting services.
Today the Internet is crowded with websites popping up every second of the day and not everyone is willing to pay money to host their websites.
Free web hosting is the best solution for you if you are someone who is just starting their online journey or if you are a learner, student, tester, or a Non-Profit Organization and do not want to worry about long-term contracts. 
However, it is seen that some free web hosts do not always offer what they promise that commonly entail slow speed or not-so-good server uptime but do not worry, I am going to tell you all about the best Free web Hosting available in the market and how it is beneficial for you.
1. GoogieHost
The Best Free Hosting in the Hosting Industry
Only Free web hosting with Direct Admin plus Cloudflare.
Googiehost is the most favored free web host in the name of the hosting industry. Googiehost is an 8-year-old company instituted in the name of providing free web hosting to all the small businesses and the non-profit organizations that had nowhere to go!
GoogieHost is also quite a catchy name as it resembles the one and only Google and is working out the best for it. The company has hosted over 2,12,020 websites all around the world.
GoogieHost works its best towards growing your website and among all the free web hosts I've come across, GoogieHost is the best in every aspect. Let us look at some of its features to get a clearer aspect:-
Features of GoogieHost Free Web Hosting
GoogieHost provides a disk space of up to 1GB which is quite applaudable.
It provides you with a free subdomain with 2My SQL Databases for unlimited monthly traffic
A bandwidth with 100 MBPS uplink
It also gives you a free SSL Certificate
Free Site Pro Builder
It gives you free installation of Softaculous
24×7 customer support including ticket support, email support, etc.
99.95% uptime and great speed
GoogieHost is the only Free web hosting company delivering free cPanel and Cloudflare. Moreover, just with a few limitations here and there, GoogieHost has some great qualities of its own along with being a prominent Free web Hosting company. Take a look at the pros and cons of GoogieHost:-
Pros
You can create an unlimited amount of free subdomains for free with the help of the domain present in your account plus you get a free subdomain beforehand.
The very popular cPanel is really easy to use and navigate through.
GoogieHost does not enforce their ads on your website with free hosting; they save it for the premium ones.
GoogieHost has a unique base of knowledgeable expertise and is at your service 24×7. You can also opt for its premium services just at 50 cents.
It offers a unique referral program.
Has a great responsive Control Panel.
It charges zero renewal cost for SSL Certificate
The small print copyright notice extends until 2023 to save you from infringement.
Cons
GoogieHost's few revenue models run on some of its websites but never on the user's site.
Its uptime is not the best but still better than most.
You need to provide a reason to verify your website but just to be protected.
Why choose GoogieHost over other Free Web Hosting?
GoogieHost delivers you the best quality tools & features one can offer. Apart from delivering the best of features, it takes care of your site as their own. Unlike most of the free web hosts, GoogieHost provides a server uptime of 99.9%. The company has the best record in delivering great customer service to its clients around the globe. And the cherry on top is some of the features of its premium package which I don't think any company provides.
I have tried its services personally and it fulfills everything it promises, so if you're looking to grow your business, even more, this is the best option for you.
How to sign up for GoogieHost Free Hosting (steps)
Follow the steps given below to sign up for GoogieHost Free web Hosting and get your account ready in no time:-
Look for better premium alternatives
| Hosting | Starting Price/month | Starting Number of Websites | Starting Storage | Bandwidth | Signup Link | Free Domain |
| --- | --- | --- | --- | --- | --- | --- |
| EasyWP | $1.44 | 1 | 10GB | ~50,000 visitors | | No |
| Hostinger | $1.99 | 1 | 30GB | 100GB | | Yes |
| Hostgator | $2.75 | 1 | ∞ | ∞ | | Yes |
| Bluehost | $2.95 | 1 | 50GB | ∞ | | Yes |
| A2 Hosting | $2.99 | 1 | 100GB | ∞ | | No |
| ScalaHosting | $14.95 | ∞ | 50GB | ∞ | | No |
| Nexcess | $19 | 1 | 10GB | ∞ | | Yes |
| WPX | $20.83 | 5 | 15GB | 200GB | | No |
| WP Engine | $25 | 1 | 20GB | ~25,000 visitors | | No |
| Rocket.net | $25 | 1 | 10GB | ~250,000 visitors | | No |
| Kinsta | $25 | 1 | 30GB | ~25,000 visitors | | No |
2. 000WebHost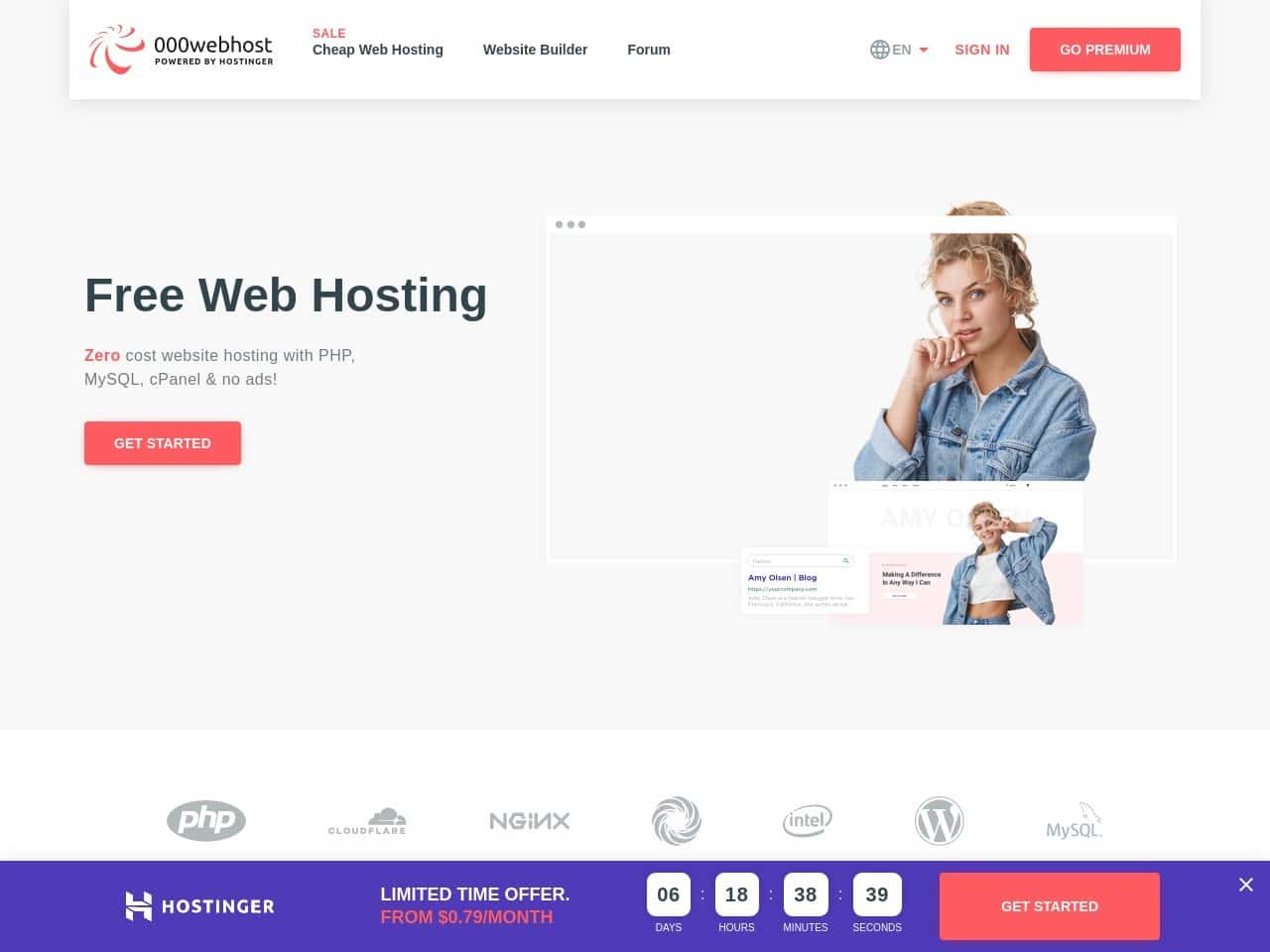 000WebHost started more than a decade ago in 2006 in beginning as an auxiliary to Hostinger. It claimed to be a leader in the field of Free web Hosting in its early hosting days and it surely was. But around 2015, almost 13.5 million accounts were stolen from the company and its entire database was ruptured.
Now, the scenario is quite different, 000WebHost although being a great host for beginners is quite a commotion. The constant ads popping up on the screen for a premium up-gradation is a tad difficult to keep up with. However, 000WebHost provides some awesome features like instant account activation and delivers more than average speed. Let us take a look at some of its features to get a deeper dive:
Features of 000WebHost
000WebHost has an already included subdomain
It provides a 3GB Bandwidth and a 300MB disk space
It offers you less than average uptime and a more than average speed
Zero cost Web Hosting with PHP, MySQL, cPanel
No ads on your free website
Instant account activation
000WebHost might be an argumentative option for some but it is a great choice for small businesses and if you're looking to create a space on the Internet for yourself, this is the one for you. Though it has a few limitations, it also adds up some advantages to work for you. Take a look at some of its pros and cons.
Pros
Instant activation of your account
It is an experienced Free web Hosting
WordPress Auto Installation, Direct Admin, and Website builder
There will be no ads popping up on your screen
It gives you a more than average speed on your website
It provides 10GB Bandwidth for a moderate traffic
Cons
You are given a single Bandwidth for 2 accounts
Too many popups on your screen for premium up-gradation
Internet crashing and mostly your website sleeps for an hour within a week
It has a bad uptime of only 99.7% and has no support team at their end
How to signup for 000WebHost
3. FreeHosting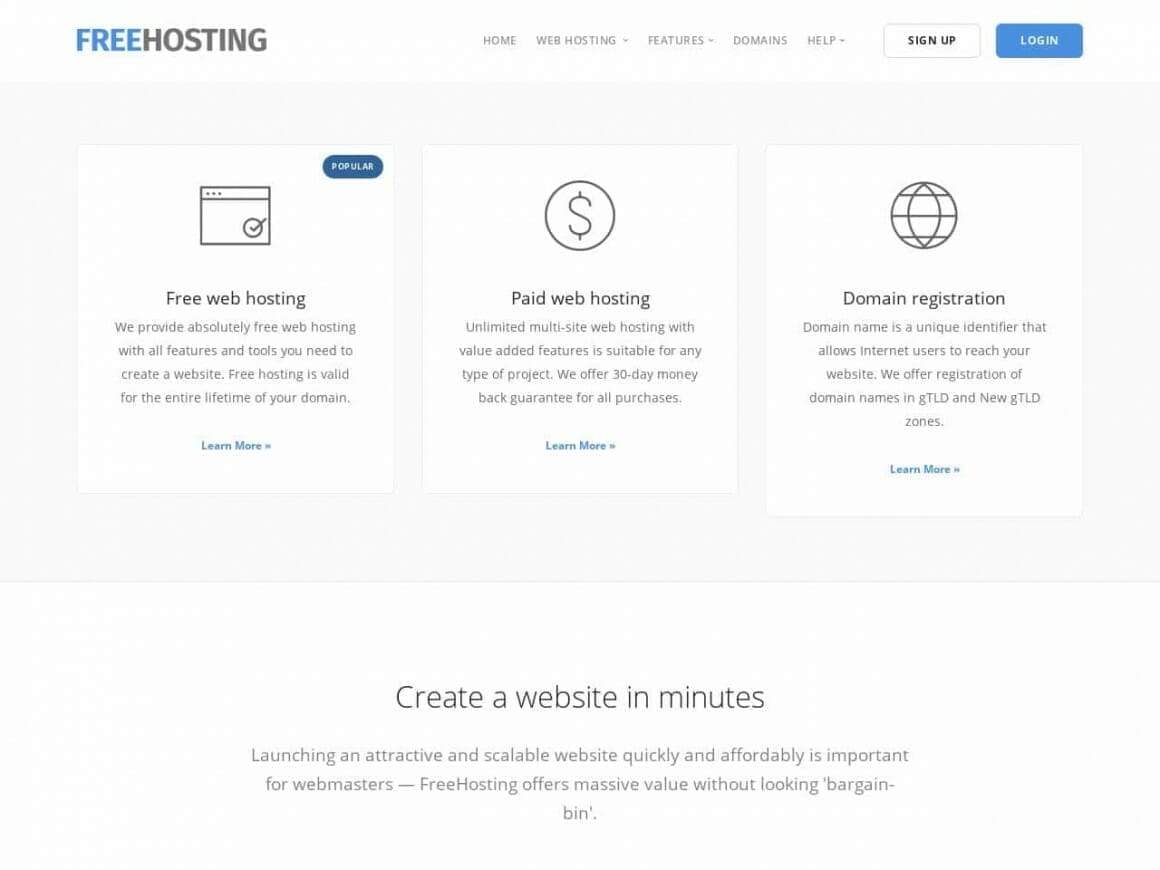 FreeHosting being a 21-year-old & experienced company was probably a big attraction for small businesses. However, it has not had many technological advancements since then. Still, FreeHosting delivers some great features like unmetered Bandwidth as the company says which is a big deal. FreeHosting is a Free web Hosting company although it charges for its domain registration. But let us see some of its features to get a broader aspect:-
Features of FreeHosting
FreeHosting provides a 1.5GB Disk Space which is enough to save backups
The company promises an unmetered Bandwidth which sometimes is 250GB which is still pretty good
It offers Softaculous Auto Installer
You can raise a ticket support
It gives you FTP and cPanel access and a My SQL Database
FreeHosting claims to have unmetered Bandwidth and all of its services compensate for its limitation. But there are still quite a few limitations to this Free web Hosting which is great for you if you're on the Internet for entertainment purposes or do not have fancy needs.
Pros
You get a 10GB storage which is more than enough to save backups
FreeHosting's unmetered Bandwidth is like a bonus for you
There is no display of advertisements on the cPanel
It builds your website quite efficiently
It offers a multilingual cPanel
Cons
It is very slow in its speed
It does not provide you SSD disk space instead it gives HDD disk space
Website Builder provides templates useful for beginners only
Despite being a Free web hosting company, it charges for its Domain registration
It provides very slow responses to technical queries and does not have a ticket support
How to sign up for FreeHosting (steps)
4. FreeHostia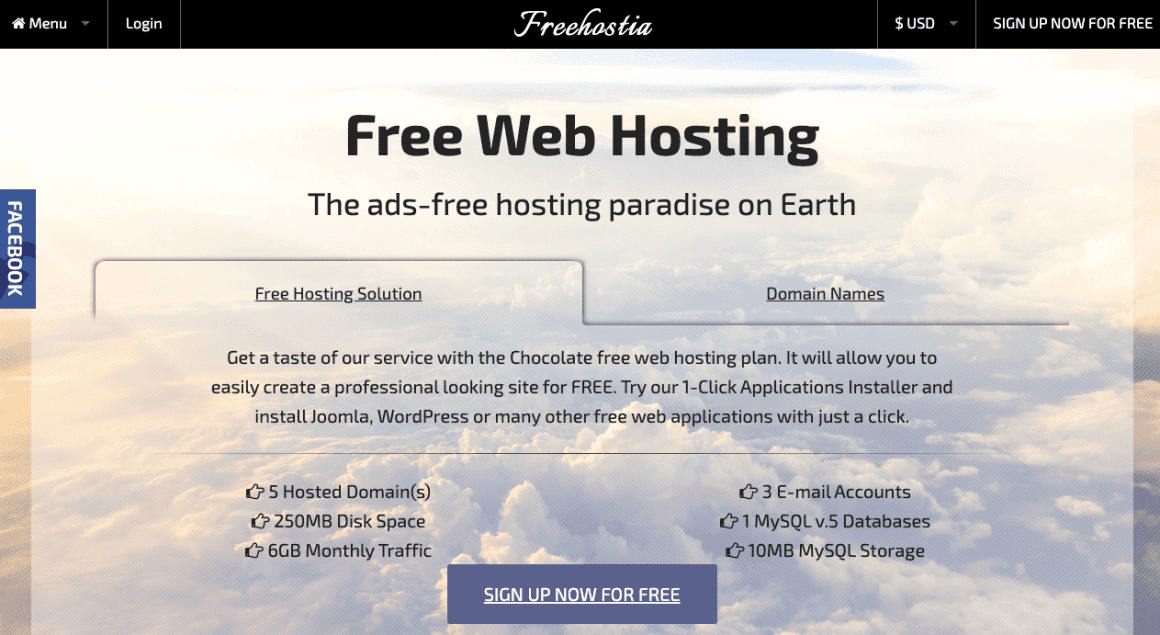 FreeHostia started its free web hosting company in 2005 and is a USA based company with a Data center in Chicago. The company provides Cloud hosting for free which is a great deal. If you want to create a Blog for your website then this is what you should go for. FreeHostia does not offer a free domain as well and you have to spare some money to get a domain registered but afterwards, it is great and has a bunch of features to make you invest in:-
Features of FreeHostia
FreeHostia provides you with a 250MB of Disk space
It gives you a 50MB Backup size limit
It also has a 6GB Bandwidth capacity which is not great but more than enough
It offers you up to 5 Domains which is a big plus point though it also gives you just a single My SQL database
It gives you the facility of Ticket/FAQ Support
It has CMS (Content Management System) enabling WordPress installation
FreeHostia is a great Free web Hosting for those who are looking to grow their business but do not have many requirements. Still, you might not want to stick to this plan as it suffices your basic needs only and might want to switch to other Free web Hosting sites for a better experience and a cheaper premium plan.
It has both pros & cons to its Free web Hosting, let's take a look:-
Pros
FreeHostia offers load-balanced server clusters to have an increased load time
It offers up to 3 Free email accounts and 5 Hosted Domains which is its biggest plus point
Instant few clicks installation
It provides a fast ticket support
It gives more than average uptime of 99.7%
You will have lesser ads on your website
Cons
It has very small disk space and a low Bandwidth quality
It provides no call, email, or ticket support which is like having zero customer support
It might offer good services but it is not enough as there are only a few
It also does not give you a good speed
Plus you don't get a free subdomain
How to sign up for FreeHostia
5. Wix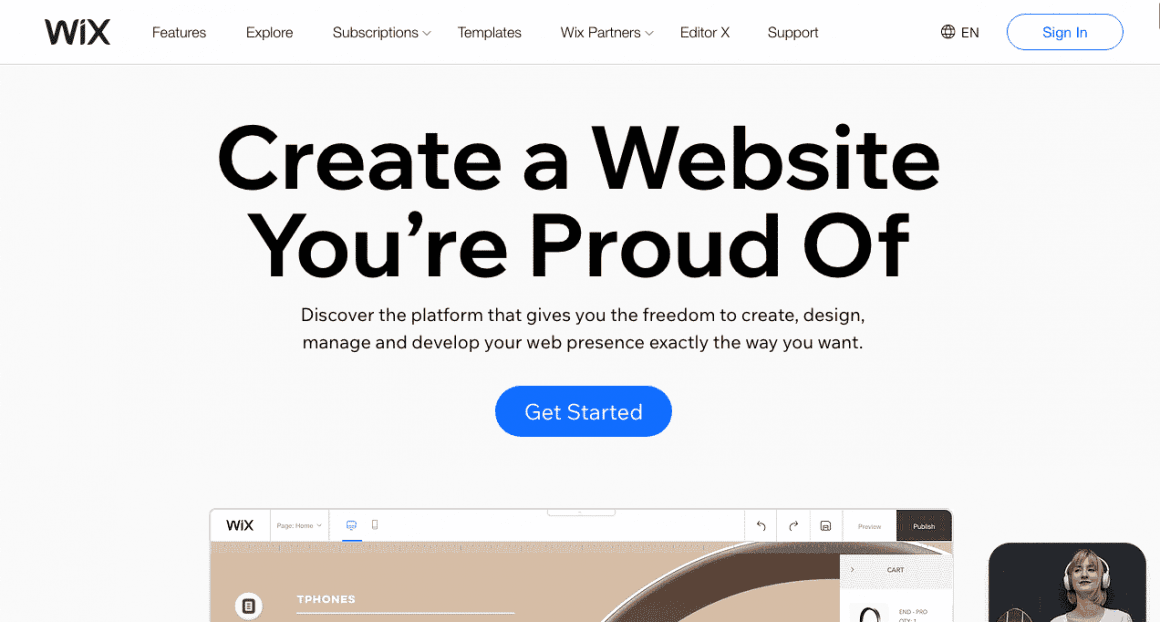 Wix, very popular among the drag & drop Free web Hosting builder was founded in 2006 and has hosted over 50 million websites since then. There is a possibility you might not like it if you are into coding but if you want a normal site or want to open a small online shop this is appropriate for you. Wix is a convenient option for those who want to work from home plus it runs almost the same on your Mobile phones too which is an added advantage. So, take a look at some of its features to get in detail about it:-
Features of Wix
Wix offers Mobile Optimization which is like the biggest advantage you can get if you do not have a computer
You get Customized Domain names
It gives you 500MB Bandwidth
It also offers SEO for advanced Google search and is great for your website to get a reach.
Wix is your desired platform if you want to showcase your skills or a blog on the Internet. You will never get over the variety of features it offers. Though it is not made for the techies out there or professional business growth, you can surely have fun with it. Go ahead and check out some of its pros & cons:-
Pros
Wix offers more than 500 templates for your website
It provides a website builder and email facilities
It helps in giving your website a display on Google through SEO
The best thing is it works on your mobile as well
Cons
It provides a disk space of a mere 500MB with the same Bandwidth and is really less if you see
It works only for your basic needs and does not cater at all to high profile business services
It is not a suitable platform for uploading videos
Their customer support is non-existent
How to sign up for Wix
Conclusion
Well, free web Hosting might not offer you as many features as the paid ones do but you get an essence of what hosting is actually and after a while, you can switch to paid hosting when your business grows and you need a wider reach. Free web Hosting gets you up and about to start your online journey.
All these companies are great on their own and offer you quite intricate features that will help you learn how to control your website but if you ask me, GoogieHost offers some of the great facilities for its Free web Hosting which some premium hosts do.
GoogieHost comes with a whole lot that too for free! Plus it provides great customer support too so that you're not confused. It might be lacking in a few aspects but compensates it all intending to provide you the best Free web Hosting out there. So, read the full article and choose what's best for you.