Best Free Website Builders of 2023 with Drag and Drop Support
Gone are the days when you had to hire developers & agencies to code and develop sites for you. Over time, many website-building tools have emerged, helping you build sites with just drag and drop for free. But the battle to become the best free website builder is real. That's where this article will come to the rescue.
Last month, I went through the top 10 & best free website builders in 2023 all over the internet and then finalized my list of HTML5-based builders available for free.
Here is my list of the best free website builders that you should check out. These are total 13 in number.
Let's talk about each website builder in detail.
HubSpot Website Builder
HubSpot CMS, which used to cost $25/month, has recently become free to use and includes several content management features, including a drag and drop website builder.
HubSpot's free website builder is built specifically for businesses and marketers who want to take control of their websites without needing a developer. With it, you can update the look and feel of your website as you see fit.
As you may already know, HubSpot offers a range of marketing services, so you can have your website integrated with those marketing tools in no time.
About HubSpot CMS Free: HubSpot CMS free is a free suite of content management tools with automated security, SEO recommendations, and more.
Google Sites
Google Sites offers easy website building with its modern editing interface and business integrations. The drag-and-drop interface gives you free access to all the Google Apps like maps, calendars, calculators, analytics tools, docs, etc.
Site123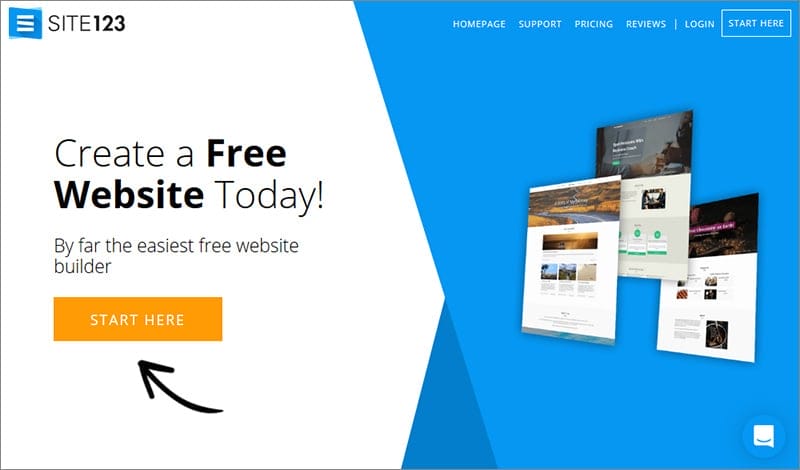 Site123, as the name suggests, is one of the easiest website-builders in the market. Here, you can create a web page or store it from scratch in three simple steps. You can pick a template, customize it, and then publish it online.
Here you get hundreds of free themes and layouts, graphics, images and animations, third-party plugins and SEO tools, and free e-commerce support. Users can design both one-page and multi-page websites, ad-free and complete with SSL certifications.
Webflow
Webflow offers a forever-free starter plan that includes everything you need to start a website. Since it is free, there's no need to provide payment info upfront or worry about a temporary trial period.
Webflow's starter plan allows you to build up to 2 websites using a completely visual builder without any code.
Weebly
Weebly is among the most user-friendly platforms on our list and the second in the list of the best free website builders, which caters to everything from blogs to web pages and stores. You can create unlimited web pages under one account here. Plus, you get 500MB of free bandwidth, free web hosting and domain registration services.
The intuitive interface incorporates all the customizable features needed to insert and edit the content. First-timers can choose from a list of free themes, layouts, and templates, each customizable for mobile devices. Other freemium perks include SEO services, CMS solutions, newsletter integration, analytics tools, and e-commerce support.
Strikingly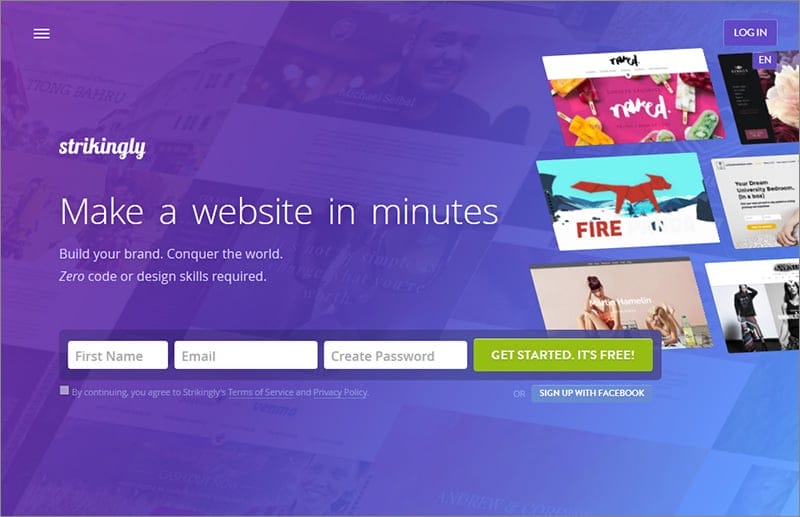 Strikingly is great for developing one-page websites, blogs, and portfolios for small and medium-scale organizations. The drag-and-drop editor has all the necessary tools and customization options you'd need to design web pages.
Plus, there are free themes and attractive templates to get you started. Their iOS and Android apps allow you to optimize your website for mobile platforms. Reliable customer support and live chat options further enable you to build a business online without prior technical experience.
Wix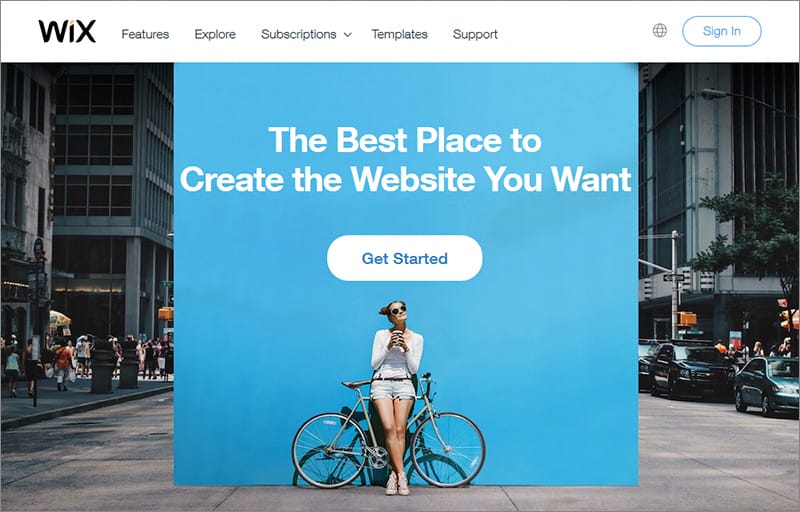 Wix is among the best free website builders for small businesses. With it, you get a standard drag and drop interface and an AI framework that creates a web page based on your preferences.
And while the paid packages offer better customization tools and e-commerce support, the free basic version is ideal for getting you started without any hassles. An extensive collection of free themes, templates, demo modules, and graphic animations help you design the website any way you want. Wix is not only our favorite – web builders experts also mention Wix as the best website builder.
Jimdo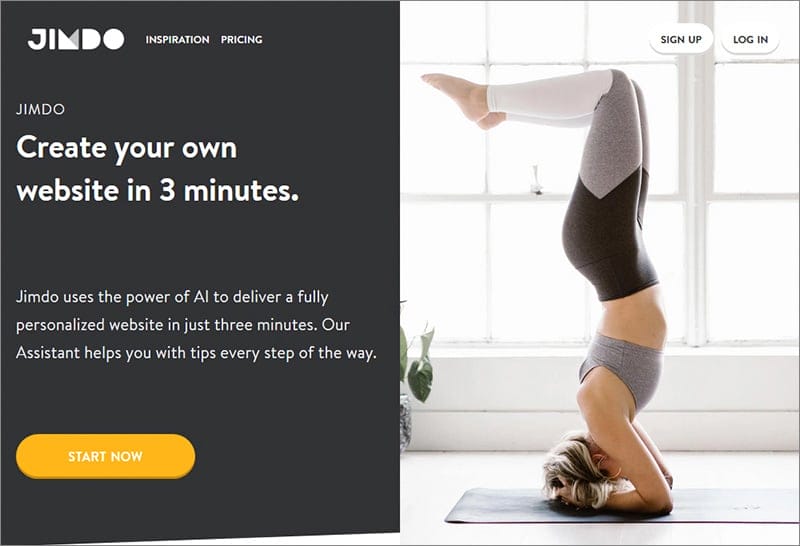 Jimdo is a free website builder suitable for e-commerce. The drag-and-drop interface comes with a host of free templates and themes. The dashboard is loaded with the latest editing tools and features.
Plus, there's a free app market where you can access third-party plugins and extensions at no additional charge. The free plan gives you 500MB data, SEO support, free web hosting, and domain registration services.
OLITT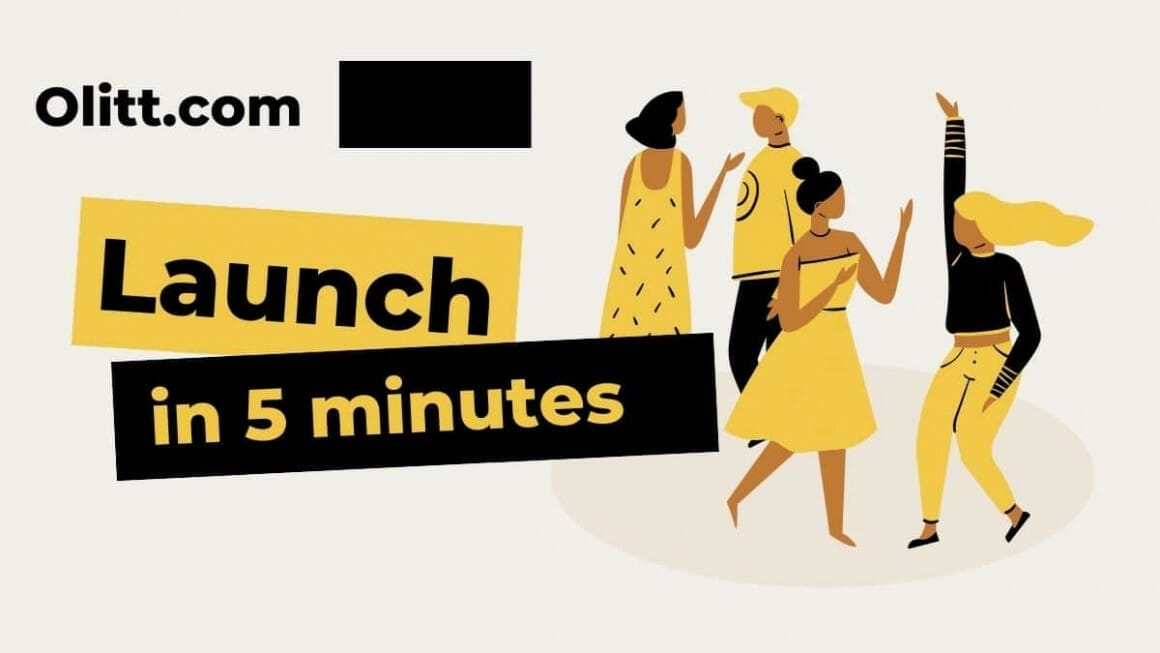 OLITT is a free website builder that offers to build beautiful landing pages, one-page websites and online stores with its drag and drop interface. It can be integrated with Google Analytics, Google Tag Manager, MailChimp, Hotjar, Facebook Pixel, Jira, Tawk.to, Intercom, PayPal, Flutterwave, Twitter, LinkedIn, Youtube, Facebook, Free SSL, Domain Mapping and a Global CDN Network to help you do better.

In addition to an easy-to-use website builder, OLITT provides a DNS management tool for all your DNS management needs and a Domain registration platform that provides domain names at Zero Markup prices for both registration and renewals.
OLITT also has an affiliate program with a 20% commission payout.
With the OLITT free plans, users get 1 GB Storage, Unlimited Bandwidth, Connect your Custom Domain, Security with SSL, Support via forum & KB only etc.
Webnode
Webnode has made a comeback in the market, and how! An easy and reliable web development platform, Webnode incorporates all the features you'd need to build a website or blog in minutes. The free plan includes SEO services, CMS support, 100MB of storage, and free web hosting. Although the free version doesn't offer e-commerce support, it is ideal for small-scale bloggers and artists who want to enhance their audience base.
Mozello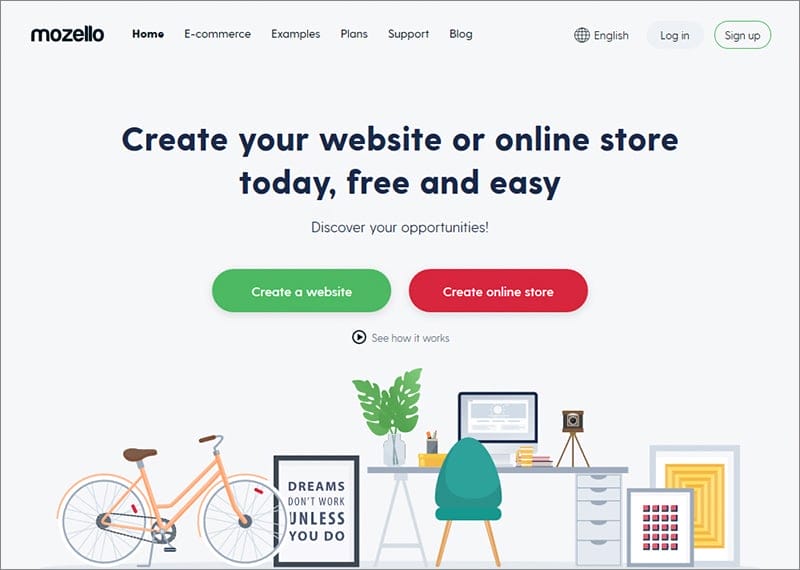 Mozello is a multipurpose, multi-lingual platform that will truly give your website an international feel. Here you can build a simple web page, a blog, a portfolio or even an online store without any additional charges.
The in-house editor comes with loads of free themes and layouts. The free plan offers 500MB storage, free web hosting and SEO enhancement solutions to develop a functional, ad-free platform.
IM Creator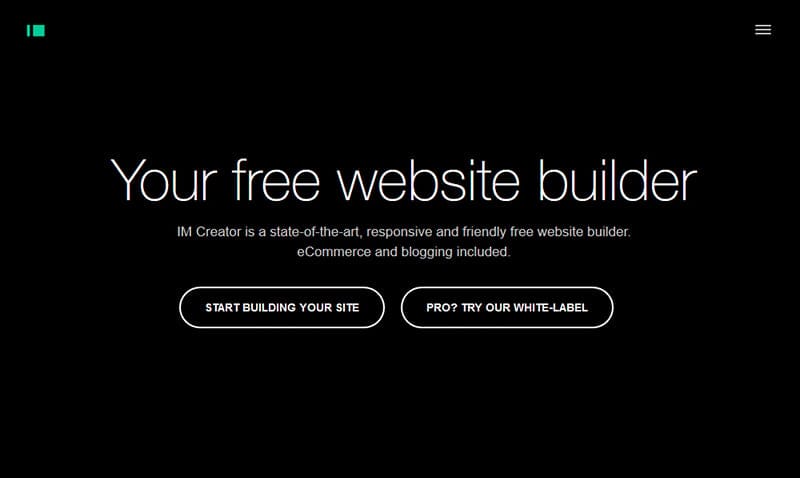 IM Creator is best suited for portfolios and visually strong web platforms. Here you get a host of editing options and extensive archives of free themes, templates, and images – all suited for mobile devices. The drag and drop interface is user-friendly, quick and very efficient. Plus, you can avail free e-commerce support, blogging tools, 500MB bandwidth, free web hosting, and basic technical support.
Webstarts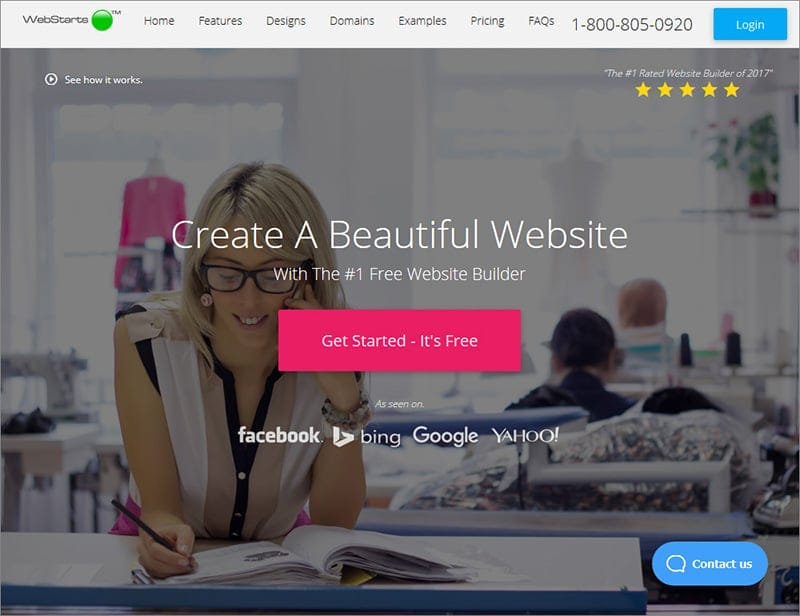 Webstarts is chic, stylish and very modern in its approach. Here, you get an intuitive interface, a collection of free themes, demo modules, image galleries, custom widgets, SEO tools, and full CMS support. Plus, all these features are optimized for mobile devices. The free plan includes 1GB bandwidth, free web hosting, and domain registration services.
Which Free Website Builder to choose?
All of these on the list of the best free website builders are dependable, offer a lot of free perks and come with the latest customization options you'd need. It doesn't take more than half an hour to try one out; go ahead and do that. When in doubt, start with Google Sites and then opt for Wix.