Review of Modern Millionaires – Scam or Legit?
In this Modern Millionaires review, I will be talking about this online program by Abdul Samad and Chance Anthony.
Are these guys legit? Do they teach what they preach?
Does the Modern Millionaires course make it possible for anyone to become financially free?
If so, how?
You've come to the right place if you're looking for answers to these questions. Read on!
What does the Modern Millionaires teach?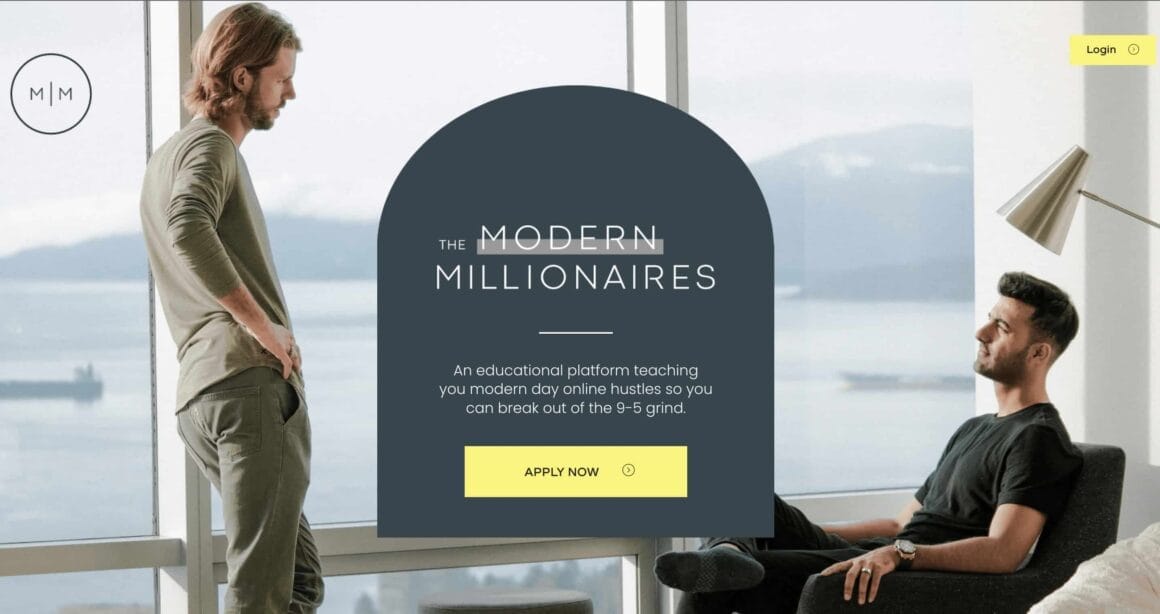 The Modern Millionaires course will teach you how to build a local lead generation agency, even if you don't have any prior experience in the field.
In short, it is a step-by-step program that consists of 4 modules. Each module contains its own set of training videos and resources for your convenience.
However, you've got three options to choose from before joining them, depending on what you want to learn and do:
The DIY package
This package is the most affordable one and includes the 4 video modules we mentioned above. These will teach you:
How to set up your lead generation business?
How to create high-quality websites in less than an hour?
How to nail your Google and FB Ads campaigns?
How to use automation software in order to save time when dealing with multiple clients?
How to get contracts signed without having long conversations with prospects?
And more.
It also includes downloadable templates that you can use in order to make contracts faster or script templates that will help you land new clients. You'll also receive access to 24/7 email support and a private Facebook community.
The DWY package
In this package, you will receive all the training materials from the Modern Millionaires course plus a few bonuses that will help you grow your local lead generation business.
The DWY package includes:
All that's included in the DIY package
Weekly live coaching calls
Personal mentorship
Modern Millionaires 90-days agency Bootcamp
The DFY package
This "DFY" (done-for-you) option doesn't come with the full program, but you'll get full access to Modern Millionaires' team of experts, who will take care of everything for you.
This can be a good option if you don't want to do any of the work yourself, and just want to start immediately.
Things I like about Modern Millionaires
Here are the things that I like about Modern Millionaires:
Let's see these in detail.
Great customer support
I like the customer service at Modern Millionaires, which is one of the main reason why I prefer them to any other online educational product.
I recently got in touch with the customer support team, who kept me looped in via email on the progress of my course completion. They also respond to your questions promptly and even call you on the phone to follow up.
It is a pleasure to see this kind of personal touch from an online course provider, and it is what makes people want to continue coming back for more.
A learning community
One thing that really stands out to me is that the course has a private Facebook group where you can ask questions, get advice, and learn from others who are taking the course.
I have been in a lot of masterminds and learning communities, and this kind of peer support is invaluable.
It creates connections between people that you won't get by following a blog or reading a book.
You can help each other with challenges along the way and stay motivated by seeing what others are doing.
Also, it helps you stay accountable and allows you to learn from others in an informal way that would never happen in a traditional classroom setting
Lots of information
The amount of information in the course is staggering, and it's all presented in a way that makes it very easy to understand.
There are no complicated financial terms or complex formulas – it's just the knowledge that you need to get started.
Easy to understand course content
The course is made for everyone – even for beginners. The lessons are very clear, and easy to follow and the videos are very well edited.
The course content is also really practical, which makes it easy to put what you learn into practice in the real world.
Well-structured
The course has been designed in such a way as to not overwhelm you with too much information at once.
It starts out easy, then gets progressively more difficult as you progress through the sections.
This is a feature I really like because I think it makes it easier for people who are new to this kind of thing (like me!) to not feel overwhelmed by all of the information.
It focuses on working hard instead of get-rich-quick schemes.
Some people want to find a way to get rich without putting in any effort. They look for "get-rich-quick" schemes or shortcuts.
The Modern Millionaires course focuses on working hard instead of get-rich-quick schemes. It explains that the most successful people worked really hard and built their businesses up over time.
The course also teaches you how to think like a millionaire, which is very helpful for getting motivated and staying motivated.
You get access to professional mentors
The Modern Millionaires course is full of information but what differentiates this course from other online courses is that you get access to professional mentors.
You'll be able to personally reach out to them if you have questions or need advice on anything related to your business.
The mentors have a lot of experience in the digital space and can help you avoid common mistakes most entrepreneurs make
Things I dislike about Modern Millionaires
Let me talk about these in detail as well.
It's a lot of work, and it takes time.
The course is by no means a get-rich-quick scheme, but it does take time and effort to get the ball rolling.
And you'll likely have to wait for months for your site to start making real money.
The price tag isn't for everyone
There's no question that the Modern Millionaires Mastermind course is not cheap. But then again, not all prices are equal.
You're going to pay more than $5,000+ for a program like this anywhere you find it. And it probably won't come with the level of support that you get here.
The thing is, I don't recommend buying this course if you're on a tight budget or your money situation isn't in order.
If either of those things are true for you, I recommend that you work on your financial health first before enrolling.
Who is Modern Millionaires for?
The program was designed mainly for people who would like to start their own home-based agency and earn a full-time income online. But it can also be used by existing agencies to scale their business or by entrepreneurs who would like to get more clients online.
This program is also for you if:
You're ready to take control of your destiny and change your life forever
You're someone who wants to build a business that is highly profitable and sustainable
You want to be able to skip past all the boring "learning" phase and get straight into the action
You want to make more money than you ever dreamed possible
You want to work with real people who have done it themselves
You want a proven system that works in any niche no matter what background you come from.
Takeaway: Does Modern Millionaires teach what they preach?
Modern Millionaires
Overall, I'm impressed with Modern Millionaires academy. It was designed by genuine experts in digital marketing and it shows. They definitely teach what they claim, and it comes with real results. This seems like a great program if you want to improve your finances AND find out how they made money through lead generation. The price is on higher side though which may push some customers away.
Product Currency: USD
Product Price: 5000
Product In-Stock: InStock