Learnworlds Review: The Best Rated Online Course Platform & LMS
With eLearning going strong the recent years, it's no surprise new course creation software pops into the market regularly, each one promising engaging learning experiences and satisfied customers.
But how many of these platforms deliver their promise? Which ones have the features you need to build online courses your learners will actually enjoy and learn from? Does every "all-in-one" platform give you the tools to promote your courses and sell them to a broad audience?
Today, I'll talk about an online course creation platform that truly stands out – just to help you narrow down your options.
I recently tried LearnWorlds, and I was impressed by its rich features. If you're searching for a platform to start building and selling courses or to switch from your current software, this one's definitely worth taking a good look into.
In this LearnWorlds review, I will start with an overview, followed by complete analysis of how the platform works.
LearnWorlds Overview
LearnWorlds is an online course platform that helps you build interactive and valuable learning experiences, whatever their scope or audience may be: from simple online courses, digital downloadables, and coaching to corporate training and customer education.
These are LearnWorlds' top features in a nutshell, but I'll discuss them in more detail in the sections that follow in the LearnWorlds review:
Intuitive course builder
Support for multimedia content
Live sessions (via integration with Zoom and Webex)
SCORM-compliance
Assessment builder
Built-in community
Site builder with customizable templates
White labeling
Mobile app builder (native apps)
Multiple sales & marketing options
In-depth reporting
Crafting Interactive Learning Experiences
LearnWorlds features an intuitive course builder with a course wizard taking you step by step through the course creation process. I was amazed by how many options I had in terms of content – and not just static, boring content but interactive. I also loved the option to copy-paste learning activities or entire sections from one course to another. That's a huge time-saver!
Also see: 7 Best Thinkific Alternatives to Create an Online Course in 2023
Let me share with you what I found in the platform's Course Builder:
Interactive video
Create interactive videos by adding buttons, questions, or links! Do you want to pop up an offer in the middle of a video, maybe to a relevant course? You can do that too. A few other options to enrich and make your videos more accessible are images, text, thumbnails, watermarks, transcripts, and subtitles.
Interactive eBooks
Easily import an MS Word File or create an eBook from scratch. Embed audio and video files in your eBooks. Plus, learners can keep notes, highlight, and mark important stuff with stars. I know that many people have trouble studying on screens, but with these tools, you can really enhance their reading experience!
Multimedia content
We're not quite done with content yet: LearnWorlds supports PDF, audio, YouTube, and Soundcloud learning activities too.
Assessments, Exams, and Surveys
The options here are more than one can hope for. Multiple-choice, true/false, text/file/video assignments, self-reflection journals, and forms to conduct surveys (and not only!) are just some of the choices that stand out for me.
I want to stress the self-assessment feature and prompt you to use it in your courses too. LearnWorlds gives you multiple options for non-graded assessments, like allowing learners to freely write down thoughts in a reflection journal or submit a video or audio assignment.
And the best part is that, for specific question types, you can send back personalized feedback to each student, letting them know how they're progressing. This will really add a touch of personal care and directness, which we often miss in online learning.
Live sessions
LearnWorlds integrates with Zoom and Webex to hold one-to-one or group sessions in real-time. The platform recently upgraded this feature and allows learners to schedule their sessions using the Calendly integration – an amazing addition for coaches and consultants!
Certificate builder
Offer your learners a Certificate of Knowledge or a Certificate of Completion to reward them and end their learning journey on a hopeful note.
SCORM files
Unlike most similar platforms and competitors, LearnWorlds is SCORM-compliant.
These are the key capabilities of the Course Builder, plus this fantastic platform allows you to:
customize the course player
drip-feed content to adjust the pacing
add Course Completion rules
offer part of your course for free!
Building Your Online Academy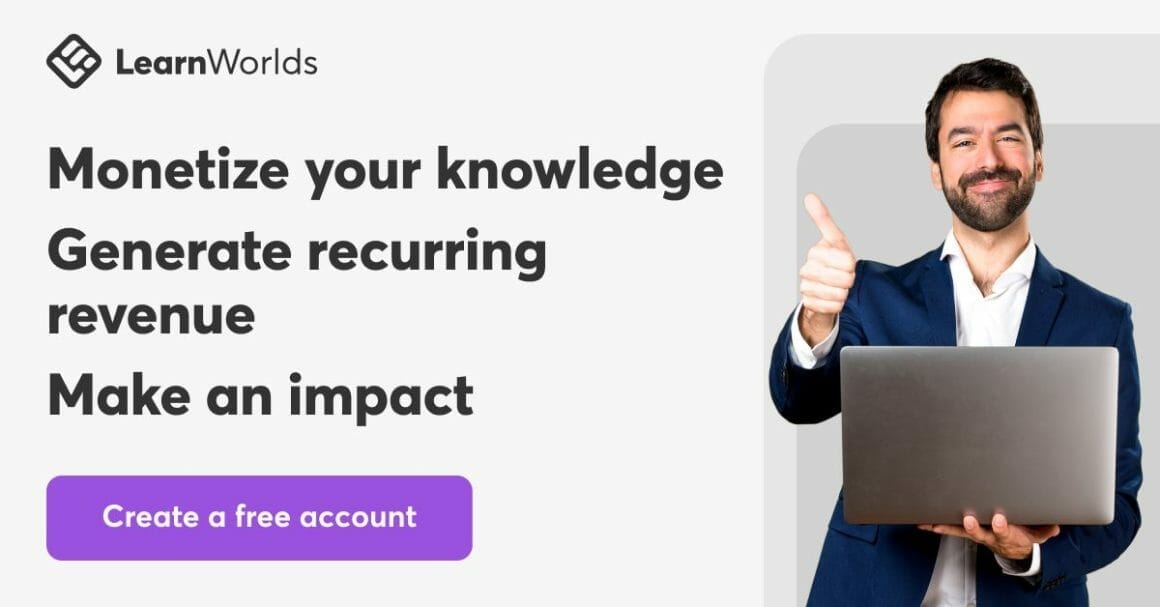 Creating a course with LearnWorlds is easy, but that's just the…tree in the forest. With LearnWorlds, you can build an online academy – your very own learning hub and online community, fully white-labeled and customized to the smallest detail.
Site Builder
The platform's site builder was a pleasant surprise. Not only does it feature over 50 templates specifically designed for different industries (coaching, customer education, NGOs, and more) – the Site Flavors feature allows you to create an alternative version of your existing website to experiment with the look and feel without… collateral losses!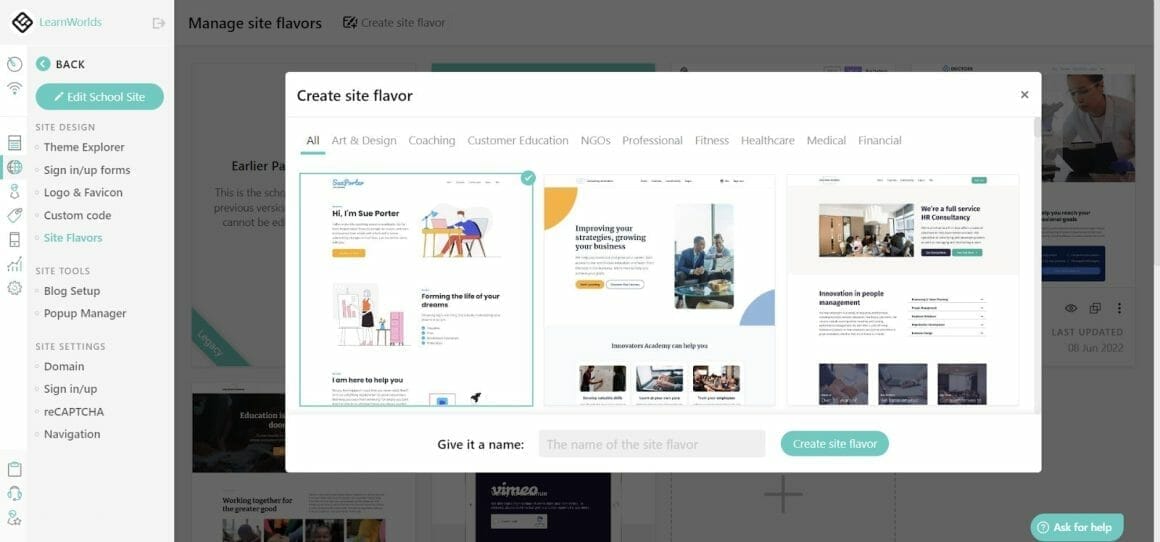 Plus, you can add popups and countdown timers and connect your social media accounts. If you're knowledgeable enough, you can also play around with the HTML, CSS, and javascript code for further customization!
It's also worth mentioning that LearnWorlds has top cybersecurity measures in place, like encrypted data storage and isolated databases, while it recently introduced new security features, including password requirements and reCAPTCHA.
Mobile App Builder
I don't really need to give a long speech about how important it is to have a mobile-friendly course, right? Well, with LearnWorlds, you can go mobile-first and build (with zero code!) native and white-labeled mobile apps for iOS and Android.
Built-in Community
The Site Builder allows you to create a Community Section to upload posts, polls, and images. Members can be "Friends" and follow each other's activity, upload their own posts, or comment on other members' posts.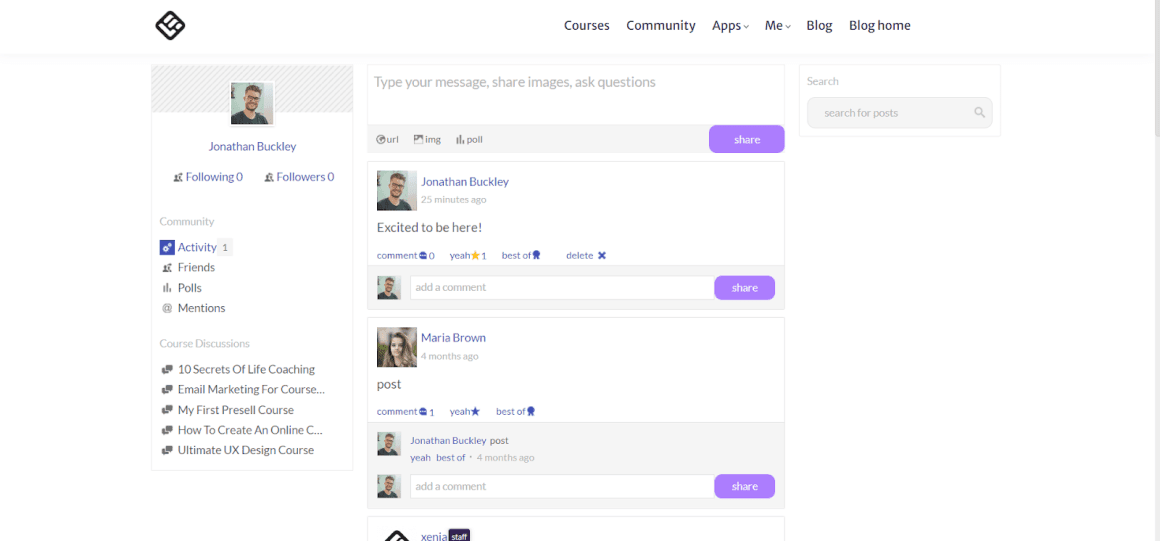 Within your Community page, you can also create groups (in addition to the Course Discussion groups that are automatically created within your course). And you can add a Daily News Section populated by RSS feeds, so you share fresh content every day!
Now, if you're an educator yourself, you must know how social learning can transform a lifeless and distant online environment into a vibrant learning community. Interactions are key to keeping your learners engaged and becoming active participants in the course.
Marketing & Selling Your Courses
Now that we're done with the course creation, let's see how LearnWorlds helps you market and sell your courses. I can say that the current options available are above what the average online course platform offers.
Coupons & bundles
Discounts and "family packs" are a tried and tested way to boost sales, and I was happy to find them in LearnWorlds. The platform allows you to create discount coupons (I suggest you add an expiration date to create urgency!) and course bundles grouping together complementary courses.
Subscriptions & memberships
This business model is one of the most popular recently as it offers a recurring income and helps creators expand their online community. Memberships have the added benefit of creating a sense of belonging and being part of a group; therefore, they're more effective in building loyalty. If you can commit to regularly hosting live events and releasing new content, try this option.
Multiple seats
This is a B2B offering, allowing your customers to sell multiple courses to a group of users. Your customers will be responsible for managing this group of users.
Affiliate marketing
Set up an affiliate program and let others promote and sell your course for a small fee!
SEO settings
Increase your website's visibility by applying basic SEO techniques. LearnWorlds allows you to add a title tag, keywords, and meta description.
NPS surveys and Qualification questions
The platform recently released this awesome feature. Activate the Net Promoter Score (NPS) survey or set up a Qualification Form from your account and hear it from the horse's mouth!
Are your customers happy enough to spread the word or not? What do they like, and what do they hate? Of course, the Qualification Form is editable, and you can modify the appearance, questions, and more.
Email marketing integrations
LearnWorlds doesn't feature any built-in email marketing tools, but once again, I was pleasantly surprised to find out that it integrates with 8 of the most popular email marketing platforms: Mailchimp, ActiveCampaign, AWeber, Convertkit, GetResponse, Constant Contact, MailerLite, and Moosend. This allows you to use the email marketing tool you already have without the need to learn a new one from scratch.
Multiple payment gateways
It's a pity𑁋and, honestly, inexcusable𑁋to lose customers due to a complex checkout process or because the customers preferred payment method is unavailable.
This is why LearnWorlds connects with multiple gateways like Stripe, PayPal, Shopify, and PagSeguro, and supports mobile payments like Apple Pay and Google Pay/Google Wallet for a frictionless checkout process.
Flexible payment plans
It's important to offer your customers flexible payment options. LearnWorlds supports Klarna and Afterpay/Clearpay, two highly popular Buy Now/Pay Later services. It also allows you to create payment plans allowing learners to pay in installments.
I give extra bonus points and kudos to LearnWorlds for:
featuring Sandbox Mode so you can make test purchases, and
integrating with Quaderno, a sales tax calculating tool that simplifies your tax management.
Measure everything
LearnWorlds also offers you sales analytics and conversion pixels to identify where your best results come from and integrate with tools like Google Tag Manager.
Report Center
The LearnWorlds Report Center offers as in-depth reporting as it can get. I'm only scratching the surface, but here's what caught my attention the most:
User Progress Report
Measure key metrics like completion rates, average score, progress status, and time spent on each learning activity.
User Segments Report
Identify users that fulfill specific criteria – a priceless tool to spot those who are about to drop out or fail a course. Both User Progres and User Segments reports can be scheduled to be delivered automatically and exported.
Course Insights
This one is pure magic! Uncover everything you need about your courses, from average scores to social interactions, discover your most popular/hard/engaging/dropped-out courses, see how your courses perform over time, how each activity performs, and much, much more!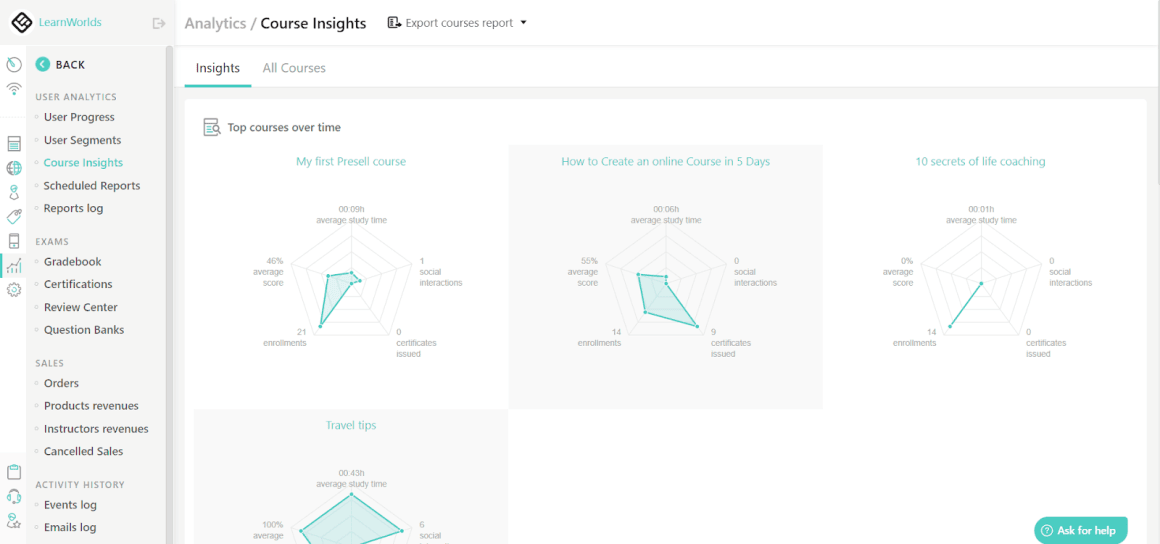 I also enjoyed the data visualization charts & graphs that make studying and analyzing Course Insights a delightful experience!
Pricing
LearnWorlds is one of the most reasonably priced platforms in the market – if not low-cost considering its extensive capabilities. Here's a quick breakdown of its plans:
Starter – $29/mo or $24/year
Pro Trainer – $99/mo or $79/year
Learning Center – $299/mo or $249/year
LearnWorlds also offers a generous 30-day free trial, no credit card required, and with most features available, so you can enjoy its full capabilities!
Final thoughts
Learnworlds Review
LearnWorlds is an online course platform that helps you build interactive and valuable learning experiences, whatever their scope or audience may be: from simple online courses, digital downloadables, and coaching to corporate training and customer education. 
Price: 29
Price Currency: USD
Operating System: Web
Application Category: Education
Pros
Intuitive course builder
Support for multimedia content
Live sessions (via integration with Zoom and Webex)
SCORM-compliance
Assessment builder
Built-in community
Site builder with customizable templates
White labeling
Mobile app builder (native apps)
Multiple sales & marketing options
In-depth reporting
LearnWorlds is undeniably a platform worthy of your attention. This LearnWorlds review covered the most basic features, but there are many more to discover yourself. If I could describe this platform in three words, I would pick interactive, comprehensive, and user-friendly. There's hardly any feature missing from this versatile platform – and those that are not built-in are available through integrations with tools you're probably already using.