Best Indian Bloggers and Popular Blogs that You Must Follow in 2023
The purpose of this article is to honor the best Indian bloggers and publishers who serve as a source of inspiration for aspiring bloggers. Although I have compiled a list of the most influential individuals in the Indian blogging industry, the ranking and positioning of these esteemed bloggers, including the number one blogger in India, can be subject to debate.
For anyone aspiring to pursue a career in blogging (and digital marketing), this compilation of top Indian bloggers serves as a benchmark.
As of now, I am targeting the 30 best Indian bloggers, their work and their popular blogs. With time I will be adding more names to the list. If you know someone who deserves to be on the list, please feel free to send me a message.
Yet Another List of Top Indian Bloggers?
Yes, and no.
Every other list of best or top or whatever Indian bloggers you see is actually the list of top blogs and not of the best bloggers.
Blogs are important, but it is even more important what these bloggers are doing out of their writer's block. Newcomers get inspired mostly by how their inspirations are doing. What are their earnings, and how much traffic are they getting?
Anyone can start a blog now when there are plenty of tools, and all are available. People like Harsh, Amit, Anil and I — are on the list because we started when it was all deserts and jungles.
Everyone has their own story, and my purpose is not to dive into that (for now, at least).
All I wanted was to create a list of bloggers that really deserved to be on this list.
Is this list for me?
Yes. If you wish to start as a blogger or are looking for some inspiration from the top bloggers around you, then this list of the best Indian bloggers is made just for you.
Feel free to be inspired by the blogging genius of these people. I have done my best to ensure transparency. Plus, this list is entirely open to all.
If you know a blogger who is worth being listed here, please ask them to drop a message here. I respond to each and every email.
The Best Indian Bloggers in 2023
Here are the best Indian bloggers, summarized in a table and sorted by the year they started blogging.
Please note that this list is only representative, and the order in which the Indian bloggers are listed doesn't represent their ranks.
How did I make this list?
First of all, it is all about bloggers and not blogs. Blogs teach you but cannot motivate you enough. This is a list of bloggers made for bloggers by just another blogger.
I have focused on the personal achievements of the top Indian bloggers. I have also given weightage to some stats like their complete reach, website traffic, domain authority, domain rating, social media influence, and the quality of content they deliver.
Criteria for being the best bloggers in India
Only bloggers who passed the following conditions made it to the list:
They are professionals.

They are serious professionals. But on the one hand, they make money from their work while on the other they help others grow with honest opinions.
They don't overpromote products. They follow the famous 90-10 rule. The top Indian bloggers on the list provide more than 90 percent of valuable content that informs their readers, and then 10 percent of their content promotes some products or services. So, for every nine blogs they write providing value, they can write one blog post plugging their products or some businesses.
They take responsibility for their own words.
They use good grammar. Using proper punctuation and good grammar makes a big difference in how your customers perceive you. Does your blog look professional? Misspelled words and missing punctuation will lead others to believe you don't care enough about your image and work to put your best foot forward. All bloggers on the list focus heavily on the quality of their content.
They respond to comments on their blogs. When someone speaks to you in real life, you respond, right? They do this.
They give credit where credit is due. It's the height of rudeness and bad manners to plagiarize someone's words or steal their graphics without permission. If you see something you want to borrow, ask the original creator for permission to use their stuff and make sure you include a source link. Do unto others as you'd have them do unto you, right? Our choice of the best bloggers in India believes in giving credit where that is due.
Looking to create a blog of your own? Bluehost can be the best place to start.
Starting at just ₹169 per month. See other hosting options
Indian Bloggers Biographies
Harsh Agrawal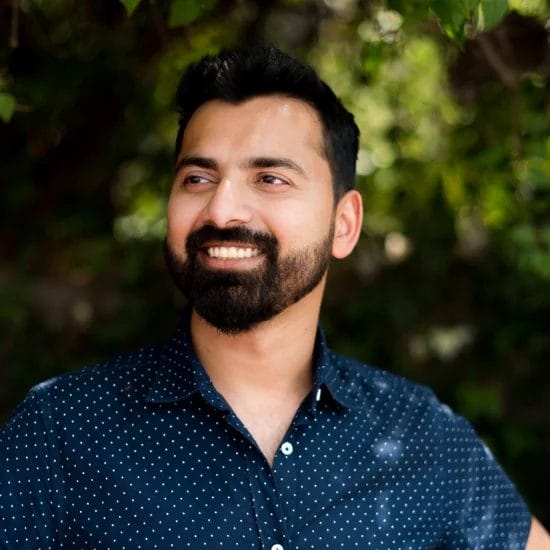 Year Started: 2008.
Niche: SEO, Digital Marketing
Projects: ShoutMeLoud, WPSutra, CoinSutra and more.
Harsh Agrawal is an engineer by education and a content marketer by profession. He quit his job and chose his passion for blogging as a full-time occupation in 2008.
Harsh is recognized as India's number-one blogger due to his easy-to-use blogging tactics and quality content at Shoutmeloud.com.
Now read by millions of people, his blog Shoutmeloud.com holds a special place among Indian bloggers. Its uniqueness is in helping people to become their own boss by acquiring them the required skills and knowledge like how to start a blog, SEO, digital marketing, freelancing, WordPress, and Social Media Marketing.
Apart from ShoutMeLoud, he also owns other prominent blogs like CoinSutra, WPSutra, ShoutMeTech, and WPhostingDiscount. Harsh is an avid adventurer who enjoys scuba diving, skydiving, and traveling.
Harsh likes to meditate in his free time. Harsh can also be seen tweeting, video blogging and teaching other bloggers all the time.
Return to the top bloggers list
Shradha Sharma
Year Started: 2008.
Niche: Startup
Projects: YourStory
One of the first female bloggers on our list of the best Indian bloggers, Shradha earlier worked as a journalist on some major media channels like Times of India.
Starting with blogs about interviews with people and several other stories.
Her blog YourStory has now grown to a popular media house. It now works with several global top brands and has become a leading platform for entrepreneurs across India.
The blog houses stories of great businessmen, entrepreneurs, and budding trends and helps them reach out to bigger audiences and potential sponsors.
Amit Agarwal
One of India's best and biggest tech bloggers, Amit is the first professional Indian blogger. He mostly works on developing web applications and Google add-ons.
Recognized by Hindustan Times as the founder of Indian blogging, he has contributed to major publications like CNBC TV18 and The Wall Street Journal India.
His blog, Digital Inspiration, guides people to use web technologies and software tools in the best manner possible.
Abhijeet Mukherjee
Year Started: 2008.
Niche: Tech and Software
Projects: GuidingTech
Before starting his blog GuidingTech, Abhijeet Mukherjee worked as a blogger for 9 years. Through his blogs, he helps his readers to get familiar with wide-ranging aspects of various gadgets and technologies. This helps the readers to not only understand the best way to use their gadgets but also to make wise choices while buying new products. His claim to being one of the best Indian bloggers is undisputed.
Gaurav Tiwari
Year Started: 2008
Niche: Education, Business and Blogging
Projects: Gaurav Tiwari, Gatilab, iWebHostReview, QuestionBlogging, Overeview and more
Gaurav started way back in 2008 as an independent education blogger. He switched to more diversity in 2010 when he started writing about Tech, Education, Business and Blogging. His main blog is aimed at bloggers, businesses and students – all simultaneously. Read his story here.
Anand Khanse
Year Started: 2009.
Niche: Tech
Projects: TheWindowsClub
Awarded with the Windows Insider MVP, Anand started his first blog with the title WinVistaClub, which mainly focused on Windows Vista. Later he started TheWindowsClub, filled with intricacies of issues and repairs related to newly launched Windows versions and the Microsoft ecosystem in general. His work will show you why he is considered one of the best Indian Bloggers.
Varun Krishnan
Year Started: 2005
Niche: Tech
Projects: FoneArena
Varun Krishnan is a web architect, technology journalist, mobile industry expert, and world traveler. As he says, his mission of finding the "perfect" phone led to him traveling to over 24 countries across the globe. After gaining extensive technology knowledge, he returned home. He founded FoneArena, one of the first mobile-focused blogs in the country to help consumers in both developed and developing markets. He believes in starting early, following one's passion and never giving up. He is widely considered to be one of the best bloggers in India.
Sandeep Jain
Year Started: 2009
Niche: Programming
Projects: GeeksForGeeks
A former Assistant Professor at JIIT Noida and software developer at DE Shaw and Co., Sandeep Jain has a great fervor for programming and loves to help students by solving complex algorithms. His blog GeeksForGeeks provides tips and tricks about cracking interviews and exams such as GATE through small quizzes and detailed explanations
A constant go-to site for programmers around the world, GeeksForGeeks is one of the best platforms for learning computer programming algorithms in different programming languages and preparing for interviews.
Sandeep has registered his company and is now helping students grow with GeeksForGeeks.
Arun Prabhudesai
Year Started: 2007
Niche: Tech
Projects: Trak.in
Passionate about technology and gadgets, Arun started this blog Trak.in to keep himself and his readers updated with the latest businesses and startups in India. He owns 3 YouTube channels as well, which have around 2.2 million subscribers.
His blog was featured in Times of India in its 10 years of completion and is among the top 10 business blogs in India by Times Online.
Anil Agarwal
Year Started: 2010
Niche: Digital Marketing
Projects: BloggersPassion
Inspired by some great blogs like Problogger and JohnChow, Anil Agarwal started BloggersPassion to share his knowledge about proven tips and strategies on how to make money online. He focuses on affiliate marketing, SEO strategies, blogging, etc. Anil is a rare talent and has written several quality books to help newcomers grow.
Santanu Debnath
Year Started: 2010.
Niche: Blogging, WordPress
Projects: Bloggingjoy, HostingBrowse
Santanu Debnath is a software engineer by profession and a blogger by passion. In 2009, he started his first blog on Blogspot.com and then tried various blogs, most of which failed.
In 2017, he started BloggingJOY.com to share his knowledge in Blogging & WordPress; since then, he hasn't seen back.
Currently, he is running multiple blogs in Blogging, WordPress & Hosting niches.
Sourav Basak
Year Started: 2015
Niche: Tech, Business
Projects: NamasteUI
Passionate about technology, business and social media, Sourav started this blog NamasteUI to keep himself and his readers updated with the latest business and tech related articles. From exciting new technologies to the new startup business models, the idea of innovation is taking off just as fast as the businesses that embrace it. And that's how NamasteUI innovates.
Manish Chauhan
Year Started: 2007
Niche: Finance
Projects: JagoInvestor
Passionate about finance in his blog at JagoInvestor, Manish has been a part of dozens of workshops on investing and has authored two famous books as well, "How to be your own financial planner in 10 steps" and "16 personal finance principles every investor should know". His blog provides investors with financial tips and practices to improve their lifestyles.
Arvind Passey
Started blogging in 2008.
Niche: Politics, Satire, Fiction, Editorials
Possibly the most sophisticated blogger on the list, Arvind Passey is a former IMA cadet, critically acclaimed journalist and poet. Shri Passey's work has been featured in The Education Post, The Huffington Post, Business Insider, MarketingBuzzar and more.
Jignesh Padhiyar
Year Started: 2012
Niche: Tech
Projects: iGeeksBlog
Two geeks, Jignesh and Dhvanesh, started iGeeksBlog out of their passion for Apple products and their features. The blogs limit themselves within the boundaries of Apple products and technologies, and other news and information related to them.
Shivya Nath
Year Started: 2016
Niche: Travel
Projects: TheShootingStar
Living the life of a digital nomad, Shivya is a freelancer, travel blogger, storyteller and social media entrepreneur who left her job with her dream of traveling around the globe. Her book "TheShootingStar" got listed among the best sellers, which is filled with experiences from her journey. Channels like TEDx, BBC Travel and many more have also featured her for her best travel writing.
Pritam Nagrale
Year Started: 2010
Niche: Finance
Project: MoneyConnexion
Pritam started his career on the Internet as an affiliate marketer; Pritam started his first blog in 2004 with the title Jobs8Home.com and focused centrally on money-making ideas. In 2010, he started MoneyConnexion as part of his vision to widen his writing sphere to small businesses, money topics, multi-level marketing, etc.
Pradeep Kumar
Year Started: 2009
Niche: Digital Marketing
Project: HellBoundBloggers
Pradeep had a childhood passion for blogging and started HellBoundBloggers at the age of 17 years as a form of internet journal that spans across WordPress, Blogging, Social Media, Internet and Technology. After facing several obstacles, he has made a name for himself. And boy, he has made it big.
Siddharth Sharma
Year Started: 2013
Niche: Digital Marketing
Projects: OnlyLoudest, Overeview
SEO guru Siddharth Sharma, aka Sanu Siddharth, started blogging way before any of us could even think of it. Gifted with multidimensional skills, Siddharth is the co-founder of popular blogs like OnlyLoudest and many more.
Siddharth plays with SEO, SMM, Internet Marketing, and E-commerce and is hugely acclaimed as one of the finest blogging talents in India.
Ankit Singla
Year Started: 2010
Niche: Digital Marketing
Project: MasterBlogging
After dropping his engineering career to pursue full time blogging, Ankit is now a professional blogger, an Affiliate Marketer, trainer and a consultant who helps bloggers to increase their growth and earn money by providing useful techniques and strategies through his training courses on MasterBlogging.
He has been featured by several well-known media channels like The Huffington Post, YourStory, NDTV Prime, etc.
Kulwant Nagi
Year Started: 2012
Niche: Affiliate Marketing
Projects: BloggingCage and more.
Kulwant is a digital marketer and blogger excelling mostly in the affiliate niche. He's well-known in the Indian blogging community for his work with BloggingCage. When he's not blogging, Kulwant can be seen teaching other bloggers with his awesome courses.
Deepak Kanakaraju
Year Started: 2013
Niche: Finance
Project: Digital Deepak
A well-known name in the digital marketing industry, Deepak Kanakaraju is an author, trainer and professional digital marketer whose first startup by the name of BikeAdvice went on to become India's leading motorcycle blog.
He later started Digital Deepak with articles explaining email marketing, SEO, social media marketing, and Google and Facebook Ads, among others. His blog ranks among the top 10 digital marketing blogs in India.
Amit Bhawani
Year Started: 2012
Niche: Tech
Projects: PhoneRadar
Now working as a partner in his Internet debut company, Digital World Solutions, Amit Bhawani is a gadget freak, impassioned about writing elaborate reviews of the latest gadgets like smartphones, Apple products, etc.
Readers of his blog PhoneRadar stay updated with any advancements happening in the technology industry as a result of which PhoneRadar is listed among the top tech blogs in India.
Archana Doshi
Year Started: 2007
Niche: Food
Project: Archana's Kitchen
Archana trifled with the idea of starting something related to cooking for quite some time. She started her own small catering business and took home cooking classes owing to her passion for cooking. Encouraged by her friends, she started writing her recipes and tips on cooking and entered the domain of internet blogging at Archana's Kitchen.
Srinivas Tamada
Year Started: 2009
Niche: Programming
Projects: 9lessons.info
An entrepreneur by nature and programmer by passion, Srinivas is a blogger, UI Architect and a great inspiration for rookie programmers and bloggers who aspire to have a career in web development.
Srinivas loves playing around with the internet and its intricacies, and if you wish to learn skills such as PHP, jQuery, JavaScript and other web-related subjects, his blog 9lessons.info is a must-visit for you.
Rahul Setia
Year Started: 2014
Niche: Tech
Projects: TechBlogCorner
Rahul started his blogging journey as a hobby in 2014 with his first blog TechBlogCorner. He aims to help newbies grow and earn money by blogging. Rahul also teaches his readers on how to do better on technology and digital marketing issues.
Akshay Hallur
Year Started: 2011
Niche: Blogging
Projects: BloggingX
Akshay, another fine talent, in his blog BloggingX provides his readers with tried and tested strategies to grow their blogs and businesses through SEO, affiliate marketing, etc.
Akshay is also a digital tutor and he provides newbies with courses on blogging, SEO and other digital marketing techniques, and has also addressed various digital marketing conferences. He developed a passion for blogging from his college days. After he got a steady source of income from blogging, he discontinued his studies and became a full-time, professional blogger. Today, he helps businesses and budding bloggers in promoting their products and works using his proven and effective strategies. Apart from BloggingX, he also owns several other online ventures like InfoSparkle.
Dipti Tiwari
Started: 2011
Niche: Makeup, Beauty and Fashion
Projects: Gorgeously Flawed
Dipti is a Chhatisgarh-based beauty blogger. She started blogging around a decade ago and since then has been 'nailing' it. She writes about beauty, lifestyle and fashion-like topics on her blog Gorgeously Flawed.
Iftekhar Ahmed
Started: 2014
Niche: SEO
Projects: iftiSEO
Iftekhar founded iftiSEO in 2014 and since then, he hasn't stopped for a bit. In addition to this, he operates other SEO-related activities like mentorship and all. He has been helping businesses and blogs grow to the next level using simple, viral and effective marketing strategies that involve SEO and social media at a core level.
Jyoti Chauhan
Started: 2013
Niche: Affiliate, Tech, SEO
An SEO expert at core, Jyoti has been writing on UpdateLand since 2013. Her primary focus is on topics like engine optimization tips, SEO site lists, how to make money online and how to get traffic to your blog and your website etc.
The bloggers I have listed in this article are among the top in their profession. They have been delivering excellent, original content for a long time and are true sources of inspiration, learning, and motivation for newcomers.
Besides, they also offer a strong support system for aspiring bloggers. Even if you are not interested in becoming a professional blogger, you will get to learn amazing things here that can, quite literally, change your life and your perception of blogging itself.
So, this was the list of best Indian bloggers. Each one is a must-follow and I suggest you subscribe to their blogs for regular updates.
The list is definitely not complete, but these names deserve to be a part of it.
FAQs
Who are the best Indian bloggers?
There are many talented bloggers in India, and it is difficult to determine the best ones, as it largely depends on personal taste and interests. Some popular Indian bloggers include Amit Agarwal of Digital Inspiration, Harsh Agrawal of ShoutMeLoud, and Anil Agarwal of BloggersPassion.
How do I find Indian blogs to follow?
One option is to use a search engine and search for specific topics or interests, such as "Indian education blogs" or "Indian finance blogs." You can also find most Indian bloggers on social media platforms like Instagram, Twitter, or Facebook, as they often share links to their blog posts and updates about their work.
How do Indian bloggers make money?
There are several ways that Indian famous bloggers can make money, including advertising, affiliate marketing, sponsored content, product sales, services and online courses.
What are the problems with this list?
While this Indian bloggers list is not exhaustive, you may find several discrepancies here. There are only a couple of female bloggers, mostly Indian male bloggers. Plus the biasedness is towards digital marketing and tech bloggers. This was bound to happen as only these are the ones that justify my criteria.
Who is the no. 1 blogger in India?
At the moment, this question is doubted. There used to be an era of Harsh, Anil and others, but currently, there is no-distinct winner. You might say Gaurav Tiwari is the best Indian blogger right now. ;)