UNIPUNE Savitribai Phule Pune University: Courses, Admissions & Fees
Savitribai Phule Pune University, also known as UNIPUNE, was established on February 10th, 1949 under Poona University Act. UNIPUNE is well known as "Oxford of the East". The university manages 612 under it, and these colleges offer numerous courses that include doctoral, diploma, graduate and undergraduate programs.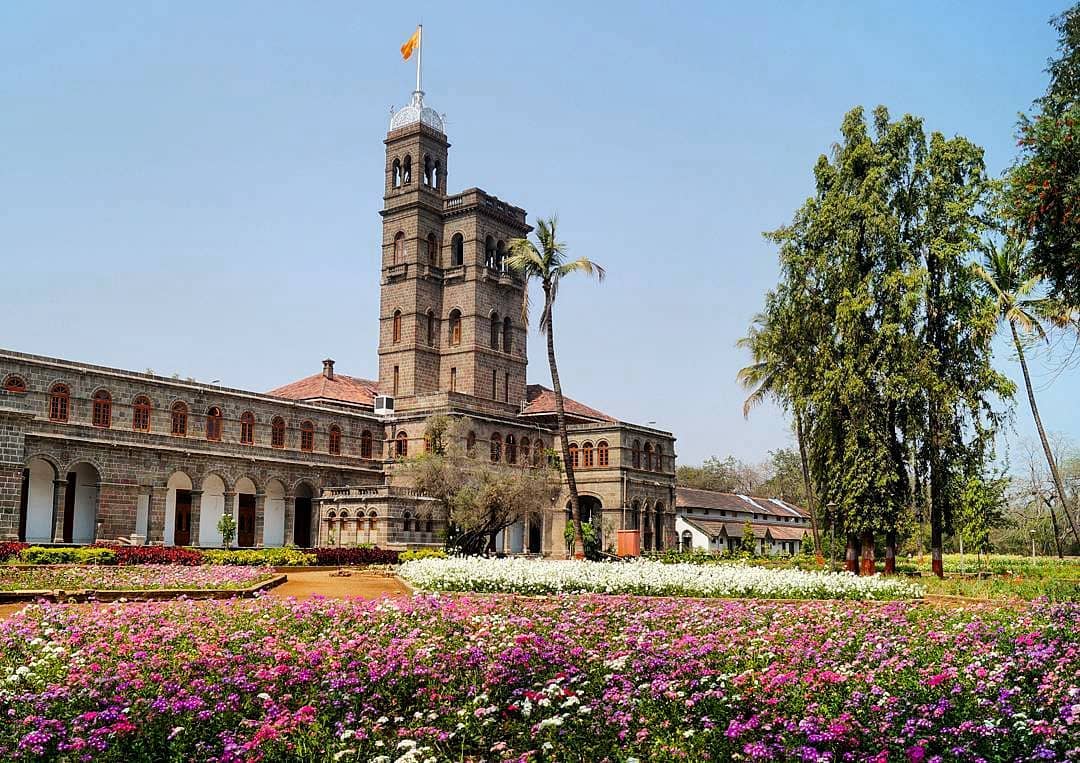 Courses offered
B.E. B.Tech
MBA, PGDM
M.Sc
B.Sc
M.E. M.Tech
BBA
B.Com
M.A.
MCA
B.A
BCA
B.Arch
LLB
B.Pharma
BHMCT
M.Com
B.A. LLB
M.Pharma
M.J.M.C
B.Voc
Executive MBA/PGDM
B.Ed
M. Arch
Ph.D
BFA
MPH
M.Ed
M.Phil
M.Lib.I.Sc.
I.Sc
B.Des
B.Lib.I.Sc
MMS
MFA
B.A. LLB (Hons)
Pharm.D
MSW
BHMTT
BHM etc.
Admission Process at Savitribai Phule Pune University
UNIPUNE has 46 academic departments, 307 recognized research institutions and 612 affiliated colleges.
University offers a lot of programs in various areas that include Science, Accounting & Commerce, Business & Management Studies, Humanities, Social Studies and Languages. Students who are interested to take admission in this institution can follow the given instructions.
Candidates can visit the official website of UNIPUNE and apply for all the courses online.
Candidates from Maharashtra are required to clear MAH CET exam for admission to MBA.
Candidates from other states can apply through MAT/CAT/ATMA/MAH CET/XAT.
Candidates applying for BA in Performing Arts, BSc, MSc, MA, MCom, MLISc, LLM, PhD, MPhil etc are offered seats based on the score obtained in the entrance examination conducted by the university.
Admissions to MTech and ME will be according to MHT CET which is organized by DTE or GATE score.
Documents required for admission
Copies of Mark sheets and certificates of the previous qualifying exam
Caste Certificate
Domicile certificate
Scorecard of entrance exam like CAT/MAT/ATMA/MH-CET
Transfer certificate
All the documents mentioned above should be submitted in person or by post before the last date of registration to the concerned department of the university they are applying for.
Placements at UNIPUNE
University offers placement to students from various departments. UNIPUNE provides all the assistance to students to find employment. Institutions collaborate with many reputed companies to facilitate campus placement.
Reliance Jio Infocomm, Volkswagen, Onward Technologies, IBM Global Services, Tata Technologies, KPIT Technologies, Ceasefire Industries, Selling Simplified, Deloitte, Barclays, Xento Systems, Bridgestone and Infogrid Pacific Software are the major companies that participate in campus drives and recruit university students every year.
Fees at UNIPUNE
Students taking admission in Savitribai Phule University can choose any course from different streams like Engineering, Business & Management Studies, Science, IT & Software, Humanities & Social Studies, Accounting & Commerce, Hospitality & Travel, Law, Banking, Finance & Insurance, Medicine & Health Sciences, Architecture & Planning, Mass Communication & Media, Arts, Teaching & Education, Aviation, Animation, Design etc. Fees will differ from one course to another depending on the course they choose. Course fees will vary from 10,000 to 1 lakh or more.
Scholarships offered by Savitribai Phule University
University provides scholarship facilities to students who belong to a certain category. More information on this is mentioned below:
UK India Education and Research Initiative (UKIERI) Scholarship
UK Government's global scholarship program of Chevening scholarships
GOI Scholarship/Freeship
Arthik Durbal Ghatak Scholarship
Rajiv Gandhi Fellowship for SC/ST candidates (M.Phil & PHD)
Fellowship for the top 2 rank holders studying for their MPhil
National Merit Scholarship
B.C. Scholarship for the S.C/S.T/D.N.T/Neo-Buddhist student
All candidates who are eligible for scholarships will be granted according to the above list from the Savitribai Phule Pune University.