Best Black Friday VPN Deals and Offers
Black Friday is on November 24 this year, and the top VPN brands have started offering Black Friday and Cyber Monday deals on all their products. In this guide, I have listed some of the best Black Friday VPN deals and offers you can benefit from.
Note that VPN services aren't as actively engaged with the occasion as other products. However, Black Friday is still an excellent opportunity to grab a good VPN deal for yourself.
There are some great Black Friday VPN deals available; for example, if you're interested in subscribing to a premium provider like NordVPN, then you should go for it now because these companies are unlikely to pay much attention to seasonal sales.
Here are the best Black Friday VPN deals 2023, without any further ado.
Best Black Friday VPN Deals
Let's now take a look at some of the best early VPN Black Friday deals you can avail of immediately.
NordVPN
Offer: 63% off + 3 months extra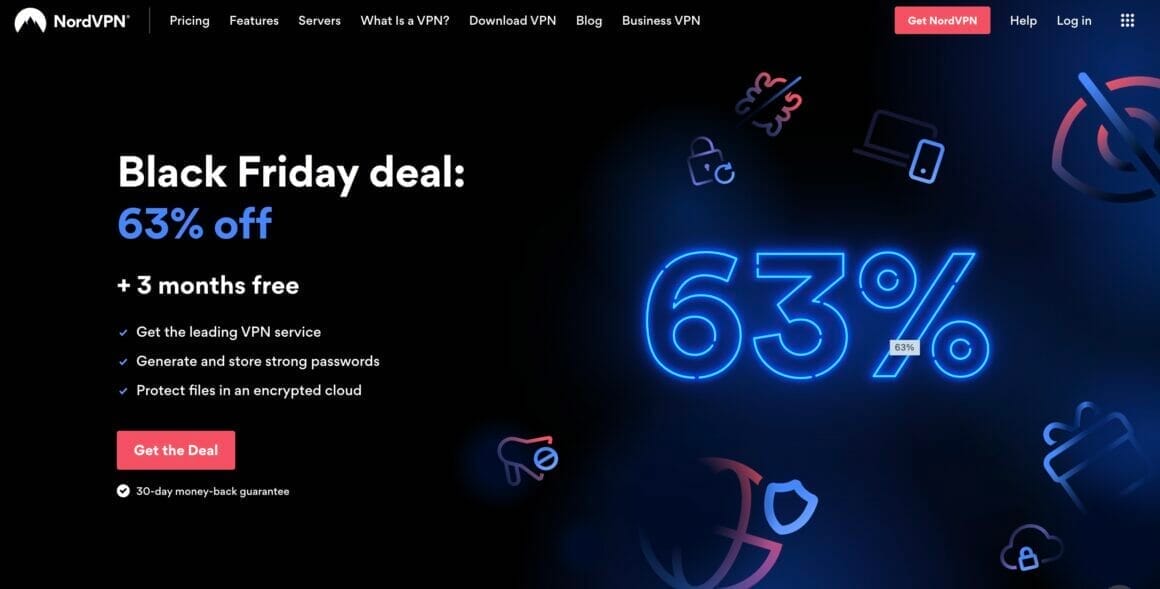 Nord is presently offering a discount of 63% off on its two-year plan plus extra 3 months off. It's the cheapest I've seen this plan go for. But that's not it. You also get 1TB of highly secured cloud storage for free.
I must mention that Nord grants you access to several streaming services anywhere, offers a 30-day money-back guarantee, and is verified zero-logging.
PureVPN
Offer: 87% Off
Are you looking for an effective VPN service for the cheapest possible price? If yes, then PureVPN's incredible deal is just right for you. It is compatible with a wide range of devices, is verified zero-logging, and is a great choice for accessing a variety of websites and protecting your privacy.
$1.41 per month for a 5 years plan and for these features is a deal you'll rarely come across elsewhere.
Atlas VPN
Offer: 85% OFF
Atlas has always been known to be one of the most affordable and highest rated VPN providers out there. For Black Friday 2023, you can subscribe to its 2-year plan for a total of $40.00 at $1.64 per month and also get 6 months extra with each such purchase.
VPN
Pricing
Trial
More Information
Atlas VPN
Free with Limits
$9.99 for 1-month
$29.88 per year
$50.0 for 3 years
Free to Use Forever
Open VPN Page
Nord VPN
$11.95 per month
$59 per year
$89 for 2 years
Yes
Open VPN Page
Namecheap VPN
Free for 1-month
$12 per year
One Month Free Trial
Open VPN Page
iPro VPN
$0.99 for 7 Days
$10 per month
$49.95 for 2 years
$0.99 for a week
Open VPN Page
Ivacy VPN
$9.95 per month
$42 per year
$59 for 2 years
$80 for 5 years
Not Available
Open VPN Page
Panda VPN
$9.99 per month
$20.99 for 3 months
$23.99 for 6 months
$29.99 per year
Not Available
Open VPN Page
VPN
$0.99 for 7-days
$10.95 per month
$69.95 per year
$79.95 for 2 years
Available
Open VPN Page
Bluf VPN
$9.99 for 1-month
$41.88 for 1-year
$72.00 for 3-years
Not Available
Open VPN Page
Potato VPN
$11.99 for 1-month
$71.99 for 1-year
Free Trial Available via App Stores
Open VPN Page
Fastest VPN
$10 for 1-month
$29.95 for 1-year
$39.95 for 3-years
Free Trial Available
Open VPN Page
Why should you use a VPN?
A VPN is essentially a tool that helps you remain anonymous on the Internet. It works by rerouting your traffic away from your Internet Service Provider's (ISP's) servers and through its own encrypted, private servers. Thus, it leaves your ISP unable to track your online activities.
Moreover, it provides a new IP address every time you connect to the Internet, making it much more difficult for websites to locate and track you. As a result, there will be less chances of a detailed profile of your activity building up. Otherwise, such details often tend to reach the hands of marketers and advertisers to spam you with ads of "relevant" products.
Many people commonly use VPNs for unblocking streaming websites. For example, Netflix makes different content available to people in different countries. If you want to watch titles exclusive to a particular country, for example, the US, you can connect to a US-based VPN server. It does away with geographical barriers and gives everyone equal access to all content from anywhere in the world.
What features should a good VPN possess?
First of all, I recommend going for any of the leading VPN providers listed above.
These services will provide fast and reliable Internet connections, unblock streaming services, and help maintain your privacy.
However, there are also some VPNs that offer unique features you won't find elsewhere. As a result, they have achieved significant popularity among users.
Strong encryption (AES-256 or equivalent), trustworthy jurisdiction, a no-logs policy (even better if it's audited), and RAM-only servers are the features you should look for in a VPN service. A large server and country list are highly desirable as well. A bigger number of servers results in a lesser server load and provides better performance and speeds. After all, even the most secure VPN isn't of much use if it's excruciatingly slow.
If you require secure cloud storage facilities, I recommend going with a provider such as Ivacy VPN. These services aren't very good choices for streaming either, but they are satisfactorily secure. Moreover, by subscribing to them, you will get access to SugarSync for a much lesser price than SugarSync alone.
How to identify a good Black Friday VPN deal?
Obviously, the best and most popular VPN services are going to be priced higher than others, even during the Black Friday sale. Nonetheless, if you don't mind settling for a slightly less robust but still highly functional and reliable VPN, you will be able to save a lot of money. Also, before you actually make a purchase, you should first consider exactly how long you're willing to commit for that provider.
Contrary to what some people believe, a long-term deal is generally the best deal. Although short-term VPN purchases cost you the least amount of money, they are not very recommendable. Once the promotion is over, the product will renew at a standard rate, much higher than the Black Friday discount.
When you sign up for a VPN, try looking for a plan valid for at least a year or more.
For example, in 2020, PureVPN's five-year deal was available at an unbelievably good value for money – merely $1.31 per month.
Although it's quite a long-term commitment, it's also one of the best prices I've ever seen. It's quite possible that PureVPN will be offering something similar this time as Black Friday comes closer.
Also, it would be best if you tried looking for additional products as well. Many of the providers mentioned here offer more than just VPNs.
For example, NordVPN offers a quality password manager and cloud storage solution as well. So make sure you keep an eye out for all these excellent side deals that Black Friday offers!
Should I make a purchase right now?
Yes. We're already well into the month of November, and quite a few deals are starting to turn up periodically. If the provider is offering a good deal right now, you can be certain that it won't go down any further before Black Friday.
Thus, if you are in the market and a provider of your choice has offered a tempting deal, I recommend you grab it.
After all, you won't be missing out on any eleventh-hour reductions by doing so.
What to expect from VPN Black Friday and Cyber Monday deals in 2023
Traditionally, VPN providers don't usually max out their Black Friday and Cyber Monday deals. Rather, they prefer to offer a wide range of discounts throughout the year.
However, with VPNs slowly becoming more mainstream, a large number of people have been searching for VPN Black Friday deals with the intention of making purchases. Thus, it'd be foolish of them not to put up some offers.
The full amount of active deals isn't active yet, so I will be adding them here as more and more providers join the game, doing their best to attract privacy-conscious customers to signup and make excellent savings.
Conclusion
In this article, I've listed the best Black Friday VPN deals and all the important details you need to know regarding them. You mustn't miss out on Black Friday VPN deals because they are the best prices you will see throughout the year.
Although plenty of discounts are offered on various occasions, they cannot hope to match Black Friday deals. It is the time when VPN providers do their best to attract as many potential customers as possible. Considering the ever-growing competition in the market, it is a good time for you to buy a VPN service.