10 Best Websites to Watch English Dubbed Anime Online
Whether you are a professional anime geek or a newbie to Anime, we have got your back. We are here to suggest to you top websites (paid and free) where you can watch the latest releases or the news episode releases of existing Anime in English dubbed. These websites release the fastest dub versions of new Anime, so you get to watch the latest shows before anyone else. Here you can find any anime you want to watch of all genres, be it shoujo, josei, seinen, or shounen.
On these sites, you can stream old-school anime like Inuyasha, Ranma ½, and the latest releases like Tokyo Revengers, Jujutsu Kaisen, Moriarty the patriot, and more. You also get a vast collection of popular anime movies like Fairy Tail the Movie: Phoenix Priestess (2012), Grave of fireflies (1998), silent voice (2016), and more.
Also see: 10 Best Animes on Hulu to Watch Right Now
Best Websites to Watch English Dubbed Anime Online
Below we have selected the top 10 websites for you to watch English dubbed anime online:
Crunchyroll

Crunchyroll is a fantastic anime streaming service and probably the top pick for every otaku watching Anime, whether it be subbed or dubbed. It is so popular because of its immense collection of anime movies and series. It also stocks exclusive original anime series and novel extras like manga shops and apparel.
The Crunchyroll members-only store offers discounts throughout all your devices with Crunchyroll premium. Also, the best part is Crunchyroll does not drop any anime that it is publishing. It always finishes the series no matter how low demand it has.
Plus, it also lists every Anime in episode number convention with mentioning arcs and seasons. For ad-free premium anime streaming, it offers a plan which can be billed either monthly or yearly. The monthly plan is priced at $9.99 per month, and the annual plan is billed at $79.99 ($6.66 per month).
KissAnime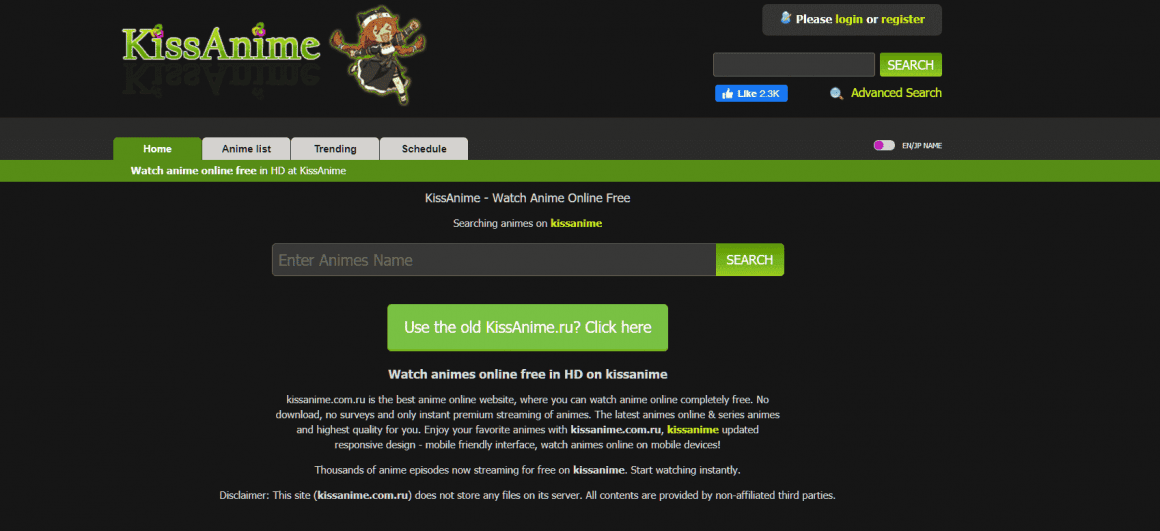 KissAnime is another famous site to stream your favorite anime series or movies and other Asian content like Korean, Thai, or Chinese dramas and movies. It also has an extensive selection, but sometimes the quality can be poor, or you may not be able to find every episode of a particular unpopular series.
Other than that, it is pretty good and has various server options for streaming and options for both dubbed and subbed Anime and movies. Best of all, it is completely free and works great across desktop, tablet, or mobile phone. Although the annoying thing about KissAnime is that it has all sorts of ads, redirects, and pop-ups.
So, according to some users, it may have malware and can attack your device.
But overall, if you are low on budget but want to watch good quality anime, we suggest you go for KissAnime.
WatchDub
WatchDub is another excellent free website to watch Anime and cartoons online. You can get various subbed and English dubbed Anime on it. Those who are new to Anime and cannot get accustomed to subbed Anime can still watch Anime here as it offers to dub to all of your anime series and movies. You get every genre here be it shoujo, shonen, josei or seinen. WatchDub has something for all. You can choose by genre and even search for what you want to watch.
On top of everything, it is entirely free to use. Though I must say, the anime collection is not that great as compared to Crunchyroll or KissAnime. Plus, this site seems to be hacked at the time.
CartoonCrazy
Cartooncrazy is one of those top in-demand sites when it comes to Anime. It also stores a wide selection of other cartoons. In addition, it is one of the best places to watch Anime for free. The only question is whether it is safe to use or not. If you are visiting the site, you need not worry, as there is no chance of getting any malware on your device. You only have to be careful about downloading Anime (we suggest not downloading and watching online) as that may harm your device. Other than this, CartoonCrazy has much Anime like Naruto, One Piece, Fairy Tail, Bleach, Hunter X Hunter, Jujutsu Kaisen, Anohana, City Hunter, and more.
AnimeLand
AnimeLand is a legal streaming website that stores a vast collection of Anime of all genres, dubbed or subbed. It is very easy to use and contains tabs like Dubbed Anime List, Goku, Anime Movies, Naruto, and Genres. This great feature helps you navigate the website with ease and find the Anime you are looking for. It also offers high anime quality between 480p to 1080p, so you get to watch your favorite series with precision. You can also download episodes from the site and watch them later at your convenience. Overall, AnimeLand is a great website to watch your favorite Anime.
JustDubs
When it comes to watching Anime, JustDubs is one of the best options out there. You can watch English dubbed anime series and movies here. Millions of people from all over the world use JustDuds to watch Anime of their interest. Its user-friendliness makes it one of the most popular sites for anime watchers. It also has a massive collection of various Anime, and you can stream high-quality content from it. On top of it, it is entirely free to use. And the site is virus-free, so you can download and watch Anime without a single worry. You can watch popular animes like Naruto, DragonBall Z, One Piece, to less popular ones like Moriarty the patriot, Ranma ½ on it.
Dubbed Anime
Dubbed Anime is yet another popular anime streaming video site where you can sit and watch your favorite animes in English dubbed and subbed. The site includes Anime like Naruto Shippuden, Attack on Titan, Sword Art Online, One Piece, and much more. It is a great place to watch Anime of all sorts without requiring any registration or subscription. It is thus trendy among Otakus.
And if you are worried about viruses, fret not; you can download Anime from Dubbed Anime without worrying about malware. It is a safe website to use and is also recommended by the majority of anime watchers. But still I'd recommend using a VPN.
9Anime
9Anime is the home of animes of all genres and subgenres that you can watch for free. It is compatible with desktop, tablet, and mobile phones, and thus you can watch Anime anywhere and anytime. It lists various popular anime movies and series through the collection of anime movies is not that great.
You can watch animes like Kimitsu no Yaiba, Boruto, Naruto, Dragon Ball Super, Jujutsu Kaisen, City Hunter, Haikyu, The file of young Kindaichi, Bleach, and many more on Home of Anime. However, it is very easy to navigate and use, and you can also filter anime recommendations based on genres in it. It also stores high-quality content and does not compromise quality.
Animestreams
Animestreams.net is a great place to watch all sorts of Anime. You also get a Chinese and Korean animation collection on the website though they are not very popular. The majority of its content is anime series and movies. The website offers submenus to divide anime movies and anime series into separate pages to make it more convenient. It also has an option called "filter advance," where you can filter out anime recommendations by type, genre, year of release, and status (whether the Anime is completed, ongoing, or dropped).
Altogether is a great place to watch your favorite shows. It also has high-quality videos only ( from 360p to 1080p). It also has a good collection of old-school anime like Ranma 1/2, Tenchi Muyou! Ryououki, Inuyasha and City Hunter. It is another favorite site for weebs to visit.
AnimeFrenzy
AnimeFrenzy is a popular and organized website to watch Anime. You get both dubbed and subbed anime options on the website. You can register and log in to watch Anime and keep track of watched and to watch list on the site, or you can watch without registering. The main menu has options for movies and Anime to separate series from anime movies, which is highly convenient, and users can quickly get what they are looking for. It also lists popular and ongoing Anime separately for user convenience. Overall, it is a pretty good website to watch Anime.
Conclusion
Anime is slowly becoming mainstream, and its popularity is increasing by leaps and bounds.
If you are a hardcore anime fan, you can get almost every anime series or movie on the sites listed above. Of course, Crunchyroll is our top pick, but other sites work just fine too.
We also recommend visiting other popular websites like Go Go Anime, 9Anime, Funimation, AnimeDao, AnimeFreak, and AnimePlanet. These are also great alternatives to the websites listed above. Some other popular anime for beginners include One Punch Man, Your Name (movie), Attack on Titan, Parasyte The Maxim, Yuri on Ice, Fairy Tail, Re: Zero Starting Life on Another World, and Erased. I hope this guide will help you watch the anime you are looking for in high quality and English dubbed.