Followers Gallery Review – A Safe and Effective Way to More Instagram Likes & Followers
Instagram is now considered a vital element of any brand's online presence. If you want your business to prosper and gain a wider audience, you cannot afford to ignore this social media platform.
As I have mentioned in previous articles, you need a well-established fanbase to have an actual influence on Instagram. Unlike in the olden days, bots and fake followers will not help you with your Instagram strategy.
You need real people who actually appreciate your brand.
This is where we turn our attention towards apps that can help one gain more free Instagram followers and likes.
One of the most important apps for this purpose is Followers Gallery or insfollowup.com.
It helps you get free Instagram likes and followers without spending a single penny. Instead, you can use in-app coins to get as many authentic followers and likes as you like. Not only will it help your profile grow, but it will save you a lot of money and time as well. Does it feel too good to be true? I thought so as well until I actually experienced it myself.
In this Followers Gallery review, I will walk you through the service's features, benefits, and downsides.
What exactly is the Followers Gallery?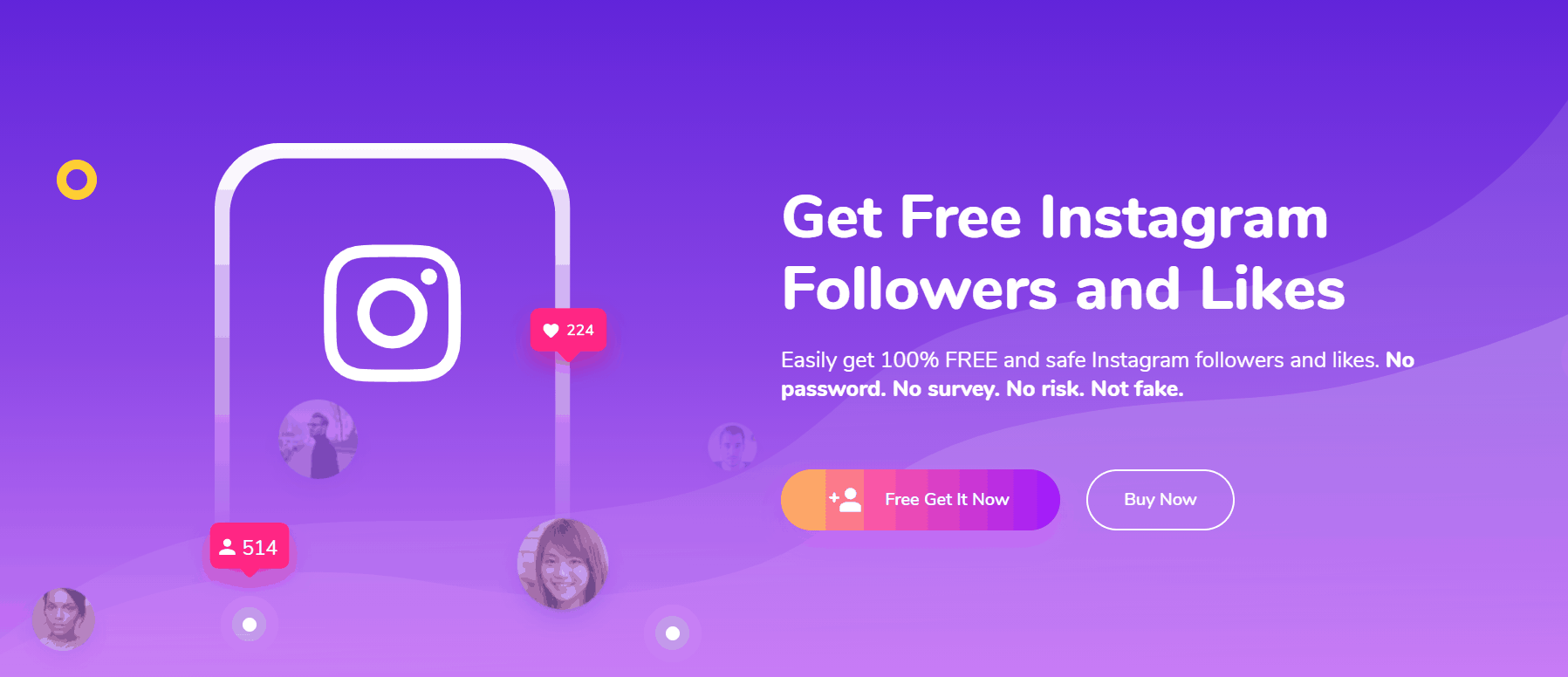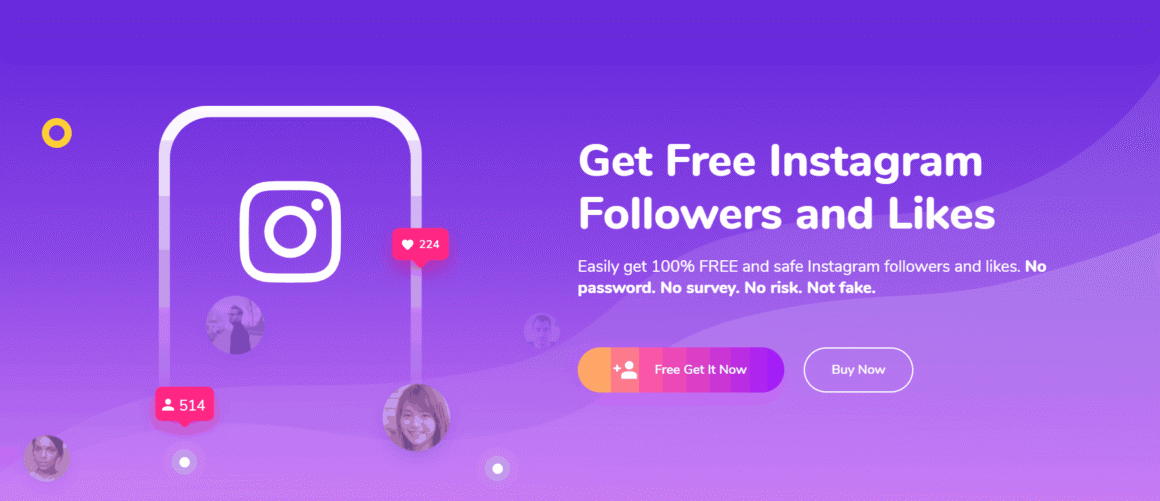 Followers Gallery is a free-to-use app for Android but also works perfectly on iOS, which helps users (especially people like marketing professionals) gain more real-time followers and likes on Instagram in a fast, safe, and genuine manner.
You do not even need a password or verification process to use the app. The plan is fully automatic and reliably produces results within 24 hours. This is the tool that you need if you are looking for Instagram followers.
Developed by a team of specialists with years of experience in dealing with social media, Followers Gallery offers a dedicated 24/7 customer service facility. It is also remarkably easy to use – all you need to do is sign up and log into the app. It also does not demand you to follow back any profiles before using it.
How does the Followers Gallery work?
There are a lot of Instagram followers apps that are either totally fake or use bots to increase the number of your followers. Such techniques are obviously unethical and misleading towards your genuine followers. They are also ineffective and ultimately pointless in today's marketing scenario.
On the other hand, Followers Gallery is a genuine app that does not have anything to do with such elements.
It is a safe and free platform that allows real people to get acquainted with and follow each other. In this system, one can earn in-app coins by liking others' posts or following them. These coins can then be used to obtain as many Instagram likes or followers as you like, without paying any real-life money. The good news is that the followers and likes you get this way are from real, authentic accounts. Only actual Instagram users are able to access the aforementioned system of earning coins and liking or following others.
Also see: GetInsta Review
You don't need to worry about the legality of this procedure either. Buying likes or followers for any sort of social media platform is totally in accordance with the law. It is simply a part of a business' digital marketing strategies.
Followers Gallery Pricing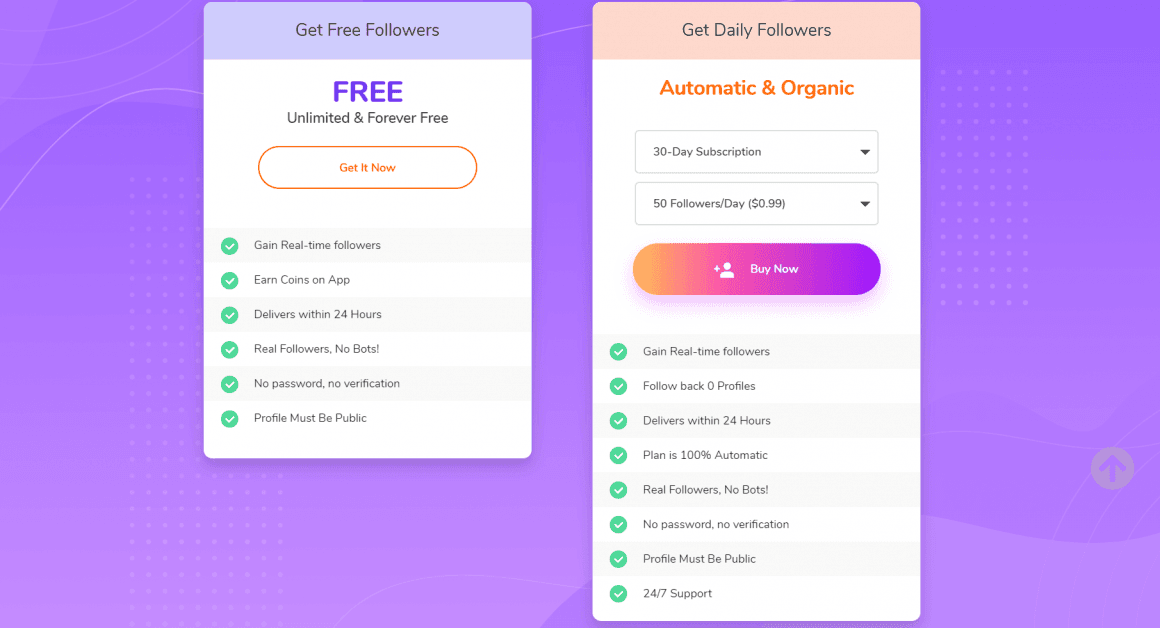 If you are interested in getting guaranteed daily followers, you can go for an optional 30–day or 60-day subscription plan. These will offer you the following benefits:
50 followers per day – $0.99
150 followers per day – $1.99
200 followers per day – $2.49
What are the advantages of using Followers Gallery?
Unlike most other Instagram followers apps out there, which merely cheat people for money, Followers Gallery actually offers a genuine and convenient service that prioritizes the needs of its users. Given below are the most prominent benefits you will gain by subscribing to this app:
It is totally free. You simply need to log into the app and claim the virtual coins that will be automatically granted to you. This is in direct contrast to numerous other apps that take your money and offer virtually nothing in return. In fact, Followers Gallery officially offers the opportunity to unlock infinite coins by performing certain easy tasks. You can then use these coins to get an unlimited number of likes and followers on Instagram. Isn't that incredible?
It highly values your privacy and safety. In today's digital world, users' privacy is often gets compromised by apps. Important details – everything from your name and address to your bank details – are put in danger of ending up in the wrong hands. Followers Gallery offers a welcome example of how things should actually be. It arguably possesses the most efficient security system I have seen in a while. The app is protected from all sorts of viruses and malware and ensures that your valuable data is not leaked to any third party. Everything is visible to you and you alone.
It ensures a high standard of quality. As already mentioned, bots simply serve to pollute your genuine Instagram account with counterfeit followers and likes. Far from improving your reputation, such behavior will only turn off your genuine appreciators. Fortunately, you will be spared this risk by using Followers Review. The likes and followers you get from this app are generally authentic.
Sign up today and let your Instagram page reach greater heights of success with every passing day!
Followers Gallery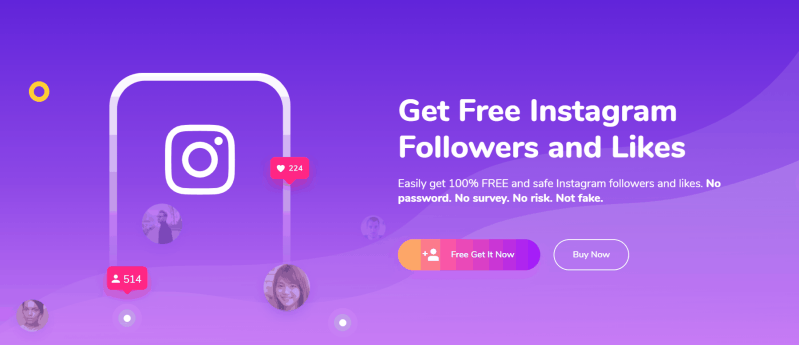 Followers Gallery, with its impeccable security and useful features, is an app you can trust to help you achieve your goals. And best of all, it does not cost you anything at all.
Product Currency: USD
Product Price: 0.99
Product In-Stock: InStock