Best Bose Headphones Offers and Buying Guide
Looking for the best Bose headphones and earphones to buy? Bose has been a key player in the music industry with its premium quality products like Bose headphones, earphones and Bose speakers. In this article, I will be listing the top headphones from Bose that are not only of great quality but are also a steal deal from the price point of view.
Bose A20 Aviation Headset

Bose A20 Aviation Headset is an excellent headset for pilots. It can cancel external noise interference up to 30% and thus is very conventional for pilots. It has Bluetooth connectivity, but you can use it as both a wired / wireless headset. It provides you with a top-quality audio experience due to its active equalization. The most noteworthy feature of the headphone is that it allows you to customize which audio signal you want to receive. You can choose any audio you need or can even mix two different audios. Bose A20 is a great headset piece, and you can also buy a non-Bluetooth version if you want.
Bose QuietComfort 35 II Wireless Bluetooth Headphones

The QuietComfort 35 II is an excellent wireless headphone that would give you three levels of top-notch noise cancellation. Thus, providing a better user experience in any surroundings. It also comes with a dual microphone for clean sound picking and voice picking. Its top audio quality lets you listen to anything at any volume without any discomfort. It has an easy Bluetooth pairing system and comes with customized settings and an Alexa connection. It also comes with a 12 inch USB, and you get to go through an innovative and audio-only experience. This model is also available in silver color.
Bose Noise Cancelling Headphones 700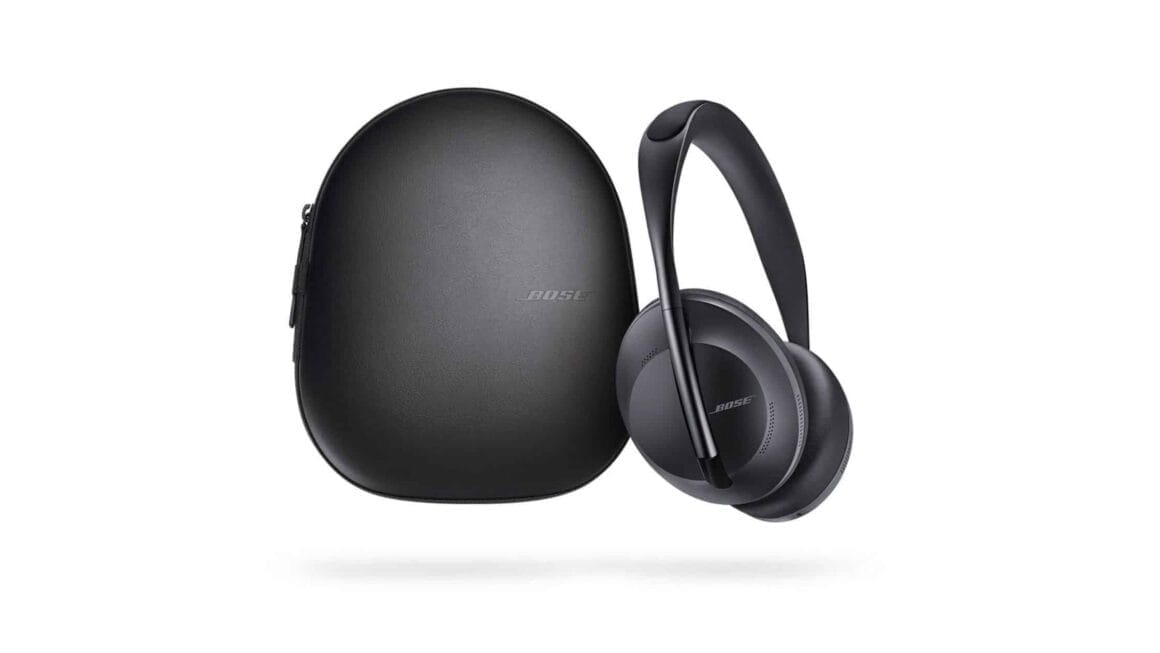 The advanced Bose Noise Cancelling Headphones 700 has one of the finest audio experiences. It offers eleven levels of active noise cancellation to allow you to indulge in your music, podcast, calls, and lectures without any disturbance. It supports both Alexa and Google Assistant, so you get to have a hands-free experience. Get up to 20 hours of nonstop music upon a single recharge with the headset. The classic design is a bonus to its features. It is made of a lightweight stainless steel headband and angled earcups for a comfortable fit. You can also purchase this in two other colors.
Bose SoundLink Around-Ear Wireless Headphones II

Immerse yourself in the deep and improved top-quality sound system with the Bose SoundLink Around-Ear Wireless Headphones. You can use it as both a wired / wireless device. It also has a very easy-to-use Bluetooth connectivity for harmonious audio-video sync. Moreover, its high-tech microphone system lets you experience a top-quality sound system even in windy or noisy surroundings. Get up to 15 hours of non-stop utilization with a single recharge, thanks to its lithium-ion battery. It even lets you switch between two Bluetooth connections and has a connection range of 9 meters. It is available in color white too.
Bose QuietComfort 35 Series 2 Gaming Headset

This Bose QuietComfort 35 Series 2 Gaming Headset can also act as a regular headset. It is equipped with top-notch noise cancellation technology to interrupt your critical game situation or your favorite music. Since it is a 2 in 1 headphone, it has a detachable boom mic for you to plug in or out of a 2.5 mm jack on the headset. It even provides a 4 level mic monitoring through your desktop and lets you personalize according to your comfort. It supports Google Assistant and Amazon Alexa for a comfortable hands-free experience. It is the best headset for gamers.
Bose QuietComfort 2 Acoustic Noise Canceling Headphones

The Bose QuietComfort 2 Headphones come in the classic black and silver color combo. It is one of the best Bose headphones available in the market that gives a great user experience due to its advanced noise reduction technology. Thus you can enjoy your music or podcast without any interruption. Powered by an AAA battery, the headphone can last for hours upon a single recharge. This lightweight headset is also very easy to carry around, and you can take it to your work or during travels. The headset comes with their cord, a 5 feet extension cable, ¼ inch plug adapter, and a case. So you will get your money's worth of experience with it.
Bose QuietComfort 25 Acoustic Noise Cancelling Headphones
This Premium Special Edition Triple Black Bose QuietComfort 25 Acoustic Noise Cancelling Headphones is one of its kind. You can experience notable noise reduction with these headphones. Thus you can use these anywhere and anytime without worrying about interruptions. It provides a deep and soothing experience for all its users. Easily control your music, volume, and calls through the headphone on your apple device. Its sleek and minimal all-black design is a bonus to all its features. Plus, it is so lightweight and comfortable that you can wear it all day.
Bose AE2 Around-Ear Audio Headphones

The Bose AE2 Around-Ear Audio Headphone is on the cheaper end of Bose headphones. But that does not mean you get compromised with the quality and experience. It is a wired device equipped with high-tech audio performance that gets you immersed in your music. It is comfortable built, and ear cushions let you use them for hours without any discomfort. Also, you can adjust the headband for a more snug fit. Its fold-flat design comes in handy, especially during travels, and it is made of durable material for prolonged wear. You will get a fine headset for a very reasonable price with this one.
Bose SoundTrue Headphones Around-Ear Style

The Bose SoundTrue Headphones are not only stylish but come with outstanding features. It is a wired headphone and comes in an on-ear style that provides a booming and natural audio experience for your music, lectures, podcasts, and videos. Furthermore, it comes with a soft-padded headband and memory foam cushions for a comfortable user experience. This way, you can wear it for hours without it causing any discomfort. You can get this in mint color, too, but sadly, the white version has been discontinued by the manufacturer. Overall, This is a very chic-looking model manufactured by Bose.
Bose SoundTrue Headphones On-Ear Style

Bose never disappoints with its headphone quality. The SoundTrue Headphones are in pale mint color, but they are also available in white, black, and purple. The simple and neat design of the headphones looks very classy. It provides a super and natural sound for its users, whether you listen to music, podcasts, or video lectures. The softly padded headband is very comfortable to wear and is also adjustable. The ear cuffs are also padded for comfortable wear. This model is also available in an around-ear style. Its foldable design also makes it easy to carry around. But it is a bit sad that this excellent model is wired and doesn't support Bluetooth connectivity.
Summary
Here are the 10 best Bose Headphones that I discussed just above in nutshell: