7 Ways You Can Level up Your Website's Design to Make More Sales
If you're working in the eCommerce space in 2022, you'll need your website to look top-notch. Its design can have an impact on everything, from how many people trust your business to how many sales you make. In this article, we're going to talk about how you can optimize your web design to convince more people to invest in your products or services. 
Let's dive in.
Make sure your calls-to-action truly stand out
A call-to-action, or CTA, is a word or phrase (often highlighted with underlining or a button) that tells the viewer what to do next. Sometimes, people just need an extra push to ultimately do what you want them to do — in this case, that's for them to make a purchase.
Here are a few things to keep in mind when trying to ensure your CTAs stand out.
Use a bright, contrasting color
Dedicate a section of your web page to its CTA
Draw attention with relevant imagery
To give you some inspiration, let's look at an example of where a business has done a great job of using a strong CTA.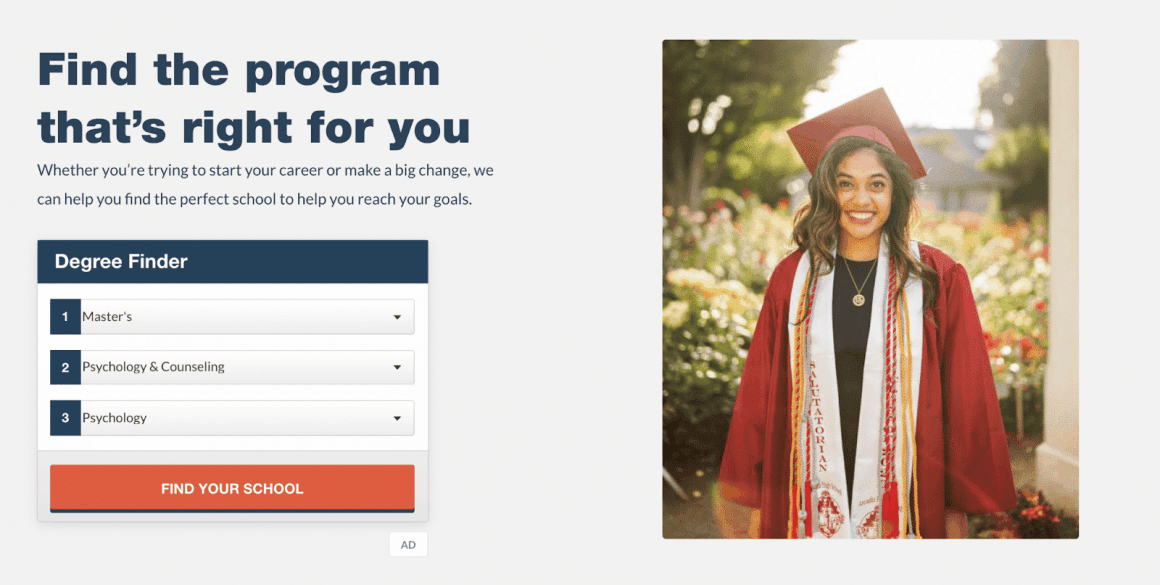 Best Value Schools has a great CTA at the bottom of their page that compares the best online Master's in Psychology programs.
As you can see, there's a bold CTA in an orange button, which reads "find your school". This is eye-catching and straight to the point, which is sure to prove motivating for a lot of people. It's also worth noting that this call-to-action sits alongside some inspirational copy and an aspirational photo of a woman who is graduating — this will help the reader to imagine where they could be in just a few years if they do find their school with this tool. It's all about catching people's eyes and getting them excited, so think about how you could do this with your own CTAs. 
If you can use these tactics on your business's website, you're sure to see some great results.
Include customer reviews and testimonials in prominent spots
Did you know that 72% of customers won't take any buying actions until they've read reviews (Testimonial Engine)? This means that you need to include customer testimonials and reviews across your website in order to help boost your conversions. It can definitely be helpful to have a special page just for reviews, but don't forget to weave reviews into your content, product pages, and service pages to ensure your viewers see them, too.
Let's look at a few examples for inspiration.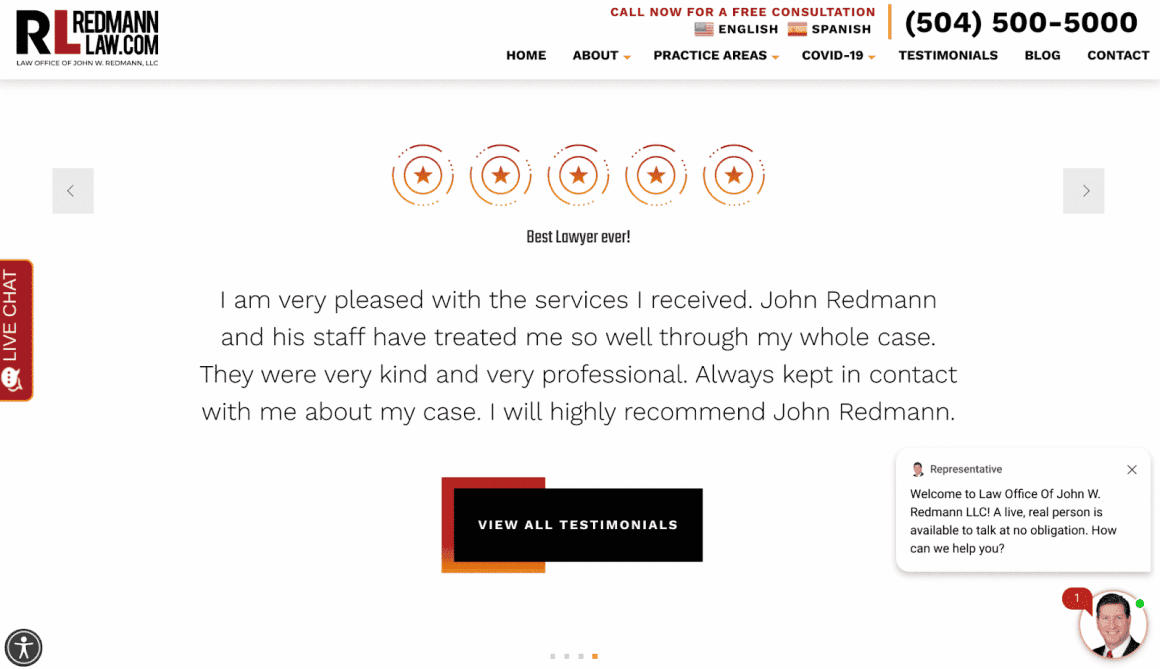 For instance, the Law Office of John W. Redmann, LLC has dedicated a full section of their homepage to positive client testimonials.
This is a great approach for a service-based company, and especially a legal firm. Prospective clients who are about to embark on a legal case will want to get plenty of information about a lawyer before reaching out, and these testimonials provide plenty of extra information that will push people towards getting in touch. Testimonials like this provide more context about the kinds of cases the company has handled, how easy it was for clients to work with the firm, and more. If you have a service-based business, displaying written testimonials on your site in this way could help you to generate a lot more sales, as they'll prove you're great at what you do.
On the other hand, short and snappier reviews tend to be more suitable for product-based eCommerce sites. 
For instance, GroomsShop is an online store that provides gifts for groomsmen, and they display star ratings under all of their products. These ratings come from reviews that have been given by their past customers, and they make it much easier for new shoppers to compare similar products before making a purchase. If you decide to go down this route, take a leaf out of GroomsShop's book and also mention how many reviews each product has received — this will help your reviews to appear more legitimate, and someone will be far more likely to buy from you if they know lots of different people have had a great experience when doing so. 
If you sell a lot of similar products, this is a good strategy to take — right off the bat, the viewer can see that these are all highly rated products, and it makes them very easy to compare.
Make it incredibly easy for customers to contact you
If your prospective customers have a question or concern, they'll want to get in touch with you — if they have a hard time doing this, they're likely to leave before making a purchase. It's important to have a variety of contact options to ensure that different audience members have a way to get in touch. Older customers, for instance, tend to prefer phone customer service, while younger customers tend to prefer social media direct messages and live chat customer service.
There are a few different things you can do to ensure your web design makes it very clear which contact options you offer. For instance, you could introduce live chat software and make sure you make this option very obvious with bright colors and potential a pop-up when someone first visits your site. You should also include your phone number in the header or footer of your site if this is a contact option your customers frequently used.
Finally, ensure you have a contact page that's easy to find, which includes all of the information someone might need to get in touch in a way that suits them. If you are unsure about these things, you should consult with an expert who offers UI consulting services. Web UI consultants can help you a lot, mainly in helping you understand where to put what and how make more people reach you.
Ensure your web design is responsive
You need to ensure that your website will look great on all devices, no matter their operating system or type of browser. As of April 2021, 56.16% of all web traffic came from mobile phones, meaning that your mobile website is actually even more important than your desktop version. If you can't guarantee that your customers can access your website on whatever device they're using, you could miss out on a lot of customers.
This is even more important recently due to Google's Mobile First Indexing, a new feature added in March 2021. In short, it means that, if your website is only accessible on desktop, Google will not show it in their search results, so your mobile website is all the more important.
Use high-quality and persuasive imagery
Using high-quality, persuasive imagery is important for boosting your sales. Your images can help get your customers excited in several ways. Here are a few different ways you can use imagery to encourage sales:
Show people that reflect your customers using your products and services
Showcase the best features of your products and services
Humanize your business so people feel an emotional connection to it
Use engaging infographics to provide information in a digestible way
Let's look at a few examples of businesses that use imagery well in their website's design.
To start, the Centers for Disease Control and Prevention (CDC) uses imagery to encourage Americans to take the COVID-19 vaccine. The images here communicate the CDC's message effectively. In the first picture, they have four unmasked people playing cards together, inside — something highly discouraged for unvaccinated people. This tells the audience that, if they're vaccinated, they can go back to their pre-pandemic life, which is sure to motivate them to book an appointment.
Nintendo also helps customers to imagine themselves using their products on their page for the Nintendo Switch Lite. To the left, they note that the Switch Lite is compact and show an image of a person slipping the device into a small bag. This shows that it's a great gaming console to have on long trips. On the right, there is an image showing a woman playing on her own Switch — women are typically not marketed to in the video game industry as much as men so, by using a woman as a model for this image, Nintendo targets a wider demographic for sales.
Consider how you can incorporate exciting, relatable, and helpful imagery into the design of your site to convince more people to buy from you.
Make it incredibly easy to navigate your website
If you want to improve your search engine optimization (SEO) and boost your conversions, you need to ensure that your site provides a positive user experience (UX). One of the most effective ways you can do this is by creating an effective navigation.
If people can't find what they want on your website, they won't want to stick around to make a purchase — this will signal to search engines that your site provides a poor UX and will decrease your ranking in the SERPs.
As a rule of thumb, someone should be able to find what they need on your website within three clicks. Here are a few ways to provide good site navigation.
Use a footer: A fat footer, like this one from Zappos, shows just about every important webpage someone could be looking for. It allows you to input a lot of links, which ensures a better user experience.
Organize your menu: Give some consideration to how the menu of your website should be organized. On desktop, menus are usually horizontal while, on mobile, "hamburger style" menus tend to be used.
When it comes to organizing your menu, you could list the different types of products you have and services you offer or provide different buttons for different sets of customers (like resources for students and teachers, for instance). Don't just copy what your competitors are doing — think about what kind of setup will benefit your customers the most and roll with it. If you are unsure of how to reach for this, try reaching out to a web designer or a product design company.
Always keep the most important information above the fold
On average, you have 15 seconds to capture someone's attention on your website. This means that you have to keep the most important information above the fold, meaning it's front and center, and visible without the user having to scroll.
Of course, there's a lot of information that you want your customers to know right off the bat. But, think of what your largest selling point is, and don't be afraid to offer them a free trial. Highlighting your unique selling points, the benefits of using your services, and how people can learn more about your products are all great things to include above the fold. If you have to sell someone on your product or service within 15 seconds, what would be the first thing you tell them?
Let's look at a couple of examples of businesses that include important information above the fold in an effective way.
For instance, on their local citation building page, Loganix focuses on explaining why their service is important, what the benefits are, and how long clients can expect to wait to see results.
Of course, there are other important information prospective clients will need, such as the price of this service and exactly what it entails, but these are the most important points that might motivate someone to make a purchase. Consider your customers' pain points, and then try to address them above the fold. Loganix knows that business owners want to see results fast and want to boost their SEO — this above-the-fold copy makes it clear the company can help in these areas. 
Teamwork, a project management software, includes their most important information above the fold, as well.
Teamwork wants website visitors to note a couple of selling points about their product: it's simple to use, it can handle multiple projects and scales into a full platform as a business grows. Additionally, you can see that Teamwork has a 5-star rating and a free trial. It's a lot of information, but all readily visible to a visitor. And it ensures that anyone who lands on this page gets all of the important points without even having to scroll. You should aim to do this on your site, too. 
Summary
The design of your website can make or break a sale. In this article, we outlined how you can use it to your advantage and ultimately get more conversions. Think about our tips when reworking your website, and make sure you incorporate strong CTAs, a great UX, a responsive design, and more into your plans. You'll be well on your way to increasing your bottom line.