6 Best LastPass Alternatives that You Should Switch-to Today
Password managers are indispensable in helping you maintain a strong security profile. They allow you to generate stronger passwords and also remember them for you. LastPass is undoubtedly one of the best password management solutions for business and personal use. Although its unique features make it ideal for larger enterprises, it is also a good choice for smaller organizations.
However, a disadvantage of using LastPass is its track record with corporate hacks. Since the company's launch in 2008, it has reported several security breaches ranging in severity from vulnerabilities in browser extensions to full-blown breaches. Recently, two serious breaches in 2022 resulted in hackers accessing encrypted backup vaults containing user passwords, website usernames, and form-filling data.
Depending on your business needs, alternative password managers offer numerous advantages over LastPass. In this article, I have listed some of the best LastPass alternatives in 2023 that are better (and generally cheaper) at creating and storing strong and secure passwords.
Best LastPass alternatives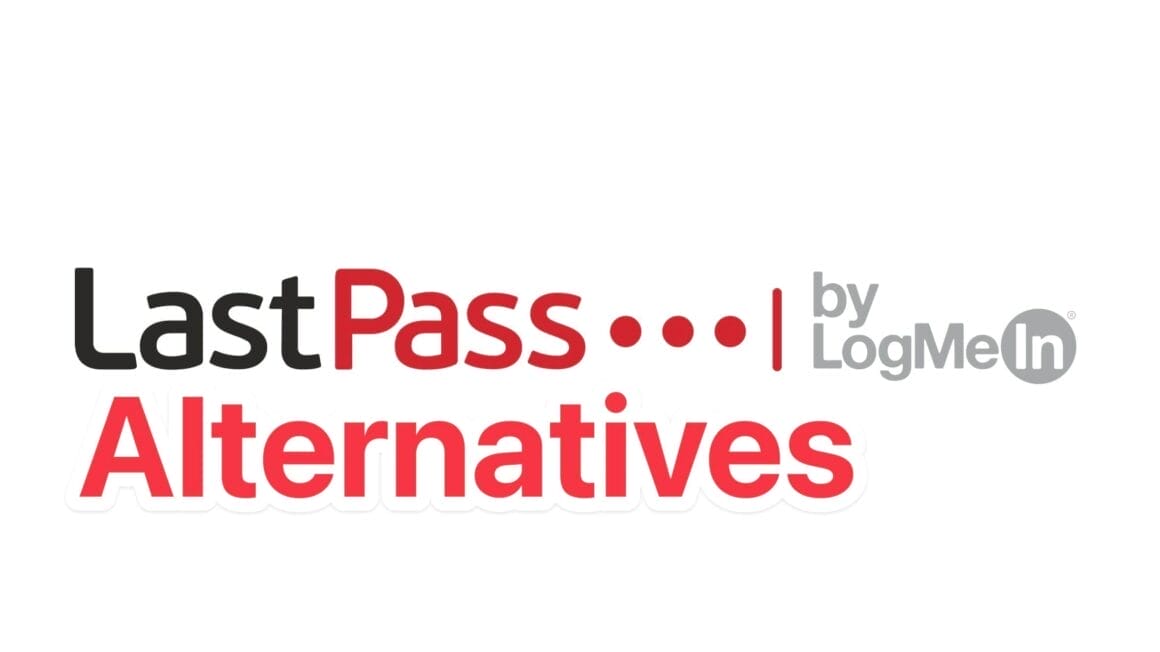 Let us go through my picks for the six best LastPass alternatives available today.
Enpass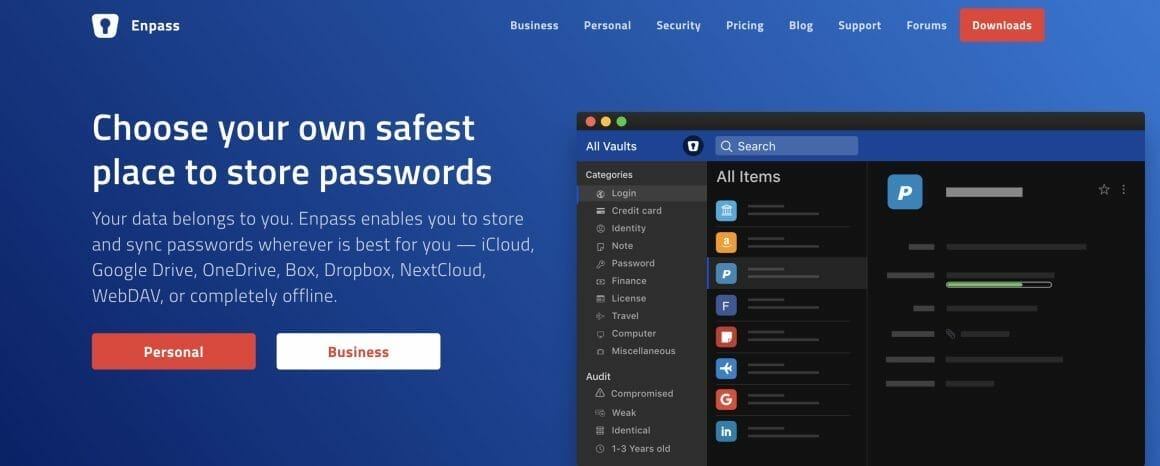 Enpass is my favorite password manager and possibly the best LastPass alternative out there.
It is an easy-to-use tool that saves all your password information on your computer and allows you to build multiple vaults for different purposes. In addition, you can use Enpass across multiple platforms to remember your login details, passwords, and personal payment information. This makes your digital life a whole lot easier.
Enpass is free to use with optional paid upgrades.
And that is not the only unique thing it offers. It also lets you store your data offline or in your Google Drive/Dropbox account.
1Password
Many reputable publications such as Fast Company, The Wirecutter, TrustPilot, and Wired recommend 1Password. It is one of the easiest-to-use password manager apps on the market. In addition, it features a minimalistic interface that doesn't overwhelm you with too many options. The app offers numerous features to help you keep all your online accounts safe and secure, such as monitoring for compromised logins and websites that support 2FA. In addition, it provides standalone apps for Windows, Mac, iOS, Linux, Android, and Chrome OS.
Compared to LastPass, 1Password has a much better reputation for security standards. Both use local AES-256 encryption, the industry standard to prevent attackers from accessing stored passwords. However, 1Password has shown much more transparency with its history of third-party security audits. Although LastPass asks third-party security firms to perform audits and pen tests, they aren't as forthcoming as 1Password with the results of those audits. As a result, the latter gives you a better view of the vendor's security preparedness.
1Password pricing begins at $1.50 per month, billed annually. Although there is no free version, you can go for a free 14-day 1Password trial to find out whether the service fulfills your requirements. It also offers a 30-day money-back guarantee.
Bitwarden
If you cannot fit LastPass within your budget, Bitwarden might be a better option for you. It is an open-source password manager that offers a decent selection of features, including password generation, syncing across devices, saving unlimited items, and vaults for other data. In addition, it provides apps for all platforms, including Windows, Mac, Linux, Android, and iOS. Reddit and Quora people recommend this as the best password manager out there.
Bitwarden also comes with browser extensions for all modern browsers. Moreover, tech-savvy users and web developers can access Bitwarden from a command-line interface. The best thing about Bitwarden is that you can set it up on your own custom server for free anytime you want. As a result, it's one of the best options in the market for small businesses. In addition, the Teams or Enterprise editions also offer excellent features such as text and file sharing, 2FA, API access, and SSO for larger organizations with more complex password management needs.
The free version of Bitwarden allows you to store and sync unlimited passwords across unlimited devices and comes with two-factor authentication. For $10 per year, the premium version gives you access to 1GB of encrypted file storage and additional two-step logins and allows you to share your vault with one other user, among other extras. Similarly, the family account enables you to share premium features with six users for $40 per year.
Dashlane
Dashlane is one of the most popular password managers on the market. It features a clean and straightforward user interface to store and manage all your passwords. Its limited free version enables you to store and autofill up to 50 passwords on a single device and includes 1GB of storage for encrypted notes and notification of data breaches. You can also use it to generate and share passwords and use two-factor authentication. It offers apps for all devices and platforms, such as Android, Windows, Mac, and iOS.
The best thing about Dashlane is that its premium plan comes with free VPN and Dark Web Monitoring. The stolen passwords are generally sold on the Dark Web when a website is hacked. Dark Web Monitoring protects your accounts against lists of hacked websites and warns you if it finds your username on these lists. Thus, you can change passwords before your accounts get compromised.
Besides basic password management capabilities, Dashlane offers business users extra features such as a personal account, public WiFi VPN, and SAML-based SSO for no additional charge. On the other hand, LastPass makes it hard to manage personal and business information without switching back and forth between separate accounts. Also, you will have to pay more for SSO and 2FA and look for an independent VPN provider with LastPass. Thus, Dashlane is the better choice for users who want to get more for their money.
NordPass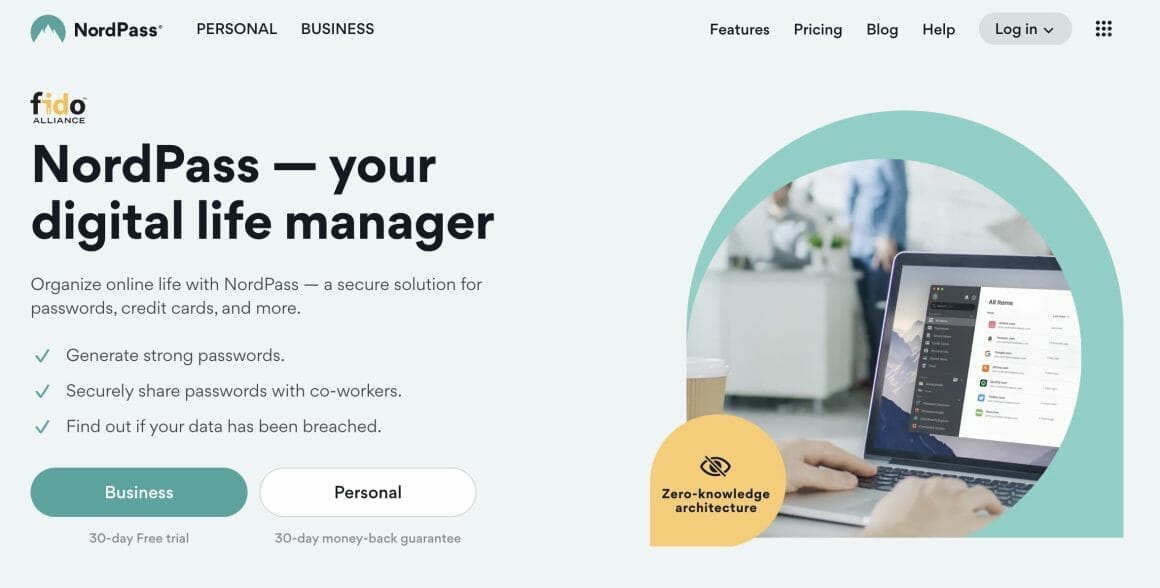 NordPass comes from the makers of NordVPN and NordLocker. It is a free and premium password manager available for all devices and platforms, including Windows, Mac, iOS, Android, and Linux. It uses XChaCha20 encryption to save and manage unlimited passwords for your favorite website and app logins. The most notable feature of NordPass is its simplicity; it does just what it is designed to do – keeping your passwords safe and automatically logging you into your accounts – and it does that job well.
To keep your passwords as safe as possible, NordPass uses zero-knowledge architecture, meaning that not even the NordPass developers can access your master password or decryption keys. Thus, it dramatically reduces the risk of compromised passwords in case of a breach. Also, its state-of-the-art biometric logins and multi-factor authentication further enhance its security. If you are concerned about security, NordPass is an excellent option because it is more secure and offers much better encryption than its peers.
The free version of NordPass can store unlimited passwords on a device. The premium version starts from $1.49/month, lets you use it on six devices, and comes with a data breach scanner, secure item sharing, password health, trusted contacts, and more. In addition, when you sign up for NordPass, you will receive excellent discounts on premium NordVPN and NordLocker plans.
Keeper
Keeper is one of the most secure password managers available in the market. Unlike other apps on this list, it is specifically designed for businesses and teams and offers a wide range of security features and benefits. It is among the highest-rated password manager apps on nearly all platforms, such as Google Play, Apple Store, G2Crowd, GetApp, and Trustpilot. It offers apps for all devices, including Windows, Mac, iOS, and Android.
Keeper has a clean and intuitive design that is consistent regardless of your device or browser. It lets you easily import passwords from other popular password manager applications and built-in password managers, allowing you to get started with Keeper immediately. The app also offers various optional add-ons such as advanced reporting, BreachWatch, Keeper Chat, and file sharing. Since each add-on is priced per user annually, it is an affordable way to get precisely the features you want.
Keeper's prices begin at $1.75 per month, and it also offers a 30-day money-back guarantee. In addition, it allows sync between unlimited devices and offers numerous robust security features. If you are looking for a password manager with a more intuitive and customizable UX than LastPass, Keeper might be a suitable choice.
Conclusion
LastPass is a popular password manager market with many advantages, especially for large organizations that need to implement advanced cybersecurity tools such as MFA and SSO. However, there are better solutions for some businesses. Also, many users have been affected by the recent 2022 LastPass breaches that compromised the apps' security and provided access to internal systems.
Various LastPass alternatives are more affordable or may offer better features, security, or user experience than LastPass. I hope this article helps you choose an effective tool that provides optimal protection to safeguard your precious data.