6 Best Kajabi Alternatives to Create and Sell Online Courses
Kajabi is an all-in-one course creation platform ideal for building a successful online business. If you have been using it, you already probably know that it has some robust tools that can help you sell your digital products – including memberships, online courses, coaching programs, and podcasts.
From what I have seen, the platform has all the tools you need to build your website and courses. However, it has limited eLearning activities and learner analytics, which appear relatively weak compared to its marketing features.
These include sales pages, automated sales funnels, an in-built email marketing software and CRM system, and a mobile app – to name a few. On top of that, it allows instructors to network with fellow course creators as part of a vibrant community.
Nevertheless, there are and – always will be – other online course platforms that offer similar offerings. So, if you are looking for a platform other than Kajabi to create and sell courses, you've come to the right place.
In this article, I have listed the 6 best Kajabi alternatives and the key information on what each offers to help you decide on which platform to choose.
Overview & Pricing Information
Before going through each course platform, I believe it's crucial to know their price. This can help you decide which platform suits your budget.
So, here's a table that presents the pricing plans of all seven platforms, including Kajabi and the 6 Kajabi alternatives:
| Platform | Trial | Plan 1 | Plan 2 | Plan 3 |
| --- | --- | --- | --- | --- |
| Kajabi | Free trial (14 days) | Basic – $149/mo | Growth – $199/mo | Pro – $399/mo |
| LearnWorlds | Free trial (30 days) | Starter – $29/mo | Pro – $99/mo | Learning Center – $299/mo |
| Thinkific | Free Plan | Start – $99/mo | Grow – $199 | Expand – $499 |
| Teachable | Free plan (plus transaction fees) | Basic plan – $39/mo (5% transaction fees) | Pro plan – $119/mo | Business plan – $299/mo |
| Podia | Free trial (14 days) & Free plan | Mover – $39/mo | Shaker – $89/mo | Earthquaker – $199/mo |
| Udemy | Revenue Based | An instructor gets 37% of the sales revenue, and Udemy gets 63%. | When promoting/selling the course using a coupon or affiliate link instructor gets 97%. | – |
| LearnDash | 1 site license – $159/year | Up to 10 site licenses – $189/year | Up to 25 site licenses – $329/year | – |
Information retrieved on Post Date
This table shows us the following:
Kajabi is the most expensive option compared to other course platforms.
Kajabi, LearnWorlds, and Podia have free trials – 14 days – 30 days, and 14 days respectively.
LearnWorlds and Podia have about the same average price throughout their plans.
Thinkific's pricing plans appear to be the most flexible as there are more options for instructors.
Thinkific, Teachable, and Podia are the only platforms offering a free plan. Out of these, Teachable's free plan comes with transaction fees.
As a marketplace, Udemy follows a dedicated instructor revenue share that determines how the revenue percentage is divided between the instructor and the platform.
LearnDash works with site licenses and charges instructors on an annual basis while providing support, updates, and fixes.
6 Best Kajabi Alternatives for Your Online Courses
LearnWorlds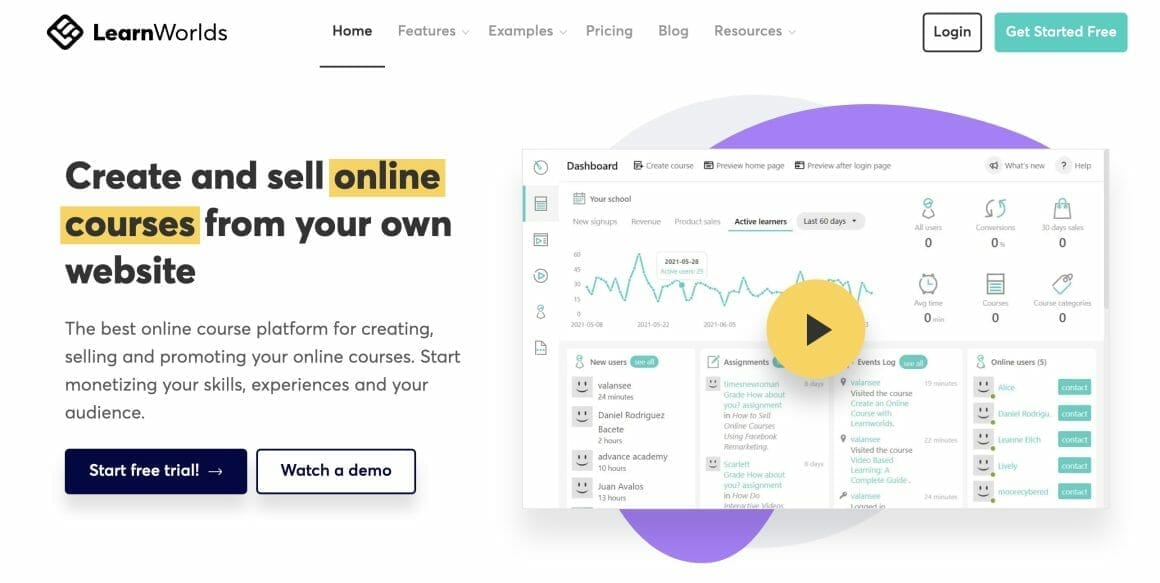 LearnWorlds comes first on my list because it is one of the top online course platforms in the market and the best alternative to Kajabi. LearnWorlds encapsulates everything a digital entrepreneur needs as an all-in-one online course platform. So, if you want to launch a successful online academy, this is the platform you need.
It is equipped with concrete course creation features that allow you to build interactive content, a built-in community, in-depth learner and course analytics, live sessions, key promotional tools to sell your online courses, and a native mobile app.
What's more?
LearnWorlds has got you covered every step of the way. With its powerful site builder, you get advanced web design customization, helping you boost your brand visibility. The platform allows you to create unique and engaging learning experiences putting the needs of instructors and learners first. Plus, it is a better yet cheaper alternative to Kajabi.
You can try out LearnWorlds here. Claim your free 30-day trial now.
Thinkific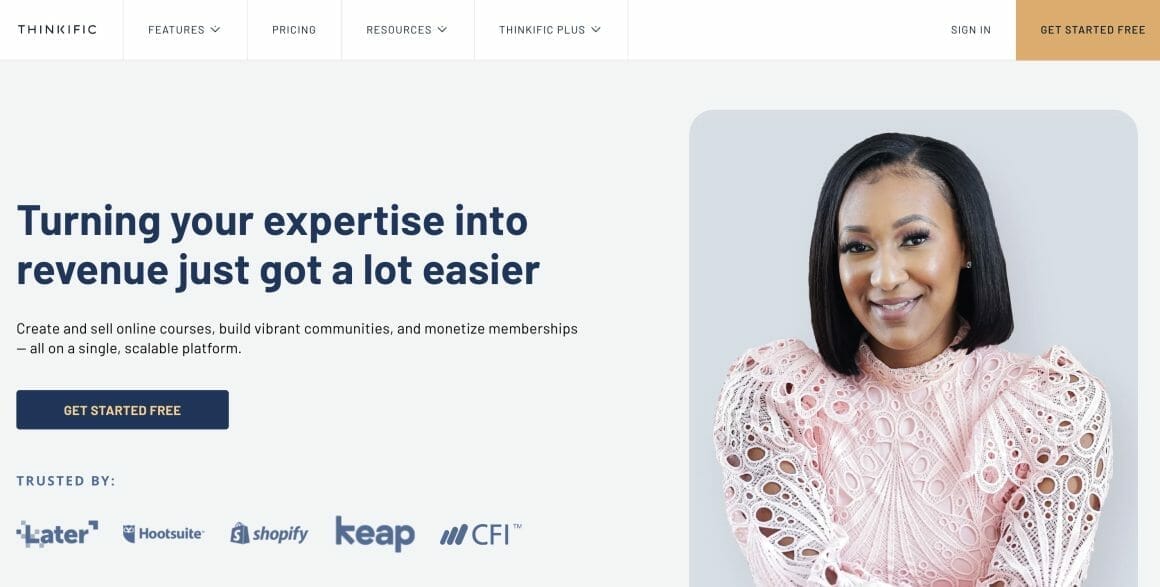 Second on the list comes the mighty Thinkific – an online course platform that can help you build an online education business, turning your expertise into revenue. Like LearnWorlds, Thinkific is a great Kajabi alternative, with the only difference being that it cannot be used as an all-in-one platform.
The platform comes with course and website building features, an online community (forums), learner assessment, certificates, and sales tools to grow and scale your business, but excludes marketing automation features, SCORM capabilities, and a mobile app.
Despite that, with Thinkific's drag-and-drop website builder, you get to create great learning experiences and add any type of content you want to your courses easily. Its site builder as well, helps you build custom pages for your courses and experiment with some customization options.
As a platform, Thinkific is great for edupreneurs and trainers, and it can be used to offer corporate and enterprise training.
You can read my Thinkific review or create an account with Thinkific here.
Teachable
Another great Kajabi alternative is Teachable, which is one of the most popular online course platforms out there. As a platform, it has an intuitive dashboard which makes it very easy to use, and it's ideal for new course creators.
Teachable shares many marketing capabilities with Kajabi – I believe both are doing excellent work there. However, they are lacking in terms of educational features. I think Teachable is more focused on the selling aspects of running an online course business.
To build courses, you can easily add downloadable content, links, text, audio, video, and other types of media. You can also use its drag-and-drop functionality to build and organize your content with minimal effort, moving any section or lecture quickly.
Despite this, interactivity is limited, and the platform doesn't come with a white-label option. This could be a disadvantage if you want to get more customization power out of your chosen platform.
You can create an account with Teachable here. You can also read the Teachable review to decide more on this.
Podia
Podia is a cloud-based learning management platform that allows you to sell a wide range of products, including online courses and digital products like files, videos, ebooks, memberships, webinars, coaching sessions, and more.
As a great content management tool, Podia also comes with some essential course-building capabilities, letting you create quizzes and adding many types of content – texts, images, and video.
The platform offers a simple user interface, and it's easy to use. Its on-page chat widget allows you to talk with users directly, and its rich community-building features give priority to learning. Podia also has inbuilt email marketing, a website builder, and embedded checkout options.
It also has some basic reporting and assessment capabilities, but it doesn't offer certification or SCORM options. Compared to Kajabi, Podia's pricing plans are more affordable.
You can sign up for Podia here.
Udemy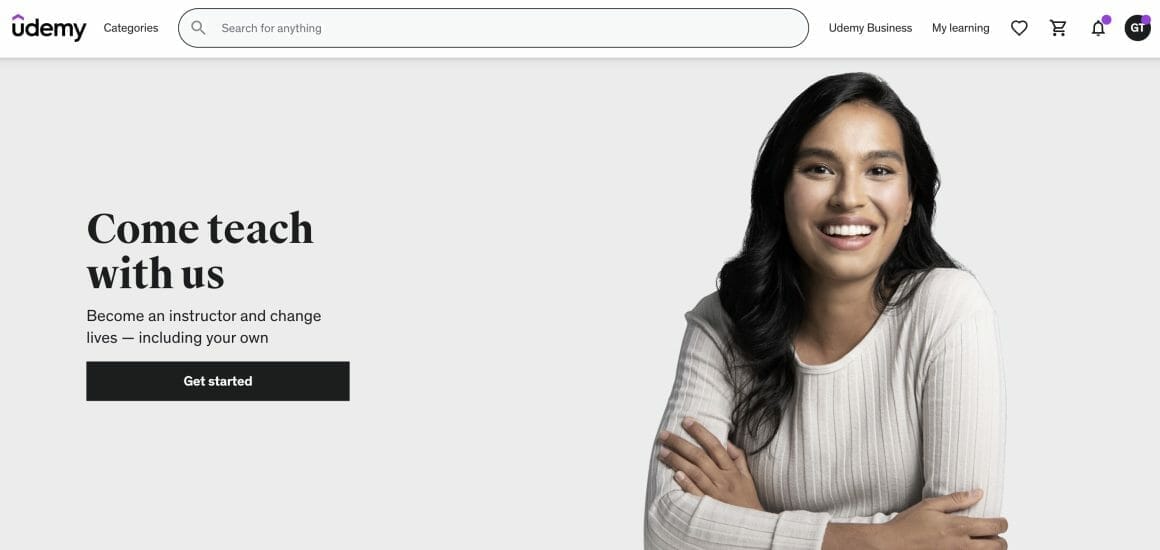 Udemy cannot be called a direct Kajabi alternative or competitor. Udemy is an online course marketplace, and unlike the other platforms here, it can't help you create your course. What it does, though, is host your online courses while helping you promote and sell them. For this reason, not every course can get featured on the platform unless it goes through Udemy's Course Quality Checklist.
The checklist specifies how many minutes of video content you need to have in your courses (at least 30), the minimum number of 5 lectures, and HD video quality.
Because Udemy is a popular platform used by instructors and learners, it can get you high visibility and increase your audience. Still, I would say that you will need to put in a lot of effort to market your courses before the platform starts promoting them.
As a platform, Udemy it's user-friendly and easy to use, and you don't need to pay anything front to get started. The only downside is that the platform gets a huge proportion of your earnings, which means you will need to do some affiliate marketing to push your courses up the sales funnel and earn enough money.
Also see: Best Udemy Alternatives to Start Teaching Online
LearnDash
As a WordPress LMS plugin LearnDash differs from the majority of online course platforms in this list. However, the result you can produce with it is similar. LearnDash is an excellent tool for instructors who have a WordPress website and want to start creating and selling courses online.
The plugin allows you to add courses as a product and create a gated academy easily. It also comes with a course builder upon installation and offers several elearning capabilities, including drip-feed content, quizzes, discussion forums, leaderboards, and more. Compared to Kajabi, LearnDash offers more advanced educational features but can't help you create memberships or coaching programs.
Marketing and sales tools are also available in LearnDash, but to get the most out of it, you will need to combine the platform's capabilities with other tools or plugins. While it's easy to set up, you will need to have the technical expertise to back it up in the long term.
Since WordPress is quite a popular tool, I am guessing many entrepreneurs would like to test it out. If that's you, sign up for it here.
Choosing an Online Course Platform for Your Business
And, that's it! This was the list of the best Kajabi alternatives.
While it's true that Kajabi is a major player in the eLearning industry, many other options offer the same – if not more advanced capabilities at a better price.
What's great is that you can choose the platform that suits your needs the most.
Whether these are feature-related, financial, or support-focused, I suggest you examine each one thoroughly and try to align them with your business requirements. If this list still doesn't satisfy you, here are some more online course platforms that you should have a look at.