The Story Of The Real-Life Soñador: Mariah's Storm
Dreamer, the 2005 movie starring Dakota Fanning, is the tale of Soñador, a mare who becomes catastrophically injured in a race but is rehabilitated by her trainer, Ben, and his daughter, Cale (Fanning). The pair originally intended to breed "Sonya," but they discover that she cannot bear children.
Emotions run high, and that leads to a scene in which a startled Sonya reveals how fast she really is. Temporarily rehomed via a claiming race, Ben and Cale repurchase Sonya with the intention of running her in the Breeders' Cup Classic, one of the most prestigious races in the world. Twinspires, edge.twinspires.com, has detailed info on this race if you want to know this event a bit better.
Although Sonya is dismissed by the betting public, spoiler alert: she comes home victorious. Many people have seen the movie and have come to appreciate its Cinderella-like rags-to-riches story. However, few of the movie's fans realize that while Soñador herself is fictional, the movie is based on a real-life Thoroughbred mare named Mariah's Storm.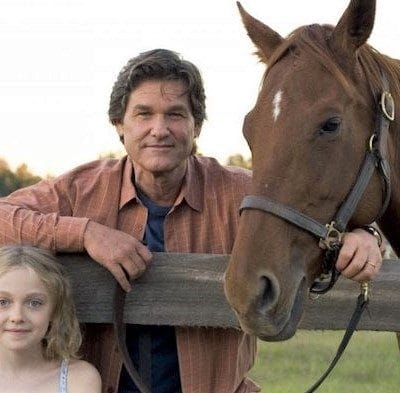 About Mariah's Storm
Mariah's Storm, born in 1991, was a bay mare by leading sire Rahy out of Immense, by Roberto. She was highly regarded as an up-and-coming racehorse in the fall of 1993, and was being pointed toward that year's Breeders' Cup Juvenile Fillies. She won her debut race by thirteen lengths and was immediately vaulted into stakes company. She finished second in the Palatine Breeders' Cup Stakes but then came back to prevail by a length in the Grade II Arlington-Washington Lassie Stakes.
Her next start was the Grade II Alcibiades Stakes at Keeneland. The filly was running mid-pack when suddenly, disaster struck, and she fell. It was discovered that she had fractured her cannon bone- an injury that typically ends a horse's career and threatens their life.
Mariah's Storm's owner, Bill Peters, and trainer, Don Von Hemel, however, took a different approach. They believed, like the fictional Ben and Cale, that their filly could be rehabilitated.
And, again, like Ben and Cale, they were right. Less than a year later, in the Grade III Ak-sar-ben Oaks, who should appear on the track but Mariah's Storm. Not only did she prove she could still physically withstand racing, she won by an easy 5 ½ lengths. In fact, she won three times in a row, following up with the Rolling Meadows Stakes and the Grade III Arlington Heights Oaks.
Mariah's Storm had already more than proven her heart and courage, but she still had more to give. She continued racing as a four-year-old, where she gave a monster performance in the Grade II Turfway Park Budweiser Breeders' Cup Handicap. She won by daylight, but even more impressive was that among the vanquished was champion filly Serena's Song.
Mariah's Storm vs Soñador
It must be noted here, however, that there are two major differences in the story of Soñador and the biography of Mariah's Storm.
The first is that, while Soñador wins the Breeders' Cup Classic, Mariah's Storm does not even contest the race. Throughout her entire career, in fact, she never once took on male competition. Instead, she was entered in the 1995 Breeders' Cup Distaff, but she ran an uncharacteristically flat race to finish ninth behind winner Inside Information.
The other difference between Soñador and Mariah's Storm is both happier and more influential on the sport as a whole.
While Soñador was unable to reproduce, Mariah's Storm produced several foals, most notably her firstborn, a chestnut colt by Storm Cat.
Given the name Giants Causeway, he went on to become the best racehorse in Europe in 2000, and retired to an immensely successful worldwide stud career, ensuring that the legacy of Mariah's Storm will live on for generations to come.