Enpass Review: My Favorite Password Manager
If you're looking for a fantastic password manager, Enpass can be one of the first choices.
In an earlier article, I reviewed the top password managers and Enpass was on the list.
It is my favorite password manager, and I take the liberty of using it alongside Chrome's inbuilt password manager.
"How's it?" You'd ask. Sure, that's what I will tell in this Enpass Review.
Enpass Review: The Short Version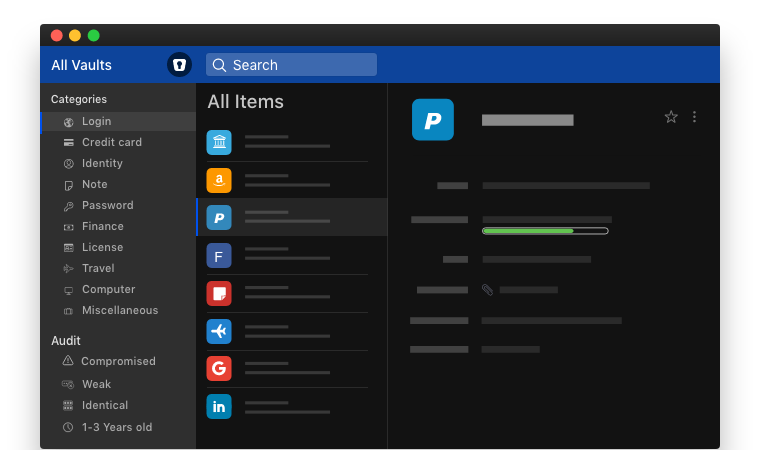 Enpass is an easy-to-use tool that saves all of your password information on your computer and allows you to build numerous vaults for different purposes. In addition, you can use Enpass across multiple platforms to remember your login details, passwords, and personal payment information. This makes your digital life a whole lot easier.
Enpass is free to use with optional paid upgrades. And that is the best thing it offers. Plus it stores your data either offline or on your Google Drive/Dropbox account. In addition to these, Enpass does everything other password managers do.
Done. This was my Enpass review.
Enpass Review: The Longer Version
Interested to know more? Let's continue with the longer version of this Enpass review.
Here I will discuss its features, security, user-friendliness, and effectiveness to help you know about Enpass before committing to it.
Pros and Cons of Enpass
Pros
Cons

✅

Aesthetic user interface

❌

Mobile versions are a little backward.

✅

It offers many unique features that many password managers don't.

✅

Optimal password generation.

✅

Unlimited password storage and vaults for free!!

✅

Syncable through various platforms using your own cloud storage.
Enpass: Features
Offline- No data on the enpass servers.
Stores logins, credit cards, bank accounts, licenses, attachments or any other sort of information.
Encrypted by AES-256 bit, using open-source SQLCIPHER Engine.
Data Sync through Google Drive, OneDrive, iCloud, Dropbox, WebDAV and Box.
Available for all mobile and desktop platforms.
Separate your personal, family and work data in different vaults.
Enpass Browser extensions for easy autofill.
Biometric authentication wherever supported.
Password Generation
Password Audit
Dark theme
Import from others
Is Enpass Safe?
Enpass uses one of the best encryption methods available that is even used by governments and banks worldwide. It also provides various features to keep your data safe on the internet. So yes, it is safe.
A few of its safety features are listed below:
Encryption
Enpass uses industry-standard AES 256-bit encryption for its services. It is one of the best and most advanced encryption methods available. It also ensures security even further by providing another layer of protection through an SQLCipher. Thus you need not worry about its encryption process.
Storage
The best thing about Enpass is that it does not upload its user's personal information to its servers.
Since it is an offline service, the data stays on your desktop or your mobile device. Thus you do not have to worry about losing your data.
Enpass also lets you make a backup file that is entirely encrypted, and only you can access it through your master password.
Syncing is also provided on your backup file to store it to any cloud storage service. It also supports major cloud storage services such as iCloud, Dropbox, Google Drive, and many more.
Two-factor authentication
Enpass supports 2FA which is required for not just good protection of your data but also for easy data recovery when you get locked out of your account.
Features of Enpass
Enpass offers tons of features for its users on desktop versions for Windows, macOS, and Linux, but the features on mobile phone versions are a little limited compared to other dedicated password managers.
Depending on your setup, Enpass can work in local-only/offline mode and online mode. You can use a cloud storage service, like Google Drive to backup and sync your passwords over multiple devices without paying a dime.
This, however is effective only on computers and laptops. On mobile devices you should upgrade to their cheap subscription plan for effective sync.
Since Enpass is encrypted by high standards as listed above, you do not have to worry about data leakage.
Also, if you choose to be in offline mode, offline password managers are considered very safe as data never leaves your device. But the data protection risk remains in your hand.
How to use Enpass?
First, you have to create a free account on Enpass.
Just visit enpass.io and download one of the apps for your platform. There is no need to create an account. Enpass is totally free for desktop users unless you require specific features like mobile sync etc.
Enpass lets you access the main vault, where you can store your passwords. These will be encrypted with a master password, so do not worry about putting your passwords here. You can create multiple vaults if you want to organize passwords more efficiently.
Remember to keep your master password safe, else you won't be able to recover your data.
On the desktop version of the app, you will find options such as:
Cloud storage settings
Creating new entries
General settings
Search function
Password generator
A button to completely lock the app
In the settings section, you can also back up your saved passwords through cloud syncing, set a pin for Enpass security, share passwords, and much more. Even "dark mode" is available in Enpass.
Interface
Enpass uses a three-column-based interface for navigation on the desktop. The left column shows you all the options that you use on Enpass. A few of those entries are log-in details, credit card information, and personal IDs.
It also has a password audit option, a tag section, and another section. Here you will find all the necessary features that you can use for the protection and management of your passwords.
Password Generator and Auditor
It consists of basic password security tracking tools that show weak, duplicate, and compromised passwords. Discarded passwords are kept in either of these three categories – Weak, Identical, Pwned.
If you check your passwords against the 'Have I been Pwned' option, Enpass goes through its database to find if passwords are compromised or not. Enpass does not automatically change these bad passwords, but it does suggest new strong passwords for you to choose from.
The default password creator of Enpass creates six-word 'passphrases.' These 'passphrases' are jumbled characters but sorted in such a way that they can be memorized easily.
These 'passphrases' are always 32 characters long. You can choose yourself if you want the generated password to have a lower case, upper case, digits, or symbols.
Enpass's security tools are very basic compared to other password manager applications, but some of its tools are free on the desktop version. So you can easily have an authentic and secure system for your passwords and personal data for free.
Personal information and form-filler
With Enpass, you can save passwords and various personal information to use later throughout your online accounts. You can even sync such information through multiple devices.
Enpass also lets you securely save details such as payment info, debit and credit cards, addresses, contact information, and more.
Enpass also lets you arrange and sort details like personal identification numbers, contact lens prescriptions, garment sizes, vehicle registration, and others. You can also keep photos and files here.
With Enpass, you can auto-fill and auto-save passwords. To do so, users need to install the Enpass browser extension on their devices. Enpass supports browser extensions for Chrome, Firefox, Safari, Edge, Opera, and Vivaldi. Though you do not get the autofill option when you click on the form field, you can go into the Enpass extension and choose the relevant details.
Authenticator
As stated earlier, Enpass does not provide two-factor authentication by itself, which is a bit sad. Nonetheless, you can use it as an authenticator for various other websites similar to Google Authenticator or Microsoft Authenticator.
Syncing
As Enpass is an offline password manager, it does not upload your personal information and passwords anywhere on the internet. Hence, all the information will remain on your device.
Though if you want to take those pieces of information and use them somewhere else, Enpass allows you to do so through sync.
To sync any information through Enpass, you will have to click on the 'cloud' icon on the desktop app and then permit Enpass to create folders in the cloud storage. For example, you can sync with the following cloud storage services.
iCloud
Google Drive
OneDrive
Dropbox
Password Sharing
Enpass also allows its users to share individual entries and vault entries, even on its free plan giving a huge advantage as most of the password manager services available restrict users from doing so for free.
Sharing a password is not good if you think from a security perspective. But you may need to do so anytime if you share an account with family members or share any other details in your work or school-related stuff.
Enpass offers an effortless way to share passwords with your group in a matter of a few seconds. To do so, you need to follow the following steps.
Pick the password you want to share.
Then click the 'Share' option in the item menu.
You will get a warning stating how it is risky to share such valuable info, and it is under encryption, and that sharing it will no longer keep it encrypted.
Then create a PSK (Pre-Shared Key).
Then share the required information.
It sounds a bit complex, but it is relatively easy to share passwords. Using PSK is highly recommended since Enpass will share all the details in plain text (including passwords, websites, and usernames). In conclusion, Enpass's sharing feature is terrible, but it does the work if you want to.
The risk to leakage of data will always be involved, so at least to lower the risk, use PSK.
Keyfile
Keyfile is an optional feature provided by Enpass. It can be used as a second-factor authentication when logging into your Enpass account.
Keyfile is an encryption key generated when you are adding or updating your master password as a means of security. This file is saved on your desktop, and every time you want to log into your Enpass account, you have to type your master password and open the key file from your device.
Follow the steps below to set up Keyfile successfully.
Settings -> Security -> Change master password.
Enter the master password that you choose and click on 'Continue.'
Then click on 'Advanced' on the screen bottom.
Select 'Generate Keyfile' and then save the file on my PC.
Then put the master password in the 'Enter new password field and 'Confirm new password field.
Click 'Done,' and you are good to go.
Setting up the Keyfile is not super easy, and also if you forget your master password or Keyfile, you will not be able to access your Enpass account. Other password managers do provide various recovery options, but Enpass does not. This is the major downside of this tool.
Enpass plans and pricing
Enpass offers four plans – free, individual, family, and perpetual license. The desktop apps are free to use with an unlimited password and vault support.
Individual plan
The Enpass individual option is just an upgrade of the free plan as it adds a couple features including 2FA. If you are an Android user, try buying the subscription from Play Store. You may get some handy discounts.
This plan includes:
Unlimited items
Unlimited vaults
Use the same account on multiple devices simultaneously
Receive alerts and notifications in case of a security breach.
2FA support.
Family plan
The family plan lets six people use the same account. IF you subscribe to it, the price is only $35.99 for the first year and $47.99 / annum after the 1st year is over.
This plan includes:
Unlimited items
Unlimited vaults
Use the same account on an unlimited number of devices
Rceive alerts and notifications in case of a security breach.
2FA support.
Six people can access it at a time.
Enpass Review
Enpass
Enpass works just fine. Who am I kidding? It's great. It is cheap, safe and fast. The features are abundant even in the free version. You also get unlimited password storage, unlimited password vaults, password generator, password sharing, auto-save and auto-fill, a TOTP generator, and password auditing features by upgrading. The rates are reasonable. I totally recommend this.
Price Currency: USD
Operating System: Web, Windows, iOS, Android, macOS
Application Category: Password Manager, Security, Productivity
Pros
Aesthetic user interface
It offers many unique features that many password managers don't.
Optimal password generation.
Unlimited password storage and vaults for free!!
Syncable through various platforms using your own cloud storage.