Best Way to Reset Lenovo Password without Software
Losing the password for your Windows account is not uncommon. It happens a lot and to a lot of users all over the globe. Now, Lenovo is an extremely popular laptop brand, and due to some excellent laptops releases lately, the number of Lenovo followers has increased exponentially.
The reason, a lot of users are asking the ways for a Lenovo laptop password reset. While resetting Lenovo forgot password is quite simple, but without proper guidance, most of the users are bound to fail. So, we recommend checking out our article and memorizing the procedures detailed below.
Method 1: Reset Lenovo Forgot Password Online
If you are locked out of your Lenovo laptop, then you can also try to reset its password online via Microsoft account. This method is simple; you have to access your Microsoft account and change the password.
Here's how to reset password on Lenovo laptop without disk. Steps are detailed and simple, just check them out.
Step #1: You need to open a different computer and visit 'account.live.com/password/reset'. On the website, click on 'I Forgot My Password' and click 'Next'.
Step #2: In the following window, you have to type your email or the mobile number that is linked to the Microsoft account.
Step #3: You will receive an OTP.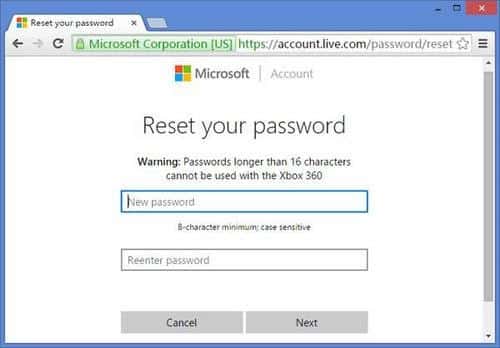 Step #4: Use that OTP to reset your account password.
After changing the password successfully, turn on the locked computer, and log in using the new password. But this method won't work if you are not using a default Microsoft account.
This method only works when you are using a modern Windows version like Windows 10 and are logged in to Microsoft account.
Method 2: Reset Lenovo Forgot Password with Built-in Administrator
All the Windows laptops come with a built-in Administrator, including the laptops manufactured by Lenovo. This built-in administrator can be used to reset the password for the Windows account on a Lenovo laptop if you have forgotten it.
Needless to say, these steps are short and very easy to follow. Still, several amateur users face difficulty while executing them. So, we have detailed the steps below and made it as detailed as possible.
You should check out the steps before proceeding. Here's how to reset Lenovo laptop without password
Step #1: Open your Lenovo laptop and reboot. When the Lenovo logo appears on the screen, repeatedly tap 'F8' and access 'Advanced Boot Options'.
Step #2: Select 'Safe Mode with Command Prompt' and hit 'Enter'.
Step #3: A log-in screen will appear; you will see the built-in administrator. Click on 'Login Windows without Password'.
Step #4: Now, you will enter Safe Mode with a popped up Command Prompt window. Type the following there and execute.
net user <user name><new password>
So, if your user name is BOBO and the password is 1234, then type
net user bobo 1234
and hit 'Enter'.
Afterward, you will receive a message stating 'The Command Prompt Completed Successfully'. It means the password reset was successful. Reboot the laptop and log in using the new password.
But to make this procedure successful, the built-in administrator needs to be activated.
It is a feature that is available on all the Windows-based laptops, but it needs to be activated manually. So, if it wasn't activated manually, the option won't appear on the login screen.
You could try a third-party Windows password remover tool if the above ways do not work for you to solve the laptop or desktop locked out issue.
Conclusion
Therefore, it is easy to reset Lenovo forgot password. Use can use any of the discussed methods for a password reset. It is completely your choice. But remember that both methods have their limitations.
The Administrator method requires users to activate the feature manually beforehand, and the other procedure depends on the type of Microsoft account you are using. So, we recommend choosing the password reset method for your Lenovo laptop wisely.
If you cannot reset your Lenovo laptop's password, you can hard reset it and start using it afresh. Always remember your laptop's password like your life depends on it.
If you are looking a for a new best selling Lenovo Laptop, check one of these below.
Last update on 2023-09-28 using Amazon Product Advertising API.