10 Best Virtual Desktop Software
Today, virtual machines, especially Virtual Desktop Software, have grown to become a vital part of computing, especially when it comes to business and cloud computing. However, you'll be pleased to know that the home users can now get access to virtualization as well. They can use it to run different operating systems on their home PC, such as running Microsoft Windows on a Mac or Linux on a Windows PC.
The main advantage of running a virtual machine is that it lets you run apps that would be otherwise unavailable because of their radically different system requirements. Also, malware does not run properly in a virtualized environment and usually shuts down after realizing that it is in one. As a result, virtualization has achieved a position of great importance in business, computing, and IT.
The best virtual machine software makes it easy for you to run different operating systems on your laptop or desktop PC. In this article, I have listed the best virtual desktop software presently available in 2022.
Best Virtual Desktop Software in 2023

You must be familiar with Boot Camp – Apple's free tool for running a virtual session under Mac OS. However, if it's something you want to do regularly, then Parallels Desktop is just what you need. Owned by Corel, it is arguably the best virtual desktop software for Mac presently available. In addition, it allows users to smoothly run Windows alongside macOS when they need to use software that only works on that platform.
Interestingly, Parallels Desktop can make Windows alerts appear in the Mac notification center and operate a unified clipboard as well. Mac users tend to consider Parallels a tool meant exclusively for Windows; however, you can also use it to host various Linux distros, Chrome OS, and even other versions of Mac OS (including older ones).
Apart from the basic edition, Parallels offers a Pro edition with greater memory and support for developmental environments such as Microsoft Visual Studio. There's also a Business Edition with centralized license management tools for IT professionals.
If you occasionally change operating systems for fun (or work), then VirtualBox is a pretty good option to start with. It supports an impressively wide range of host and client combinations – Microsoft Windows (from XP onwards), Windows NT, Server 2003, any Linux level 2.4 or above, Solaris, OpenSolaris, and even OpenBSD Unix. In fact, some people have successfully run it on Windows 3.x and even IBM OS/2 on their modern systems.
VirtualBox also runs well on Apple Mac and can host a client Mac VM session for Apple users. If you're an Oracle user, you'll be delighted to know that it supports VirtualBox and offers a wide range of readymade developer VMs to download and use for free. Most importantly, all of this – even the Enterprise release – is entirely free to use.
VMware offers an extensive range of virtualization products, such as Workstation Player for the PC and Fusion for the Apple Max. Although these two products differ in terms of their names, they essentially offer the same solution optimized for each host OS. For example, Fusion comes with a neat "Utility Mode" that allows Mac OS to launch Windows applications from the Dock and make them appear like a genuine part of the host OS.
As version numbering indicates, Workstation is a more mature product and offers one of the most state-of-the-art VM implementations presently available. It is one of the few hosts that support DirectX 10 and OpenGL 3.3, thus allowing GPU-accelerated applications such as CAD to work under virtualization. It is free to use, although business users wanting to run restricted VMs can purchase the Pro or Fusion Pro versions.
This is a remarkably scalable solution from Citrix. Originally started as an open-source project, its basic version remains free to download and install to this day. However, you can subscribe to paid tier releases to access advanced features such as state-of-the-art management tools and the ability to automate and distribute live environments whenever you want. It also offers CAD by virtue of its virtualized GPU and GPU pass-through features.
XenServer also aims to create virtual data centers for smoothly handling planned and unplanned outages and maintaining the high levels of availability that business demands.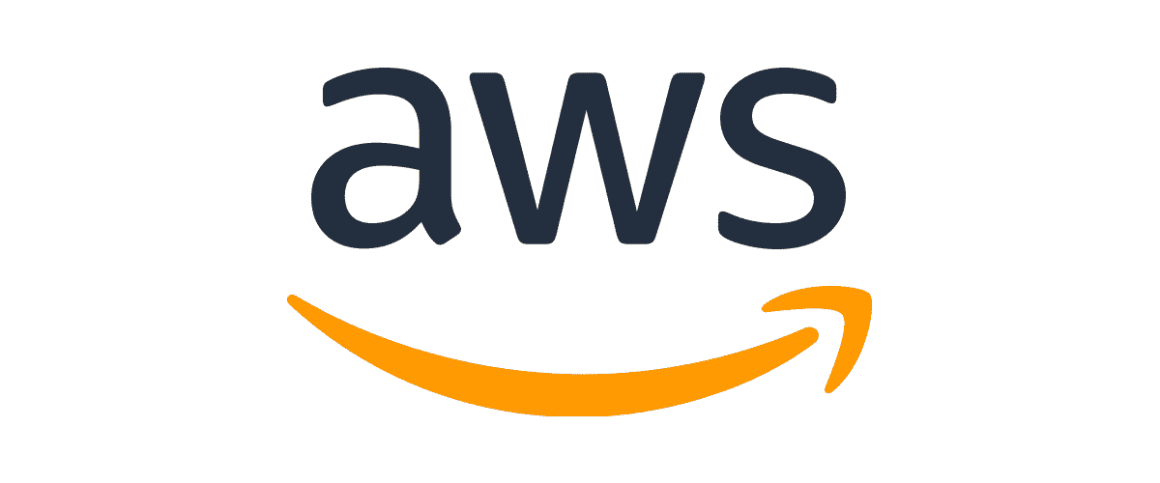 Amazon Workspaces (AWS) is one of the best virtual machine software that excels in terms of speed, accuracy, optimization, and high-end performance. Right from the basic plan, you will be able to host the virtual desktop on the high-end servers of Amazon. It is also known for using the PCoIP and Amazon's SDX protocol to secure data encryption and transmission.
AWS offers several operating systems to choose from, such as Windows, Linux, and more. Its selective operating system also provides numerous internet browsing options such as Safari, Google Chrome, and even Internet Explorer. It is pretty reasonably priced as well; new users can easily check out the free trial version for up to 40 hours per month.
Microsoft's basic hypervisor was originally codenamed Viridian and then Windows Server Visualization. After being released in late 2008, it was rebranded to Hyper-V Server. It is now available bundled with Windows 10 Pro and Windows Server (2012 and 2016) at no extra cost. Nevertheless, it is a pretty basic hypervisor that is incapable of the clever things that VMware has to offer.
Hyper-V's guest OS support includes Windows XP SP3 or later, Windows Server, Linux with a 3.4 or better kernel, and FreeBSD. Unfortunately, it lacks virtual GPU support and has rather disappointing driver support for Linux. Although you can technically use it to create a virtual server environment without much experience, the results aren't exactly great.
This is a free and open-source virtual machine monitor (VMM) developed by Cambridge University. Interestingly, its creators founded a separate company that Citrix subsequently acquired. Today, the Xen Project promotes open source applications together with the Linux Foundation. It can serve as a type-1 hypervisor for several operating systems using the same hardware.
Users generally work with it for advanced virtualization – not least for servers – in open source and commercial environments alike. That includes (but isn't limited to) Infrastructure as a Service (IaaS), security visualized, and desktop visualization. Some people have also been using the Xen Project in aviation and automotive systems.
You will find this service especially useful when it comes to hyper-scale clouds. It readily works with Azure, AWS, IBM Softlayer, Oracle, and Rackspace as well. In addition, it emphasizes security by using a minimally small code base, making it both secure and appreciably flexible.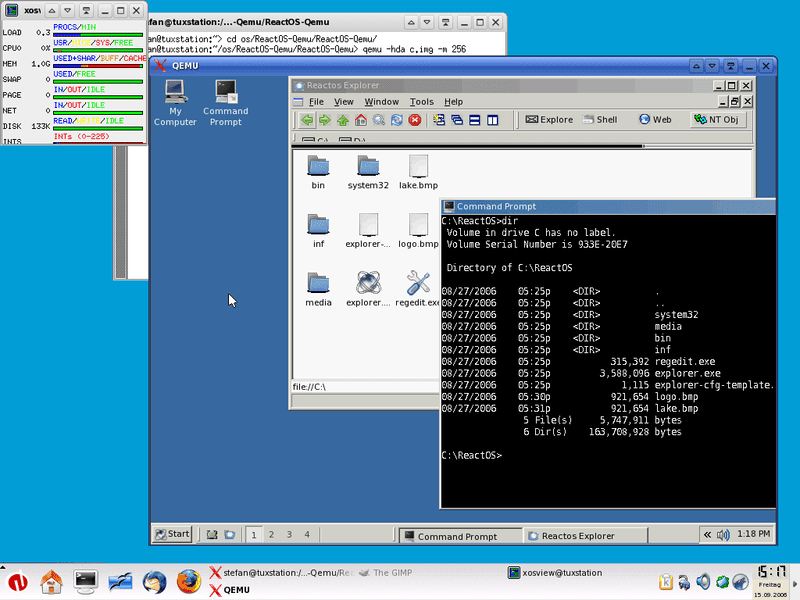 QEMU is a virtual hardware emulator that somewhat differs from VM solutions in that it is both a machine emulator and a VM host. Along with x86 PC, it can emulate ARM, PowerPC, MIPS64, SPARC (32 and 64), RISC-V, SH4, EXTAX CRIS, MicroBlaze, and more. Furthermore, it can do this without administrator privileges, and the performance of VMs running on it is almost the same as that of native installations.
Unfortunately, QEMU doesn't have any powerful interface tools to offer. Instead, it depends on CLI inputs to install and configure VM clients. Furthermore, as of now, it is only able to host on Linux, although it is able to run a wide range of operating systems under the same.
Shells is one of the newer virtual machine software in the market. Although it comes from a relatively new company, it has gained popularity for its accurate and efficient service. It is available on all kinds of devices such as personal computers, TVs, and even gaming consoles. It also works well with various operating systems (such as Windows and Linux) and web browsers.
Shells features a new protocol system known as SPICE (Simple Protocol for an Independent Computing Environment) that connects different virtual desktops in various architectures. Its pro version offers a quad-core virtual CPU with 160GB of storage space and 8GB of RAM.
VMWare is widely known for its outstanding virtual desktop services that are especially great for multitasking. It allows you to create customized virtual machines from the parent machine by virtue of a unique feature known as Instant Clone. It then gives you complete freedom to customize the machines, adding and removing things as per your will.
When it comes to pricing, VMWare offers plenty of options as well. You can make full payment immediately or on a different time basis. After subscribing to its premium plans, you can get the skype business version, Linux provisioning, SSO, and various other goodies.
Conclusion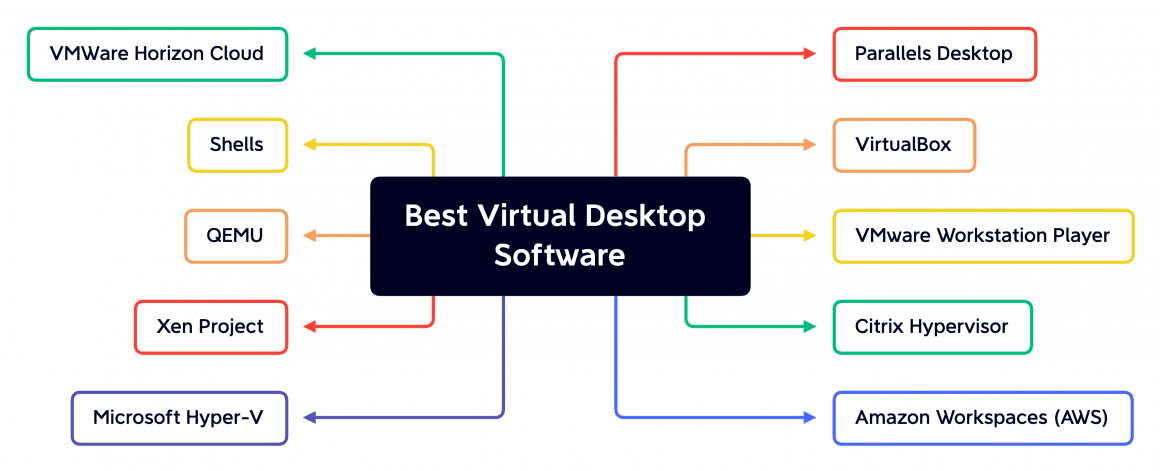 The virtual desktop industry has developed a lot in recent times following the emergence of advanced applications and games. To help you choose from the numerous options in the market, this article describes the ten best virtual machine software available in 2022. I hope it enables you to select a good program that serves you well in the days to come.