Best Personal Blogs to Follow and Take Inspiration From
A blog is a great place to share your thoughts, experiences, and opinions. Personal blogs take these thoughts, experiences and opinions to deeper levels. All top influencers and entrepreneurs have their personal blogs. If you are looking for inspiration, no matter what field you are in, you can do that by reading the personal blogs of your idols.
Personal blogs are mostly purpose-less and the influencers use those to share their non-commercial thoughts. But the personal blogs can heavily help you in personal development and personal growth. They will also help you to cultivate your own business ideas and approaches around a certain topic.
The purpose of this blog is to showcase the best personal blogs in 2023 so that you don't have to search for those. So, if you are looking for the best personal blogs to follow, this list is for you.
If you are looking to create a personal blog on your own, read this how-to start a blog guide written by our very own Gaurav Tiwari.
While I have tried to list the top personal blogs in this article, you may see some great blogs missing. That happens. Nothing is perfect.
You can look for personal blogs in your niche just by searching, "your niche" followed by "personal blog" or "personal blogs", followed by your location. For example, if you are looking for some great personal blogs to follow in the UK around marketing, you can search for "marketing personal blogs in UK".
The same goes for other countries, like India, the USA, Canada, Australia and so on. You can also use a language in the search query (English, Hindi, Arabic, whatever you want your content in).
Without any further ado, let's hop onto the list of the best personal blogs in 2023.
Best Personal Blogs in 2023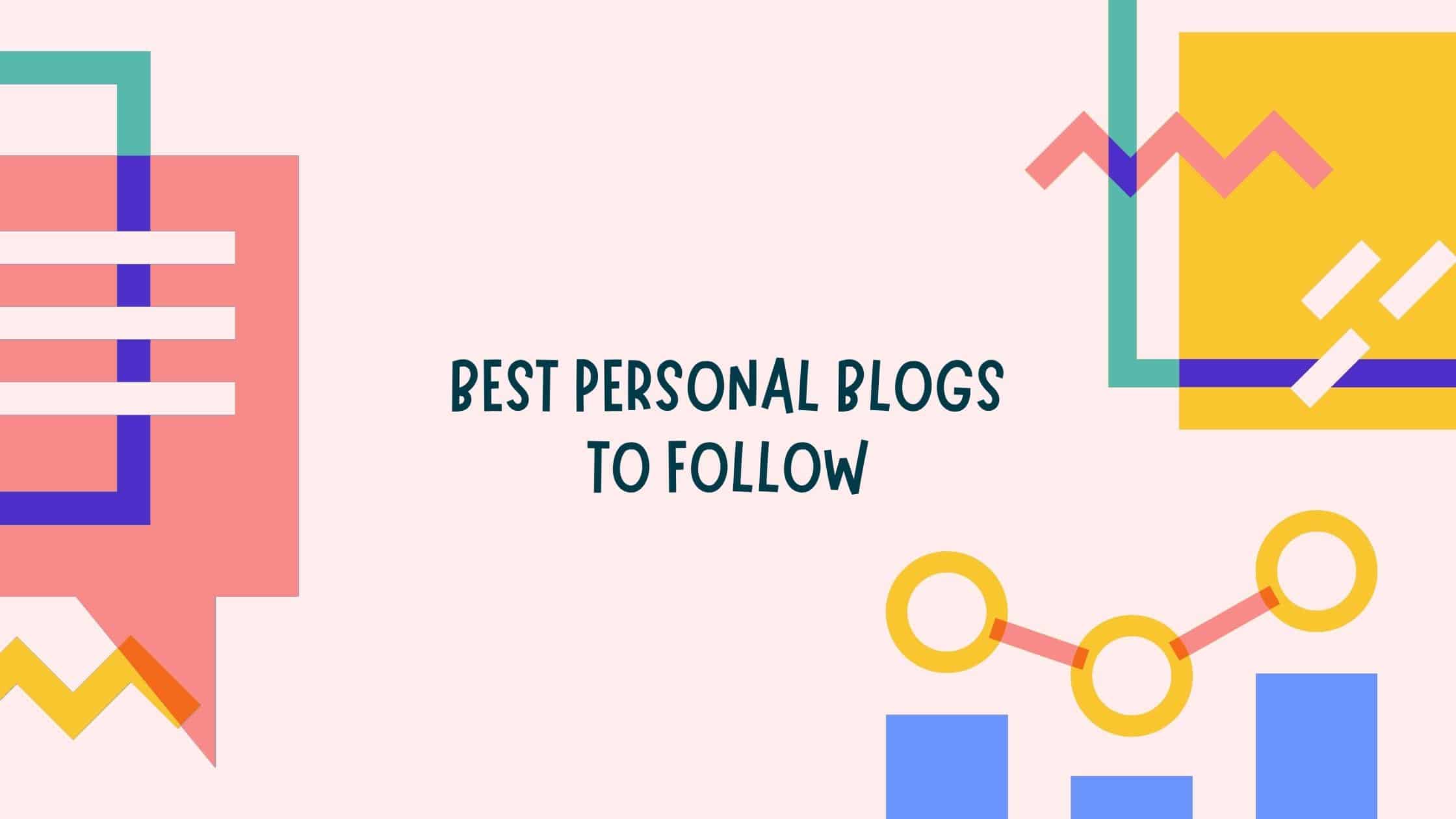 Love that Max is a viral and well-written personal blog and is currently one of the best personal blogs in the world. It has been run by Ellen Seidman since 2008. The name of the Blog is based on her son, who has cerebral palsy.
This Blog is made to honor her child and create awareness about children with special needs. She also encourages other parents of kids with similar needs to voice theoretical opinions, experiences and concerns on this Blog.
The Blog being highly successful, has already been featured on Time, The Huffington Post, CNN.com, Mashable, The New York Times' Blog The Motherlode, Upworthy, Today.com, Yahoo, MSN.com, MTV.com and The Daily Mail, AOL, as well as in Redbook, Real Simple, Good Housekeeping, Woman's Day, Parents, and much more sites.
The Blog has successfully promoted awareness about children with disabilities and has become a place where parents can share their sorrows and get advice from others.
Tech-Savvy mama is a successful technology-oriented Blog founded by another mother, Leticia Barr.
Leticia is an award-winning technology, education (STEM-focused blog), and parenting blogger founded the Blog in 2008. She teaches middle school computer science to kids and is an education consultant based in Washington DC.
She has been recognized as a very successful blogger in this field. She founded the website based on personal and professional experience.
The fun thing about this Blog is that she herself and her husband Jin, and her daughter Emily post that blog valuable content.
Emily mostly posts about coding in Python and is a huge Philanthropy enthusiast.
Tech Savvy mama has been helping parents from all around the globe with positive parenting tips and tricks in this digital era. It is a legit place for you to find good tips.
As told earlier, the owner, Leticia Barr herself, is a teacher and a parent with Masters of Arts in Teaching from Tufts University and Masters of Science in School Administration and Technology Leadership from Johns Hopkins University.
Dad or Alive is a blog run by a stay-at-home dad, Adrian. His Blog talks about loads of things like traveling, parenting, and lifestyle. Adrian himself also posts about funny incidents and thoughts here from time to time which is quite entertaining to read. He is also a writer and has written a few books based on parenting, going through pregnancy with his wife, dad jokes, and his life as a stay-at-home father.
The Blog is well-established, and his books are also selling well. He has already been an inspiration to multiple parents and will be more in the future as well.
Dad and Buried is another dad blogger with a great sense of humor. The owner of this fantastic podcast (formerly a blog), Dad and Buried owner is Mike Julianelle, a dad in his 40s from Brooklyn. He has a son with ADHD.
In the blog, Mike shares his experience as a father with such a condition and creates awareness among people. He considers this Blog to be more like a diary for him where he puts down his relationship with his son, his responsibilities and the development of his father and son relationship. He has done a great job promoting himself via social media platforms and podcasts. Additionally, he also has a store called Dad and Buried Store, where you can buy branded merchandise like mugs, hoodies etc. It has to be one of the best personal life blogs online, if not the best.
The Blog owner of The Dad dude is yet another dad, Terran Nirvana Williams. Terran is from Cape Town, the tourist hotspot in Africa. He shares the platform with the love of his life, Julie, who appears on the Blog as a guest writer. Julie is an established strategist, writer, storyteller and brand manager.
Terran opened this Blog intending to provide 110% to his job as a parent and a husband. Being a father of 5 boys, he has a busy life! He elaborately stated that people had told him to wait until his kids grew up before writing. But he writes to learn, remember and touch others with his thoughts.
Parenting is a fantastic experience, and most cannot remember what it felt like to deal with their toddler. In the blink of an eye, children grow up in front of their parents. So, remembering all the emotions and ups and downs that Terran and his wife Julie felt while parenting is why he writes the Blog.
Allie Brosh, one of the most resilient writers, owns the blog Hyperbole and a Half blog. It is both a webcomic and a blog which she started in 2009. Her blogs and webcomic strips focus on stories from her childhood, general thoughts and ideas, and the challenges she has faced, particularly with her mental health. Her blogs are pretty lighthearted and fun to read.
These are good enough to make you smile. She expresses her excellent sense of humor in her blogs with a mix of illustrations and texts. She also has a book with the same name, equally amusing everyday incidents captured in them.
Her Blog became popular when the famous meme – 'ALL THE THINGS!' became internet famous.
Hilde Heyvaert is the owner of Kittens and Steam. It is quite an intriguing blog as Hilde always has something new and fresh to present to her readers. Her blog site says – "The random thoughts of Kittens and Steam."
Her blogs with the photos and her outfits are very cute. It is more like her positive personal diary as she always writes about whatever she loves – Disney, a little bit of steampunk, cats and kittens, Japanese fashion, and phone photography.
Her Blog may not have a large fanbase and following, but it does have a loyal following and active readers. She has been blogging about her day-to-day adventure since 2014 and continues to do so. Overall, her blogs are pretty refreshing, and I feel like a friend is talking to you at the end of the day – a lighthearted conversation.
Did you know that HuffPost was basically a personal blog? Arianna Huffington founded this Blog to share commentaries on current events. Initially, it was called "The Huffington Post." It was a blog used for political and newsworthy commentary and dealt with quite serious issues. Later it was sold to AOL (an American web portal and online service provider based in New York City). AOL was then again purchased by Verizon for more than 4 billion USD.
Arianna was ahead of her time. Her posts have created a significant impact nowadays. But it did her quite a favor! The Huffington Post is not strictly a personal blog. However, she had somewhat personalized it by increasing her online presence long before online/social media influence even became a thing.
Currently, Huffpost is filled with the trendiest news and informs people of the current socio-political situations across the globe.
Gala Darling is a blog by women for women. To quote Gala, her "mission is to show women how magnificent they are." Amazing right? It is a blog that encourages women to go to the front, stand up for themselves and to be a woman unapologetically. Her Blog is all about attitude and glamour. She is an inspiration to fellow women.
In her blogs, she talks about how she overcame depression and eating disorders and taught others the practice of self-love. She also travels a lot to give Ted talks and interviews. She is also an author. Her initial blogs were about fashion, makeup, clothes, beauty, etc. But soon realized that she needed to dive deeper and talk about the real stuff.
Currently, she is a role model for many girls and women and has been boosting their self-esteem through her writings.
Lindsay is the voice, author, and creator behind the food blog Pinch of Yum. Lindsay was a teacher who gave her teaching profession for her passion. For Lindsay, it all started as a casual hobby that she found time for at night and on weekends while working as a teacher for fourth graders.
The Blog has now grown tremendously and reaches millions of people worldwide. She has also successfully carved out a full-on business out of it. Her Blog is also very aesthetically pleasing, including the layout, color palette, design, photos, and content. She mostly shares fresh and healthy food recipes, which she enjoys immensely.
She wants people to know that food is both "approachable AND exciting." She is an enormous food enthusiast, as is apparent from her blogs. She also shares things about other aspects of her life from time to time, like travel, motherhood, home decor and remodeling, and her rainbow child Sage.
Barefoot blonde is a fashion and beauty-focused blog owned by Amber Fillerup Clark. She also posts about travel from time to time.
Many of her blogs are written by guest bloggers due to her immense popularity. Her Blog has a huge following. Her Blog is a clear example of how a personal blog can be marketed as a product to people. She also sells hair extensions and wigs. She also is a full-time influencer and monetizes her website for brand deals, ads and sponsorships.
As you can see, she has many sources of income, and she actively participates in each of them to keep her brand ongoing. Besides clip-on hair extensions, she also started selling her hair care products and even sells her outfits and accessories to anyone willing to buy them.
David Lebovitz is a fantastic writer and a cook who runs a food blog with the same name. He has himself expressed his love for cooking. He began working in restaurants at the age of sixteen.
Working at different cafes and restaurants has earned him first-hand experience in cuisine and management from then onwards. He is a professional cook and started the Blog in 1999 along with the release of his first book – "Room for Dessert." In 2019, he was also awarded Saveur magazine's Blog of the Decade award.
A few of his other books are The perfect scoop, the sweet life in Paris, ready for dessert, my Paris kitchen, L'appart, and Drinking French, being his latest release. He is also there on Twitter, Facebook, Pinterest and Instagram. His recipes are top-notch and have been loved by many.
Kate is the owner of Cookie and Kate, and she writes fantastic food recipes and cookbooks. A cookie is the name of her adorable dog. It also goes well with the theme of her Blog.
Kate utilizes her website to promote her recipe books and directly posts a few of her recipes on the Blog. She also does affiliate marketing and gets paid advertisements to e across her website. Her site is neat, clean and minimal. Her food pictures are professional and can induce hunger. Her page deserves its moment due to its clean look and easy-to-navigate layout, even though she monetizes the Blog with advertisements. She puts many of her favorite recipes on the page, just like an online journal entry.
Besides the food, once in a while, she also posts about photography. So, in a nutshell, you can find blogs related to her passion on the platform, like cuisine, photography, and her dog.
Zen Habits is a blog that talks about searching for simplicity and calmness in the dissonance of our day-to-day lives. This Blog is by Leo Babauta from northern California. Leo lives there with his wife and four kids. The Blog teaches us to focus on what is important to us and helps us deal with everyday pain and negativity, and get a positive outlook on life.
The Blog has helped over a million readers to bring about a change and mindfulness in their lives. Leo is also a writer, and a few of his books are:
The Fearless Purpose Training Package,
The Habit Guide Ebook: Zen Habits' Most Effective Habit Methods & Solutions and
Essential Zen Habits: The Art of Mastering Change.
Zen Habits talks about topics like how to have a self-sufficient mind and soul, ground yourself, achieve inner peace, and what is to be done when you are feeling lost and scattered.
Kathryn Kellogg is the founder and owner of the blogging website Going Zero Waste. It is a lifestyle website that aims at helping others so that they can live healthier, happier and more sustainable life. Kathryn is a trained actor. She still does acts from time to time.
Being a not so prominent actor and making a living out of very little money is what led her to live a zero-waste life. She started practicing these habits out of financial necessity and for health reasons and not because of the planet. The blogs she writes are very friendly. Her posts make it very evident that the changes you need to make in your lives for sustainability are very simple and affordable and even save you money!
The blog posts themselves give you step-by-step instructions on making small changes in your everyday life that will contribute to a sustainable planet. Her Blog has inspired many to live a zero-waste life.
Neil Patel is an excellent example of a good marketing blog. Online marketing trends always change quickly, and it is hard to keep track of them and get our heads around them. But with Neil Patel's blogs, you don't have to worry anymore. His blogs are one of the best and most detailed marketing blogs presented online and are helpful to people interested in the topic.
Neil explains to his readers everything related to marketing and blogging.
Chris Guillebeau is the owner of this personal Blog. He shares his success story with his readers with this Blog – "The Art of Non-Conformity." So what does the term "non-conformity" signify ?. It is the failure or refusal to conform, adhere to, or accept well-established and well-practiced customs, attitudes, and ideas. Lack of conformity or agreement. He describes his Blog as a "home for unconventional people doing remarkable things." He motivates people and encourages them to do things – extraordinary things.
Chris is an author who also does motivational speaking. With his energetic and enthusiastic speeches, he shares and motivates how others can also do what he does by simply being a nonconformist in a world where the majority are conforming. Chris also travels from time to time. Chris has stated that he started writing this Blog to record his journey to every country in the world and his experience. Since then, the Blog has grown into a community for original thinking.
The Blog Tim Ferris by the writer of the same name is probably the best self-help blog that you find on the internet. So many famous books are written by him, and one of his most popular books is the book about the 4-hour workweek. He is also the author of other exceptional books and is also a podcaster and a blogger. And His goal is to help people across the world get the life they have always wanted. And he has already helped thousands of people to achieve such a life. In his blogs, he talks about how to work less in a week while being efficient to have more time to spend on things that you love doing. His blogs also include content such as lifestyle, finance, and business. So his blogs would help you lead a more rewarding and efficient lifestyle.
This Blog is owned by Baden Ronnie and is probably the best Gaming Blog with thoroughly explained content and detailed descriptions regarding games and Xbox, Playstation and PC/ VR reviews. Under the pseudonym Wolf, he talks about how much he loves gaming in his Blog. He also shares his knowledge and experience in gaming with thousands of readers. He has stated that he aims to deliver the most honest reviews possible. This Blog is primarily non-profit except for the occasional guest posts. He shares his thoughts regarding the best Xbox games, gaming equipment reviews along with gaming tactics that you can utilize to become a pro gamer in your favorite game.
Ricky Willis is the founder and chief editor of the Blog, Skint Dad. He started his Blog in 2013 to teach other dads how to save money, manage it and make more money. He provides extensive tips that he has learned throughout fatherhood. His main reason behind starting the Blog was his struggle with money. He was fed up with being skint and wanted to help people with the same situation. Skint Dad discusses a variety of topics. A few topics are how to invest your money, cheap meal ideas, investment plans and such that you can make for your children. It is the perfect Blog for men who are new to parenting and fatherhood and are struggling financially. Skint Dad is now one of the largest finance blogs in the United Kingdom, with over 300K visitors looking for advice every month. He was also awarded "Financial Blog of Year" at the prestigious Headline Money Awards.
Jenny Kakoudakis is the founder, creative director and writer of the blog Seasons in Color. It is a London-based blog for people who are into luxury interior design. The Blog was launched in 2015 as a source of inspiration and ideas for design
connoisseurs and interior design enthusiasts. Colour is always the main focus of this Blog. In 2016 Seasons in Colour was voted the "Best Colour Inspiration blog" at the Amara Interior Blog Awards. The Blog is more like a creative outlet for Jenny. On this page, you will find advice on various topics other than color. You can seek designing and styling advice regarding homes from industry experts here. It will allow you to get a good perspective and idea about what you want to do regarding your home decoration. It is quite a prominent blog and gets hundreds of daily visitors seeking advice. It is probably the best luxury-style blog you will find on the internet.
Tieka is the owner of the Selective blog Potential. She currently lives in Marquette, Michigan and has graduated with a BFA in digital media focusing on interactive design from Kendall College of Art & Design.
She is a full-time remote graphic designer by day and a blogger by night and on weekends. She shares her outfits, travels, and everyday life on her blog and treats the Blog more like her personal diary. So you can enjoy and explore the outskirts of Michigan along with her.
On her blogs, you get to see her fashion and her plans to visit 133+ lighthouses. This Blog is probably her greatest comfort and pastime for many of you.
Sincerely Jules is an amazing lifestyle blog written by Julie. Here she shares anything and everything that she finds herself being interested in. On the Blog, you will find posts about her recent travels, favorite outfits, interior design, beauty tips, favorite products, and some bits of all of her collaborations with various brands. Her page is minimal and aesthetic due to her effortless writing style and neat photography. Julie started this Blog in 2009 with the thought of it being like an online visual diary to document her life and experiences on the Blog.
She writes in such a way that makes a reader feel like he/she is her trusted friend with whom she can share anything and gossip about her day.
She has shared much of her journey and experiences in the Blog, making it an intriguing and fun daily read. Her blog may be the last on the list but it is one of the best personal blogs online.
FAQs
What is a personal blog?
A personal blog is a blog that features written content, photos, or other media created by an individual rather than a company or organization.
Is Gaurav Tiwari a personal blog?
Yes, Gaurav Tiwari, aka gauravtiwari.org, is a personal blog.
How do I start a personal blog?
To start a personal blog, you will need to choose a blogging platform (such as WordPress or Blogger), choose a web host (if you want to self-host your blog), and purchase a domain name (if you want a custom URL for your blog). You will then be able to customize your blog's design and start publishing content. Read the full guide here.
Can I make money from my personal blog?
Yes, you can monetize a personal blog through methods such as advertising, sponsored content, and selling products or services.