15+ Best Link in Bio Tools for Instagram & TikTok
Many creators and marketers have been finding it challenging to deal with the Instagram & TikTok bio link feature; as of now, you are only allowed to have one link on your Instagram bio or TikTok profile. Previously, to change it, you needed to keep swapping links whenever you started a new campaign. Fortunately, that isn't required anymore; you can use that one link for many purposes.
An excellent way of optimizing that one link is to use link in bio tools. With the help of these tools, you can make your TikTok and Instagram marketing strategy much more effective. You can also use them to improve sales, measure clicks, and drive more traffic to your website. Most importantly, they allow you to promote more than one link simultaneously.
In this article, I have listed my picks for the 15+ best link in bio tools that can help you maximize the links in your Instagram & TikTok bio. Before that, let's first understand why these tools are so important.
What is the significance of the Instagram bio link?
Simply speaking, the link in bio rule on Instagram limits you, the marketer, from adding individual posts links or more than one link in your bio.
So generally, you will have to manually swap the bio link every time you want to promote a new product, campaign, or blog post.
For this reason, we commonly see most marketers and creators asking followers to check out the link in their bio.
Fortunately, the link in bio Instagram tools put all of these problems to rest by helping you link to more pages and content.
However, all of them work in different ways. To choose one of them, you need to ask yourself the following questions first:
What type of campaigns do you plan to run?
What exactly are you promoting? Is it a campaign, a landing page, links to your website content, or simply products? What kind of promotional content do you want to post?
How long do you plan to run the promotions if you're promoting products? How many products do you need to promote?
Do you intend the links to increase engagement or site visits to your website?
What is the budget you're working on?
By answering these questions, you will be able to choose the best link in bio tool for your business.
It is important to mention that link in bio tools are not meant for Instagram or TikTok alone. They can come in handy if you want to promote your brand on other social networks as well. And that includes Twitter, Facebook, Emails and whatnot.
Here is my link in bio (powered by OMG.LOL): https://gaurav.omg.lol
The best link in bio tools for Instagram & TikTok
Now that we've understood the importance of link in bio tools for Instagram – let us take a look at my choices for the best link in bio tools presently available.
omg.lol is my favorite link in bio tool, and my link in bio page is hosted here only. It is one of the most well-designed and clutter-free tool out there. But it costs a little ($20 per year).
With OMG.LOL you can customize your page the way you want — add unlimited links, write the whole design with CSS and Markdown or use community-made templates.
You can use your own domain name (or sub-domain) for your bio-pages. If you use OMG's nameserver, you can use their DNS resolver to map DNS to websites you like.
And you can also forward emails from yourname@omg(dot)lol to any email address like the ones that you use.
There is also a /now page that you can create now to tell people what is happening in your life right now. Alternatively, you can use the Statuslog to send updates to your profile and Mastodon. Weblog is another feature that allows you to send larger updates (like blog posts) on your profile.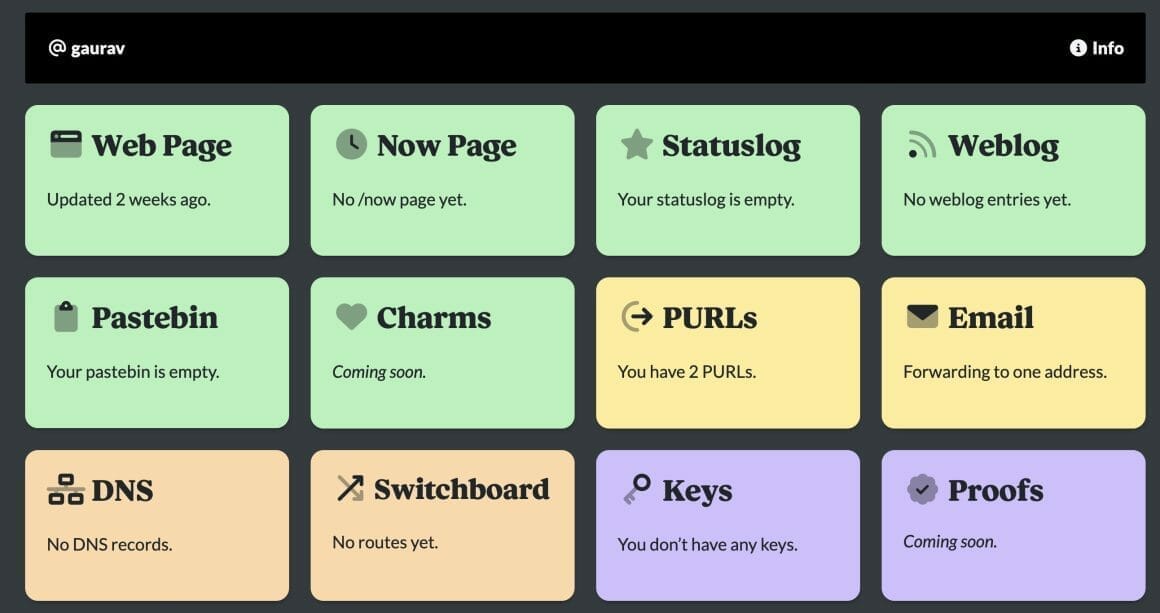 There are many more features that you will keep on exploring. And yes, OMG.LOL also has an API that you can use to dynamically update/retrieve data to/from your profile page.
Soc.Link is a 100% free link in bio tool for Tiktok, Instagram and other social networks. Use it to add as many sites as you want, including your latest video, article, recipe, tour, store, website, social post, and everywhere you are online.
You can design your page as you like. Use colors, color gradients, images or GIFs as background to match your persona. On Soc.Link you can directly place videos, contacts, and organize content using headings and paragraphs.
Just to retell, Soc.Link is entirely free. There are no pricing plans, subscriptions or basic versions. You get all features for free. There aren't even any copyrights or logos – only your content.
Developed by EmbedSocial, Feedlink serves as a mobile and web-optimized landing page that puts together a clickable Instagram feed in a single place. Using this tool, you can tag every photo in the feed with a special link and greatly enhance your Instagram account's potential as a sales and distribution channel.
Feedlink gives you the following features:
An Instagram bio link page loads fast with its AMP version.
A reusable link that you can assign to other social media profiles.
A highly efficient, mobile-optimized landing page that works great on all devices.
Increased conversions, traffic, and revenue using your Instagram profile.
A shoppable landing page that directs followers to product pages.
An option to transform the feed page without changing the link in bio again.
Depending on the number of additional features and sources, its pricing plans range from $19 to $99 per month.
Linktree is a highly popular and very helpful link in bio tool for your social networks.
The paid version of Linktree, priced at $6 per month, allows you to use your logo instead of Linktree's. By subscribing to the premium plan, you will be able to:
Customize fonts, colors, and button styles.
Receive a breakdown of your link traffic.
Retarget visitors on Facebook and Instagram with the help of the Facebook Pixel.
Add unlimited links.
Use icons to link to all your social platforms and websites conveniently.
Gain access to priority support.
Store your signups directly to Google Sheets or Mailchimp.
Time links to go live with posts you've scheduled.
When it comes to specially dedicated influencers and brands, LinkFolio is the way to go. Developed by FamePick, it is very much like an extension of your brand. Using LinkFolio, you can easily share URLs to other assets and monetize your brand. This powerful tool is well-known for two special features:
It comes with a unique method of selling services to your audience known as Collab Me. Using this feature, you can bill your customers directly through LinkFolio and easily sell everything from one-on-one video calls to merchandise.
It gives you access to more than 3,000 brands. With the help of their details, you can come up with ideas for influencer marketing opportunities.
Apart from this, LinkFolio also offers the following:
Cross-linking to other social media platform accounts.
Unlimited URLs.
A unique analytics tool known as Folio-lytics.
A customizable interface for your LinkFolio page.
FP insight – a great collection of influencer marketing industry reports on leading Instagram brands and posts.
An inbuilt contact form for lead generation.
LinkFolio comes with a free plan and three different paid plans – ranging from its Basic plan ($5 per month) to the Business plan ($50 per month).
Plann EasyLink is a sophisticated and visually appealing link-in-bio tool, and it's part of the award-winning scheduling suite that Plann offers. This makes Plann the most integrated experience available to socially savvy brands that want to keep everything in one location.
Plann is an all-in-one Instagram scheduling, analytics, and strategy suite that is visually focused like Instagram itself to ensure your complete social media success. Plann was built specifically for Instagram users.
With the assistance of an incredibly intuitive interface that relies on drag-and-drop functionality, you are able to create your very own unique Instagram feed.
After using this service for free for a week, if you decide that you want to continue using it on a regular basis and want access to both the desktop and mobile applications, you can purchase a subscription to it for as little as $9 per month.
Using Shorby, you can add multiple links to direct your followers to your blog, website, online store, social networks, affiliate links, and so on. You can also use it to:
Add, swap, or change links to your heart's content.
Add text blocks, rich links, catchy headlines, and GIFs.
Access analytics and track your traffic.
Customize your page with the help of animated avatars, backgrounds, icons, and videos.
Retarget audiences on third-party websites such as Amazon and Clickbank.
Improve engagement across channels by cross-linking to other social profiles.
Shorby presently offers a 5-day free trial with paid plans ranging from $9 to $99 per month, depending on the features you require.
Koji's "link in bio" profiles offer deep customization, 4K video backgrounds, and an app store with hundreds of free add-ons that let creators collect Tip Jar payments, sell products, host their own AMA and more.
Key Koji features:
all features are 100% free to use, no paid plans
hundreds of mini-apps to add to your profile
no fees to withdraw money or collect Tip Jar payments
profiles integrate with custom domains, Google Analytics, Pixel, Mailchimp and more
a powerful dashboard for creators
24/7 support
Using Lnk.Bio, you can create a mobile-first landing page that features all your links. Its free plan allows you to add an unlimited number of links along with accompanying images.
It has three different paid versions priced at $0.99 a month, $9.99 one time and $24.99 on time. The one-time plans are lifetime plans that allow premium features for a lifetime.
Both the paid versions offer the following features:
Unlimited links
Email support
A custom URL
Link stats and analytics
With the help of Sked Link, you can link followers to your website, blog posts, products, email newsletter groups, and much more. It presently offers three different plans – the Basic, Pro, and Enterprise plans. The Basic and Pro features allow you to:
Access link analytics
Alter links
Integrate with Google Analytics and Facebook Pixel
Customize as per your needs or select from existing themes
Include UTM parameters
If you subscribe to the Enterprise plan, you must pay a custom price to host your Sked Link on your domain name. You will be able to add other advanced integrations as well.
The Milkshape App has been designed to help users build an Insta website (simple website) on their devices. It's quite a simple process – your link in bio becomes an Insta website where you can put up your offers for followers to check out.
The app has been optimized for the mobile Instagram browser and allows your followers to browse through your content just like they swipe Instagram stories. After clicking on the Milkshake link in your bio, they will be able to view your brand's products and other content.
You can use the app to:
Customize cards and themes
Share your Instawebsite to your Instagram stories
Invite followers to call or message you with the help of a link
Access insights and analytics
Add a "buy" button that directs users to a purchase page on PayPal
Unlike other link in bio tools, Link in Profile enables you to add links to Instagram images that your followers can then use to direct traffic to your website. Pulling content from your feed, it uses a specified photo to take users to the linked content. As of now, it is priced at $9.99 and offers a 30-day free trial at no risk.
Features of Link in Profile include:
Zero effort management
Stats and analytics
A dedicated landing page
Enabled commerce links for shop pages, affiliate links, or Etsy
A branded landing page for you to put up your Instagram name and profile picture
Tap Bio is a link in bio tool that lets you personalize and brand smaller websites that contain all the links you need to have on your Instagram account. These websites feature a user-friendly interface where you can create mobile-optimized landing pages.
Tap Bio is notable for using cards that serve as extensions of your landing page, each of which can have a different function where you may highlight several links. You can do so without losing your single call-to-action advantage, which increases the chances of your followers clicking on the link.
The tool comes with the following plans:
A free Basic account gives you access to one profile and a card to add one unique link.
The Silver plan is for $5 per month with three extra cards and analytics to your links.
The Gold plan at $12 per month gives you access to infinite cards and stats. It also lets you use three different IG accounts.
This link in bio tool allows you to connect your followers to other links and content such as images, text, videos, contact forms, and much more. It also lets you customize your username and, with the link in bio, help customers contact you quickly. The free plan gives you access to:
The ability to connect multiple accounts and switch between them swiftly
A custom profile URL
The ability to customize color, texts, and links
Link analytics
An "Add Contact Form" option and social media buttons
A user-friendly interface with a drag-and-drop editor
The paid plan is priced at $7 per month for businesses and $28 per month for agencies. It comes with extra features such as:
Branding
Facebook Pixel integration
Video and image uploading
Email signup and collection
Mailchimp integration
Campsite has numerous premium features to help you deal with the "one link in Instagram bio" issue. You can use this tool to:
Add unlimited links
Add social accounts such as Facebook, Instagram, LinkedIn, and more
Archive and restore links
Access analytics
Customize colors and fonts on the landing page
Alter the title and include a brief introduction
Conveniently switch between multiple Campsite accounts
Schedule when links should stop appearing or go live
Retarget visitors with Facebook or Google AdWords
The tool offers a free account and provides additional features with its Pro account ($7 per month).
Taplink is a state-of-the-art link in bio tool that presently boasts over 275k active users. It has been optimized for social media influencers and small businesses to promote their services and products. It features more than 300 readymade templates that are readily customizable according to your needs.
Unfortunately, the free version of Taplink is relatively scant when it comes to features. The premium account is priced at $2 per month and offers extra features such as:
Map blocks
HTML blocks
Videos
Pictures
When it comes to celebrities and social media influencers, InstaBio is an excellent choice. It is a pretty simple tool that you can easily use to link all of your social media handles on a single platform. Its free version comes with basic customization options to change the color of your website, but doesn't have advanced options. The premium plan is priced at $4.99 per month and gives you access to pro themes.
If you happen to be an artist, streamer, or creator, then Solo.to could be the perfect option for you. Like InstaBio, it comes with basic functionality to help users and small businesses link all their social media handles on a single platform. Doing this will make it easier for your followers to interact with you.
The free version of Solo.to has some limitations that the Premium plan ($1 per month) does away with. It gives you access to additional features such as basic analytics and a Dark mode theme.
Bio.fm is a popular tool that helps you share your social media handles and content with your followers. It includes numerous customized blocks that you can use to make your link in bio website more engaging.
It is similar to Linktree in terms of functionality but additionally allows you to display content from social media websites. Moreover, it is compatible with all major social media platforms, such as Facebook, Instagram, YouTube, Medium, Twitter, and Spotify.
Bio.fm is an excellent platform for linking your social media handles and displaying your content.
Which Link in Bio tool to pick?
This article featured the 19 best link in bio tools for Instagram presently available in the market.
Most of them feature at least one free version, and you can opt for the premium version if you want additional features. You should choose an apt tool from the list that fits your budget and serves your needs well.
I recommend using any of OMG.LOL, Soc.Link, Feedlink, Linktree and LinkFolio.
These tools will help you do away with the "one link in bio" limitation on Instagram. Moreover, you can also use these tools on other social media platforms. I hope they help you create effective marketing campaigns that help you resonate with your audience.