15 Best Free GIF Makers [Windows, Mac and Online]
Are you looking to create a GIF online or on your laptop but cannot find a suitable way out? Well, I got you covered. In this article, I will guide you through the 15 best free GIF makers available online and for Windows and MacOS.
But before we move to gif makers let's first see what GIFs are and why these are popular?
What is a GIF?
Graphical Interchange Format or, as people call it, GIF, is a (mostly) animated image format invented by Steve Wilhite and others in 1987. These are a series of images that are cycled through to create a small animation.
Why GIFs are used?
GIFs are used to describe a situation or a reaction in detail instead of their counterpart emojis.
GIFs are an easy way to incorporate any message in chatting, websites, and other places. GIFs have a very small file size as compared to videos and thus are preferred over videos to deliver simple and short messages. GIFs can also be used in emails & newsletters, websites and forum chats. GIFs have been widely popular on the internet nowadays; judging by their popularity, they are not going away anytime soon.
Here we have listed out 15 Free GIF Makers for you. These are free to use, fast and loved by thousands of users.
Best Free GIF Maker Software on Windows and Mac
Wondershare Filmora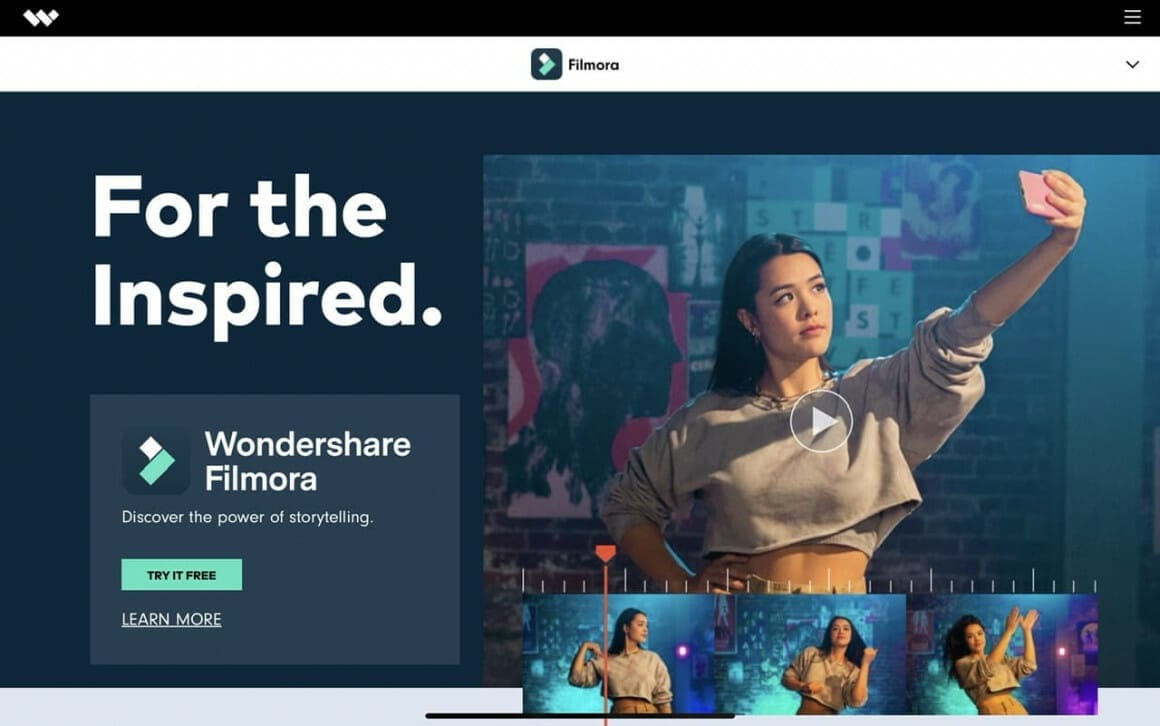 Wondershare Filmora is one of the best desktop software for making GIFs compatible with both Mac and Windows. Wondershare Filmora is not only free but also provides incredible high-quality GIFs.
You can easily make your customized GIFs with just a few simple steps. Its user-friendly and intuitive design makes GIF-making easier than ever. It supports a wide range of file formats, too, and so you can make CIFs from any video format like EVO, MKV, MP4, DAT, WMV, MPEG, AVI, and WAV.
You can create GIFs from photos, too, by piling them up. Filmora also lets you add small elements to your gifs, such as animations, text, and overlays. In filmora, you need to import media files, drag and adjust the timeline, edit the files, add effects and finally save and export the finished GIF to a local disk or any other popular portable device.
On top of all these features, Filmora doesn't put any watermark either.
PhotoScape
PhotoScape comes with a very easy-to-navigate interface, so this is excellent software for beginners. This software also offers various features like Editor, Viewer, Page, Combine, Animated GIF, Splitter, Screen Capture, Color Picker, Raw converter, etc.
For creating GIFs, you need to select the Animated GIF option. PhotoScape is widely used as a video editor and GIF maker. Also, with PhotoScape, you can adjust even the minute details about your GIF to make it more effective. PhotoScape is thus an excellent option for creating simple and fun GIFs.
Gifted Motion
Gifted Motion brings you the easiest and fun way of creating GIFs than ever before. It is highly effective, and you do not have to pay for it. The software is platform-independent (written in Java) and runs on every OS out there. It also has Multi-language support and requires no complex installation procedure. Download the software and run it.
Due to its small file size, it is very easy to download too. Also it supports fairly popular file formats like .png, .jpeg/.jpg, .bmp and .gif. Now you can make a GIF of your choice with much ease. It also comes with all basic features to edit, crop, and adjust image positions in your GIF. Gifted Motion also offers the image preview function. Overall, it is relatively easy to use software that lets you make awesome customized GIFs.
SSuite Gif Animator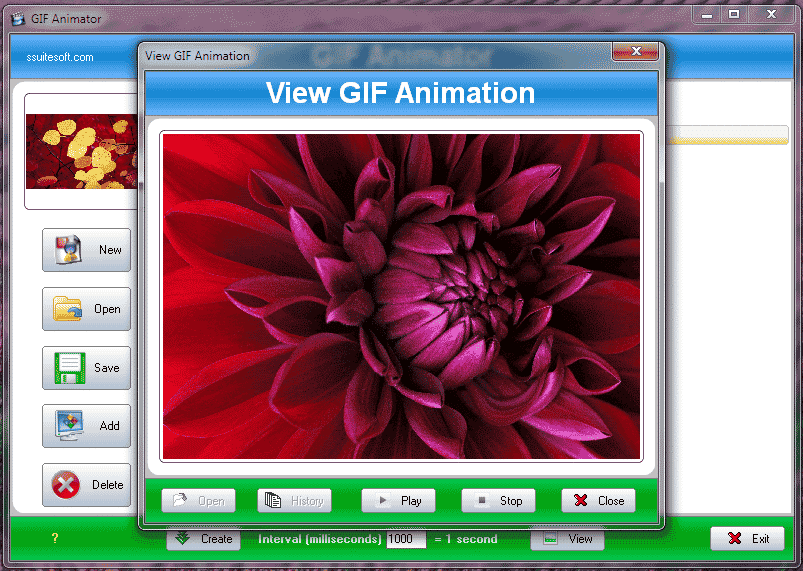 SSuite Gif Animator is an easy-to-use GIF creator, movie maker, and slideshow creator. It is compatible with all versions of Windows and Mac. Also, every file created on SSuite Gif Animator is compatible with every web browser. You can use your GIFs on social media or on your websites to showcase all that you need. It supports all the major file formats like .jpg, .png, .gif etc.
Its enhanced interface lets you keep complete control over how you edit and update your files. Also, SSuite Gif Animator's latest version lets you resize and set all image files to a single size. It is a great feature and makes video making or GIF-making a whole lot easier. Create GIFs faster than ever with SSuite Gif Animator.
Gimp
Gimp is a great free GIF maker that is ideal for making and editing GIFs as it offers various unique editing tools and features for you to use. It is a powerful and widely used open-source image editing software. This user-friendly image maker lets you manage and edit your images more effectively and efficiently.
Gimp offers various features like the ability to use undo and redo, transformable selections and paths, and a foreground extraction tool. It also supports various file formats like .gif, .png, .jpg/ .jpeg. Gimp community also provides its users with 1000+ plugins.
Overall, Gimp is a good image editor, but it is not exclusively a GIF maker and you can do a lot more with this.
Best Free Online GIF Creators You Should Try
Canva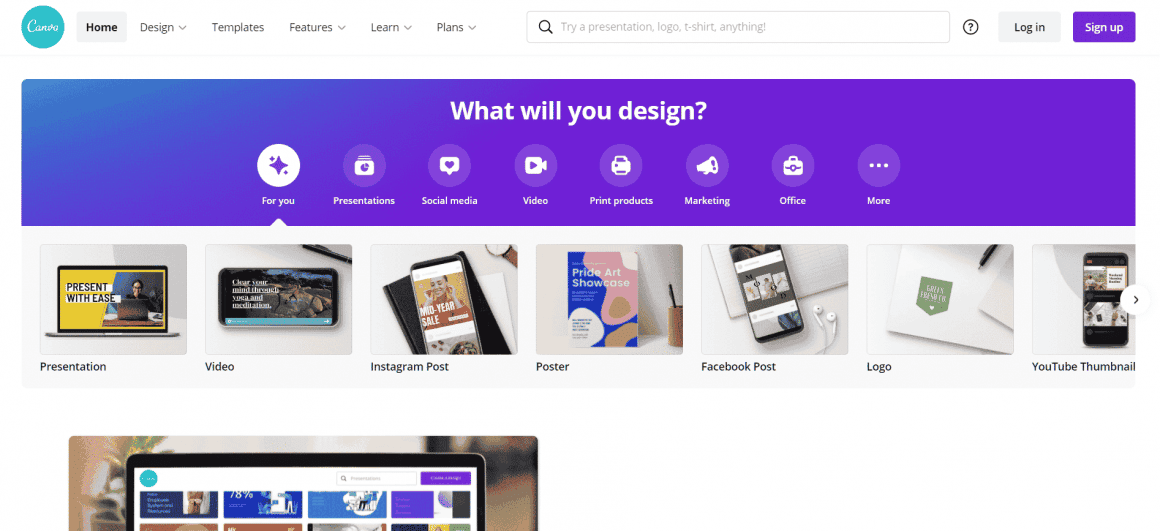 Canva is a actually a wholesome photo editor that can be used as fantastic free GIF-making software that allows you to explore your creativity and turn your designs into unique and high-quality GIFs. Canva is quite popular as it is a GIF maker and a video maker, presentation creator, and image editor – all in one.
Canva offers high flexibility when it comes to customization. With canva, you can add stickers to your GIFs, use various text fonts and choose certain image backgrounds and templates from their library. You can also import your images for GIF creation very easily with just a single click. You can also animate your design with the help of the timestamp provided. It also lets you drag and drop elements so that you can place them on your design with precision.
You can also share your project link with your teammates or friends and work together on it. It also enables easy sharing with your family and friends online. With its user-friendly interface and high utility, Canva has become widely popular.
Crello
Crello is an easy-to-use cloud-based online graphic designing tool that has become very popular recently. With Crello, you can create unique and professional designs and GIFs anywhere, anytime. It is very beginner-friendly, and you do not need any prior experience to use it. It provides a drag and drop option, and you can work on images, videos, animation, music, GIFs, and more with it.
Crello also features loads of editing tools like crop, fill function, filters, adjust borders, layers, alignment, copy, and more. You can make intuitive GIFs with Crello and even upload your raw images in the app (as long as the images are less than 50 MB) in any format as it supports 80 image formats. Crello lets you export your finished products in .jpg, .png, .pdf, .mp4, .gif and more.
Its library has a vast music collection with 29 genres, different ready-to-use animations, and various objects and stickers. Also, it lets you directly share on Facebook, Twitter, Tumbler, Reddit, Linked In, and Pinterest. Overall, Crello is a good multipurpose editing application that you can use to make GIFs.
FlexClip Free GIF Maker
FlexClip is a free online video & GIF maker that creates fancy gifs easily. If you are seeking an easy and quick solution for GIF creation, FlexClip will be your best fit. You can easily upload videos & images and convert them to an animated GIF swiftly. You can find fantastic graphic elements in the editor and easily add cool texts and emojis. In addition, FlexClip has an extensive royal-free media library with millions of resources for GIF creation.
With only a few clicks, you can add memes, stylish texts and animated sticks to GIFs. You can drag & move any element to any position or resize a graphic element in a GIF image. When you're ready to share your gif, choose to export it as a video meme or export it as a GIF. Its video to GIF conversion is simple, free and fast.
Giphy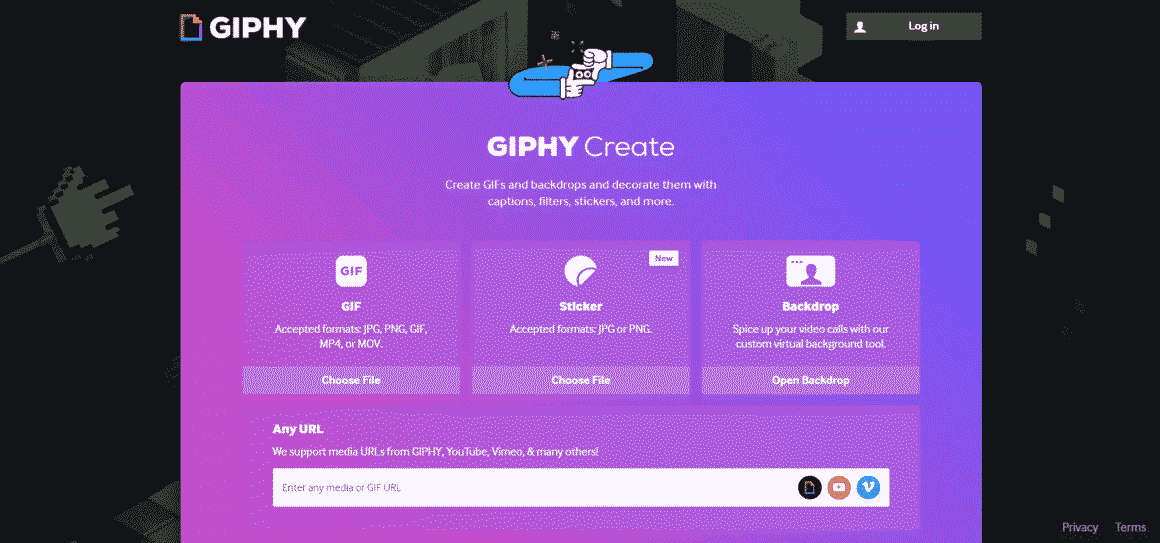 Giphy is a great GIF maker that allows you to make creative and fun GIFs that you can share with your friends and family. Giphy has a wide range of tools that you can use to create, search and share the most intriguing GIFs on the internet. It even lets you pick up raw content from YouTube or Vimeo.
Giphy enables you to adjust the time frame of your GIF, and you can make it longer or shorter. It also has a vast library of stickers to choose from that you can include while creating GIFs. It also has a font library to add captions of various styles and colors to your GIF. Also, the Giphy image collection can be easily transformed into any GIF.
Giphy is a free app; even with all these features and tools, it is free. So, you do not need to spend a single penny to create high-quality GIFs. Also, it has strict privacy policies and sharing checks. Therefore, Giphy is a relatively safe platform to use, and you will have a fantastic time making GIFs with it.
Visme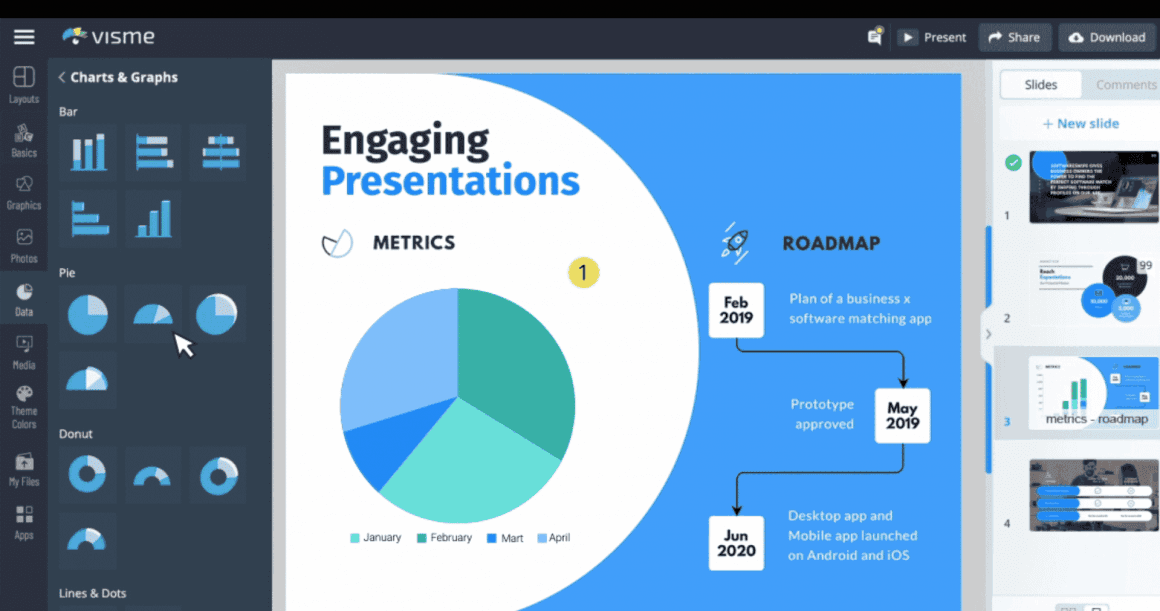 Create high-quality and unique GIFs with the online animation editor Visme Visme revolutionizes how you create and share GIFs. It is yet another multipurpose online application as you can create presentations, GIFs, infographics, visual reports, and images with it. It is a favorite of many top-tier brands like IBM, Voya, Grifols, and more.
Visme comes with various intriguing tools and features so that you can make excellent content. You can either work all by yourself or as a team on Visme. It also offers a massive collection of GIF templates that you can browse through and use at your preference and need. Every design, icon, and illustration can be animated and converted into a GIF with it.
Visme also offers a vast library of icons and photos that you can use, along with the flexibility to customize your very own branded fonts and colors. It comes with an easy drag-and-drop tool, and so even a newbie can use it with ease. Altogether, Visme is one of the best GIF makers out there, whether for professional use or just for fun.
Ezgif.com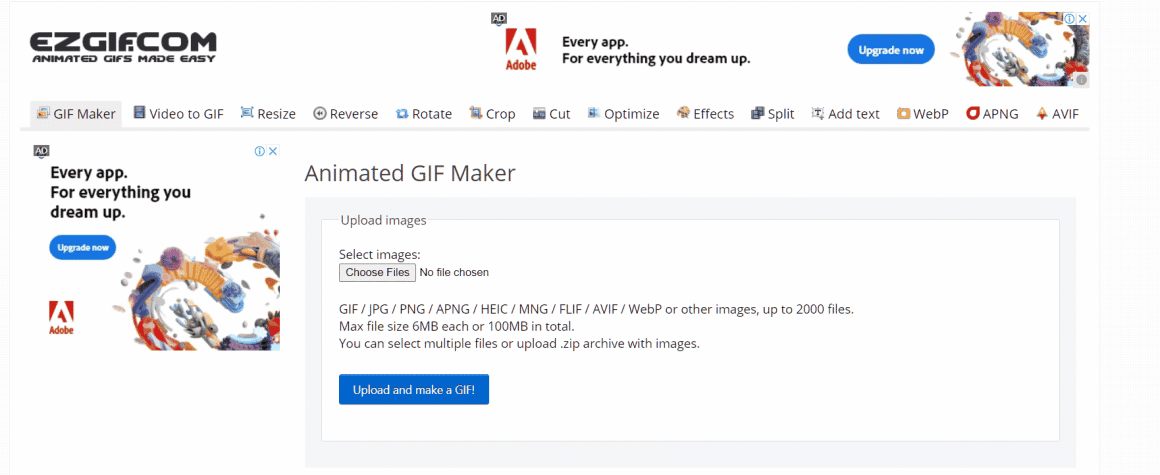 Ezgif.com is a GIF creating tool that lets you make awesome animated images in no time. It is very easy to use and supports various uploading formats like .jpg, .gif, .png, .bmp, and more. Ezgif, like most other visual editors, comes with numerous tools to help you showcase your creativity. A few of its features include – GIF speed adjustment, resize, crop, and image optimization. It also stores the editing frames in alphabetical order spontaneously.
The interface is also very clean and beginner-friendly so that you can get your hands on it without prior knowledge about GIF-making. Also, you can upload all raw images in bulk or a .zip file for convenience. With Ezgif.com, you get premium quality GIFs without watermark.
One downside is that you have to download the GIF after making it, as there is no option for saving it online. But taking all into account, Ezgif.com is the perfect tool for beginners who want to get into GIF-making.
Filmora FREE Online Meme Maker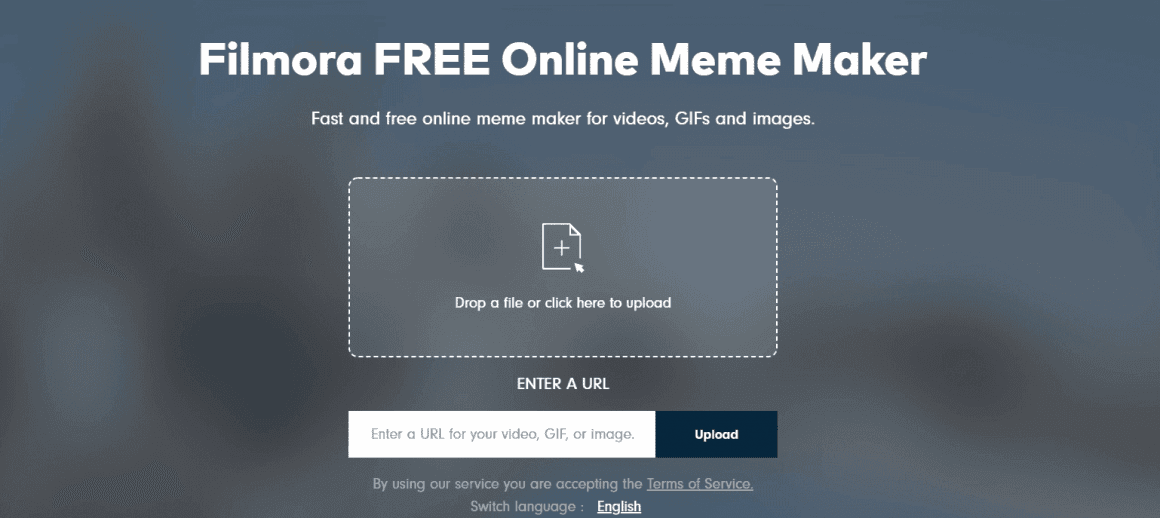 Filmora Meme Generator is an online app that allows you to make GIFs with much ease. It is a part of Wondershare Suite. You can make funny memes and effective GIFs in no time with its help. What's more, is that Filmora Meme Generator is free. It offers its users various features to edit and create GIFs like drag and drop, crop, and resize. After creating you can export your file in various formats like .jpg, .mp4, .png and .gif.
Filmora also stores a wide range of effects that you can add to your GIF. Also, as it is web-supported, you do not need to download and install the whole application to use it. Overall, Filmora Meme Generator is one of the most effective online GIF makers out there.
Picasion
Picasion is an online GIF maker that lets you make GIFs from images you upload from your device or import from Flickr, Picasa, or any similar gallery. Picasion is relatively easy to use and comes with all the basic features you could need to make GIFs. The best part of Picasion is that your finished GIF will not have any watermark. Also, Picasion lets you publish your GIFs in an online gallery and share them with others. However, One downside of Picasion is that it does not allow you to upload your image files in bulk.
Thus, you have to manually upload every image you need for your GIF, which is time-consuming and a very lame feature to have. Also, Picasion might be free and without a watermark, and at the same time, it also has very limited features to use. So do not expect any superior editing from it.
In Picasion, you can not preview your file before finishing either, which is a huge letdown. Overall, the app is good as it is free, but it needs to improve its features.
GifPal
GifPal is another popular online application for creating awesome GIFs. It also gives you the liberty of turning on or off the watermark. The app also plays your GIF automatically when you add or remove any features to or from it. Thus, it acts as an automatic preview. With GifPal, you can easily arrange your images for creating GIFs and also put filters on them.
You can upload images from your device in GifPal, but similar to Picasion, you need to do that manually one by one. It is a huge drawback of the application. Also, it does not provide you an option to add text to your GIF.
Few unique features that GifPal has are that it lets you run your GIF backward, adjust image quality, overlay filter, and adjust speed before you finish and save your file. Altogether, GifPal is an awesome free GIF maker as long as you are willing to not put any text on it.
Gickr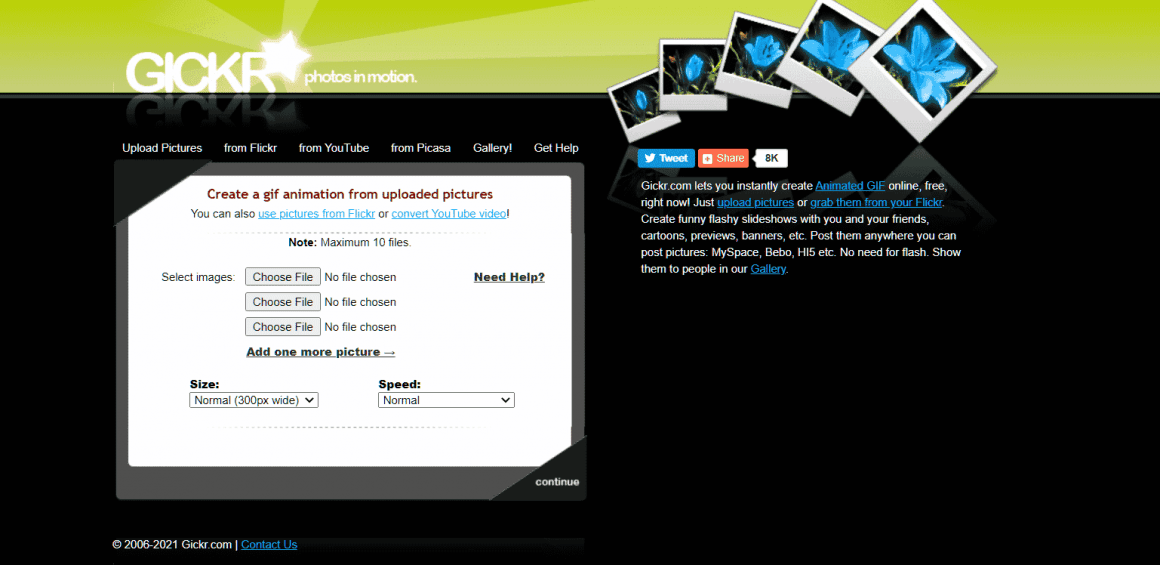 Use Gickr and instantly create an animated GIF. It is one of the best GIF-making online applications available in the market currently. Gickr allows you to upload images from your device or Flickr.
The app also lets you upload 10+ images at once so that you do not have to go through the trouble of uploading each image you need one by one.
You can also adjust your GIF speed and image size with it. Overall, Gickr is a great choice for you if you want to make short, fun GIFs.

Make a Gif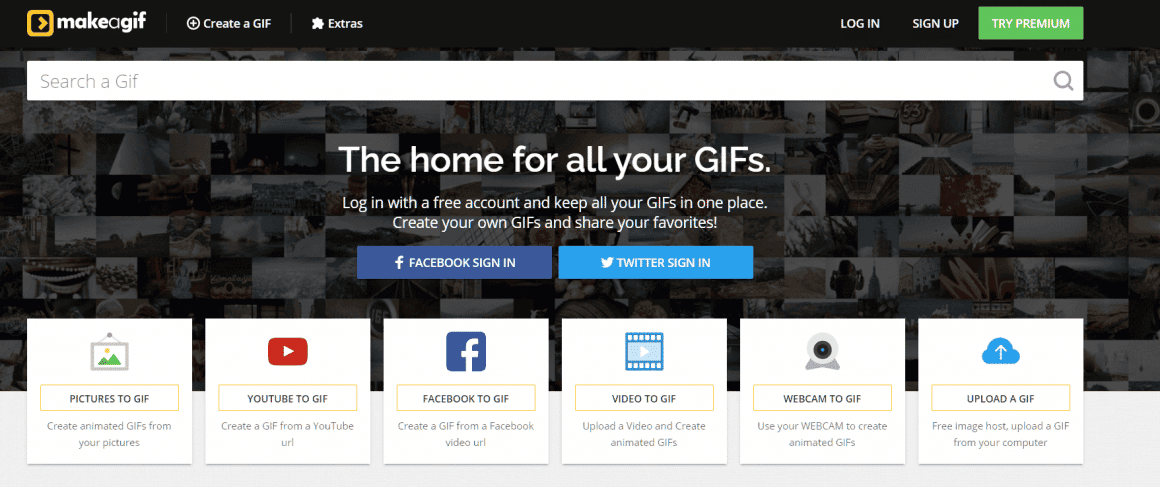 Make a Gif is an online free GIF maker that allows you to make GIFs from your device images or videos, YouTube videos, Facebook videos, and videos directly from your webcam. The app lets you easily personalize your GIFs by allowing you to crop, resize and choose the order of images. One of the best features of Make a Gif is that it lets you resize all your images in one go.
You can also use the application without logging in to the app, and the finished GIF will have a watermark on it. To remove the watermark, you need to log in to the app and start editing. You can also get high-quality GIFs if you pay. After creating your GIF, you can save it directly to your computer or note down its URL to find it later. With Make a Gif, you also get the option to make your GIF private, public or unlisted.
Frequently Asked Questions
What is a GIF?
Graphical Interchange Format or, as people call it, GIF, is a (mostly) animated image format invented by Steve Wilhite and others in 1987. These are a series of images that are cycled through to create a small animation.
How does a GIF work?
GIF (Graphic Interchange Format) is nothing but an animation made by combining several images or sometimes even from video clips. .gif supports 8 bits per pixel and provides a separate 256 colors palette.
How to download high-quality GIFs?
To improve GIF quality, you can do the following three things.
1. Use .jpg instead of .png for your raw images for making GIFs.
2. Reduce the different colors on each image panel while making the GIF.
3. While making the GIF, make it in a bigger size and after finishing editing, download the GIF in a smaller size file.
How to increase GIF creation speed?
It is suggested that you resize your raw images to a smaller size before uploading them to your concerned app. However, this will increase the creation process with heaps.
How long should a GIF last?
GIFs can have a duration of 15 seconds, but it is preferable to keep the duration within 6 seconds. Also, the GIF size should be around 8 MB though max attainable size is 100MB. Keeping the recommended size and duration makes the GIF more appealing.
Conclusion
GIFs are very trendy and used by people of all age groups. It is a constant when it comes to social media as, just like emojis, GIFs also have a separate option in every social media platform like What's app, Twitter, and Facebook. GIF lets you express emotions and convey messages better than emojis without taking a long duration or huge file size as a video.
Overall, GIFs are very handy, and almost everyone can make a GIF with the help of various platforms. In this guide, we discussed a few platforms (both online apps and downloadable software) that you can use to make your GIF. We hope that this guide was helpful to you.