Zerodha Margin Calculator — The Beginner's Guide to Trading with Zerodha
Along with the various other merits, Zerodha leads as a stockbroker due to Zerodha margin calculator which is the simplest to use margin calculator among its competitors and allows the discount brokers to compute the amount of funds they need to maintain in their trading account.
Assuming that you are familiar with the concept of a margin calculator which can help you to boost your profits and concurrently augment your losses too. Hence, we recommend implementing margin schemes only after understanding the associated risks and benefits.
Now, before going into the technicalities of this tool let us first go through how it fits in the Zerodha trading ecosystem and does it assist your trades, personal finance and resulting profits.
Zerodha Margin Calculator: Basics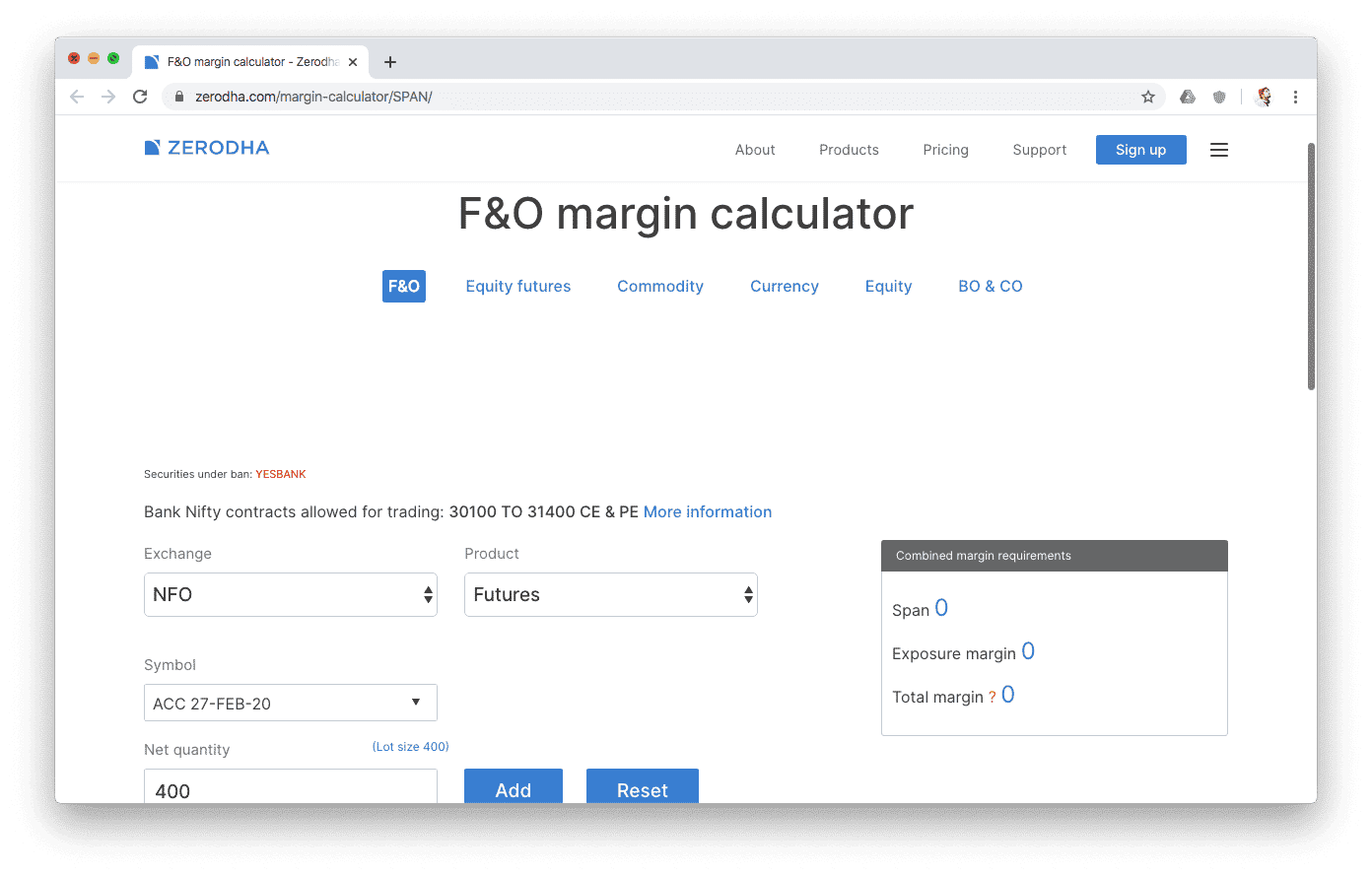 Zerodha Margin Calculator is among the easiest to use and you simply need to search for the desired scrip or investment product from available asset types. Almost every scrip shows the associated values in the initial display, if not you can always search and find them.
Let's say you are looking for the latest Zerodha margin for Platinum, just type the name of commodity (here, platinum) in the search bar and the margin values offered by discount broker will appear to you.
Unlike other margin calculators where you have to search for the scrip and then you get to see the margin multiples, Zerodha's version of margin calculator lets you view all kinds of scrips along with the credentials like span margin, expiry date and so forth.
Types of Zerodha Margin Calculators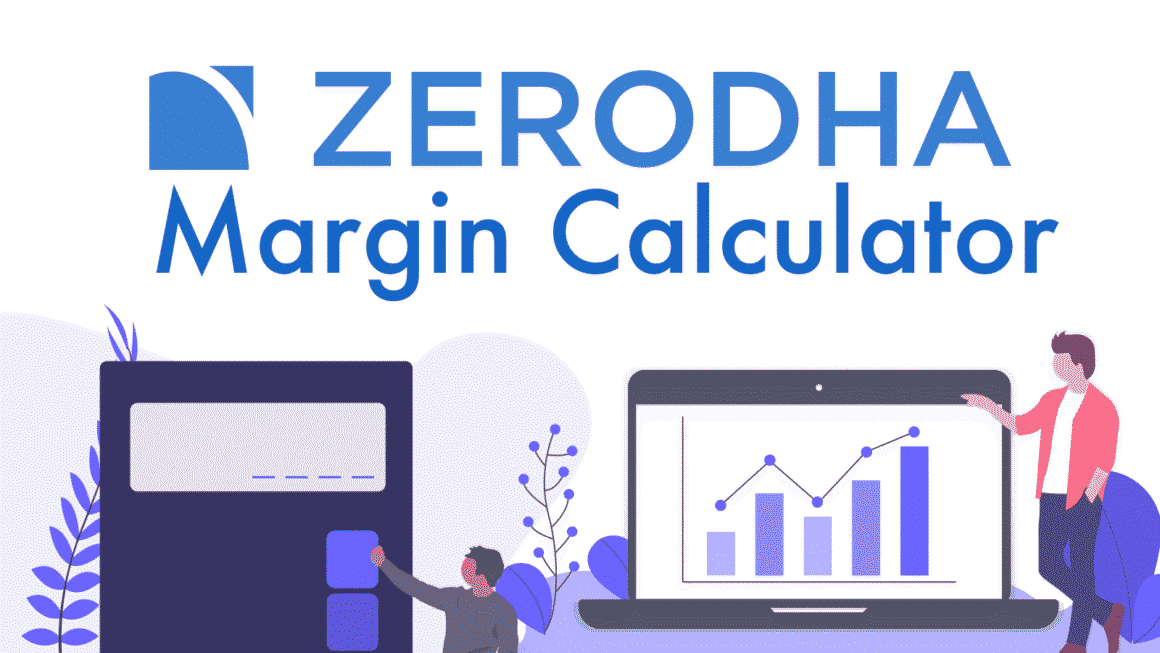 There are various margin calculators available on Zerodha's F&O margin calculator, ranging from equity to commodity and so on.
Zerodha Equity Margin Calculator
Equity Intraday Margin
Zerodha Equity MIS (stands for Margin Intraday Square Off), being an intraday product, is bought and sold for a single day and Zerodha team charges you for closing your call and trading. So, always try to close the trade before closing time.
Zerodha Intraday MIS can provide up to 20 times margin based on the stocks you are trading in.
Equity Delivery Margin
While trading with equity delivery in Zerodha framework, simply choose the Cash and Carry (CNC).
As soon as you buy it, the stocks will be delivered to your trading account and if you are selling, it gets debited. Hence, you get zero brokerage charge here and a margin of 1X.
Equity Future Margin
For Zerodha Equity Future Intraday, the margin goes up to 2.5 times i.e. 40% leverage depending on the stock you're dealing with, but if the equity future position is closed by Zerodha, the stock is transferred to the next trading day. This transfer occurs with zero brokerage charges and provides 1x leverage.
Equity Option Margin
The margin and carry forward rule for Zerodha Equity Option Intraday is similar to Equity Future Intraday with upto 40% leverage (based on the stock) and carry forward to next trading day if Zerodha team closes the position with 10% leverage.

The new SEBI rule states that every stockbroker needs to collect total margin i.e. Span + Exposure after each trading day.
Zerodha Commodity Margin Calculator
Commodity Future Margin
In Commodity Future Intraday Trading, Zerodha provides 40% of leverage and 2.5X span.
Also, when the market closes Zerodha stops and the position of client is not locked manually, the total amount gets carried forwarded to next trading day with zero brokerage and 1X span.
Commodity Option Margin
Intraday trading of Commodity Option, gives 40% leverage and 2.5X span. Once the market is closed, the position of clients doesn't lock manually and Zerodha stops.
The total amount is carry forwarded to next trading day with 1X span leverage provided by the stockbroker.
Zerodha Currency Margin Calculator
Currency Future Margin
In the case of Intraday currency future margin by zerodha, it can go upto 40% leverage depending on the stock you're dealing in and its market value.
Though, if the currency future stop position is closed by the Zerodha team by itself, it is transferred for next trading day with no extra brokerage charge and leverage of 1X is given.
The new SEBI rules state that every stockbroker needs to collect total margin i.e. Span + Exposure after each trading day.
Currency Option Margin
Currency option intraday margin by Zerodha is about 40% leverage depending upon the market future value.
The Zerodha team closes the currency option stop position by itself if the clients forget to do so with the transaction being carry forwarded to the next trading day with zero brokerage charge and 1X leverage.
The new SEBI rules state that every stockbroker needs to collect total margin i.e. Span + Exposure after each trading day.
Zerodha BO & CO Margin Calculator
Ordering as Zerodha Bracket Order or Cover Order allows you to set a stop loss for your executed trade.
This prevents you from facing risk of mitigation or heavy loss is the market falls exceptional to its behaviour and at the end you end up with a minimum loss which is a useful tactic to survive in the broking arena. Hence, Zerodha Margin calculator provides BO & CO margin of about 6-20 times.
In Zerodha framework you can manually close the position for MIS/BO/CO orders but in case you forget to do so, the transaction gets converted to carry forward cash on its own.
Hence, it is recommended to always be ready with enough cash or else the Zerodha team will close the position without any margin call, simply with Manual Square off.
Zerodha Span Margin Calculator
In the equity derivatives segment, margin calculation has undergone some new rules and regulations, introduced by SEBI. This calls for all registered stockbrokers (including Zerodha) to compulsorily collect the total exposure as well as the span margin which assists the derivatives position to get carry forwarded for the next trading day (session).
Therefore, users should maintain a good margin amount in their account which will help in avoiding penalties and to square off positions.
Points to Remember
Margin policies may change quite frequently depending upon the market momentum and/or any positive or negative impact on the particular sector (be it direct or indirect).
You need to settle the margin amount in a specific time period depending upon the trading segment you are dealing in.
Funds you get on selling some stocks are credited to your account on T+2 day, which may also sometimes vary depending upon the trading segment.
Bracket or cover orders often offer higher margins compared to other trades.
All in all, whichever trade you're performing or dealing in, you should always consider using a margin calculator and while you are at it, why not use the simplest one available?
Zerodha Margin Calculator is pretty easy to use and clearly shows all the values and margins whatever trading sector it may be. The calculator helps a trader to maintain stability in their account depending upon the market values and offers an automatic square off to safeguard against losses.
If you were looking for a margin calculator, Zerodha has one of the best to offer in the lot.
Frequently Asked Questions
How is margin calculated on Zerodha?
What is Total Margin in Zerodha?
Total margin is the margin required for taking positions that can also be held overnight using NRML product type. Total margin equals to the SPAN and Exposure combined minus the spread benefit.
Is Zerodha Margin Calculator free?
Zerodha Margin Calculator is free to use and offers free equity delivery trading.