18 Best Social Media Automation Tools
By now, we all know how important social media is, and also that social media strategies need to be quick, effective and responsive.
However, content creation and engagement maintenance on social media are time-consuming. That's why you require some tools to be better and quicker at it. Well, modern man, modern solution.
There are a ton of automation tools available online, out of which I am sharing some of the best social media automation tools in 2023.
Best Social Media Automation Tools
AgoraPulse
AgoraPulse is an easy-to-use management tool for social media that allows the user to drive engagement and build genuine relationships on a platform.
The tool tops the list as it has the most comprehensive features among all the social media automation tools present out there.
The tool allows you:
To plan and schedule your content across six different social media platforms are Facebook, Instagram, YouTube, LinkedIn, Twitter and Google+.
Track the performance of your content
Collaborate with your team.
Track your content analytics
AgoraPulse Pricing
| | | | |
| --- | --- | --- | --- |
| Medium | Large | X-Large | Enterprise |
| USD 99/month* | USD 199/month* | USD 299/month* | USD 499/month* |
| 10 social profiles | 25 social profiles | 40 social profiles | 60 social profiles |
| 2 users | 4 users | 8 users | 20 users |
*when opted for a monthly plan. The annual plan offers a 20% discount.
The company offers a 14-day free trial.
Kicksta
Kicksta is an automation tool specifically developed for Instagram where it allows you to save time by letting you find profiles similar to yours, engage with followers of such profiles and get organic growth by being followed back by these profiles. The company has over 10,200+ agencies and influencers using the tool.
Kicksta Pricing
The company offers a 14-day money guarantee, if unsatisfied within two weeks of service, the user can get their money back.
Hootsuite
One of the most widely used automation tools, Hootsuite is a social media management tool that has been available as early as 2008 when social media was just beginning to rise.
Hootsuite is filled with all the features social media automation tools can possibly have and supports all the social media platforms available.
You can track performance on all social media platforms at once using the tool and on a real-time basis. Features offered by the tool include:
Scheduling posts
Managing content with ease of tagging, search and usage stats
Performance Analytics
Monitoring engagements using find and filter conversations using keywords, hashtags and locations
Hootsuite Pricing
The tool is available in three plans:
| | | |
| --- | --- | --- |
| Professional | Team | Business |
| 10 social profiles | 20 social profiles | 35 social profiles |
| 1 user | 3 users | 5 users |
| ₹ 1260 per month* | ₹ 7540 per month* | ₹ 45000 per month* |
*per month on an annual plan. Prices in INR. Check here in your local currency.
Hootsuite offers a 30 day free trial for each plan listed above. There is also a free plan to start with.
Buffer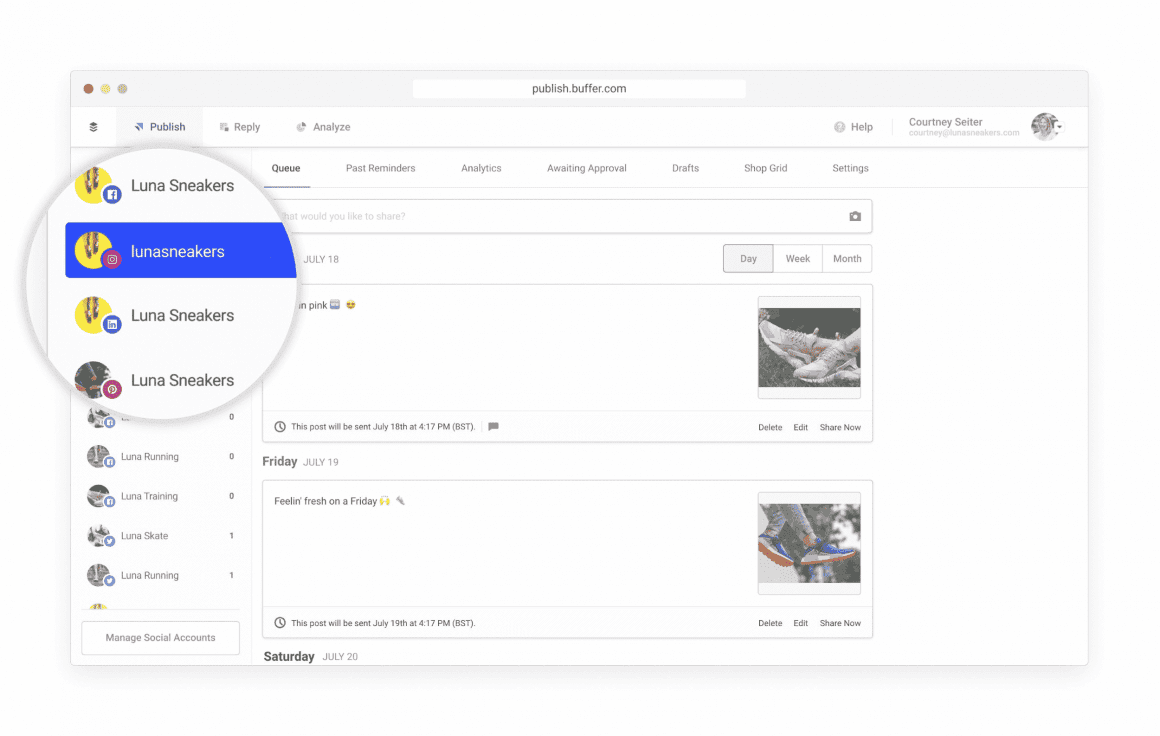 Buffer is a SaaS application, available for both mobile and web, which is used for managing social media accounts offering features like scheduling posts and reach analysis.
Buffer has a wide variety of clients including big names like Shopify, Huckberry, Spotify etc. The company has been in the business for 10+ years, has over 75000+ customers, 100k+ monthly blog readers and 1.2 million+ social media followers.
Buffer offers you different plans for publishing content or analyzing the reach of the content depending on your need.
The tool is well known for its detailed analytics, making it an ideal tool for users who want to understand the success and reach of their current social media strategy and the effect of these changes on their reach.
Buffer Pricing
Buffer pricing starts at $12 per month and ranges up to $85 a month if billed annually.
CoSchedule
As suggested by the name, the CoSchedule tool helps you to schedule your posts across different social media platforms with ease.
This makes it easier for you to manage multiple accounts in one place. The tool allows you to schedule as many as 60 posts in advance using its interface.
The tool works as a very effective social media calendar and can also help you analyze content that has received high engagements and good results in the past.
Not only does the tool offer you general services like scheduling and analyzing, you can also use the tool to manage your customer support very easily.
CoSchedule Pricing
The pricing for the tool has 3 options:
| | | |
| --- | --- | --- |
| Blog Calendar | Marketing Calendar | Marketing Suite |
| $24 per month* | $49 per month* | Depending on needs |
| Real-time blog & social calendar | Real-time marketing calendar | Manage marketing requests |
| Automate social schedule | Full social media management | Automate team workflows |
| Bulk schedule posts and integrate with WordPress | Custom views of the calendar and easy rescheduling | Sort calendar by the team, store assets and files and track team progress. |
| – | All the features of Blog calendar | All the features of blog calendar + marketing calendar. |
*When opted for a monthly plan, the annual plan offers a 20% discount.
The company offers a 14-day free trial.
Crowdfire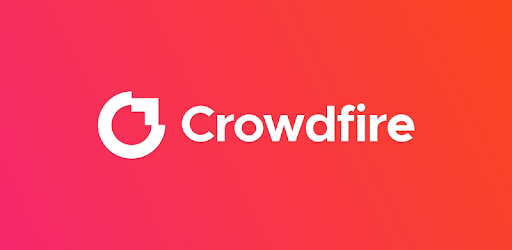 Initially started as just a management tool for Instagram and Twitter, Crowdfire received a major update in 2018 and has come out as the most advanced automation tool in 2023.
The tool offers features across four categories: content, publishing, analytics and mentions.
For content, the tool has features like article curation, customizing RSS feed, Image Curation, and relevant content curation.
To publish, the tool offers features like publishing everywhere to five social media platforms (Twitter, Instagram, Facebook, LinkedIn and Pinterest), scheduling in advance, tailored posts with previews and automatic plus custom best times to post and queue meter.
For Analytics, the tool offers features like report builders, advanced analytics, competitor analysis and analytics overview.
For mentions, the tool offers features like extensive mention coverage and instant reply.
Socialert
Socialert allows you management and analytics of three social media platforms: Twitter, Instagram, and Facebook. Features offered by the tool include:
Collect user generated content
Quantification of reach and impressions of your content
In-depth reports that can be exported to user friendly excel formats.
The feature hashtag analysis differentiates this tool from most others. With the hashtag analysis feature, you can count posts using the hashtag and analyze their overall impression and learn about active users and influencers, which will allow you to come up with engaging content. The feature provides real-time updates and lets you react instantly.
BuzzSumo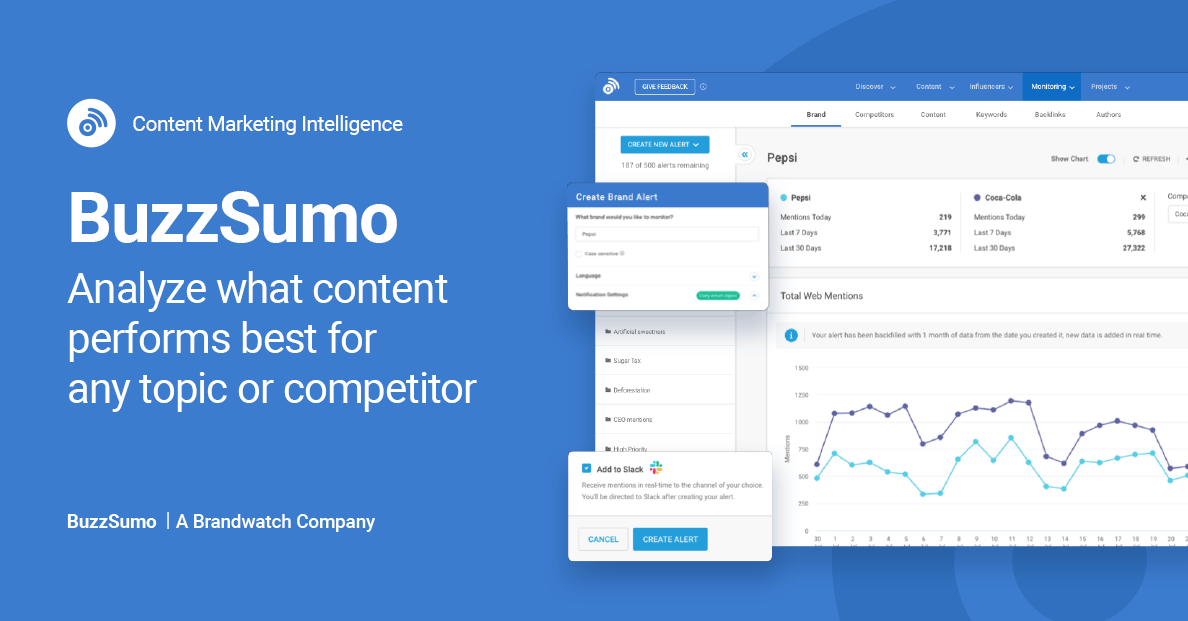 Buzzsumo is amongst the best tools available which help you discover trending topics and posts related to the niche of your blog. The tool helps you in searching for viral content and the analytics of the content.
The features include:
Content Development
Content Research
Finding influencers
Monitoring
API, allows you to code your own pages and hence gives a lot of flexibility in your research and analysis.
Mention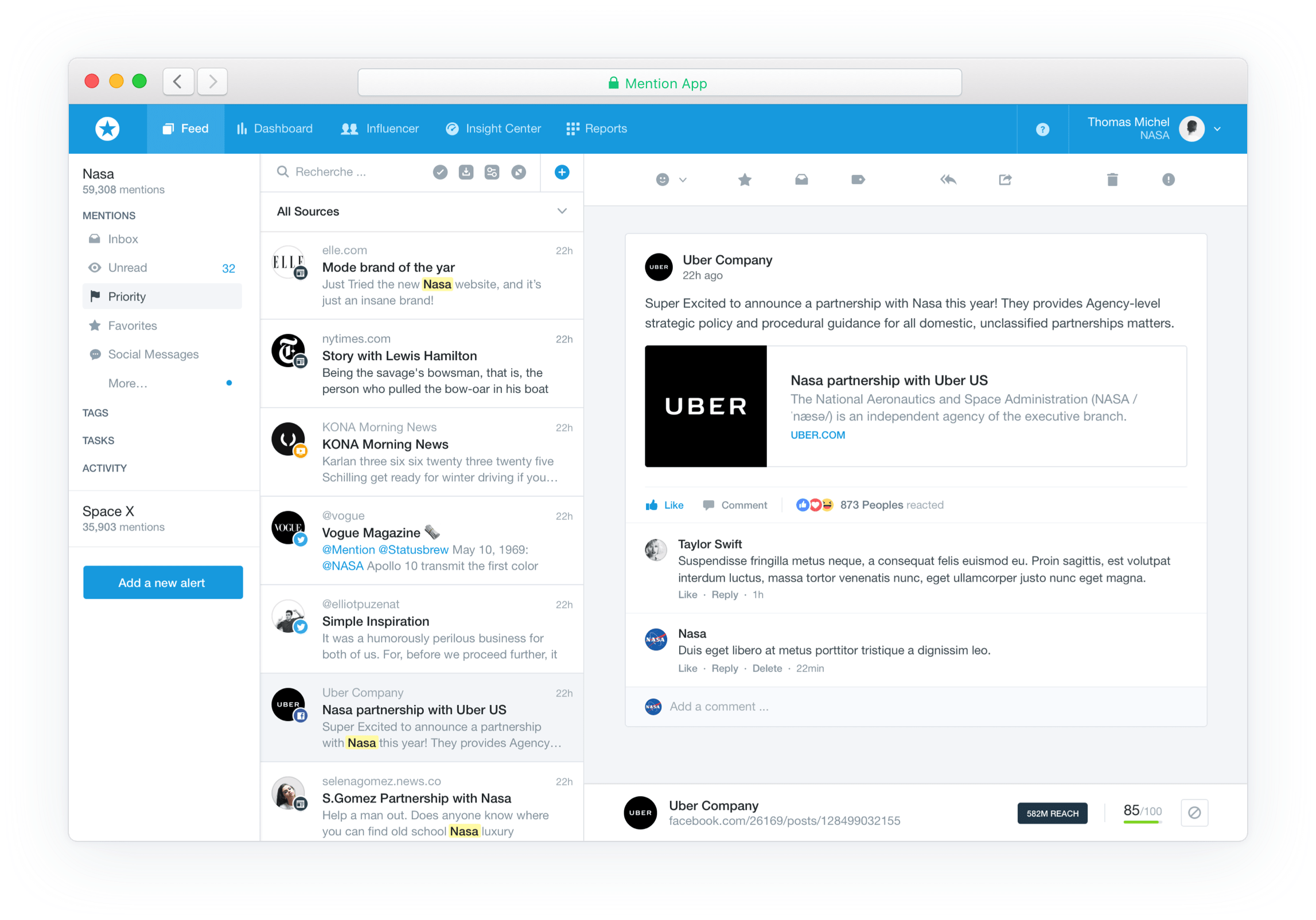 Mention is a social media automation tool that allows you to be incredibly fast and always present yourself with your social media pages.
Whenever someone mentions your brand name or posts on selected keywords, the dashboard lets you know instantly which allows you to be better at brand monitoring and competitor analysis.
Features of the tool include:
Easy to use interface helping you monitor brand mentions at a glance
Identify other influencers and get in touch with them
Monitor keywords on a real time basis
Competitor analysis and lead generation
Sprout Social
Trusted by over 20,000+ organizations of all sizes, SproutSocial helps you automate content posting, customer support, audience engagement and more.
The tool lets you work on 5 different platforms, Twitter, Facebook, Instagram, Linkedin and Pinterest. The tool has an inbuilt analytics feature that allows you to understand the overall reach of your content.
Pocket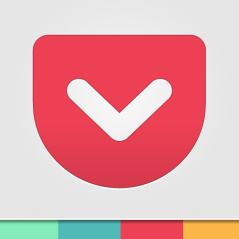 Previously known as Read It Later, Pocket has all the basics that are very similar to the basics of Pinterest. Pocket is freely available as an app, a Google Chrome extension, a Firefox add-on – which lets you save content from anywhere on the internet.
Just like you can pin photos on Pinterest, with Pocket you can save content. Used by millions across the globe, the tool has already saved over 2 billion posts so far.
The tool also has an iOS and Android application and is integrated with over 1500+ platforms including Twitter, Pulse, Flipboard and more.
While available for free, the tool also has a chargeable premium service that helps you get rid of ads and apart from just saving content, it also allows you to space as a permanent library of everything you've saved, suggested tags, full-text search, unlimited highlights and premium fonts.
Sendible
Sendible is a popular social media tool that helps agencies and individuals to manage their social media more effectively. Sendible spares you the work of going around and checking every social media as it brings all of them together into a single centralized hub. Now you can manage your time more efficiently. The tool also has features for various messages, emojis, and attachments. The tool also provides automatic alerts and notifications via Slack, email, or through a Sensible account so that you can monitor your brand and competitors easily. Some of its other features include:
Scheduling for social media posts, videos, images all together or individually
group campaigns and schedules together
recycle your posts with schedules
Content library and a content calendar
Data management and sentiment analysis
Share quality content from RSS feeds
send reports regularly
Social measurement
influencer identification
keyword monitoring with simultaneous alerts, and messages, etc.
Campaign scheduling also allows separate queuing for different campaigns and projects to cater to your needs. Report-making is minutely done and can be sent to teammates, colleagues, and clients via Sendible daily, weekly, or monthly. Scheduling is an excellent feature as you can work ahead of deadlines. Sendible has two pricing plans – Creator and Traction.
The creator plan costs $29 per month and is a perfect plan for getting started. Traction is $89 per month and is suitable for small to mid-sized brands and agencies.
SEMrush
SEMrush is a major social media management and automation software best known for its wide variety of tools and SEO optimization. This all-in-one platform has a "Social Media Toolkit" that lets its users have automatic postings, tracking, analytics, and promotion throughout popular social media. SEMrush contains 50+ tools, products, and add-ons to help you search, content distribution, market research, and data in 140+ countries.
It has a coherent integration with Google and various other task management platforms. SEMrush's "Social Media Poster" tool enables you to schedule posts for Facebook, Linked In, Twitter, Instagram, and Pinterest in advance to never miss any. It also automatically posts the content maintaining the schedules.
You can also incorporate five RSS feeds, and thus you can get your hands on brand new content from other competitors.
The "Social Media Tracker" tool provides you with automatic reports on your content with the highest engagement, and thus, you will know what your consumers want and whatnot. It also helps you make personalized and easy-to-read PDF reports. The other popular tool – "Brand Monitoring Tool," tracks your content keywords, users, hashtags, and mentions and reports it all back to you. SEMrush offers multiple plans, and they start from 99.95 per month.
Missinglettr
Missinglettr is a low-cost automatic social media marketing tool designed to make and manage unique social media campaigns. The tool can help you manage your traffic for an entire year. To use Missinglettr, you need to signup and connect your blog through RSS. Missinglettr will keep track of your blog activities 24 X 7. It automatically generates the social media campaigns upon any new content detection.
Missinglettr uses Artificial Intelligence and Machine Learning to go through your blog and pick out all the essential content that would be helpful for your Social media platforms. It also automatically suggests hashtags to help boost the SEO value of your campaigns.
Moreover, Missinglettr will link all the campaigns and social posts to your blog. You will also get email notifications on Missinglettr so that you can keep track of all your updates. Additionally, it automatically posts the campaigns on relevant social media platforms like Facebook, Twitter, LinkedIn on the scheduled days for 12 months (default Missinglettr campaign duration). It will also spontaneously re-publish your blog content on Medium without affecting overall SEO value. You can also promote your content and curation with the Missinglettr Curate add-on. Missinglettr also offers multiple subscription plans, with the most basic plan being $19 per month.
Awario
Awario is yet another web and social media automation tool that will aid you to keep track of all your social media (on platforms like Facebook, Twitter, Instagram, and YouTube) interactions such as brand mentions, competitor campaigns, DMS, and more. It will allow you to find sales opportunities and influencers and actively engage with your audience. Awario keeps track of keywords and monitors your every mention anywhere, in any language. The tool does this in real-time, so you get instant notifications and updates.
Awario also displays all your analytics in the dashboard. You can even set up alerts for email daily or weekly so that you get reports of all the mentions quickly. Awario can also schedule the reports for Slack. All the reports and stats are customizable and made in .pdf or .html format and can be shared very easily among colleagues and influencers.
Additionally, you can customize the white label reports for the clients. Awario offers two subscription plans viz. Starter and pro. The starter plan comes with three alerts, 30,000 new monthly mentions, 3,000 stored mentions per alert, and Boolean search at $29 / month. The pro pack is for $89 / month and is ideal for mid-sized businesses, and here you get ten alerts, 100,000 new mentions/month, 10,000 stored mentions/month, boolean search, and data export.
Tailwind
Tailwind is one of the best marketing tools dedicated to Pinterest and Instagram. Thus it is widely popular among bloggers, eCommerce sites, and online businesses. Tailwind is great for scheduling posts, creating pins swiftly, discovering SEO-positive content, and monitoring conversations. It will increase your account reach by leaps and bounds and give your results in no time.
Tailwind offers two different sets of features for Pinterest and Instagram. The Pinterest features include the ability to make ten pins with a single click, scheduling pins and publishing them at optimal hours, and resharing pins with best engagement results. In addition, it generates analytics and insights for your boards and pins to report all the activities going on in your account.
With Instagram, Tailwind lets you schedule photos, reels and IGTVs and post them at the optimal time. It also scans the content and suggests the perfect and trendy hashtags.
Tailwind also scans the analytics and suggests the best time to post any content, which is mostly the hours of the day when your audience is active. It also sends all your Instagram traffic to your landing pages and helps you filter out visitors from actual audiences.
Including Pinterest and Instagram facilities, you have a Pro plan for $119.88 per year (or $14.99 per month) on Tailwind. You can also subscribe to the one-time payment – a forever free plan if you plan to invest in the tool.
IFTTT
IFTTT is one of the most popular connectivity platforms present. It helps globally 700 companies and enterprises speed up the digital transformation of products into services, allowing them to reduce production costs and improve compatibility and lifetime value.
IFTTT is an excellent alternative for your enterprise as a low code alternative to company-owned integrations. IFTTT has all the basic social automation features that you may need for your company. It provides multiple pre-made applets, which saves time and thereby increases productivity. If you want, you can also customize your very own applet. Also, IFTTT helps you to connect your business platform to other existing brands.
The most popular three applets present on IFTTT include –
pinning of new WordPress posts to a Pinterest board
Simultaneous update of your Twitter profile picture when the Facebook profile picture has been updated
And simultaneous sharing of Instagram photos on Twitter when a specific hashtag is added to the Instagram post (Note; works for only posts having a single photo).
All three features are incredibly time-saving and let you focus on your company's growth. IFTTT basic plan is free of cost, but it has multiple business plans, with the most basic plan starting at $3.99 per month.
Zapier
Zapier permits anyone and everyone to integrate all of their applications so that they can save time and invest it into something else. Moreover, Zapier automates the very job without you having to write any code. Businesses, who are in their crucial growth phase, need this tool. Zapier is easy to use, highly efficient, and low-cost automation solution.
With Zapier, you can Zap any set of instructions in motion and complete them automatically, which comes in handy when handling repetitive tasks like mail handling and selection.
Suppose you get a Gmail, then Zap it so that the attachment to the mail is sent to Dropbox, and then from Dropbox, an alert is sent mentioning the attachment. This is just a simple Zap we talked about.
On Zapier, you can get thousands of such useful Zaps and can also personalize your Zap. Zapier offers five pricing plans viz. Free ( $0 per month), Starter ($19.99 per month), Professional ($49 per month), Team ($299 per month) and Company ($599 per month). Each plan comes with extra features and capabilities, and you can choose according to your needs.
Conclusion
The above-mentioned social media automation tools have been designed with the aim of not only reducing your social media efforts but also making them more effective with proper monitoring, reporting and analysis.
Irrespective of the scale of your business, these tools can be of great help in increasing your reach via social media and making the best of it. Remember, most of these companies offer a 14 to 30-day free trial and have extensive information on their sites.
Perform thorough research yourself as well, understand the features well, but before that understand the need of your business and then select the tool which you want to use for improving your Social Media efforts.