10 Best Pen Tablets for Online Teaching
Are you a teacher looking for digital pen tablets to teach your students online? Or do you need those graphic tablets for self-study? In either case, you might be looking for the best options online. In this article, I have compiled a list of the 10 best digital pen tablets that all students, teachers and even researchers love.
But before I skip to the list, let's first talk about why pen-tablets are now a necessity.
Digital Pen Tablets for Online Teaching
The ongoing COVID-19 pandemic resulted in schools and colleges being shut down all across the world. As a result, billions of children and students have been unable to attend physical classes. Fortunately, online teaching came to the rescue and became the prime means of education during the pandemic. It allows teachers to connect with their students from the comfort of their own homes.
However, online teaching has its own set of issues as well. As a teacher, you can appreciate how difficult it is to teach and explain complicated scientific theories, mathematical problems, and biological diagrams using a webcam. Moreover, it is impossible to achieve the same level of fluidity that you get with a marker pen and whiteboard using a mouse.
Some teachers try to rectify this issue by directly filming the whiteboard using their webcam. Unfortunately, the whiteboard is often illegible because of inadequate lighting or poor camera angles. Similarly, using a pen and paper is not an effective solution because your hands tend to get in the way of the camera. We cannot rely on any of these makeshift workarounds as long-term solutions.
The best solution for online teaching is to purchase a digital writing pad or pen tablet that connects to your laptop.
It serves as a virtual whiteboard that allows you to draw diagrams, write notes, and explain concepts in a very relaxed and natural manner. If you want to give your students an interactive and engaging learning experience, then look no further than this handy tool.
Today, there are hundreds of pen tablets available on the market. However, not all of them offer the same quality in terms of writing experience.
In this article, I have listed the ten best digital pen tablets for online teaching presently available in the market.
Best Pen Tablets for Online Teaching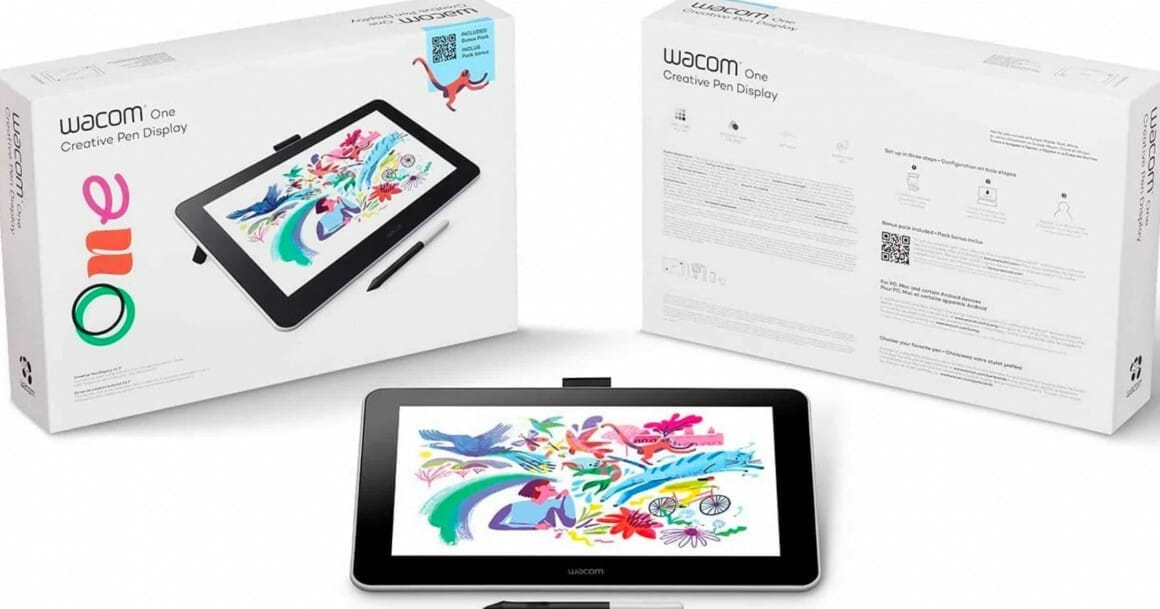 Let's now go through my picks for the ten best digital pen tablets for online teaching in 2023.
Wacom Intuos
As a teacher, you need to get a pen tablet that works smoothly and efficiently. As of now, Wacom Intuos is one of the best pen tablets in the market. It is the choicest option for people who are seeking a quality digital writing device. The tablet is available in two variants – small and medium. The small variant itself has a generous working area of 6×3.7 inches.
The Wacom Intuos comes with a fast, accurate, and reliable stylus that tracks your handwriting with high precision.
By virtue of its pressure sensitivity feature, the thickness of your strokes changes depending on the pressure you apply.
The tablet is made of high-quality plastic, and the writing material is scratch-resistant in nature. You can easily connect the tablet to your computer using a USB cable or Bluetooth.
Learn more about Wacom Intuos →
VEIKK VK1200
The VEIKK VK1200 is a high-quality pen tablet with a full HD monitor. It comes with an inductive electromagnetic screen for precise control of any type of creative work.
It sports a full-Laminated pen display with a battery-free pen like Wacom's that has tilt writing support as well.
Depending on the amount of pressure that you can exert, it supports 8192 levels of pen pressure for improved writing and drawing. There are also 6 customizable keys that you can set for different actions.
Learn more about VEIKK VK1200 →
XP-PEN Deco 03
The XP Pen Deco 03 is a splendid combination of size, accuracy, and pricing. It possesses a colossal writing area of 10×6.25 inches – nearly twice as large as the Wacom Intuos. The included stylus features two inbuilt buttons for quickly switching between the pen and eraser modes. The left side of the tablet houses several programmable buttons that you can set to any convenient shortcut as required.
The tablet also comes with other handy features, such as four little lights at the corner of the writing area to identify the active writing spot in dim light. You can easily connect it to your computer with the help of a USB cable; however, it doesn't support wireless connectivity. The XP-PEN Deco 03 is readily compatible with Windows, Mac, and Android devices.
Learn more about XP-PEN Deco 03 →
Wacom One
It can be tricky to build hand-eye coordination if you keep looking at the screen while writing on a pen tablet. Wouldn't it be great if you could write directly on a screen that was built into the tablet itself? That is what the Wacom One display pen tablet is most notable for. If you wish to provide an optimal online learning experience to your students, then I suggest going for this tool.
With a huge 13-inch full HD screen, the Wacom One provides a satisfactorily large working area. Its tool surface possesses a textured surface for providing a better writing experience. The tablet's screen features a matte coating for greatly reducing screen glare and reflections. It comes with a quality foldable tablet stand that allows you to position your tablet at a comfortable working angle.
Although the Wacom One is one of the more expensive models in the market, its generous features certainly justify that price.
Learn more about Wacom One →
Huion Inspiroy Dial Q620M
This state-of-the-art premium pen tablet from Huion boasts an extremely special set of features. For example, its elegant design blends a charmingly minimalistic look with optimal functionality. Its build quality is by far the strongest among all other tablets presently available in the market. It features a large working area measuring 10.5 × 6.5 inches.
The left side of the tablet hosts eight programmable buttons that you can easily adjust to any quick setting of your choice. At the top left corner, you will find a programmable dial that can be rotated in both directions to perform various tasks such as adjusting the volume and changing the size of the pen or the eraser. The tablet supports both wireless and wired (via a small USB adapter) connectivity.
Learn more about Huion Inspiroy Dial Q620M →
HUION Inspiroy Ink H320M
This model is truly one-of-a-kind when it comes to tablets. The Huoin Inspiroy Ink comes with two different writing modes for your convenience – on the top, there's the regular digital pen (9×5.6 inches) that you can use by connecting the tablet to your computer. Apart from that, there's a second writing area at the back that features an LCD writing pad (10.2×6.2 inches). The LCD is essentially a standalone writing tool that works on a button cell; you don't need to connect it to a computer for use.
By virtue of this dual-mode digital writing facility, teachers can use the pen tablet for teaching purposes and the LCD pad for taking down quick notes. There are protective anti-slip rubber pads on the back of the tablet. It also features eleven programmable buttons and can be easily connected to computers using a USB cable.
Learn more about HUION Inspiroy Ink H320M Graphics Drawing Tablet →
One by Wacom
Note: Wacom One and One by Wacom are two different products.
Often, people prefer to go for a simple and reliable writing tablet from a reasonably well-known brand. In that case, this handy model – essentially a simpler version of the popular Wacom Intuos – will certainly serve you well.
It is available in two sizes, small (6×3.7 inches) and medium (8.5×5.3 inches), and two colors – red and black.
Particularly, it has a favorably minimalistic design with no dials or shortcut buttons whatsoever.
Also, the tablet has no wireless connectivity or support for Android devices. It is, however, totally compatible with Chromebook, Windows and Mac computers.
It is a budget tablet but it comes with a premium scratch-resistant drawing surface like the Wacom Intuos and others.
Learn more about One by Wacom →
XP Pen Star G430S
The XP Pen Star G430S is, by far, the cheapest pen tablet for online teaching presently available in the market. Despite its price, it does not compromise with writing quality in any way. It features an intriguing design with all the electronics placed on the left side of the body. As a result, the tablet is ultrathin from the writing side (only 2mm thick). To compensate for the lack of buttons, the included stylus features two buttons for switching quickly between the pen and eraser modes.
Unfortunately, the tablet comes with a relatively small working area of 4×3 inches. Also, the cable connecting it to the computer is non-detachable and prone to damage. However, the tablet makes up for these drawbacks with its responsiveness, quality, and accuracy of the stylus. It is a perfect example of an economically priced and satisfactorily functional pen-enabled digital drawing device.
Learn more about XP Pen Star G430S →
Huion H610PRO Pen Tablet
The Huion H610PRO tablet is notable for its exceptionally large drawing surface (10×6.25 inches). There are 2048 levels of pressure sensitivity applied from your pen, ensuring that the lines fluidly transition from thin to thick. If you're a biology teacher intending to create accurate diagrams, then this pen is all the more reason to rejoice.
The tablet features eight customizable side buttons for helping you work with various different functions. It also includes 8 express keys on the top that you can map according to your requirements. The tablet has been designed in a way that both left and right-handed users will feel comfortable with.
Learn more about Huion H610PRO Pen Tablet →
Wacom Cintiq Pro 16″
If you want to experience the natural feel of working directly on the screen, then this tablet is a great choice. You will be able to use multi-touch functionality programs such as Corel Painter, Illustrator CC, Autodesk Sketchbook, and Adobe Photoshop. Its pro pen functions just like an actual physical marker or brush. You can fluidly navigate and position your work with intuitive and natural gestures on the screen itself.
Also read: Best Kindle Alternatives
Note that this tablet has been designed to work in conjunction with a computer. It includes a handy 3-in-1 cable for connecting to your desktop or Mac. After doing so, you can readily access all the exciting features it provides.
Learn more about Wacom DTH1620AK0 Cintiq Pro 16″ Graphic Tablet →
Conclusion
Pen tablets are invaluable tools for online teaching. They greatly facilitate your writing quality and help you connect better with your students. Although they're obviously no substitute for an actual whiteboard and marker, they are definitely the best option we have in the present situation.
All the pen tablets mentioned in this article are of high quality and will serve you very well. I recommend going through the list carefully and choosing one that fits your requirements the best. You must first consider the size of the tablet; remember that bigger isn't always better. Some people actually feel more comfortable working with smaller tablets. If you're feeling unsure, you can simply go for a medium-sized tablet.
After that, you must decide whether you want a tablet with or without a screen. Tablets with an inbuilt screen, such as Wacom One, provide better writing and teaching experience. However, they tend to be much more expensive. On a related note, you must finally consider the cost of the tablet. Although there are plenty of cheaper options available in the market, not all of them are satisfactorily good.
Here are the top-selling graphic tablets/pen tablets for online teaching on Amazon:
I hope this article helps you purchase an excellent tablet that helps you make your online classes a resounding success.
Last update on 2023-09-29 using Amazon Product Advertising API.