Best Push Notification Services for Mobile Apps & Websites
Push notifications are the latest and among the most converted marketing tools out there. Push notification services can help bloggers and digital merchants deliver relevant, targeted content to their users through browser and app notifications. It enables personalized support for users who have downloaded the app or opted to push notification services.
Using a push notification service, users can be easily converted into customers after making sure that they receive regular product updates. Push notifications are highly popular among the mobile platform vendors. These have become a key strategy to keep app users engaged past the installation.
Notifications allow you to speak directly to your customers at the right time at the right place. One can opt for mobile app push notifications by using the customized options. Using it, the user will get notifications only for the ones he has asked for. It is now a proven method to reach people about timely updates in your service, product, app or any other in regard. It makes sense, doesn't it?
In this blog post, I have listed some of the best cross-platform push notification services. In addition to that, I have also outlined a personalized checklist for choosing the best push notification tools.
How does Push Notification work?
Push notifications allow mobile applications to communicate with users even when the app is not actively running on their devices. Here is a simplified overview of how push notifications work:
The user installs an app and grants permission to receive push notifications. OR the user visits a website and accepts the prompt to receive push notifications.
The app/website is registered with the push notification service provider (listed below).
The app requests the service provider to create a unique device token for the user's device.
The service provider creates a unique device token and sends it back to the app.
The app sends the device token to its own server.
When there is new content or an event in the app that requires user attention, the server sends a notification payload to the push notification service provider, along with the unique device token.
The service provider identifies the device token and sends the notification payload to the user's device.
The user's device receives the notification and displays it in the notification center or as a banner alert, depending on the user's settings.
If correctly used, mobile push notifications give your app/website a voice and organize a strategy to double or triple user engagement. Browser push notifications can help you gain returning visitors and make your marketing strategies look good.
Let me explain to you how!
By leveraging the user's environment, including activities, location, and timing, push technology allows users to benefit from an enhanced experience.
Push notifications are ideal for sending data-driven transactional notifications, including targeted e-commerce and personalized one-to-one messages.
Push notifications work as the complete packaging service for any digital marketers, bloggers or business owners.
Best Push Notification Services, Tools and Apps
Reteno is a messaging platform for app user retention. It allows you to communicate with customers via mobile, web, in-app push notifications, and five more channels.
In Reteno, you can build automated omnichannel journeys from scratch or benefit from ready-made category-specific campaigns.
Create push notifications and personalize them with dynamic content or product recommendations in minutes using Reteno builder. Compose and send multilingual messages for global users automatically.
Reteno collects and unifies customer data from all sources, so you can combine it for personalization or real-time segmentation to send the most precise offers.
Its SDK automatically gathers user IDs & behavior. It also enables engaging clients with rich content (including carousels) and accurate analyzing without devs.
Reteno has a Startup plan with free journeys and unlimited pushes if you are interested in trying it out.
Key Features: Omnichannel, Hyper-Segmentation, Behavior Tracking, Event-Triggered Campaigns, Data Unification, AI, Multilanguage.
Platforms: iOS, Android, Web.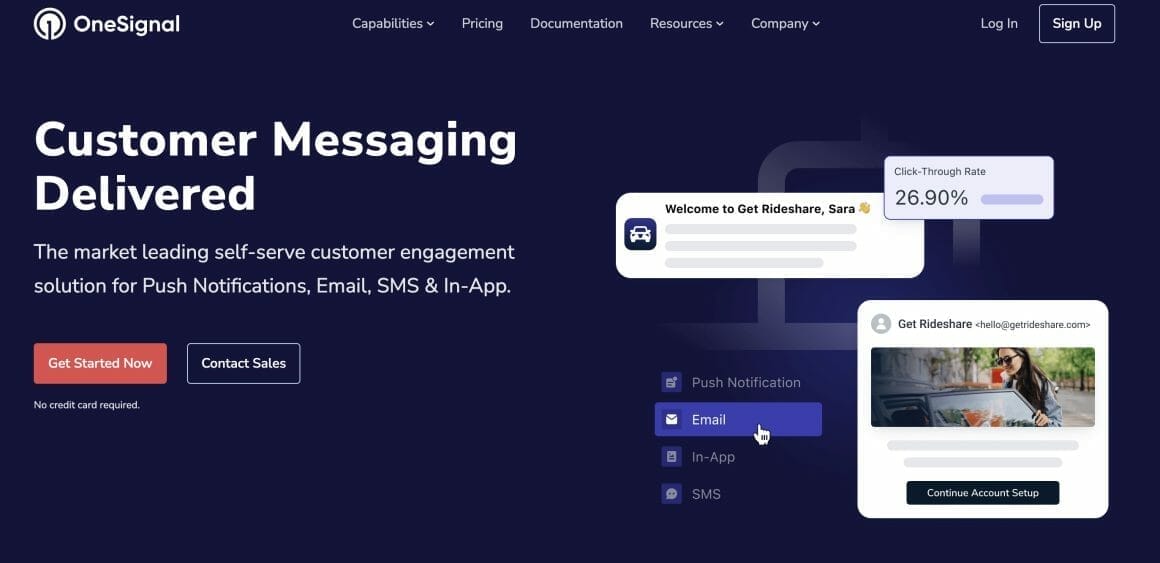 One Signal simplifies the implementation process by automating almost all of the backend efforts needed to push out messages to client-side devices.
Service offerings break down into cross-platform notifications, real-time tracking, scalability, A/B testing, segmentation tracking and automatic delivery.
It provides "RESTful server API" and an online dashboard for marketers to design and send push notifications. This tool is empowered mainly to enable reliable push notification services to mobile apps and websites.
Free!
Key Features: Real Time Tracking, Incredibly Scalable, Easy to Use, Segmented Targeting, Automatic delivery
Platforms: Android, PhoneGap, Windows, iOS, Cordova, Chrome Apps, Firefox
Push Whoosh is a real-time cross-platform service that serves an impressive localization feature which enables the developers to send push notifications in different languages to the customers, in just a click.
Marketers can send actionable content to the segmented audience based on their marketing strategies.
With unbound cross-platform support and remote API, it has become a proven tool to implement push notification service in relevant apps.
Key Features: Remote API, Multi-Language Support, Dedicated Server, Cross Platform Support
Platforms: Android, iOS, Windows, Blackberry
This tool tracks the people's activities and behavior on their mobile app so that target notifications are based on it.
It allows companies to embrace user-retention and engagement by using a wide range of services that include auto tracking, A/B testing and push notifications.
Key Features: Auto tracking, Real time data analysis, precision segmentation, Event tracking
Platforms: iOS, Android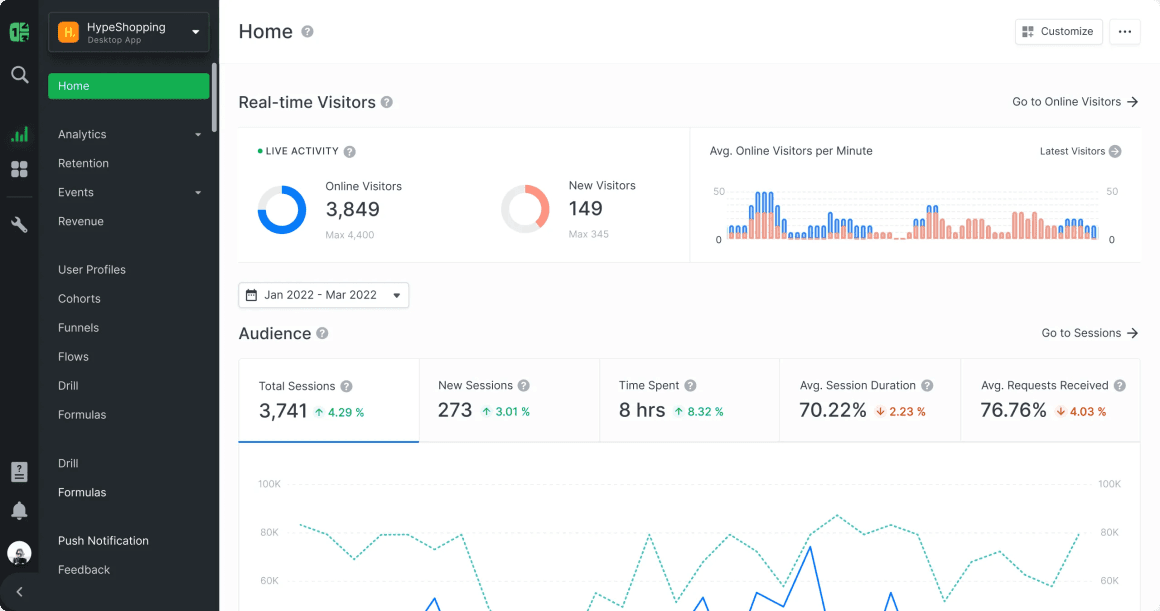 This is a mobile analytics and marketing platform on a single dashboard itself.
It allows you to send videos and images which boost up open rate and retention of your customers. It covers the major part of smart phone users.
Basic plan is free
Key Features: Scheduled Delivery, Deeplink Technology, Easy set-up, Conscious for content.
Platforms: Android, iOS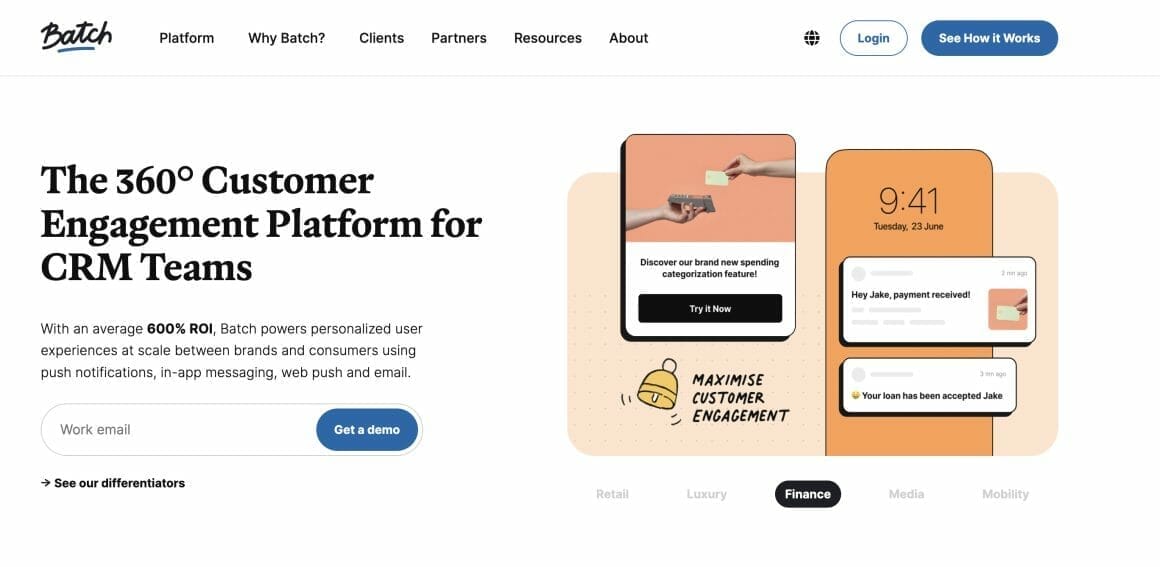 It allows you to create limitless customer segmentation to deliver personalization and understand the usage of your app.
It offers multiple native channels such as push notification and in-app messaging features to which customers are more familiar and responsive.
Adding to this, Batch is considered to be the fastest platform for all your mobile engagement needs to the ultimate mobile marketing automation platform.
Key Features: Auto Tracking, personalized messages, precision segmentation, multiple channels
Support Platforms: iOS, Android,Windows,Cordova,Web,Unity,and Adobe Air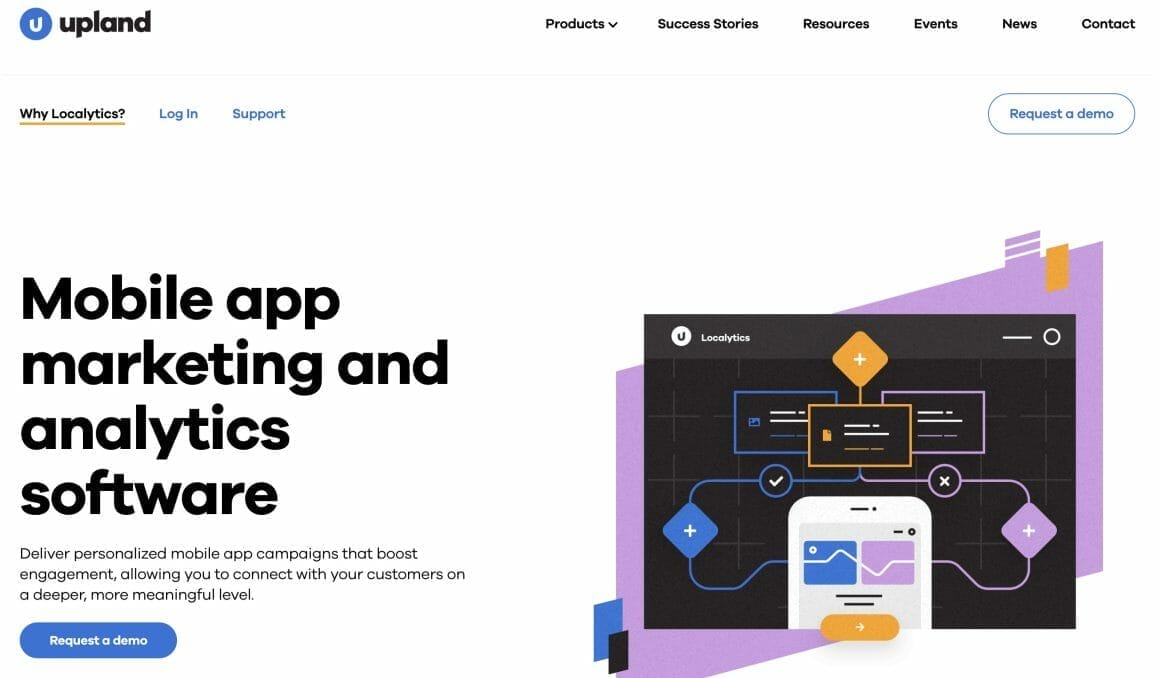 Localyticsallows you to trigger instant notifications through Localytics push API & profile data to easily create & define target segments. The key role includes personalized push notifications, automated campaigns, and custom scheduling.
It puts effort into different marketing ideas by sending images, GIF, audio or video files directly into push messages that deliver value to customers and keep them engaging.
To sum up, it adds rich content to make the content valuable.
Key Features: Email and marketing campaigns, user engagement, personalized push notifications, customized scheduling
Support Platforms: Android,Windows,iOS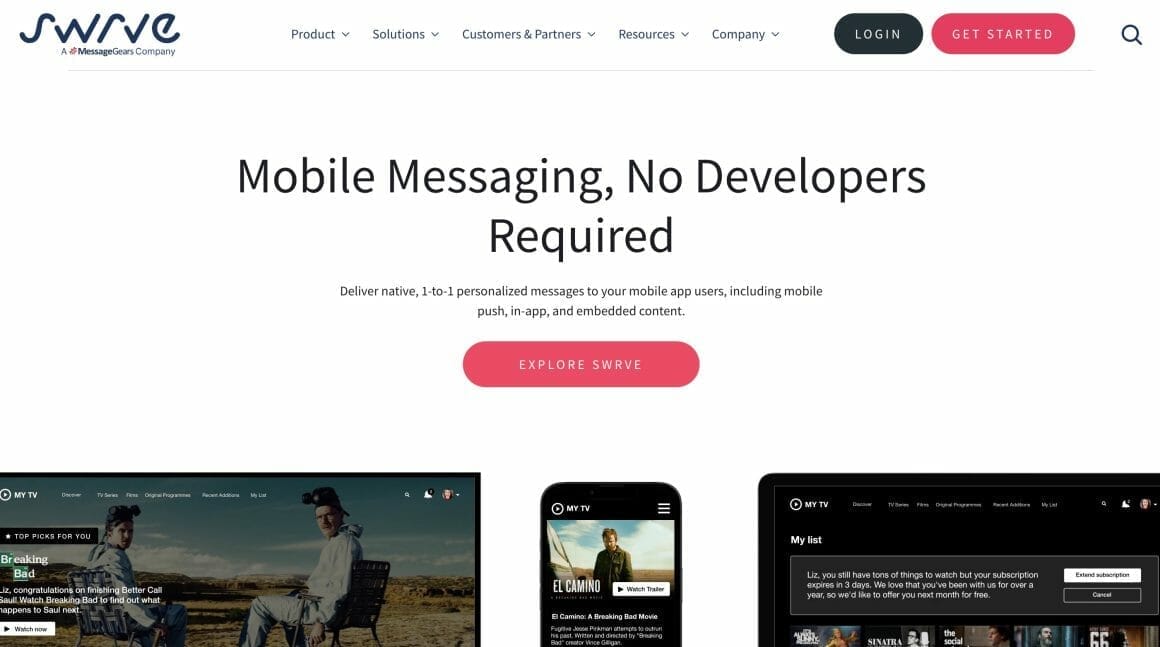 Swrve offers a comprehensive mobile marketing platform by a deep engagement with millions of personal message interaction in a minute.
The tool comes with incredible engagement features that includepersonalization, target & segmentation.
It collects every aspect of your mobile user experience against every segment and then allows you to build and adjust message campaigns straight from the dashboard.
Swrve collects and Swrve you don't just read the numbers—you can act on them.
Key Features: In-app messaging, marketing automation platform, A/B testing
Support Platforms: Android, Cordova, iOS, Unity
It takes the honor of automated messaging whether your system is iOS, Android or any other hybrid app.
You can easily get the clear overview of the customers using your app, their languages and increase user-base. To schedule push messaging strategy, PushBots make it really easy.
Above all, it provides advanced push insights for every message. You can easily integrate APIs of your choices such as Python,NodeJs, and DotNET.
Key Features: Dynamic push notifications, incredible user-segmentation, user-specific campaigns
Support Platforms: Android, iOS,Web
It avails real-time transactional push notifications for applications using XMPP protocol for more reliable and faster message delivery and statuses tracking.
The tool is an ideal for including targeted e-commerce and personalized one-to-one messages.
Moreover, it is a very reliable, scalable and traceable instant messaging ideal service for companies and public entities.
Key Features: Open source and cross-platform service, video calling and messaging, updates
Support Platforms: Android, Windows, iOS,Cordova,PhoneGap
Airship comes with a wallet studio that is integrated with Apple Passbook and Google wallet- so merchants can easily proceed with various push notifications process such as coupons, loyalty cards, and promotions.
The tool performs audience analysis and message campaigns to make the user engagement with your app exponentially effective.
Aside from helping you to reach your app users who have opted out to this service, additional tools such as in-app message center, in-app messages, and mobile wallet passes to target customers even if you don't have an app.
Key Features: High ROI, in-app messaging, predictive insights, user-segmentation
Support Platforms: Android, iOS, Windows
Winding Up
As per my opinion, the above given list is the best bunch of push notifications tools that drive the customers back to your app. Hence, you can make your best choice to boost your app performance.
That is all for now! See you soon with some more stuff.