How to Find an Online Casino that Works for You?
One of the key benefits of writing about betting and casino games is knowing how the current industry is behaving and how the players are playing their games. Recently I came across some users who claimed to have been scammed off and were doubtful about which other sites they should bet on.
This happens. The Internet is open to everyone, and that is open for scammers as well. Wherever real money is involved, the larger risk is involved as well. Sometimes these are just mistakes, but mostly, when your earnings are depleted, it is all about fraud.
So, with too many options to choose from, how can you find an online casino that works for you? What other steps should you take to play safe and responsibly? Such questions may arise if you don't have a favorite casino to play your luck and skills on.
In this article, I will tell you how to find an online casino that will work for you. So, without further ado, let's get started.
A Trustworthy Casino
What does this term even mean? I mean, if a casino website is available online, how can you trust it just by the appearance or by reading online reviews?
Well, you cannot. This is where intelligence comes into play.
Whenever you are visiting an online casino for the first time, be sure to navigate directly to the bottom of their page. Good casinos have all detailed legal terms listed on the footer part of all of their pages.
A trustworthy website will have a footer like this: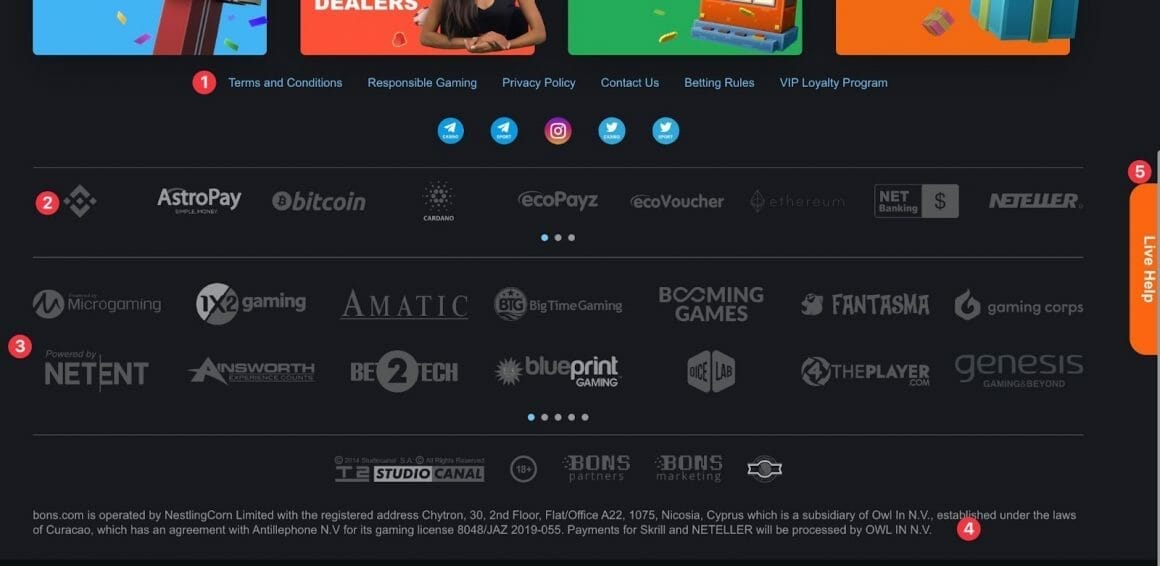 I have pointed out the things a trustworthy casino website should have.
Legal pages — including but not limited to Terms, Privacy Policy and Contact Us pages.
Payment methods — showing which payment methods are accepted.
Gaming partners
Overview of company
Live Chat Support or Ticket Support link
These are just the first impressions. There are several recommended real money casinos that follow these recommendations.
But there may still be some issues related to account verification, which hurts players later.
So, for the first time, before putting any money into the games, be sure to get your account verified using KYC norms. Once it is done, play with smaller amounts to understand how the website works for you.
After a couple of games, your instinct will automatically tell whether the casino is trustworthy or not.
Type of Games
This is important as well. Not everyone is good at every game that is available and not every game is available at all casinos.
Be sure to signup only in those online casinos which offer games of your choice. The games that you love, no matter how risky they are, will have much of your focus and interest.
Landing and playing every game you find online is not a good strategy and may cause you monetary loss as you invest real money here.
Customer Support
Good customer service is required for continuous trust and interest. Look for customer service or live chat or contact us links and try the customer support to see how they respond to your basic queries. If the live chat isn't available, see how long they take to respond to the support tickets.
Avoid Exaggerations
To get more customers, some casinos blatantly claim offers and bonuses that are surreal. Be wise and avoid casinos with such exaggerated offers. Real casinos will offer only what is possible. Everyone is here to make money and the casinos are doing the same. A good casino offers moderate bonuses and offers. This helps them earn more as commissions and reduces the chances of fraud.
Too much of a bonus, like ₹6000 for ₹1000 on the first deposit, is too good to be true. Avoid such casinos.
Look for something that offers the first game free or a 50% bonus. Only these things work.
Compare
Okay, now suppose you found an online casino that simply works for you, has the games you love and has the support that you desire. You can now start playing. You have the online casino that works for you.
But don't stop right there. There may be other casinos with more win percent ratio than this one, more gaming partners and whatnot. What is stopping you from exploring? Compare several casinos against each other and find which one works best for you.