Facebook Group Rules to Make Your Community Better (With Examples)
Are you a Facebook group admin looking for examples of Facebook group rules to make your community better? If you are, you have come to the right place. In this article, I will explain:
Facebook Groups and You
Facebook is one of the biggest social media platforms, and today it is used by over 1.8 billion people. It is also a popular platform for building a close-knit community of people. The community can be related to a product or a service or simply a place to exchange ideas and views. Facebook has tens of millions of communities, with over 70 million active admins and moderators operating worldwide. Creating a community is essential because they are often an essential source of social connection and a sense of belonging.
But managing such a community on Facebook is not such an easy task. It means you have to manage hundreds of people with the help of moderators. But Facebook itself comes to your aid with its "Facebook group rules," which provide a base guideline on which rules every community/group on the platform should follow.
So, if you are a Facebook group admin looking for examples of Facebook group rules to strengthen your community, you have come to the right place.
This article will discuss 7 such rules that you need to create the best Facebook group no matter what your group size is.
What is the need for Facebook Group rules?
As already discussed, Facebook groups are a great way to grow a community online. But any place without any rules and regulations can quickly become very chaotic. Implementing a clear set of rules and constantly enforcing them on the group members will help you prevent any unwanted or irrelevant posts in the group, thus maintaining the topic and theme of discussion according to the group. Group rules also make the members feel welcomed and encourage them to participate in the group actively by posting content and creating discussion domains.
In the About section of your group on Facebook, you can specify the group rules. Also, while signing up for the group, each member gets a set of questions they must answer. You can also specify those questions here.
How do you add rules for a Facebook group?
Facebook has a very clean and easy-to-navigate UI. It has a separate menu for editing and managing groups. So, in this section, you can get options to communicate rules to your group members effectively.
So, to create rules for your Facebook group, do the following steps:
Step 1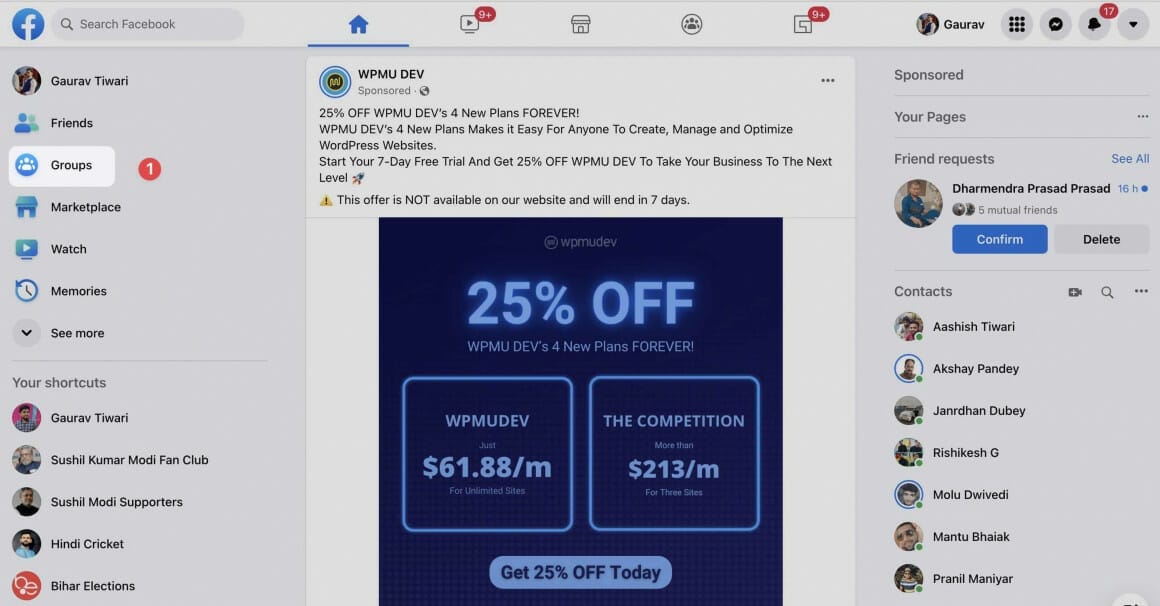 When you open Facebook, first, the newsfeed comes to your device screen. First, go to the menu on the left and click on "Groups."
Step 2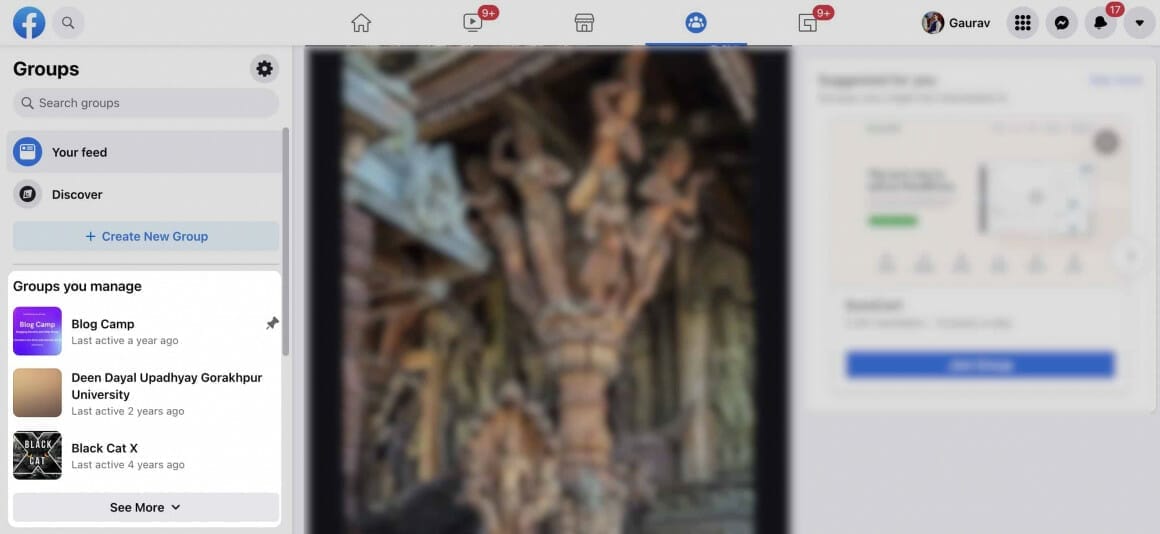 Go to Groups You Manage shortcut and select the group that you want to add Facebook group rules to.
Step 3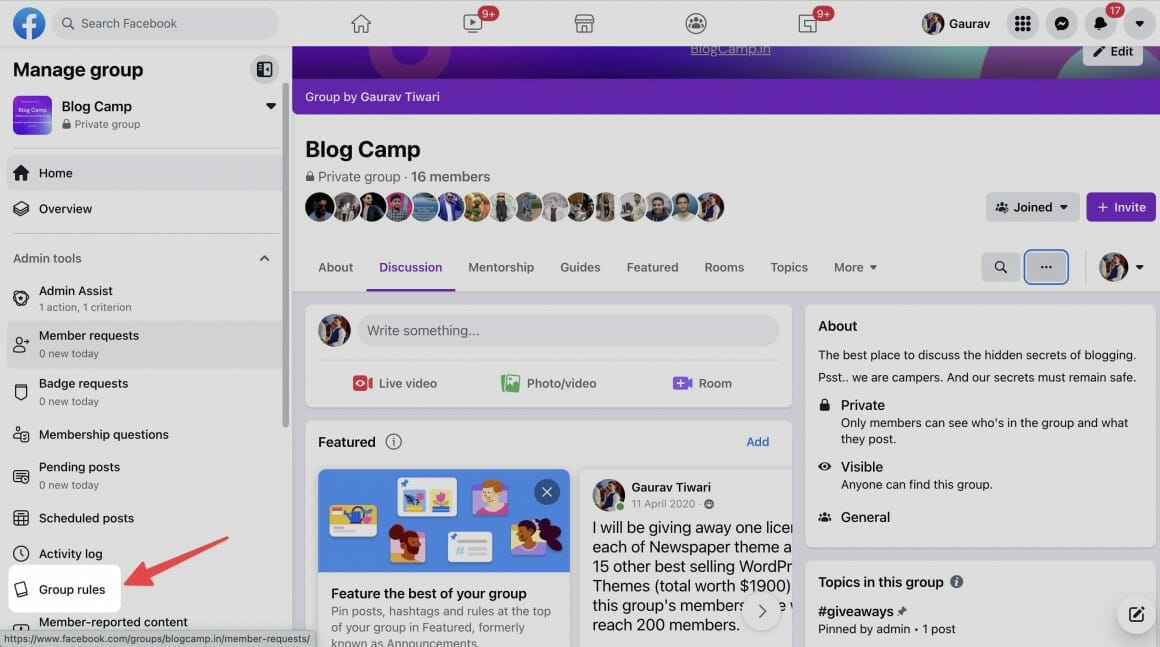 Select "Group Rules" in Admin Tools on the left menu.
Step 4
Click on Get Started, if you don't have any rules set.
Or click "Add" if you already have some added. You can choose from the example rules provided by Facebook, or you can write your own set of rules.
You can also change the order of the rules later on by dragging the rules up and down until you are satisfied.
How to edit Facebook Group Rules?
Do not think that once you have established the rules, it is what is going to remain forever. Just like how you can adjust the placement of the rules, you can also add or delete rules or even edit them individually.
To edit any rules on your Facebook group, do the following steps:
Step 1: First, when you open Facebook, the news feed appears. Click on the left menu and go to "groups."
Step 2: Next, select your group. If you do not find your group, click on the more option.
Step 3: Next, select "Group Rules" in Admin Tools on the left menu.
Step 4: Here, you will see the rules. Now you can click on the right of any rule and edit or delete it.
When the rules are set, how can you tag the rules in a group post or comment?
Once the rules are finalized and set in the group, you can tag them frequently in the group posts or comments to remind the group members of the rules and guidelines.
To tag any rule, do the following:
To tag on a comment – Click on the comment section of the particular post you want to tag rules and type "@," and the rules will come as a suggestion.
To tag on a post – Make a post through "What's on your mind?" and on the caption, put "@" and type out a rule to tag it.
Basic Facebook Group Rules
What basic rules must a community follow for proper functionality and stability? Here I have listed a few of those basic rules to help you stabilize your group.
Be kind: It is the prime rule for any community, be it online or offline. Insult or ragging of any member or non-member breaches the community guidelines.
Be civil: No foul language or inappropriate gesture would be tolerated in a community. Breaking these rules gives anyone a warning, and breaking it multiple times gives you a ban from the group.
Use of the search option: To avoid repetition and clutter in the group, do use the search option to see if any topic concerned your query has already been raised previously or not.
No advertising: Do not use the group as a medium to advertise your or someone else's product or business, or service. It goes against community guidelines and annoys members who might not be interested in such content.
Use admin set language only: Generally, it is English, but if your community follows a certain language only, use that only. Using a single medium of communication creates bonding among members. Also, it removes the probability of any member feeling alienated if you use the 2nd language.
No spam: Repeating or posting the same thing repeatedly is what we call spamming. Do not do so to avoid unnecessary disturbance and avoid your ban from the group.
Talk to the admin and moderators directly: For any queries or concerns regarding the group, talk it out with the group authority. It might ease your trouble.
Report rule-breaking: If you ever spot anyone breaking the group guidelines anywhere, do not go and attack them verbally or abuse them. Instead, report it to the admins.
Think before you report: Do not just go around reporting any content just because you do not like it. Only report if the rules are broken by that comment or post.
Facebook Group Rules Examples
TV Show/Entertainment Community
For TV show / Entertainment groups, I have a few rule suggestions for you.
Do not block the admins. It is their group, respect them and if you do not like anything, talk it out with them or leave the group. Disrespect may lead to an immediate ban.
If you want to vent, do it peacefully and do not abuse
Do not post any content or comment/opinion on any real-life political matter or figure.
If the page follows any particular tv show, then posts or is limited to that show topics only. Be it memes or actors' works.
Respect the overall Facebook policy and terms of use
Do not go around being a "Grammar Nazi" in the group.
Parenting Community
If your group is related to child care and parenting, these are a few rule suggestions that you can make your group rules.
Do not buy, sell, swap, rent, or give away any product/commodity or job. Do not request any money or donations either. Also, do not post about job vacancies or ask about any vacant job in any post.
Respect everyone's privacy and do not personally message people unless you have an invite.
Do not promote or post about others or your own business or product in the group. It violates the guidelines too.
Do not offer any drug or medicine to any parent regarding their child, nor not try to diagnose anyone's symptoms either. It might create additional trouble and may result in greater harm.
Do not post any controversial topics, be it politics, sports or even parenting. Politely put your opinion only if it is related to parenting and completely ignore other topics.
Sports and Fitness
Below are some rule suggestions for sports groups.
Do not post any sponsorship posts or links in the group. It comes under promoting other business or product categories.
Do not post or comment about any injury-related picture or graphic image. It is visually displeasing content and may harm a group member's / non-member's mindset.
Do not provide any diet/calorie intake/weight loss suggestions or posts.
Buying and Selling
Below are a few good suggestions for rules for groups concerning buying and selling business.
Pictures of the actual item up for selling. Do not post googled pictures of the items or even stock images.
Ensure you always pay as good/service. Do not ever pay as a friend/ family as you would not be able to do anything if you get scammed.
Do not post random links in the group, as they may be perceived as scamming.
You can not block admin(s).
Always list the exact price along with the item. A post without a price mention is not welcome.
For pricey commodities like jewelry or cars, or TVs, proof of authenticity is necessary.
Jobs Communities
Few suggestions as to what posts as rules for job-related pages are as follows.
Always be kind, formal and courteous to other group members.
You can not spam with the same job vacancy or suggestion repeatedly. Such posts will be removed, and the member who posted those will be blocked.
Limit posts about job vacancies to 1 to 2 per day.
List major details like job description and location even if the stipend is not accurately mentioned.
DO NOT post any scam or sketchy jobs knowingly.
Business / Customer Feedback
For Business / Customer Feedback groups, I have a few rule suggestions. Suppose a page is just for a particular brand, then:
Do not post any other business content other than the brand in concern.
Mail your queries to a separate mail id as stated by the group admin(s)
Do not spam post any particular brand product only. Check the post timeline to ensure that this does not occur.
Directly mail customer service content to the official mail account of the page. Please do not put them as posts in the group.
Social Learning / Online Courses
If you are running a paid online course, be it learning, art or such, through Facebook groups, you may want to state certain rules. Few rule suggestions are as follows –
Keep the course integrity by not screenshotting or recording any content from that group.
Comply with the course terms and ensure that any work you submit is of your own
Do not try to access the course illegally
Do not use foul language and keep a professional environment
Reinforcing the Rules
Just as stating rules are important, enforcing them correctly is even more critical. A peaceful and well-coordinated group will grow and last long.
Rely on your group moderators to monitor the group properly
Check member's complaints thoroughly
Encourage members to report behavior that goes against group policy
IF things get too much out of hand, temporarily mute members,
If someone breaks the rules, remind the rules again with a warning and upon further breach, ban them.
Conclusion
So, that is all the suggestions and examples I have for you regarding various types of Facebook groups. Now you hopefully get the basic idea of building a set of group rules that will help your Facebook community grow successfully without any conflict.
Most of the standard rules for pages will be listening to admins, being polite, and not reposting. However, what you must altogether avoid is not putting any rules at all. Taking things too lightly will surely bring chaos and leave your group in utter conflict, disturbing both you and your members.
Hopefully, this post is of some help to you.