Creating A Tattoo Studio Website With WordPress
Tattoos are gaining popularity day by day. As more and more youngsters are taking an interest in tattoos, the demand for tattoo websites is also increasing. Nowadays, whenever someone plans to have a tattoo, the first thing he does is to search for a tattoo artist or studio nearby. If you are a tattoo artist, it is high time to build a website for you to expand your business. A tattoo WordPress theme can help you create a website on your own. In this article, I will tell you about how to create a tattoo website using a WordPress Tattoo theme.
Why create a website for your tattoo parlor?
Having a website is an added advantage for any business. It does not just help you to deal with your customers more smoothly but also works as an effective promotional tool for you. Whether you are a tattoo artist or you run your own tattoo studio, a website helps you present your innovative and emotive designs to a large number of people nicely. If people start liking your designs, your popularity will increase.
Here are the major reasons why a tattoo artist or a tattoo parlor needs a website:
Get bookings
With a website, you can get more bookings. Because it allows visitors to make their bookings online. You can also keep an online payment option in case you want to receive advance payments.
Showcase new designs
On your website, you can showcase your new exclusive designs nicely to attract the customers. It is a good promotional tool. It shows your visitors how different you are from the rest in the market and also gives them an idea about your specialization.
Wide reach
A website naturally widens your reach. The moment you create your website, your designs become accessible for anybody sitting in any corner of the world. You can cater to a global audience. At least you can sell your designs if not services.
Generate reviews
Feedback forms are the easiest way to know customers' reactions. It helps you to understand your strengths and weaknesses. Which in turn helps you to improve your business.
Connect with other tattoo artists
With a website, you can easily get connected to different tattoo experts. You can ask them to write blogs on your site. It will not just increase your traffic but also improve your industry knowledge.
How to create a tattoo website using a tattoo WordPress theme?
Creating a website is no longer a big challenge. With the easy drag and drop interface of WordPress, anybody can do it in minutes. The primary things you need for the purpose are a platform, a hosting service and a suitable theme. Here I would recommend CyberChimps Tattoo Studio, an elegant WordPress tattoo theme.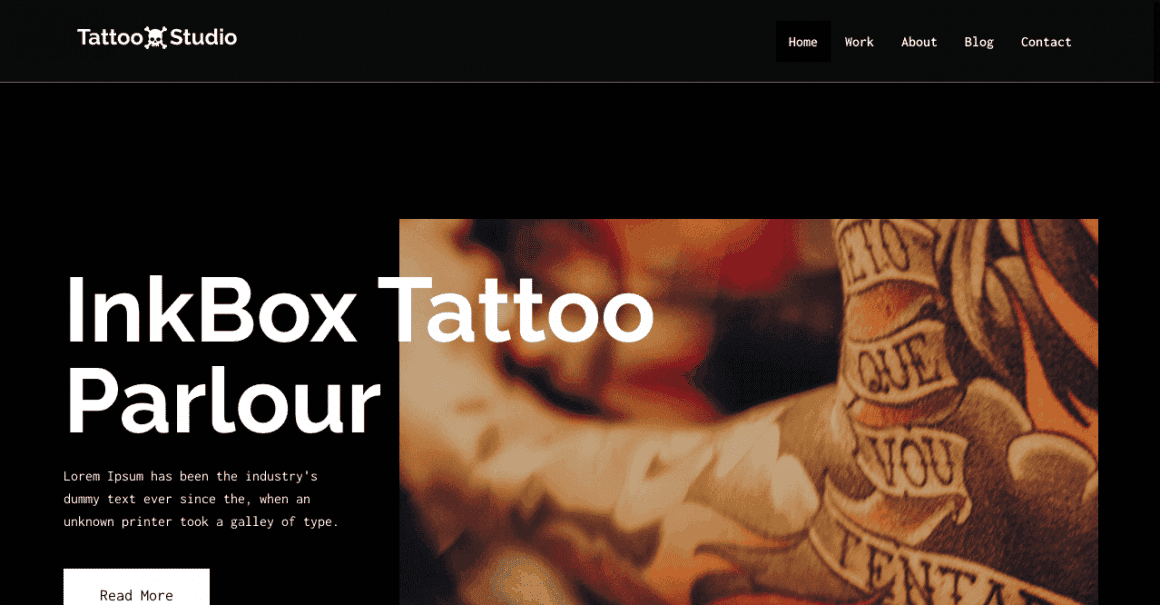 To create your website, here are the steps you need to follow:
Select a suitable domain name
Find a hosting service provider. If you are a new WordPress user, HostGator will be the best choice for you.
Create an account with HostGator, complete your hosting purchase and you are ready to go.
HostGator will walk you through on how to do the WordPress installation. If you still need help, their support team will complete the task for you.
Once you are done with the hosting and installation, you can start customizing your site.
Download the Responsive Pro theme from CyberChimps official website www.cyberchimps.com
Upload the downloaded .zip file to your WordPress Dashboard → Appearance → Themes → Install Theme. See detailed instructions here.
Import the Tattoo Studio template
Create your pages with pre-designed page templates
Check the preview and if you are happy, publish the pages to make your tattoo website live
Some of the best tattoo artists' websites of the world
Here are some the best tattoo websites of the world which you should follow regularly
Tattoo Ideas is a visually appealing website. It displays exclusive tattoo designs on the homepage. There is an unusual menubar in the header area. It lets you find out how the tattoo designs will look during the day and at night time. You can search for the designs category wise. You can upload your designs as well.
Tattoo'd lifestyle magazine is a rich platform that brings various tattoo artists together. It can be called an online tattoo magazine. There are specific designs for different professions. You can search for the designs either by the artists or various categories. The website has a modern and stylish look.
Lead the followers is a multi-purpose tattoo website. It offers health and fitness tips, music and blogs about the new developments in the industry besides tattoo designs. You can also get interviews with famous tattoo artists and tattoo collectors from all over the world. The website helps you to find a nearby tattoo artist.
Tattoo Studio by CyberChimps: An overview
Tattoo Studio is a modern and stylish WordPress template that comes with a Responsive Pro theme. It offers you many rich features to create and manage a tattoo website. There are drag and drop editors, mobile menus, content layouts and portfolio layouts.
The theme offers you many layout options. There are advanced typography, unlimited colour options and many header and footer possibilities. You can use carousels to showcase your designs and display testimonials from your happy and satisfied customers. It has readymade pricing tables and it is WooCommerce integrated. You can create an online shop with just a few clicks.
The theme is responsive and retina ready. It is fast-loading, SEO friendly and well documented. No coding knowledge required to use or customize this. There is a dedicated support team. If you get stuck, just drop a mail. The issue will get resolved in a short span of time.
Features of the theme
Here are the key features of the theme:
One-click import
You can import the plugin easily with just a single click from the theme dashboard. You just need to visit the template library of the theme. It takes only a few seconds.
Pre-designed pages
The theme offers you the ready to use pre-designed pages designed for various purposes. You just need to enter your details and hit the "Publish" button to make your pages live. You can easily edit any page afterwards using the Elementor Page builder.
Services
There is a separate services section. You can showcase your services here in an attractive way. It allows your viewers to get an overview of what you offer easily. At the very first glance, they can notice the service tab in the header section. If they are interested, they will certainly visit the page. The design is appealing enough to arrest their attention.
Booking
Tattoo studio comes bundled with a feature-rich WooCommerce booking plugin. It allows your users to book their appointments directly on your website. You can add CTAs for their convenience.
Contact forms
There are advanced built-in contact forms. You can edit the fields as per your choice. These form templates help you to collect visitors feedback easily and create your email lists.
Multilingual ready
The theme is WPML ready. It allows you to translate your webpage contents into any language. This feature helps you to develop a strong bond with your customers as it lets you talk to them in their language.
Cross-browser compatible
CyberChimps Responsive Pro supports all modern browsers. You can continue with your current browser after installing the theme.
Pricing plans
The tattoo studio comes free with the Responsive theme by CyberChimps.
Conclusion
In this article, I tried to give you some guidance on how to run a tattoo studio website successfully. I mentioned some benefits of having a website and discussed a WordPress tattoo theme which you can use to build your website. Briefly, I described the steps you need to follow to create a website with WordPress using this theme. The theme carries exclusive documentation. Anybody can use it easily. It offers you almost all the features that you need to create and manage a tattoo website. If you are still yet to have a website, grab the theme and get started. You will be able to create an impressive website without any difficulty.