15 Points checklist to improve your site's readability
Everything on your site will be meaningless if people can't read it!
Readability is an important website usability factor that influences consumer behaviour as well as general subscriptions. No matter how good your blog post or sales copy is, it wouldn't generate engagement if the readability is poor. A study by Nielsen Norman Group found that only 16% of users read word-by-word and email newsletter scanning is even more abrupt. The report concluded that visitors, on-an-average, read only about 10% of the copy they supposedly agreed to.
Based on the data statistics of how little users read, it should be your one of the top priority to improve your website readability. Here are 15 ways to ensure your site has the best possible readability: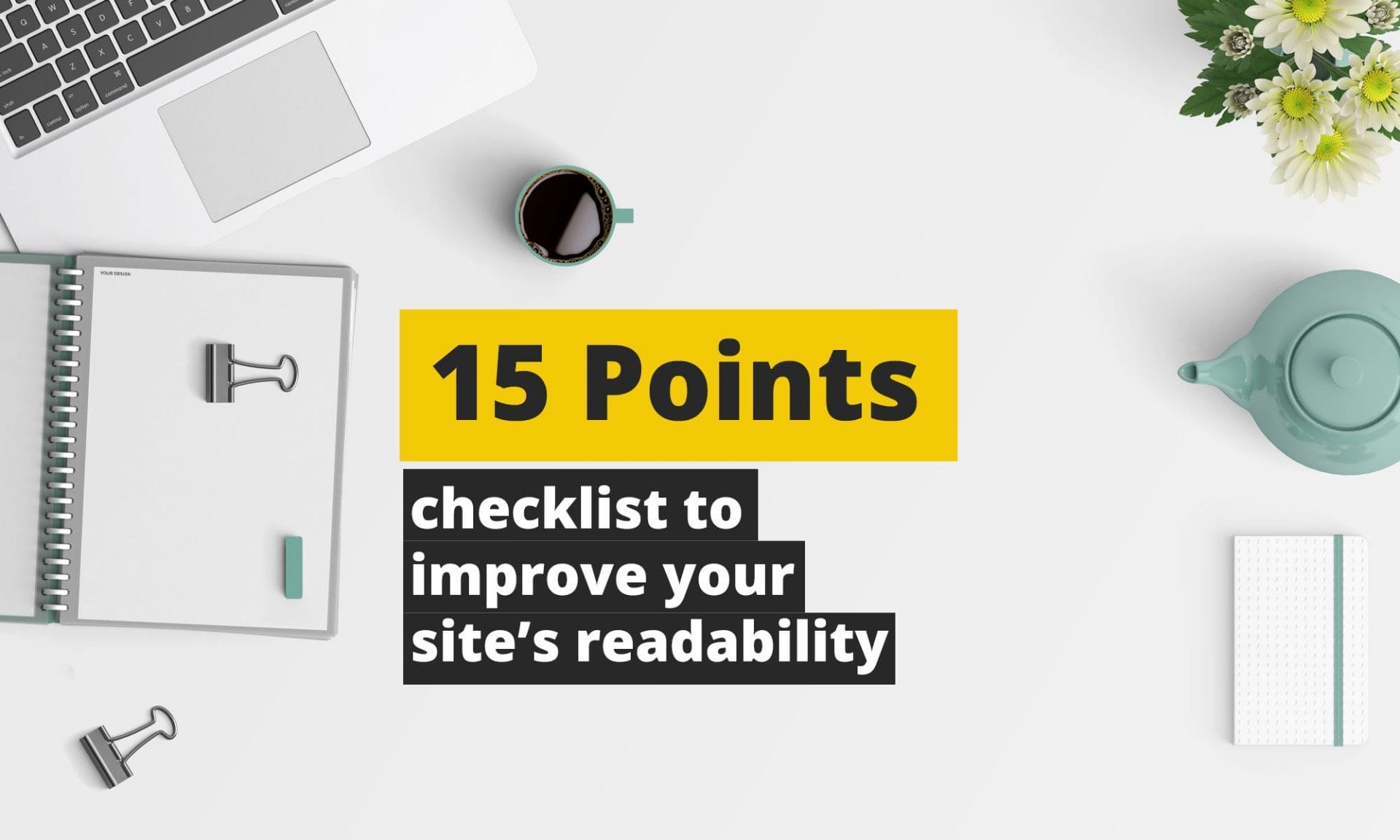 Better Font Color
The right contrast between font color and font background influence the reader's perception. The right font color is needed for good readability as it should appeal to the reader and not hurt the eyes.
Smooth Background Color
This pretty much goes with the previous point. The font color and background scheme go hand in hand; if they blend well, you can pretty much pull off a good 'presentable' show!
How to Use the Psychology of Color to Increase Website Conversions →
Correct Spacing
The right margins on your page influence readability. The spacing between your words, sentences and paragraphs are vital factors when it comes to content being read.
Right font
The right font for the right task is again important (SITE123 guide). While putting content in your body – text it is advisable to go with fonts that are of universal appeal. The creative fonts can work well for titles, with appropriate character spacing; but the body – text is most appealing when simple and less strenuous. For instance, the first font in this image is great for the body, while the others could quite possibly drive away your audience!
Right Break-up of content
Your main articles might need to be long, but readers, reading on the web, look at the content in 'blocks'. Hence, it's important to break your content into parts so that they are easy to read.
Proper use of Bullets & Lists
This simply goes to show you aren't just old school! Not just paragraphs and lengths of work – you have brief, crisp content. Bullets are a smart way to work.
Alignment
The most common form of content alignment is Left alignment. Keeping a central alignment or a justified is okay when you are looking at a title, but a left alignment is the best for body content readability.
Highlights
Highlights draw attention to important stuff that you want to say. It's good to be selective with your highlights – it creates a good impression and improves readability. Backlinko effectively puts his Call to action above-the-fold, with the intention to dramatically raise his email database.
Hyperlinks
Mark your hyperlinks with italics or an underline. This helps to emphasize on the link. This is great for internal linking and website usability as well. Also to add, it's good to hyperlink your content with related relevant material; makes it a more enjoyable reading experience for the reader.
Appropriate Structure
An article or post with an appropriate – Title, Body and heading structure – is easily readable and hence, reaches out to more people. And these can be marked with Bold or italic font style to make them look different.

Careful Emphasis on Words
While writing content, you might want to highlight a few words to lay emphasis. In such a case, you can always use italic or bold styles. Refrain from changing colors of single words, because that may confuse the reader about whether there is a hyperlink or not.
Relevant Images
Images liven up the content. It's great if you have images to go with what you are writing (NNGroup guide). Statistics show that people reading content are drawn to images. The only catch is that images should be relevant. Random pictures don't work.
Text Wrapping
When you use images or embed a video, your content positioning should be carefully adjusted. In some cases Square content wrapping is great and in some, you could simply have the image on the left or right. It's important to decide!
Content Length
Content length, preferably, should be brief. People don't have much patience! Nevertheless, if you want to say something 'at length', then break up your content. The worst you can do is throwing lengthy blocks of information on the reader!
Content Placement
Your content should be placed strategically – away from the rest of the tags, links, search buttons, ads etc. People should clearly understand where the post starts and where it ends – and hence, keep it distinct!