RDPHostings Review: The Best RDP Server for Free
When working for clients with lower budgets, I found that their personal computers' specifications were very low. Still, I couldn't do anything except to recommend them to upgrade or buy new personal computers and then build a network communication.
Then, I came to know about RDP servers.
In this, instead of buying a new one or upgrading the specification, my clients could also use an RDP server, where they can get unlimited resources and a much better performance.
Since I had my own needs, I hunted out for the best RDP servers and RDP hostings, and in that hunt, I found RDPHostings.com. This is one of the companies that offer a free RDP server.
I have been a user of RDPHostings for a year now, and this RDPHostings review is an accumulation of my experiences.
In this RDPHostings review, I will explain its features, pros-cons, and also, how it can be helpful for you in certain use cases. I may sound a bit fanboy here and then but such has been the experience.
How do RDP servers work?
Before going on with the RDPHostings review, I would like to explain how RDP servers work. RDP stands for Remote Desktop Protocol, a proprietary network communication protocol developed by Microsoft.
An RDP client software is employed by the user for this purpose, while the other computer must run RDP server software. RDP enables network administrators to give users remote access to their physical work desktop computers and also to troubleshoot issues. You can use the RDP server for various purposes, which I will discuss later in the RDP use cases section.
About RDPHostings

RDPHostings is a 100% free RDP hosting service that was established in 2011.
Applying for the RDP server at RDPHostings is very simple. By just signing up on their website, you can use their services. No credit cards or any other verification information is required.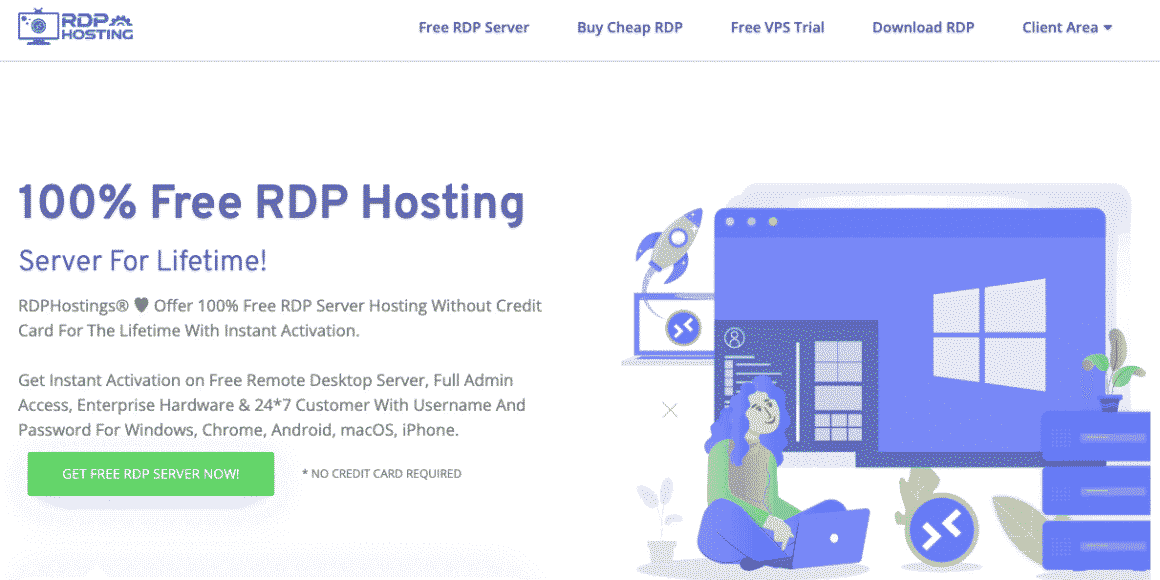 RDPHostings offers two free and two paid plans that provide different features.
Free RDP Server Plans
Solo RDP Server
RDPHostings' Solo RDP server offers you a Linux operating system and the following features:
Full Access: RDPHostings provides you with full access to use their application without any restriction. Note that you will not get admin access to install any applications in this plan.
Instant activation: The best part about their solo plan is that they give you this plan with instant activation, which means you can use the services just after choosing the plan.
100GB SSD storage: Their solo plan provides 100 GB of disk space to store your data and application.
Consistent uptime: RDPHostings commits to offer a 99.95% uptime guarantee.
Expert RDP Server
The Expert plan provides your Windows operating system, instead of Linux along with some other features:
Shared RDP access: Their shared access plan allows you to share your RDP account with your team members.
200GB of SSD storage: Their Expert plan provides you with an upgraded 200 GB of disk space for better efficiency.
Plus all other features of the Solo RDP server plan.
Paid RDP Server Plans
Explorer RDP Server
This plan is perfect for you if you are looking for more upgraded features.
RDPHostings has collaborated with YouStable, a reputed and trustable hosting service provider in the market, to provide you with explorer RDP servers at nominal costs.
Its features include:
Full Admin Access: RDPHostings offers full admin access in the Explorer RDP Server plan through which you can install any application per your needs.
Instant activation
Plus all other features of the Expert RDP server plan.
Virtual Private Server
You can also use RDPHostings for business purposes using their VPS plans, and to provide you with better features, they have collaborated with Kamatera.
Unlimited storage: Their VPS plans provide unlimited storage so that you never feel any restrictions while working.
Daily backup: RDPHostings provides a backup option only in their VPS server plans, which offer both managed and manual backup.
Fully managed services: RDPHostings' collaboration with Kamatera empowers them to provide fully managed service and reduce your efforts.
30 Days free trial: RDPHostings provides a free trial for 30 days for the VPS plan, and if you are not comfortable with their services, you cancel your plan.
RDPHostings' RDP Clients
RDPHostings allows you to download RDP clients like Chrome, Linux, Ubuntu, Fedora and many more.
You can download them in 3 simple steps on your Windows computer.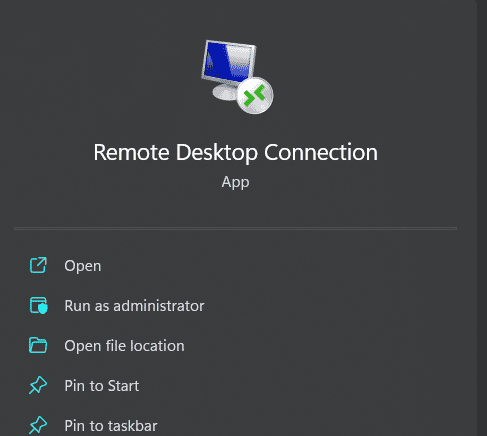 Is RDPHostings the best free RDP server provider?
From what I have used and experienced, I feel that RDPHostings is one of the best service providers in the market.
For minimal costs, it offers a lot more than most RDP hosts offer.
The free RDP servers, uptime guarantees, high speed, backups and full admin access at lower fees are something that I loved.
RDPHostings provides 50 to 100mbps internet speed for server connection.
It allows you to choose an operating system on your own. For example, if you want Linux OS with your server, then select their Solo plan. If you need to use Windows OS, then you select the Expert plan.
They also provide an option in their paid plans where you can select the OS as per your needs and configuration.
RDPHostings also offers two types of backups: extended daily and manual.
In the extended daily backup, it creates a backup daily and saves it for 14 days. While in the manual backups, you can also take a daily snapshot or data backup and save it as long as you want.
The best part about RDPHostings was their excellent customer support. They have a dedicated team to provide services and help in setup the services.
RDPHostings uses industry-leading hardware for their servers; for example, they use AMD as the CPU processor for their servers. AMD has the latest technology and better performance, and most server providers in the market use it.
RDPHostings promises to keep security at the top of its priority; its servers are built in the most secured locations.
RDP Use Cases
RDP could be the best option for anyone looking for a server to connect their teams. In this section, I will explain to you every use case of RDP servers in detail to understand better.
Work From Anywhere
The best part about the RDP server is that you connect many client computers through which they work even remotely.
By RDP, you can also provide access to your computer to anybody with an IP address or User name and password.
Gaming Server
The best part about RDP servers is that you can play even those games for which your laptop's specifications are low.
You just need to install that game on your RDP server, and for that VPS trial server plan is an excellent option; it provides you full admin access to install the application you want.
Residential RDP
With Residential RDP, you can get a dedicated compartment or spaces which you can use for business purposes like beta testing of upcoming software and many more.
Big developer companies use this to provide security or other required software on every employee's computer.
By getting Residential RDP, you also get Residential IP, through which you can access anything on the internet.
Streaming RDP
Gaming on RDP servers sounds fun, right? But you know that you can also get Live streaming with RDP servers.
RDP servers allow you to do online Video stream, Game streaming and much more.
For example, if you want to create a gaming channel, you will need an RDP server to stream your video online.
RDP provides high-speed internet through which you stream your video smoothly and swiftly.
Encoding RDP
As the name suggests, encoding is used for converting videos, music images etc., into different formats.
For example, converting the MKV file into MP4. It may not sound very significant, but this is a fantastic technology used especially in big companies to convert the format of large files. Using an RDP server, you can also change the file size by compressing or decompressing large files.
BlueStacks RDP
If you have ever used BlueStack, you must know how emulators work and why it is used.
But for those who are unaware of BlueStack, it is an emulator through which you can also access the mobile app on computers.
But sometimes, the specifications of a computer to access the apps in that case, the server is used to increase the resources like storage, internet speed and much more. And by getting a BlueStack RDP server, you can use even those applications requiring high specifications on your laptop.
It can be used in initial Mobile application testing or beta testing.
GPU RDP
GPU stands for Graphics Processing Unit, which enhances the graphics of video games, movies, engineering apps etc.
GPU works upon real-time rendering and processes millions of pixels every second. GPU-enabled RDP is generally used by big Construction companies for better enhancement of model graphics.
Dating RDP
Dating RDP is very much similar to the residential RDP, you can use it to surf any kind of content on the internet.
With Dating RDP, you get a residential IP, so whenever someone tries to track your IP, it will not be counted as a proxy but your real-but-not-so-real IP. It can be used for various purposes, like in journalism. It can also be used to find information that is not available on the public internet.
Rendering RDP
Rendering RDP has some features similar to GPU RDP, it allows you to perform heavy tasks like video editing etc. on the server.
It can be used for movie production, music production, game development etc.
As the name suggests, it makes the rendering process very fast and smooth, and in comparison to your PC, it has better performance.
Is Free RDP Worth Going For?
"Should I get a free RDP server from RDPHostings?" You may ask.
The short answer to this is "yes".
RDPHostings is a very good option from where you can get an RDP server for free. Even if you decide to go for the paid plans, you get a 30-day free trial, which you can use for testing and cancel anytime.
My RDPHostings Review
RDPHostings
RDPHostings is a great option for anyone who wants to own an RDP server or, on a larger level, a VPS. It is cheap, effective, fast and comes with great support. If you are just starting, you can always go for the free plans and upgrade later if RDPHostings suit your needs.
Price Currency: USD
Operating System: Web
Application Category: Web Development